Extra View
With its unique extra space of 21:9 screen, you can check the TV schedule without disturbance on the TV active area. This useful space also allows you to play smartphone contents on a bigger screen while watching TV.

* Extra View is only applied to 29MA73.EPG information does not appear on 'Extra View' area when set-top box is connected.
21:9 UltraWide Screen
Designed with pure inspiration and cuttingedge technology, the CINEMA SCREEN design delivers an incredibly immersive viewing experience.
4-SCREEN SPLIT
LG Premium IPS Monitor's wide screen allows up to 4 windows to be shown in 8 different screen ratios without feeling cluttered. Multitask more efficiently and comfortably with just one click.

* 4-Screen Split software requires Windows XP/Vista/7/8/ or Mac OS® Lion/Mountain Lion and DVI-D or HDMI connection with PC or DVI-D or DisplayPort connection with Mac®. May not be compatible with some applications.
Mac® Compatible
The 21:9 UltraWide monitor can be enjoyed easily on a Mac as well. Dedicated Macintosh users like graphic designers handling heavy graphics and videos, will find efficiency and comfort with LG 21:9 UltraWide.

* Mac is a trademark of Apple Inc., registered in the U.S. and other countries.
* Some functions may be limited depending on compatibility.
Dual Link-up
For quick business meetings, the Dual Link-up feature allows two portable devices, such as a computer, camera, phone or Blu-ray player to be connected to the monitor and used on a single screen simultaneously.

* Disclaimer : To use Dual Link-up, one device must be connected to the Display Port.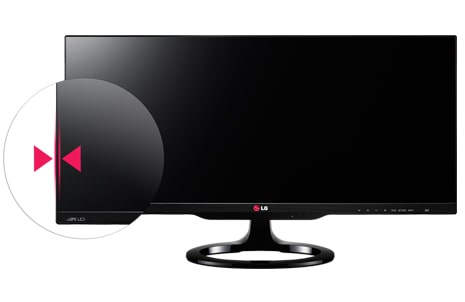 CINEMA SCREEN
Designed with pure inspiration and cuttingedge technology, the CINEMA SCREEN design delivers an incredibly immersive viewing experience.
MHL
MHL links your smart phone's display and sound to the 21:9 UltraWide monitor so that you can enjoy contents, like videos and games, with impressive scale and overwhelming sound.
Stereo Sound
Enjoy your movies or games with realistic stereo sound. With the built-in stereo speakers, there is no need for extra speakers around your monitor.
Lifelike Color
As LG IPS Monitor features consistency and less changes in color temperature, it offers a color impression identical to that of the original image.
Smooth Color Change
LG IPS Monitor always provides clear images with smooth color changes. It allows you to enjoy any content, such as action movies, web surfing and RPG games for a long time in comfort.
Versatile Screen for Multi-Graphic Works
21:9 UltraWide monitor is the best solution for heavy graphic work.By achieving accurate color expression (sRGB>99%) and color setting ability of the monitor itself (Hardware Calibration ready*), it brings more delicacy
* 21:9 Full Screen may not work depending on contents, device or graphic card.
Design, features and specifications subject to change without notice. Screen images simulated and/or dramatized. Some features in videos may not be available on all models. Please refer to the TECHNICAL SPECIFICATIONS tab for a complete list of features by model.