SEAMLESS VIEWING IN ONE LARGE SCREEN
Providing an immersive wide viewing experience in one Ultra Large 84" screen.
ULTRA HIGH DEFINITION 3,840 X 2,160 (ULTRA HD)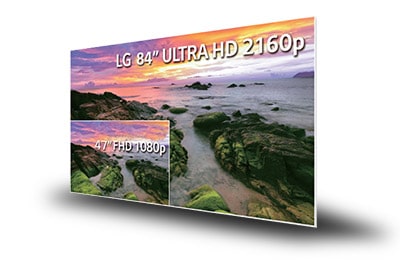 ULTRA HD Definition presents a whole new level of picture quality, boasting a picture definition of four times higher than that of Full HD.
DOCKING-TYPE MEDIA PLAYER MP700 COMPATIBLE*
Combining the Signage Display with a docking-type player looks slimmer and is more convenient on account of less cabling.
.

*Sold separately
Wide

Viewing Angle
Providing clear image at wide viewing angles.
IPS

Panel
LG IPS panels allow you to enjoy likelike picture with minimal variation from wide viewing angles. Featuring superior consistency and less change in colour temperature and contrast, LG IPS panels boast excellent image reproduction.
Design, features and specifications subject to change without notice. Screen images simulated and/or dramatised. Some features in videos may not be available on all models. Please refer to the TECHNICAL SPECIFICATIONS tab for a complete list of features by model.