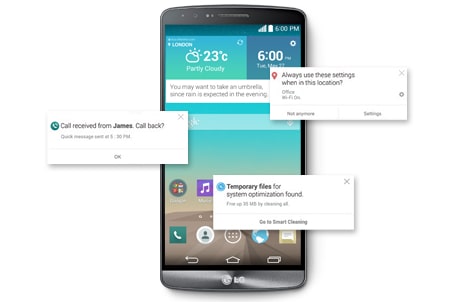 Smart Tips –
Before You Ask
Smart Notice suggests what you need, even before you need it.
Predictive recommendations are based on the status of your phone, your past behaviour and your current location.
Smart Cleaning suggests ways to clear unwanted apps from the phones memory eg.
"Would you like to erase the 9 apps you haven't used for two months?"

Call log based reminders suggest actions to follow up eg.
– "You missed a call from James at 12:30 p.m. Would you like to call him back?"

Built in
Wireless Charging
LG G3's wireless charging capability frees you from plugging in the handset to charge the 3000mAh removable battery. The wireless charging dock* can be used as a stand to easily access and view the screen or can be folded to carry in your pocket or handbag.
*Wireless charging dock sold and supplied as a separate accessory
5.5" Quad HD

Display
The G3's stunning 5.5" Quad HD display delivers vibrant colours and ultra sharp images. With 538ppi images on the G3 appear as crisp and clear as high quality print.
13MP OIS Camera

with Laser Auto Focus
Laser Auto Focus

Not only does the OIS (Optical Image Stabilization) function help reduce blur, the laser focus feature measures the distance to the subject and focuses the shot within 0.3 of a second*, so you can quickly take beautiful photos with the 13MP camera. The laser focus also helps take pictures quickly in darker conditions by assisting autofocus adjustment.
Dual LED Flash

With the BSI (Back Side Illuminated) sensor, the flash produces less blurry and much brighter pictures even under poor lighting conditions. Having two different coloured lights allows the camera to produce more natural colour tones when the flash is used.
Touch & Shoot

Unnecessary icons on the screen have been eliminated to give you a clear view. Plus, it simplifies the process of taking shots. Now simply get a focus and take a shot with just one touch.
*Based on internal testing of continuous auto focus mode at 1,000 lux according to LG test method.
Quick Circle

Window Case

The circle design of the display window of the flip cover** displays 6 icons which you can choose, making them easier to access.

Plus the soft ambient glow inside the circle adds a touch of class and sophistication.
Smart

Keyboard
LG G3's smart keyboard makes typing easier and faster and helps reduce typing mistakes.

Features include options to personalize the keyboard position on the screen, size adjustable
typing, word completion and quick correction.

KNOCKCODE™ FOR ADDED
SECURITY

AND

CONVENIENCE

KnockCode™ lets you set a personalised pattern for one step home screen access for greater privacy and ease of access to your phone. By enabling an unlock code pattern of between 2 and 8 taps you can set a unique security code to help personalise your phone.

KnockCode™ patterns can be set up in various locations on the screen to provide easy single handed access.

Find Out More
Cybershack's first impressions of the LG G3: A Screen to Behold
Charlie and I had the opportunity to get hands on with the newly announced LG G3 today, and I need to get this off my chest: the screen is unreal. All technical specs aside, just looking at it is impressive; it truly is a thing of beauty. Watching a video on the G3 feels like a cinematic experience, but on a phone. I'm still struggling to get my head around that.Based on our hands on, we definitely think the LG G3 will be a more-than-worthy contender in the high-end smartphone market.
By Alex Choros
Read Full Review
YOU MIGHT ALSO BE INTERESTED IN
Design, features and specifications subject to change without notice. Screen images simulated and/or dramatised. Some features in videos may not be available on all models. Please refer to the TECHNICAL SPECIFICATIONS tab for a complete list of features by model.

*Wireless charging dock sold and supplied as a separate accessory