Extreme Durability
The combination of Automatic Voltage Switcher, tropical compressor, and the gold fin in the exterior unit all contribute in the improved durability of LG air conditioner.

Tropical compressor
Tropical Compressor is designed to withstand extreme climate conditions with high efficiency motor.

Gold Fin
The Gold Fin™ prevents the surface of the heat exchanger from corrosion and wear.
Gold Fin™ is an anti corrosion coating on the surface of the heat exchanger. This ensures that the surface is more resistant to corrosion and enhances the durability of heat exchanger for a much longer period.
Power Cooling
The cool airflow reaches the distance of 20m to all corners of the room, keeping the space cool and comfortable regardless of outside temperature.
Big Air Volume(20m Windblast)
With the Big air Volume and 20m Windblast, cooling is faster and more powerful than ever, allowing you to feel comfortable sooner.


Airflow Control
Direction of horizontal vane can be adjusted from step 1 to step 6 with full auto swing. This function can cool specific areas much faster. Direction of vertical louver can be adjusted from step 1 to step 5,left & right, with full auto swing. This function also allows the air conditioner to cool specific areas in only a short period of time.

Multi Protection Filter powered by 3M Tech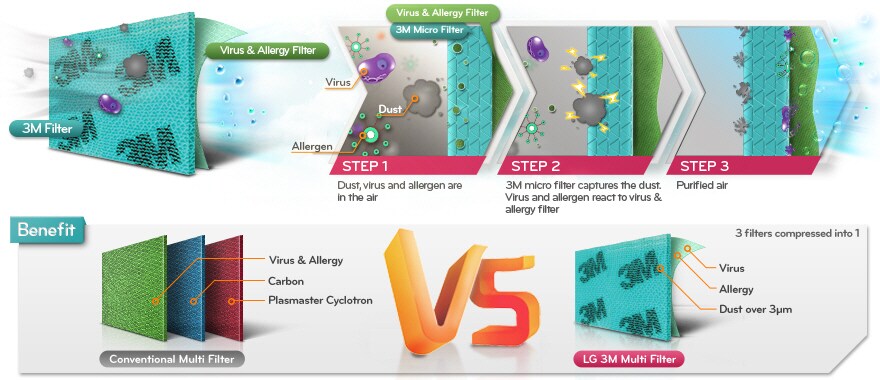 The advanced technologies of 3M & LG remove harmful micro-particles including viruses, bacteria and allergens to provide a safer, healthier environment.

Jet Cool
Jet Cool disperses air evenly at high speed to unsure the room is optimally cool in just 3 minutes.

Perfect Health Care
Various filtration system protects the user from all harmful substances including odor, bacteria, and allergen.

Dual Protection Filter
The Dual Protection Filter is easy to remove making it easier to clean both the interior of the air conditioner and the filter itself. This means it is easier to clean and maintain.

Stylish Design
The design of LG air conditioners are stylish in a way that is incomparable to others. Think of it not just as an air conditioner, but an objet that will lighten up your living room.

Design, features and specifications subject to change without notice. Screen images simulated and/or dramatized. Some features in videos may not be available on all models. Please refer to the TECHNICAL SPECIFICATIONS tab for a complete list of features by model.