KEY FEATURES
sound-zooming

avchd_small

bluetooth

dolby_digital_plus_small

dts_hd_small

dolby_truehd_small

dolbyprologic_small

dolby digital pro logic 2

dina_small

ipod

hdmi

mp3_small

usb direct recording
Immersive 3D Sound Zooming
9.1 Speaker
4 Upright 3D Speakers are added to a conventional 5.1 channel Home Cinema System, to deliver multi-directional sound, closest to the acoustics of a concert hall or movie theatre.
Upright 3D Speaker
Experience a whole new dimension in sound as Upright 3D Speakers pump sound upward, filling up the entire space with rich sound from top to bottom.
Sound Field Expansion
Sound Field Expansion

LG's own Sound Field Expansion technology expands the sound field around you to put you at the centre of immersive 3D sound wherever you are in the room.
3D sound zooming
3D Sound Zooming & True 360˚ 3D Sound Expansion


3D sound zooming matches the movie's soundtrack to the on-screen action for a more immersive viewing experience. If a scene shows action flying out of the screen at you, then the sound will do the same, conversely if the vision shows an object shooting off into the distance, the sound will do the same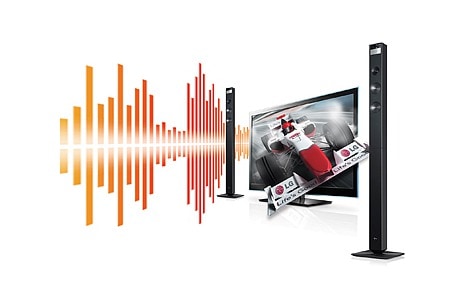 3D Surround Processor
With LG's unique sound calibration technology, 3D Surround Processor, LG is able to deliver more immersive and life-like 3D surround sound.
3D Blu-ray Disc Playback
For playback of the latest blockbuster titles in full, immersive 3D, LG's 3D Blu-ray players offer the ultimate in 3D reproduction.
LG Smart TV
LG Smart TV technology makes finding exciting new content simple. With access to thousands of movies via LG's Premium VoD service and thousands of apps available from LG's App store, there's limitless entertainment potential on offer, thousands of movies and catch-up services from the likes of BBC iPlayer, Lovefilm, Netflix. You can even watch web-based videos and catch up with friends on social networking sites like Facebook and Twitter.
Smart Share
Smart Share lets you connect to your PC, external HDD or USB memory stick to browse and playback media contents.

Wi-Fi Direct™
Wireless sharing with LG devices is easy. Share movies, photos, music and other files between your devices wirelessly. Stream your PC or smartphone contents directly to the big screen – the possibilities are endless.
LG Sound Gallery
Enjoy the splendour of sound with LG Sound Gallery, which provides a selection of seven sound genres you can choose from for a perfect acoustic experience.
Bluetooth
Stream music from your smartphone or other Bluetooth™ device directly to your LG sound system for the ultimate in hi-fi reproduction.
External HDD Playback
Giving you one-touch access to your images, music and videos stored on external hard drives, External HDD Playback gives you an easy way to get your content onto your LG device with the minimum of fuss.
LG Remote
Never lose the remote again by using your smartphone as your very own smart LG remote. Just download the app and begin using your Android phone or iPhone/iPad to access the world of entertainment on offer from LG.
Made for iPod, iPhone and iPad
With full support for the latest (and previous generations) of Apple devices, you can be sure that you'll have full access to the functionality of your iPod, iPhone or iPad.
Design, features and specifications subject to change without notice. Screen images simulated and/or dramatized. Some features in videos may not be available on all models. Please refer to the TECHNICAL SPECIFICATIONS tab for a complete list of features by model.