4 REASONS TO BUY
① Powercut Evercool™ with world's longest cooling retention
② LED lighting, bright and heat free
③ Convertible box for effective space usage
④ EZ-out tray for easy access "

POWERCUT EVERCOOL™: TRIPLE COOLING SYSTEM
"LG Powercut EverCool ™ keeps the cold air in both fridge compartment(7 hours) and freezer compartment (10 hours). Thanks to 'Triple Cooling System' technology with 3 evaporators. Main evaporator works with power and the 2 other evaporators work without power. LG innovation brings you the freshness even in the power cut.

* Based on testing on March 2013 of the fridge compartment temperature when power is off.
Must be powered for at least 8 hours after power cut to have the maximum cool air retention capability
"

LED LIGHTING
LED lighting illuminates every corner of the refrigerator so that you can search for your food items in a brighter view. LED is 27 times more durable also saves 12 times less energy compared to regular bulb.

CONVERTIBLE BOX
Convertible box allows food to be stored in an optimal temperature from -1℃ to 4℃ and it's controlled by exclusive cold air duct. It gives the most suitable condition for food.

EZ-OUT TRAY
Ez-out tray pulls out easily so you can have easy and safe access to your dishes. This Ez-out tray provides easier and more convenient use of space.

FAST FREEZING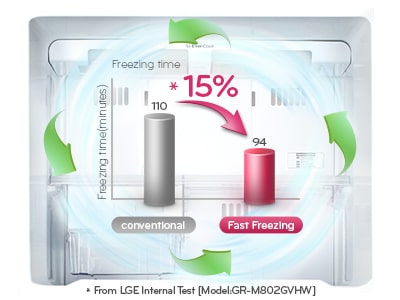 Have you encountered any situation where you have to freeze your food quickly? Fast Freezing is the perfect solution for your difficulties. Fast Freezing makes freezing food faster through intensive non-stopping operation and ends automatically in 2 hours max. Freezing time is reduced by 15% with Fast Freezing function.

MOIST BALANCE CRISPER™
This is a special lattice-type box cover which maintains moisture at an optimum level. Moisture from stored food is evaporated and then condensed on the lattice, maintaining the correct balance of moisture in the box.

TEMPERED GLASS SHELF
Tempered Glass is capable of holding heavy food items.

MULTI AIR FLOW
Multi Air Flow enables even temperature anywhere inside fridge compartment. Cool air is circulated through multiple vents, ensuring efficient cooling system and fast cooling.

TOTAL NO FROST
LG No Frost System cools down the bottled water 4 hours faster than frost cooling. Cool air spread evenly from the top to the bottom of the refrigerator. You can enjoy even temperature anywhere in your refrigerator.

Design, features and specifications subject to change without notice. Screen images simulated and/or dramatized. Some features in videos may not be available on all models. Please refer to the TECHNICAL SPECIFICATIONS tab for a complete list of features by model.