KEY FEATURES
ULTRA HD TV

LG ULTRA HD TVs provide four times higher resolution than Full HD TVs. Now viewers will feel like they are right in the heart of the action.

LG Cinema 3D with 2D to 3D Conversion

LG's next generation 3D technology. Want 3D like you get it in the movie theater? Lightweight glasses, wider viewing angles and clear 3D images? LG's 3D Cinema experience can bring it right to your home. Enjoy amazing depth along with smoother, crisper images, and a clear picture from virtually any angle. Also enjoy your favorite 2D content in immersive 3D with LG's 2D to 3D conversion feature. This is 3D like it was meant to be. Disclaimer: For a small percentage of the population, the viewing of stereoscopic 3D video technology may cause discomfort such as headaches, dizziness or nausea.

LG Smart TV

An intuitive, easy way to access limitless content, thousands of movies, customizable apps, videos and browse the web all organized in a simple-to-use interface. And, when you can just point and choose selections with LG's unique motion-controlled Magic Remote, it's even simpler. That's what you get with an LG Smart TV experience, the next generation in entertainment organized within a simple interface. Disclaimer: Wireless Internet connection & certain subscriptions required and sold separately. The Magic Motion Remote does not come equipped with all LG Smart TV enabled TVs and a separate purchase maybe required. Content and services vary by product and are subject to change without notice.

LED Plus

Unblur the action

See sports, video games and high-speed action with virtually no motion blur and in crystal clarity with LG's TruMotion 240Hz technology. Now your TV can keep up with the fastest moving scenes.

resolution_upscaler

Resolution Upscaler is feature that enhances the resolution of original content to a higher resolution.

wi-fi

Getting your LG TV connected to Entertainment Access and other online content is easy when you have Wi-Fi™ built in. If you have existing wireless broadband, setting it up is simple and you don't need to worry about messy wires.

Picture Wizard II (Easy Picture Calibration)

Find the perfect picture. Get easy self-calibration with on-screen reference points for key picture quality elements such as black level, color, tint, sharpness and backlight levels. Take the guesswork out of picture adjustments with this simple-to-use feature. It's not actually magic, but it will sure seem that way.

Intelligent Sensor

View it in the right light.
Let your TV do the adjustments for you. Intelligent Sensor automatically optimizes the picture to the lighting and color conditions in the room for a more enjoyable viewing experience.

Smart Energy Saving

Wise and not wasteful. With our Smart Energy Saving Features, you can conserve money and energy.

ISFccc® Ready

LG's ISFccc Ready HDTVs contain the detailed standards necessary for professional calibration of brightness, contrast, tint, sharpness, color levels and much more to meet local lighting conditions for both day and nighttime viewing. Settings are added to preset modes for easy access from your LG remote.
ULTRA HD TV
Extraordinary details create the most vivid images.
LG 84 inch ULTRA HD TV presents a whole new level of picture quality, boasting a resolution four times higher than Full HD. Naturally, it is incredibly immersive, vivid and crisp, even when viewed from close distances. Ultra High Definition TV is the future of TV viewing and brings the cinema experience home.

* Disclaimer
This display is Ultra HD (3840 x 2160 pixels) content compatible;
additional devices capable of processing Ultra HD source content
(in 2D or 3D) may be required and will be sold separately.

8.3 Megapixels
New level of resolution in TV History.
LG ULTRA HD invites you into new level of resolution with surprising 8.3 Megapixels, providing you outstandingly detailed and crisp pictures. It displays four times more pixels than Full HD, and even 8 times more than HD. Enjoy the utmost picture quality in TV history.

ULTRA Details
Capture everything in sight.

With ULTRA HD resolution, you will not miss even small details. Tiny ant in the middle of the forest, sweats of an athlete, or vines of wind blowing leaves are may be some of the scenes that you weren't able to catch before. Be ready to fill in what you have been missing.
ULTRA Clarity
Crystal clear text display than ever before.
ULTRA HD resolution allows text reading more comfortable. Small texts, edges of a single line, or even a tiny dot are displayed with upmost clarity due to superior pixel density.

ULTRA HD Resolution Upscaler
Enjoy content in the finest resolution.
ULTRA HD Resolution Upscaler brings ordinary picture quality to extraordinary ULTRA HD like quality with LG's advanced technology. Even if you don't have regular access to ULTRA HD content, you can enjoy the superior quality of the ULTRA HD TV with just about any content.
IPS Panel
The secret behind ULTRA HD TV's superior viewing angle and quality is the panel. Just as the quality of the beans determin the quality of the coffee, the quality of the panel determines the quality of the TV. The IPS Panel used by LG is the reason why LG ULTRA HD TVs have clearer, more consistent, and sturdy screens.
Life-like Color
IPS offers a color impression that is most identical to that of the original image. The colors are truly closest to nature and most comfortable for the eyes.
Wide Viewing Angle
Among LCD panels, it is visibly clear that IPS shows the most consistent color and contrast from all angles. Free from color wash and contrast loss, it is the ideal panel for all purposes.
Blur-free Clarity
IPS is decidedly superior to the competing panels in the clarity of its pictures during fast motoin display, allowing blur-free, crystal-clear pictures.
Stable Screen
IPS panels are stable and sturdy, and resistant to damage, as opposed to weak competing panels; just try a simple knock or pokr at the screens to see for yourself.
Triple XD Engine
Enjoy sheer perfection of Color, Contrast, and Clarity with the all-powerful Triple XD Engine. LG's latest and most advanced Triple XD Engine brings the highest level of excellence in Color, Contrast, and Clarity for the best picture quality and performance.
84" Gigantic Screen
Gigantic Screen, overwhelming experience.

LG always delivers amazing picture quality, even on an ULTRA large 84 inch screen. The sheer size of the display, which is equal to four 42 inch TVs, will give you a breathtaking viewing experience.
Breathtaking Viewing Experience
As if you are at the scene.
With ULTRA HD resolution and 84 inch Gigantic Screen, TV viewing is more than just viewing. The vivid images and great scale of the screen will make you feel like you are at the scene.
2.2 Speakers System
Rich sound completes the viewing experience.
Enjoy the richest sound that has never been heard on TV. With 2.2 speakers, LG Ultra HD SMART 3D TV has two woofers that will bring you incredible depth and liveliness in sound as in vision. Bring the cinema experience home with LG Ultra High Definition TV.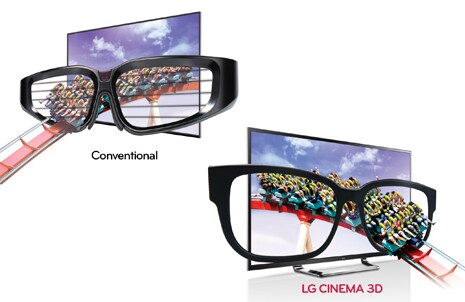 Flicker-Free 3D
Enjoy a 3D TV that is more comfortable for your eyes, without the distracting flicker.
Unlike conventional 3D TV, LG CINEMA 3D Smart TV is certified flicker-free and also provides brighter 3D images. It's easier on the eyes, delivering clear and crisp 3D that jumps out of the screen.
Comforatble 3D Glasses
Enjoy 3D wearing the most comfortable 3D glasses.
CINEMA 3D glasses are light, flicker-free, battery-free, hassle-free and economical, allowing for greater viewing comfort and convenience.
Magic Remote
Point & Click, Drag & Drop
Mouse like remote. Just point, click, and drop anywhere you want on your LG TV screen.
Page Scroll with Wheel
Intuitive control with mouselike remote. Scropp up and down the web browser just like a mouse for easy use. Wheel allows you to switch between different TV channels easier than ever.
Home Dashboard
The simplest, easiest, and most customizable user interface.
LG Smart TV's all-new Home Dashboard comes with an improved design and look, more simplicity, and more room for customization.
Smart Share
Share content across multiplce devices wirelessly.
Browse and share files in your external storage devices on your large TV screen or watch TV on another smart device with LG Smart TV's Smart ShareTM. LG introduces a true Smart TV that connects to other devices more easily than ever. Enjoy any content without constraint.
Smart Home
Simple, easy to navigate and with customization options, the Smart Home lets you spend less time tweaking settings and more time enjoying your TV.
Premium Content
The best selection of enjoyable content provided for you to access with ease.

The Premium Content card selects and categorizes the most popular and useful content in your country, provided via partnership with the best content providers. Enjoy the best entertainment whenever you want.
Design, features and specifications subject to change without notice. Screen images simulated and/or dramatized. Some features in videos may not be available on all models. Please refer to the TECHNICAL SPECIFICATIONS tab for a complete list of features by model.