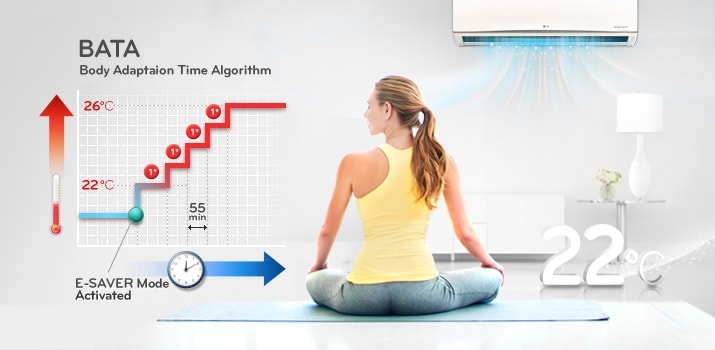 E-Saver Mode
Energy saving mode is an operation mode that consumes minimum energy while maintaining body comfort by applying Body Adaptation Time Algorithm (BATA) to Air Conditioners.
Powerful BLDC Compressor
The LG Inverter Air Conditioner comes with a BLDC compressor that uses a strong neodymium magnet. Its compressor thus has improved efficiency compared with AC Inverter.
Auto Cleaning
No hassle of opening up the AC for cleaning. A main cause of Air Conditioner odors is lould and bacteria that breed in the heat exchanger. The Auto Clean function dries the wet heat exchanger to help prevent mould and bateria from breeding thus significantly reducing the old rag smell and saves you from frequent cleaning.
Deodorizing_Triple Filter
Eleiminates chemical particles and other odours such as foot and smoke smell. The triple filter consists of three specialised filters to reduce the symptoms associated with various organic compounds including formaldehyde. It also has the ability to remove unpleasant odors creating a more comfortable environment.
Filtering_Virus & Allergy Safe Filter
Dust floating in the air is sucked into the Air Conditioner and caught in the air filter. LG's newly developed allergy filter is a new advancement. This allergy filter has 'Subtilisin A' enzyme which destroys house mites and allergen.
Jet Cool
High speed cooling to get the lowest temperature in minutes. Instant relief in summers too.
Selectable Auto Swing
Direction of horizontal and vertical vanes can be adjusted. This function allows the Air Conditioner to cool specific areas much faster.
Gold Fin
LG's Gold Fin is an anti corrosion coating on the surface of the heat exchanger. This ensures that the surface is more resistant to corrosion and increases the durability to help the exchanger perform like new for a much longer period.
Airflow Control
For cooling, the vane is adjusted upwards to let the cold air travel up. As for heating, the vane sends the heated air downwards to heat the space from the floor for a pleasant and balanced room temperture.
Memory of User's Airflow Direction
LG Wireless Remote Controller provides User Friendly & Modern Design and Easy use. Specially, memory of user's airflow direction offers customers more comfortable and fits. This function automatically return to user's prior settings when power on.
Design, features and specifications subject to change without notice. Screen images simulated and/or dramatized. Some features in videos may not be available on all models. Please refer to the TECHNICAL SPECIFICATIONS tab for a complete list of features by model.