LG Mono X® Plus
LG Mono X® Plus is LG Electronics' high-quality monocrystalline module.
Ultra Stable Physical Durability
LG Mono X® Plus modules are designed to endure a pressure load of 100 lb which is equivalent to a pile of snow higher than 1.8 meters (weighing more than 1920 lb). 
In order to ensure durability against wind load, the rear of LG Mono X® Plus frame is also designed to endure a pressure of 100 lb, which is equivalent to a wind speed of 208 mph.
Finer Water Drain Design
LG Mono X® Plus modules have liquid sliding design between front glass and frame, and 12 drain holes on the rear side.
Durable Anodized Aluminium Frame
All frames of LG Mono X® Plus are anodized to lengthen the life cycle of modules by forming thick and dense oxide (SiO2) that may help protect modules from electrochemically detrimental factors.
Junction Box With IP* 68 Rating
In view of environment, water-proof capability of the junction box has been improved.* IP: Ingress Protection
Lower Dust level Manufacturing
Environment
The LG Solar production site achieved Class 10,000: This is close to lower dust environment and can only be achieved when a dimension of 1ft³ contains less than 10,000 pieces of debris. (LG Internal Measurement)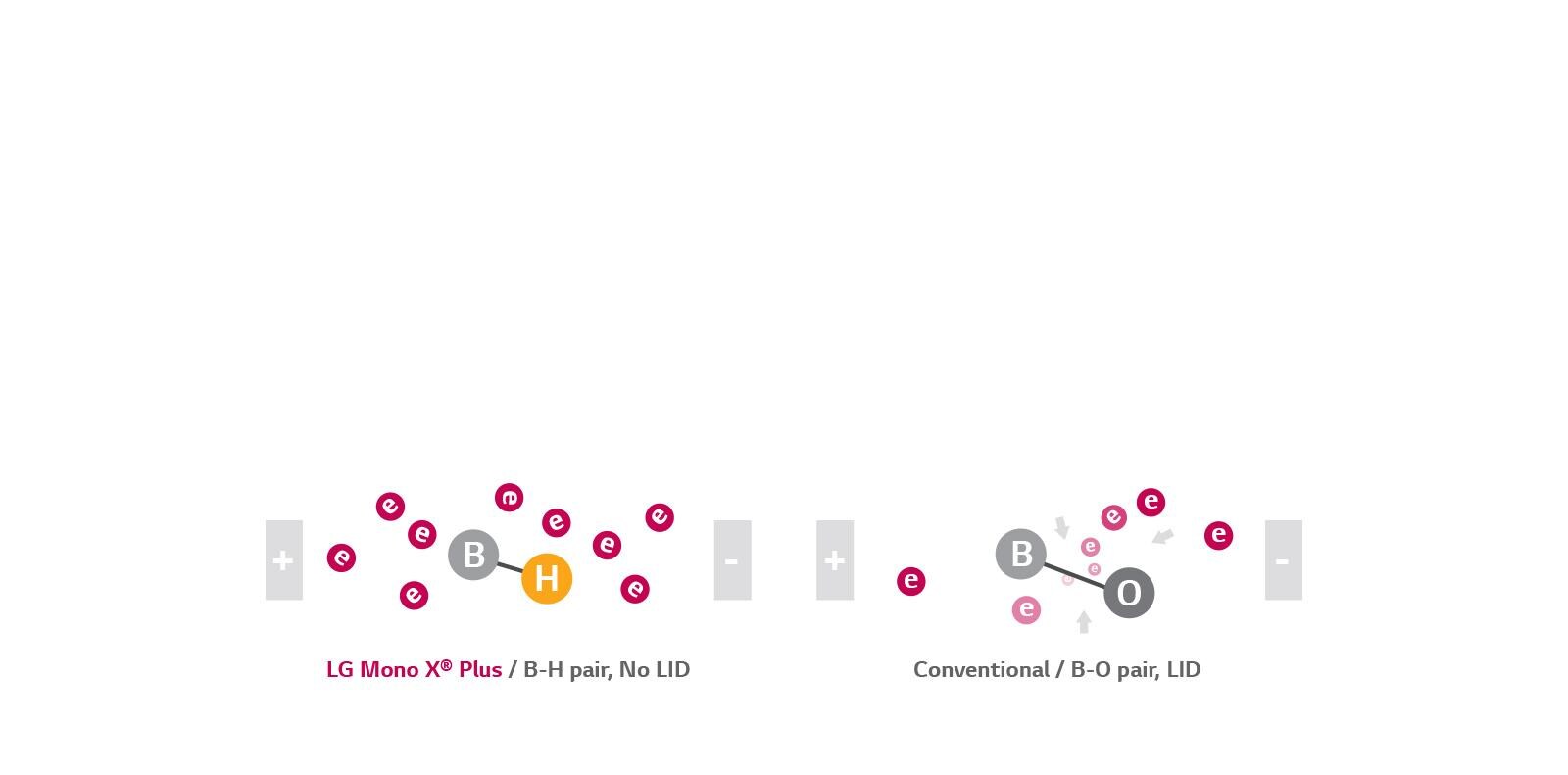 LiLY Technology Reduced LID Cells
LG Mono X® Plus has improved the initial degradation by applying LG's new LiLY(LID*-improvement for Lifetime Yield) Technology, which controls formation of Boron-Oxygen pair, the key factor of LID*. * LID: Light Induced Degradation
High Quality Shallow Emitter
The shallow emitter structure can increase electron generation area (p-type base).
The shallow emitter with low doping density and a new paste for the front side will improve cell efficiency.
Narrow and Thick Electrode
Skyscraper Patterning
LG's technology enables the widths of a cell's finger to remain as narrow as possible as electrodes are stacked vertically. Wider light-absorbing area can be realized without significant area loss; therefore, customers can acquire maximized currents for electricity generation without the slightest reduction in electrode resistance.
Reliability Test Comparison 
LG has carried out reliability tests at the development stage that is 4 times as strict as International Standards.
Additional Stringent Environmental Tests
LG Solar PV modules undergo extremely harsh durability testing. During a lifecycle of a PV module, it could face a wide variety of unforeseeable events that may threaten the longevity of the product. One of the main concerns for clients is a module's physical durability.
High Performance
Low Power Drop Ratio
P-type LG Mono X® Plus reduces initial output decrease with LG's own LID* improvement technology. * LID: Light Induced Degradation                                      
Enhanced Performance Warranty
LG Mono X® Plus A5 has an enhanced performance warranty. The annual degradation has fallen from -0.6/yr to -0.55/yr. LG has also extended the warranty of the LG Mono X® Plus for an additional 2 years.
Positive Power Tolerance
LG Mono X® Plus is guaranteed to always provide higher power output than the level that is printed on its datasheets  ("positive tolerance only" policy). Module power outputs of competitors have a ± tolerance range in their power output.