LG Mono X® Plus
LG Mono X® Plus is LG Electronics' high-quality monocrystalline module.
Ultra Stable Physical Durability
LG Mono X® Plus modules endure a pressure load of 100 lb which is equivalent to a pile of snow higher than 1.8 meters (weighing more than 1920 lb). Ensuring durability against wind load, the rear of LG Mono X® Plus frame withstands pressure of 100 lb, which is equivalent to a wind speed of 208 mph.
Enhanced Water Drain Design
LG Mono X® Plus modules have 4 capillary drains in each front corner, liquid sliding design between the front glass and frame, and 12 rear drain holes.
Durable Anodized Aluminium Frame
The anodized frames of LG Mono X® Plus lengthen the module's; lifecycle by forming thick and dense oxide (SiO2) and protecting modules from electrochemically detrimental factors.
Frame Binding with Screw
Screws are used in the assembly of all LG Mono X® Plus frames, exposing the modules to a much lower risk of physical damage. Most panels on the market today use a corner-key type assembly (without screws) leaving the panels vulnerable to further damage from external pressures.
Lower Dust level Manufacturing
Environment
LG's Solar production site is a Class 10,000:  manufacturing environment. This lower dust environment is only achieved when a dimension of 1ft³ contains less than 10,000 pieces of debris.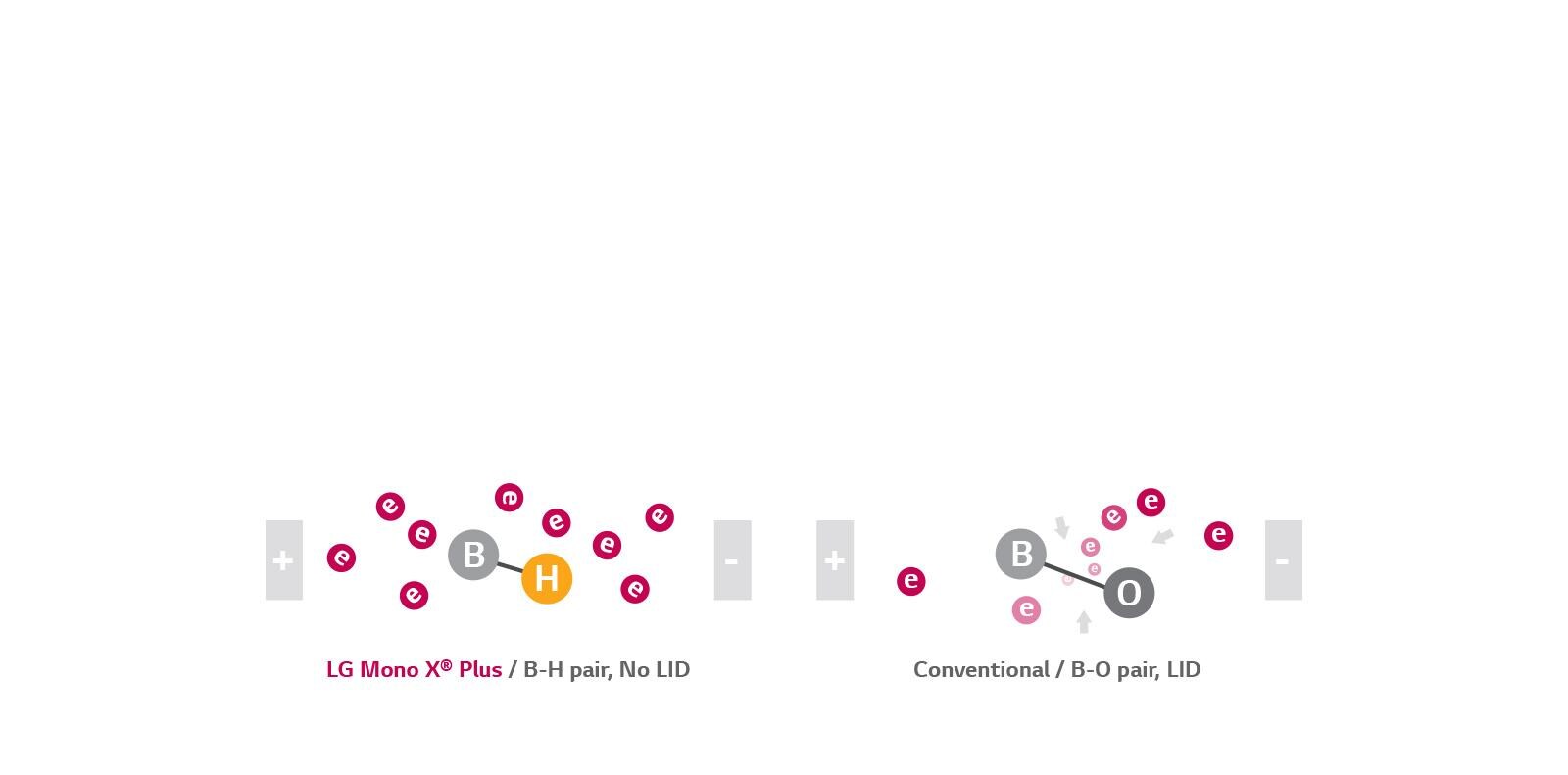 LiLY Technology Reduced LID Cells
LG Mono X® Plus has uses LG's new LiLY(LID*- improvement for Lifetime Yield) Technology, which controls formation of Boron-Oxygen pair, and improving initial
degradation.
* LID: Light Induced Degradation 
High Quality Shallow Emitter
A high-quality, shallow emitter structure increases the electron generation area (p-type base). With low doping density and a new paste for the front side this structure
improves overall cell efficiency.
Narrow and Thick Electrode
Skyscraper Patterning
With LG's technology electrodes are stacked vertically enabling the most narrow cell finger width.  A wider light-absorbing area is achieved provides customers with maximized currents for electricity generation without the slightest reduction in electrode resistance. 
LG's reliability testing at the development stage 4 times
as strict as International Standards
Stringent Environmental Tests
LG Solar PV modules undergo extreme testing ensuring the module's long-term durability. A PV module, must sustain a wide variety of unforeseeable factors that can threaten the product's longevity.
High Performance
Low Power Drop Ratio
P-type LG Mono X® Plus reduces initial output decrease using LG's LID*
improvement technology.
* LID: Light Induced Degradation
Extremely Low Mismatching Loss
One of the benefits of modules with uniform electrical performance is low mismatching loss. Differences in electrical properties among solar modules can reduce the system's power generation capability. LG Mono X® Plus achieves extremely low mismatching loss due to narrow current and voltage distribution in production.
Positive Power Tolerance
LG Mono X® Plus is guarantees and provides the highest power output exceeding those levels that are even published. ("positive tolerance only" policy). Module power outputs of competitors have a ± tolerance range in their power output.