LG Stylo™ 2 Virgin Mobile®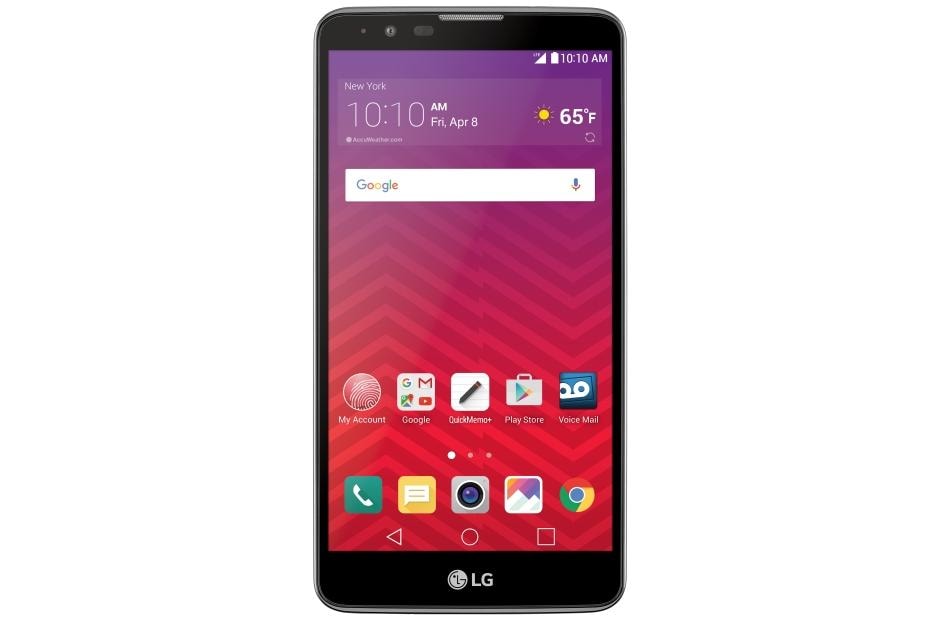 Key Features
Large 5.7" HD Display
13 MP Rear Camera with Flash
Calligraphy Pen Mode
Screen-off Memo
LG Stylo™ 2 Virgin Mobile®
Write, Create, Play
The LG Stylo™ 2 is the perfect canvas for your creative ideas and endeavors, allowing you to design and decorate with every inch of your imagination. Whether writing, sketching, doodling, or captioning—just use the pen and let your story unfold.
5.7" HD Display
Big ideas need a big workspace! Write or draw on the expansive screen for creations that are bright, vivid and on point.
Playful Pen
The LG Stylo™ 2 comes with a multi-purpose pen, so whether you're writing, sketching, doodling or captioning, you can let your story unfold.
Quick and Easy Selfie Camera
Capture sensational selfies every time using Gesture Shot. All it takes is a simple hand movement. Just don't forget to smile.
Summary

| | |
| --- | --- |
| Screen Size | 5.7 inches |
| Screen Resolution | 1,280 x 720 pixels |
| Battery Capacity | 3,000 mAh |
| Camera Resolution | 13 MP |
| Processor | Qualcomm® Snapdragon™ 1.2 GHz Quad-Core MSM8916 |
| Memory | 2 GB RAM |
| Storage | 16 GB (up to 9.72 GB usable) - expandable via microSD™ card (sold separately) |
| Carrier | Virgin Mobile |
| Other Features | Calligraphy Pen Mode, Screen-off Memo, Playful Pen, Quick and Easy Selfie Camera |
Design

| | |
| --- | --- |
| Stylus Pen | Customizable Settings for Writing and Drawing |
| Display | Large 5.7" HD TFT Display |
| Exclusive Rear Key | Yes |
| Customizable Keyboard | Adjust keyboard height/layout and position of the keypad for one-handed access |
| Customizable Home Touch Buttons | Includes Notifications, Capture+, QSlide Function,™ and Dual Window™ |
Interactivity

| | |
| --- | --- |
| Pen Pop | Choose which app shortcuts you want available when you remove the stylus |
| Pop Memo | Quick note-taking app you can set to activate immediately when you remove the stylus |
| Screen-off Memo | Write memos while the screen is off |
| Capture+ | Write or draw on nearly any screen and schedule memos to appear at certain times using time or location inputs |
| Battery & Power Saving | Minimize the battery consumption through efficient UX control |
| Knock Code™ | Tap a 6-to-8-point pattern to access the home screen; over 86,000 possible combinations |
| Knock On™ | Double tap the screen to sleep/wake the phone without picking it up or pressing the Power/Lock Key |
| Dual Window™ | Use two apps on a split screen simultaneously. |
| Mini View | Shrink the screen for easy one-handed use |
| Smart Lock | Keep your phone unlocked when you have a trusted Bluetooth® device connected, when it's in a familiar location, or when a trusted voice or face is detected |
| QSlide Function™ | Overlay up to two windows with adjustable sizing and transparency |
| Notification LEDs | Light alerts for incoming calls, missed calls and messages, and more |
| Do Not Disturb | Turn off all notifications except chosen ones, such as calls and calendar event reminders |
| Multilanguage Support | Support for Phone and Keyboard Input |
| Content Lock | Password/pattern protect your memos in Capture+* |
| Smart Dialing | Make a call to the U.S. from abroad without entering the national code |
| EasyHome™ | Show the dialer and other frequently used features right on the home screen for quick and easy access. |
| * | Some owner content may still be accessible to a user who enables Content Lock. |
Camera/Video

| | |
| --- | --- |
| Rear-Facing Camera | 13 MP Autofocus Camera and Full HD Camcorder with LED Flash |
| Front-Facing Camera | 5 MP Camera and Full HD Camcorder |
| Camera Resolutions | Up to 4160 x 3120 |
| Switch Between Rear and Front Cameras with a Finger Swipe | Yes |
| Camera and Video Zoom | Up to 4x |
| Shot Modes | Auto and Panorama |
| HDR Camera | Set HDR (dynamic tone) to on, off, or auto |
| Gesture Shot** | Take selfies with a simple hand gesture |
| Gesture Interval Shot** | Make a fist twice to take four selfies in sequence |
| Selfie Light** | Screen will illuminate a soft light around the photo preview for well-lit selfies |
| Beauty Shot** | Adjustable setting softens facial features |
| Auto Shot** | Take selfies automatically using face detection |
| Multiple Shutter Options | Tap the shutter, tap the screen, use your voice, or press a volume key to take a photo |
| Image Editor | Add filters, adjust brightness, and more to your pictures |
| Live Shot | Take still shots while recording video |
| Burst Shot** | Hold the shutter button to take multiple shots |
| Quick Share | Access social platforms instantly after taking pictures and videos |
| * | Available only on rear-facing camera or camcorder. |
| ** | Available only on front-facing camera or camcorder. |
Entertainment

| | |
| --- | --- |
| Video Player | Touch Lock and Resume Play Function; supports 3GP, MP4, AVI, MPG, ASF, MKV, Webm, FLV, TS, OGM formats |
| NextRadio | Local FM radio broadcast tuner app* |
| Music Player | Support for AAC, AAC+, eAAC+, M4A, AMR, MP3, MIDI, WAV, WMA, FLAC, and Ogg Formats |
| Music Library | Organized by songs, albums, artists, genres, favorites, playlists, and folders; access other music via nearby devices |
| Media Device (MTP) | Transfer files or synchronize with Windows® Media Player or Android File Transfer** |
| Accelerometer | Control games by turning and tilting*** |
| * | Requires headphones or speaker plugged in (sold separately) |
| ** | USB cable required (included) |
| *** | Only available on certain interactions with the touch screen |
Connectivity

| | |
| --- | --- |
| Network | Virgin Mobile's 4G LTE Network* |
| Wi-Fi® Hotspot† | Share a 4G LTE data connection with other compatible wireless devices** |
| Wi-Fi® Connectivity | 802.11 b/g/n |
| Bluetooth® Wireless | 4.1 |
| Supported Bluetooth Profiles | Headset, hands-free, object push, advanced audio distribution, audio/video remote control, human interface device, generic audio/video distribution, generic object, serial port, message access, personal area networking, health device, and phone book access |
| Bluetooth Tethering† | Share your phone's Internet connection with your computer and other Bluetooth-capable devices |
| SmartShare Beam | Wirelessly receive multimedia content from compatible LG devices. |
| File Sharing | Receive images, videos, and more from nearby devices via BLE |
| Wi-Fi Direct® | Connect directly to devices via Wi-Fi connection |
| Media Server | Share media content with nearby DLNA compatible devices |
| LG AirDrive*** | Wirelessly share content with a computer using your LG account |
| Enhanced Location Accuracy | S-GPS |
| * | 4G LTE network not available everywhere |
| ** | Depends on network availability. Additional carrier charges may apply |
| *** | LG Bridge download required on computer |
| † | Wireless service required. Product features subject to change. Features based on carrier program availability. Additional charges may apply. |
Technical Specifications

| | |
| --- | --- |
| Carrier | Virgin Mobile® |
| Display | 5.7" HD (1280 x 720) TFT Display with 258 ppi |
| Battery Capacity | 3,000 mAh |
| Processor | Qualcomm® Snapdragon™ 1.2 GHz Quad-Core MSM8916 |
| Frequencies | CDMA Band Class 0/1/10; LTE Bands 2/4/5/12/25/26/41; UMTS 1,2,4,5; GSM 850/900/1800/1900 MHz |
| Dimensions | 6.10" (H) x 3.13" (W) x 0.29" (D) |
| Weight | 5.10 oz |
| Talk Time | Up to 25 hours* |
| RAM | 2 GB |
| Total Internal Memory | 16 GB (up to 9.72 GB usable) |
| microSD™ Memory Slot | Support up to 128 GB** |
| UPC | 652810518390 |
| * | Actual battery time may vary depending on network connectivity and application use. |
| ** | microSDXC cards sold separately. |
Accessories

| | |
| --- | --- |
| Standard Battery | Yes* |
| Travel Adapter and USB Cable | Yes* |
| LG Quick Cover™ | Yes |
| Bluetooth Stereo Headset | Yes (LG TONE Active,™ LG TONE INFINIM,™ LG TONE PRO,™ LG TONE ULTRA™) |
| * | Included with phone |
What People Are Saying
Rated

4

out of

5
by
Cherieasy
from
Easy to use
I bought the LG Stylo 2 for myself and for my boyfriend. It took some getting used to since I haven't had a new phone in a while but it didn't take long to figure everything out and it is quite easy to use. The screen is bigger than my previous phone which is a plus for me. The features are great and the stylus pen makes it even better, especially when I just need to write a quick memo. My only negative with this phone is the camera, it is 13mp in front and 5mp in rear. I thought the pictures would be of better quality but all in all it is a great phone and I would definitely recommend it and I would buy it again.
Date published: 2017-09-22
Rated

2

out of

5
by
Rach78
from
great setup
great phone except the service was awful my stylo had great service this just doesn't. the memory is great seamless if it had bring reception i would say five stars
Date published: 2017-08-14
Rated

5

out of

5
by
DAG2
from
I love this phone
I purchased two for myself and my husband. He went from a flip phone to this one. I had a smaller smartphone. We were on Tracphone and the kept changing my number when I changed phones so we deceided to go with Virgin Mobile. This phone is big and it is easy to see. My husband loves it. He uses the internet more on his phone and GPS then he did on the other phones he's had.
Date published: 2017-08-02
Rated

4

out of

5
by
Kaitlin3199
from
Overall good phone for the price...
First off, do not buy this phone without also buying a screen protector& a case. The glass is very easily broken/cracked. It's a good phone but not so easy to find&figure out all options&extras. Also the selfie camera works very well, but the regular camera, not so great. It's a good phone for the money, but it's not what I would say is, "great."
Date published: 2017-07-30
Rated

2

out of

5
by
Disappointed caller
from
Makes phone calls, plays games.
Most of the things I like to do with a phone require root. This device has a locked bootloader and will boot loop if you even try to root. Had I known this beforehand I would not have made the purchase. It has a design/QA flaw on the screen in two places that will cause glass screen protectors to crack. All LS775 devices have this flaw, and according to forums the GSM-specific variant does as well. No NFC. Half the ram of its GSM brother.
Date published: 2017-06-29
Rated

1

out of

5
by
lost customer
from
A new headache every 30 minutes
I purchased this product on August 25. Today is April 12. Not a single day has passed in the mean time without the touch screen freezing at least one or two times, and the only way to recover is to tear the back off the phone and pull the battery out. I presume this issue is because half the memory on the phone is consumed by some 60 apps (I actually counted them) that I never asked to have, but were forced on me with this phone purchase and embedded in the system software so they cannot be gotten rid of. Most of them are useless. Whenever the consumed internal storage gets a few Mb beyond the 8 Gb of factory installed bloatware, the phone freezes. I have no clue what the remaining 8 GB are supposedly doing, but they are not helping the situation. The data transfer on this phone is extremely slow as well, even when connected with a fast Wifi. My online experience with the phone is too often that a web page will load partially and then quit. This phone gets worse with every use. It seems I am spending half my time troubleshooting some problem, which is extremely distracting from the work I actually want to get done. It disrupts my schedule and my whole day. I tried doing a reset to factory settings and that just created all sorts of new problems without solving any old problems. The big screen is the only plus I'd give this phone. A few days ago I was on a conference call where I was supposed to explain something to people listening in from all over the country. The microphone on my phone quit working, so I could hear the other callers just fine but they could not hear me. I called back in several times and ultimately, the call was a complete waste of everyone's time. For six months I've been sure the reason my elderly mother could not hear me on the phone was because of her hearing aids, but it turns out my phone is not working. So I've missed a lot of conversations with a loved one. As a consequence of my experience with the LG Stylo 2, I will never purchase another LG product. Although the phone is still under warranty and only 6 months old, I am presently shopping for another phone. I've absolutely had it with this unmitigated and inexcusable piece of junk.
Date published: 2017-04-13
Rated

1

out of

5
by
jimglaze
from
Horrible Camera
I'm working on a hash tag that adequately describes just how bad the camera is, to be included with all photos I post so that others will be alerted before making a purchase. The reviews about the camera I read before purchase were underwhelming, but neither they nor LG's product description mentioned that it would not be possible to use manual controls with Any camera apps. It appears that LG has intentionally disabled these controls to force anyone wishing such controls or a better camera to buy another cell phone with a better camera. How can LG not realize that in all likelihood I, and anyone else wishing a better camera will buy a phone from a different manufacturer? In all fairness to lovers of good photos, I must share this review on Amazon and other sites. Hope LG gets their act together, though I don't know how I will ever know, if I can't trust LG's product descriptions! This is unfortunate, because I only positive experiences with the build of previous LG products I have owned.
Date published: 2017-03-17
Rated

5

out of

5
by
Nathan1232
from
Best phone for the money
Bought it two weeks ago and this thing is a monster comes with plenty features and the battery is awesome great alternative to a iphone 7+ and it is nice to have something different compared to everyone else
Date published: 2017-03-17
Accessories
FIND AN AUTHORIZED STORE NEAR YOU