Welcome MATTE
Experience the style of LG's exclusive MATTE Black Stainless Steel appliances.
J.D. Power Award Winners
"Highest in Customer Satisfaction with Freestanding Ranges"

A Microwave Design That Brings the Heat
LG NeoChef™ countertop microwaves have reheating down to a science. Enjoy better defrosting without overcooked edges thanks to the precise, even heating of LG's Smart Inverter.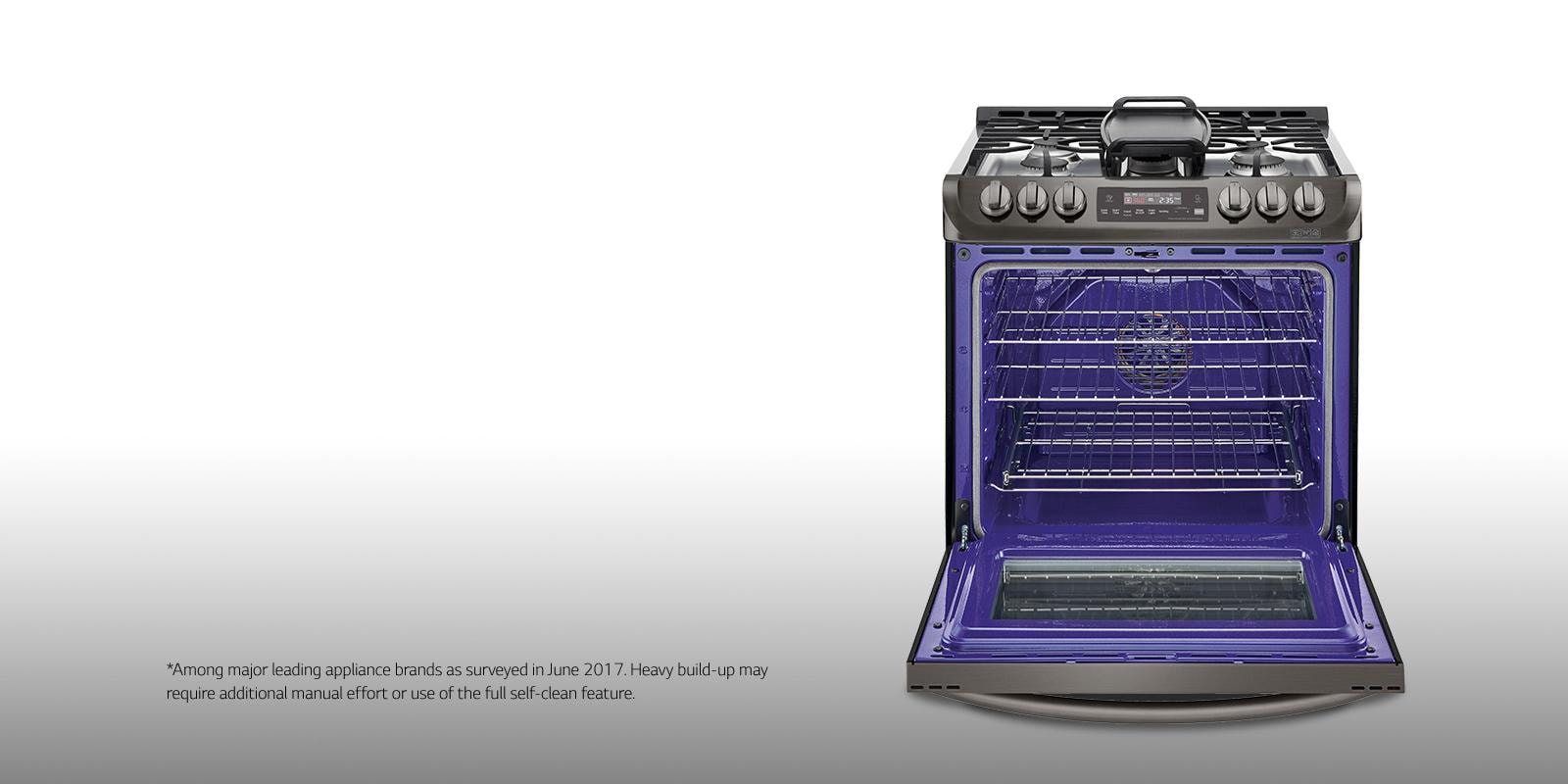 10 Minutes. 1 Spotless Oven.
Enjoy a sparkling clean oven without strong chemical fumes or high heat using LG EasyClean®, the only 10-minute oven cleaning cycle technology.*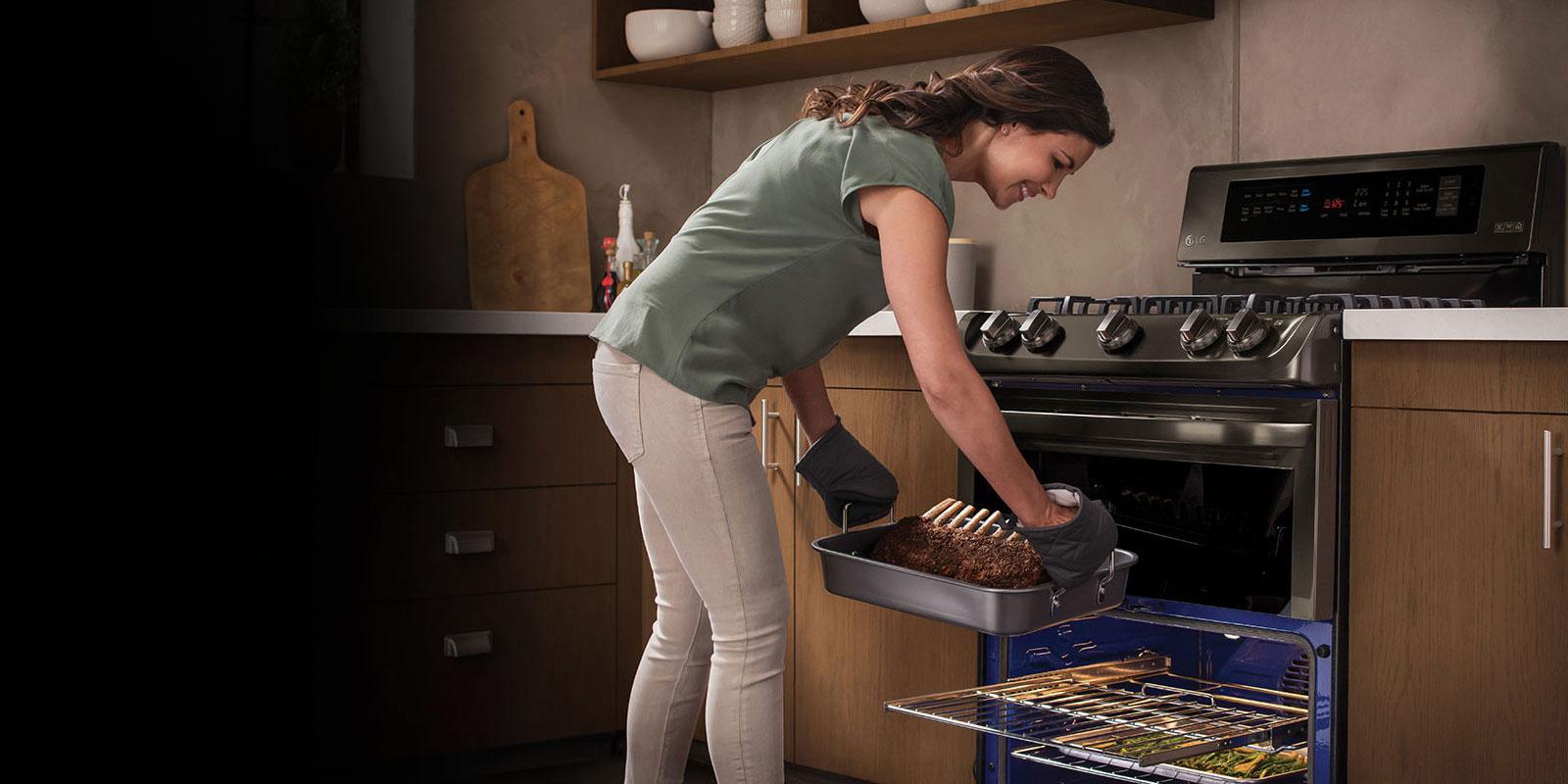 From Rare to Well Done, It's Always Done Well.
With innovations like ProBake Convection® and high-powered cooktops, LG cooking appliances will give you that perfect golden crust, savory roast or velvety smooth sauce every time.
TIMELESS.
BOLD. YOU.
Make a statement with LG STUDIO appliances and enhance the look of your home with timeless appliances.
New Year. New Sales.
Enjoy savings on LG home appliances for a limited time.

Selecting a checkbox will update the products displayed on screen.
Refine Your Search
64
Total Results
All Cooking Appliances
Create the kitchen you've always dreamed of. LG cooking appliances perfectly blend form and function -- giving you stylish designs and innovative technology that will bring your culinary skills to a whole new level.
WHAT CUSTOMERS ARE SAYING
Average Rating for All Cooking Appliances
Love my new LG range!

I've had my range for 6 months. I am very happy with my purchase. I use the convection bake feature often, and love the results. I also like the steam clean option for light oven clean-ups, and the regular self-cleaning cycle works great too. The black speckled top is super-easy to keep clean, and the blue color of the oven is pretty cool. I have no complaints. I actually enjoy cooking more with this range.

Sweepstakes entry received for review.

Blue internal oven, touch controls

Love this stove/oven. Everything heats so nicely. After working with my old unit which required turning the heat about 20 degrees hotter to cook. I almost burned the first few items. My only complaint is the tune (which I love), that signals the time is up is so low, it is hard to hear if in another room. The light in the oven has burned out after 10 months and the housing is on so tight we can't change the bulb. I still love cooking with it.

Sweepstakes entry received for review.

This is an Exceptional Appliance!

I have been using my new LG Stove for a few months now. I LOVE IT! From the little tune that plays for the timer, purple inside oven color and touch controls it is exactly what I have wanted for so long. The only downside I have found is cleaning the cooktop. I am very OCD when it comes to cleaning and I still haven't found the right product to use to clean it with out smearing and needing constant wiping to keep it shiny (but like I said I am very OCD). For others it may be just fine. The

...

read more

other areas of the cleaning of this stove is very easy and looks great.

Sweepstakes entry received for review.
Love this Cooktop!!!

I was cautiously optimistic ordering this cooktop after reading several other reviews about the burning of the unit in the corner. I have not found this to be an issue at all!! It looks beautiful w/ our new countertops and it is super easy to clean. I am very happy with my purchase and would definitely recommend this cooktop!!!

It's amost six years old now, and still going strong!

Sweepstakes entry received for review.

One couldn't ask for a better cooktop.

The versatility of the burners make this cooktop the best for the home chef. One burner for slightly boiling items, One burner that I use with a wok for stir fry and deep frying items. And, three burners that are useful for everyday cooking.
I Love My Beautiful New Range

This is the first range I have ever got to pick out for myself. I replaced all the appliances in my kitchen with stainless steel. This range is so high-tech, I had to print out some of the pages of the owner's manual just to be able to refer to how to use some of the features I've never had in any of my previous ranges. I love every thing about this range from the NO Knobs to the five burners to the flat top to the convection oven to no bottom element and the best timer notification signal: A

...

read more

tinkle tune, rather than a loud buzzer. Can't wait to give it a workout this Christmas. It is so beautiful and so easy to keep clean. The control panel which is flat, with no knobs to clean around, is as easy to clean as the flat top. I just love it.

Sweepstakes entry received for review.

Works well, User manual is not accurate

No complaints with the operation of the stovetop and oven -- they're both working well. BUT we spent quite some time trying to follow the user manual directions on how to remove the drawer under the oven in order to adjust level and to clean. Checked with several local big box stores-- they couldn't make it work on their models either. Contacted LG customer support, who were pretty useless. Finally got an answer that seems correct -- the darned drawer can not be removed, despite the

...

read more

instructions. Disappointing attention to detail, LG. Now I wonder if I should be looking at your products for our refrigerator replacement. Not too impressed by your performance.

Sweepstakes entry received for review.

Love it!

Just what I was looking for. Have been adjusting to the oven. Cooks faster than my old one. Heats water quickly. One drawback. We have the black stainless steel. Unless you have room for an over the stove microwave good luck finding an oven vent.
Happy so far!

My husband and I were both sick when our old microwave quit working. Neither of us were well enough to go shopping for a new one, so we saw this one online. It was delivered the next day after ordering and we put it to use right away. So far, we are pleased with how it works. It heats faster than our last one, which I like. I'd have given it a 5 star, but my only con with it is that the clock does not remain on all the time. I really miss that, but as far as how it cooks, I'm very satisfied!

Sweepstakes entry received for review.

Great Microwave

I bought this product about 4 months ago. Great product. In love with the easy clean interior. Con: The LED time does not stay lit.

Sweepstakes entry received for review.

very happy with it, but-

2 people use this (adults) and we've used most of the cooking features and been happy with it-but-it gave up the ghost 2 months shy of 4 yrs.I expected more longevity.We liked it enough to buy another-same model.
Love this range

I love the way this range bakes and convection bakes. Love the blue interior and it's so easy to keep clean. The front-mounted cooktop controls are excellent and so much easier to use than the models that have the controls on the back. The burners heat up very quickly and glow an impressive red. The clock is very accurate. I love the chimes that sound when the oven's set temperature has been reached. My only nits are that the glass cooktop is very difficult to keep clean and streak-free and the

...

read more

timer is could be a little more intuitive. Otherwise I just love this range and would buy it again in a heartbeat. Highly recommended.

Sweepstakes entry received for review.

I bought this 6 months ago, I absolutely love this Range. It is my first Electric range and I am so amazed at how fast the burners get hot and cool down. Virtually it is like working with Gas , this Stove is that responsive. It looks amazing in my beautiful kitchen. When people come over its ohs n ahs, and then they open the oven and see this fantastic blue interior. The next thing asked is what kind is this ? an I say LG...its awesome ! Thank you...going to bake some cookies now...

Wow

We love it. Always wanted a smooth top stove and very pleased with this one. No more pots boiling over. Oven cooks very nicely. Love the easy clean feature. There is a control lock out that we use all the time. Makes cleaning the rear touch controls a lot easier .

Sweepstakes entry received for review.
I bought the LG double oven about a year ago. I like the way the stove top cooks. The two ovens are great to cook for a family. This stove cooks with perfection and I am so glad I bought this stove. The top glass surface does scratches too easily. I would rather the knobs be harder to turn on because I have to be so careful as not to stand so close to the stove or the knobs will turn on with just a touch of my body touching the stove.It would be better if the larger bottom oven be on the top

...

read more

instead of the bottom. This makes it harder to bend so low to get heavier pans out of the oven. I still would buy this stove again.

Sweepstakes entry received for review.

great features for seniors!

My range was purchased last year shortly before Thanksgiving. It worked wonderfully for a houseful of guests for Thanksgiving dinner. We had turkey, dressing, sweet potatoes and the works for a dozen people. I especially like it tho for myself. Usually I am alone and I can bake in the small oven something just for myself - perhaps a baked potato or chicken of fish for just one individual. It doesn't heat up the whole house and doesn't cost a lot to run the smaller oven. It heats quickly and does

...

read more

a nice job cooking whatever I want. The adjustable burners are handy as well when cooking for just 1 person.

Sweepstakes entry received for review.

Nice double oven!

Our oven died 2 days before Christmas and we had to get a replacement quickly! We shopped around and the only one we could find in stock was this LG double oven. I was a bit skeptical of the flat top electric stovetop but boy have I grown to love it!! The burner size is adjustable and fits my extra large cast iron skillet. It cooks so evenly! I LOVE the double oven and the setting options. I'm so glad we wound up with this oven!

Sweepstakes entry received for review.
Sceptical at first, not familiar with this brand

Replacement stove, love the interior blue enamel and water cleaning feature. Its beautiful! Exterior cleans like a breeze using stainless steel wipes. I thought it would be smudgy and scratched but its like brand new each time. Catchy tune for the timer! Burners are fantastic. Front ones hotter, back ones less so and simmer burner perfect for making grains, no more scorched or undercooking. European convection is rad, a little jet engine in the back of your oven. Multiple racks baking come out

...

read more

perfect. So happy with all aspects of this stove-oven.

Sweepstakes entry received for review.

So Far I'm in LOVE with this range.

We put this range in our new home 21/2 months ago. We did an LP conversion on it. The pros came out and did that for us - no issue. I am enjoying the way it is so easy to clean. I really appreciate that the grates are THREE large pieces which I can take off and wash. Then the underlying part is ONE solid surface so I can wipe and dry and presto -- it's clean. The oven works like a charm. It is quiet - I love the little chimes to let me know when my bake temp has been reached or my item is

...

read more

cooked. I haven't cleaned the oven yet so I will have to review again when it gets dirty. Lots of room in the oven though and I'm enjoying the use of it.

Sweepstakes entry received for review.

Cooks amazingly!

This oven heats up so fast and cooks so much better than any oven I've used before. Vegetabless ae roasted and browned at least 10 minutes faster than my last oven set on the same temperature. And if I heat the oven to 400 degrees or more I can to lean back when I open it because the heat coming out is so intense. Burners on top of the stove are placed so you can get several,large pots on at once. The large burner's flame covers the entire bottom of my 14 in saucier and I rarely turn it on high

...

read more

because it is hotter than I need it to be. Love this appliance for what it does.

Sweepstakes entry received for review.
Range is NOT self-cleaning!

Range is great. Only downside is it is NOT a self-cleaning oven - even though we were told it was. The EZ Clean never really did anything except make the oven cavity wet. Other than that, I love this range!

Great features!!

I bought this stove about 1 month ago and i just really love it and especialy the features. I love the gas ranges because they are bigger than my old stove which allows me/ cooks my food so quickly and its just a great match for me.

Sweepstakes entry received for review.

New Range

I've had the product for about 2 weeks, I like the view the burners sizes are good. I dislike the fact that one of the burners changed color without much use. It turned yellow on the first use as if it had oil and it burnt on it and it did not. I would of liked if it came with removable burner protectors.

Sweepstakes entry received for review.
1 YEAR OF USING, LG DID GOOD !

1 YEAR 2 MINOR SERVICE CALLS, BOTH 1 DAY APPOINTMENTS , COOKS GREAT, PRE HEAT 15 MINUTES, AND TELLS YOU WHEN TEMP IS READY WITH CHIMES , STAINLESS CLEANS REAL NICE, BIG WINDOW TO SEE COOKING, VERY HAPPY THANKS LG

Sweepstakes entry received for review.

Good appliance

Works great. I like the different sized burners and the warming burner. Oven capacity is huge. A little difficult to clean the stovetop, and the speed cleaning feature is not useful....basically spray water inside and turn on low. It is very difficult to see the display, especially in low lighting. Timer is not user friendly either. Looks good and fit nicely in the area I had, which was most important.

Sweepstakes entry received for review.

Great features and ease of use!

After thorough research of slide-in models I pulled the trigger on this beauty. I have no regrets! And, the more familiar I become with the features of this unit, the more I love it. Easy to use, easy to clean and produces great cooking results.

Sweepstakes entry received for review.
LG Product Service and Support
Get your questions answered about product setup, use and care, repair and maintenance issues. We can help.
Telephone
Call an LG Support Representative.
(800) 243-0000 Consumer (7am-midnight CST)
(888) 865-3026 Commercial (8am-6pm CST)