J.D. Power Award Winner
"Highest in Customer Satisfaction with Freestanding Ranges"
A Microwave Design That Brings the Heat
LG NeoChef™ countertop microwaves have reheating down to a science. Enjoy better defrosting without overcooked edges thanks to the precise, even heating of LG's Smart Inverter.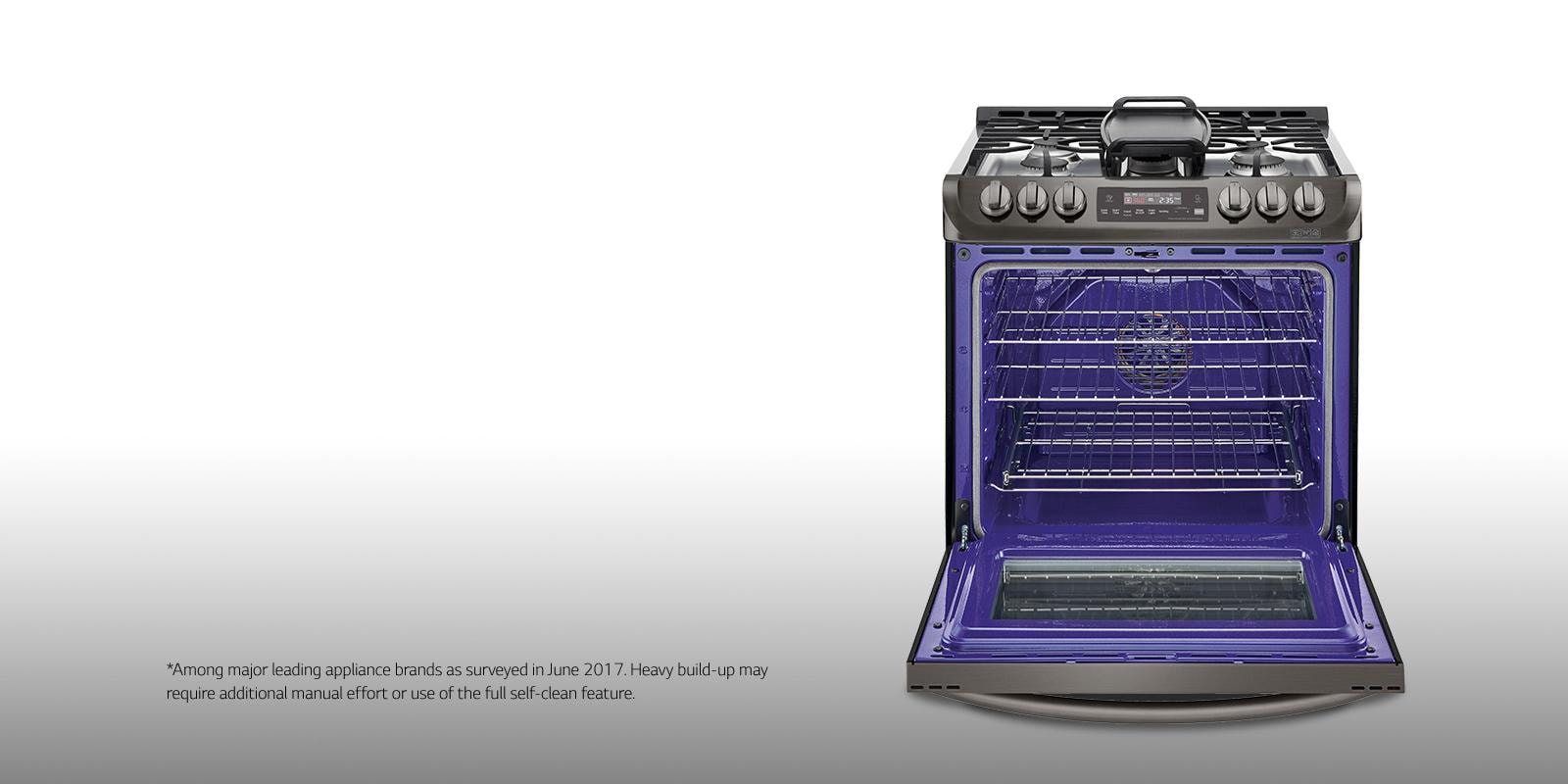 10 Minutes. 1 Spotless Oven.
Enjoy a sparkling clean oven without strong chemical fumes or high heat using LG EasyClean®, the only 10-minute oven cleaning cycle technology.*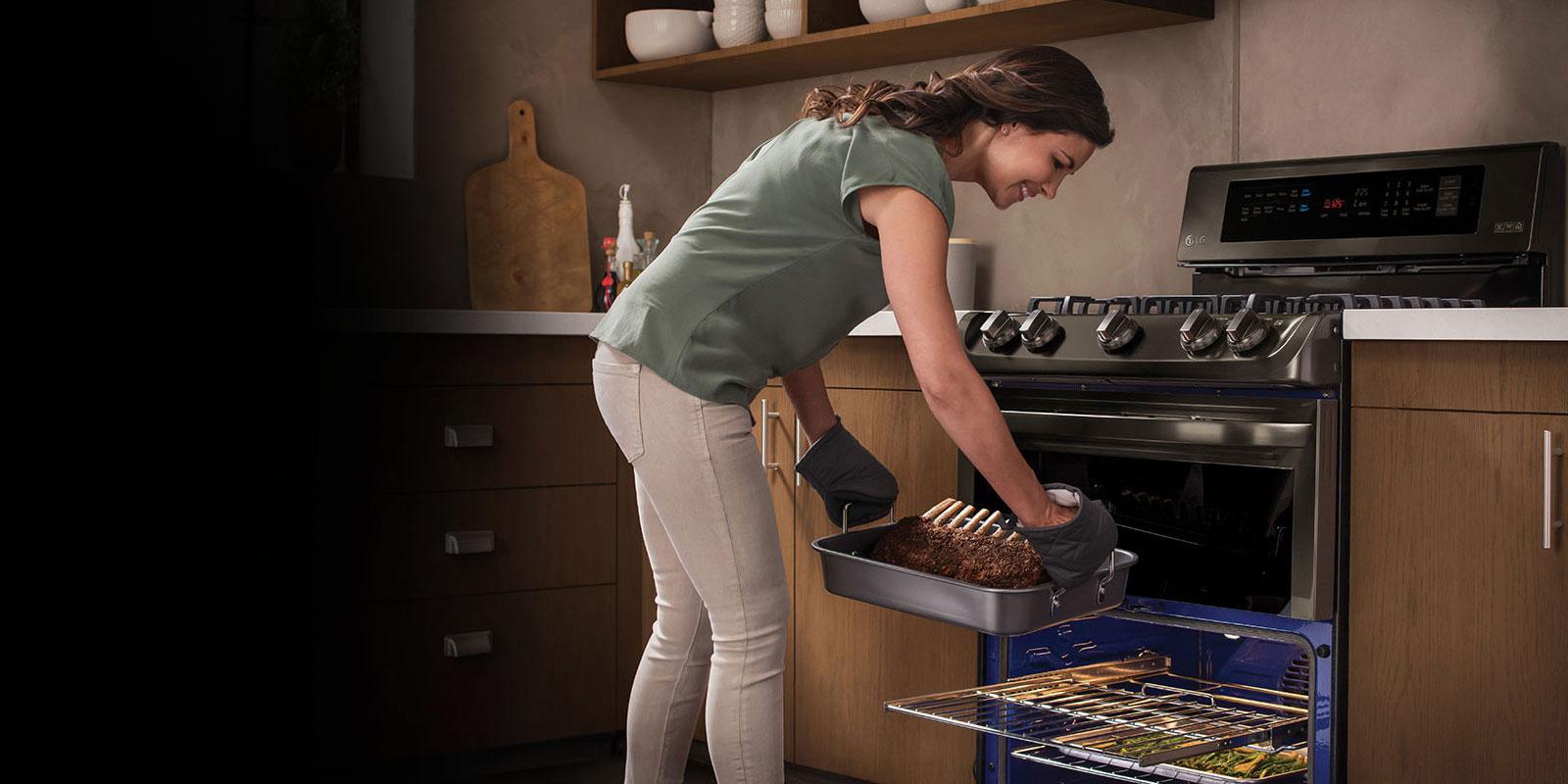 From Rare to Well Done, It's Always Done Well.
With innovations like ProBake Convection® and high-powered cooktops, LG cooking appliances will give you that perfect golden crust, savory roast or velvety smooth sauce every time.
TIMELESS. BOLD. YOU.
Make a statement with LG STUDIO appliances by Artisitic Advisor Nate Berkus.
Selecting a checkbox will update the products displayed on screen.
Refine Your Search
62
Total Results
All Cooking Appliances
Create the kitchen you've always dreamed of. LG cooking appliances perfectly blend form and function -- giving you stylish designs and innovative technology that will bring your culinary skills to a whole new level.
WHAT CUSTOMERS ARE SAYING
Average Rating for All Cooking Appliances
Durable and high quality

We are in our 60's and this has to be the best range we have had. You can tell it is durable, easy to work with and love the short vs long time cleaning cycles. I highly recommend this range.

Sweepstakes entry received for review.

Double oven

I purchased my gas double oven range 10 months ago and could not be happier with the product! I especially like the smaller top oven as the size is perfect for most of my baking needs. The removable griddle is also a nice feature that eliminates the need for another appliance

Sweepstakes entry received for review.

We purchased this LG gas stove in August of 2016. It has the double ovens and I absolutely LOVE having 2 ovens. I don't know how I ever cooked huge meals before with just one oven. This is an awesome stove. It has great features, heats up to the proper temp. in such a short amount of time. ( I was having to wait about an hour or so for the oven to get to the temp. on my old gas stove.) So this is amazing. I LOVE my LG Double Oven Gas stove.

Sweepstakes entry received for review.
Just what I needed

We purchased this product the day before Thanksgiving 2016. It has been one of the better buys that I've ever made. After 16 years, my old range went out . Whatever product we went with, we knew it would have to last a while, give us more bang for our buck, be appealing, but most of all meet our daily need. The biggest downside is the Easy Clean, has to be repeated more than one. Other than that we have been pleased with our decision.

Sweepstakes entry received for review.

Very solid but.....

Pros - We really like the purple color on the inside. First time with a ceramic surface. Awesome! Simple water, soap and a dish brush and the surface cleans nicely. She likes the singing of the oven tones. Honestly, she smiles every time it sings. The basic controls and operation procedures are easy and "obvious". Cons - The oven heat dissipation through the vent on top that blows on the range surface is really annoying. We tried the easy clean - didn't work as expected. The inside

...

read more

light is good. But a second light on the other side would make a HUGE impact on seeing the food better. Too many shadows.

Sweepstakes entry received for review.

elegant looking

I've had the stove for a year. It looks wonderful combined with the other black stainless appliances. I still am not used to the touch controls requiring several touches to get to the temperature setting I want. It does heat up very quickly! The oven is not all that easy to clean. They include a spray bottle to use steam to clean the oven, but it still requires reaching into the oven to scrub off the residue. Having some physical limitations makes that difficult. The blue is pretty, however.

Sweepstakes entry received for review.
Best Oven I've Ever Owned!

I love to cook and this stove is the best I've ever owned! My favorite feature is "SuperBoil". It quickly gets pasta water boiling in half of the time from my old stove. It also heats my 14 inch skillet easily. Powerful burner! My second favorite feature is the convection oven. It makes baked goods come out perfect! No more burnt bottoms or unevenly cooked foods! Frozen pizza, cookies, biscuits all come out perfect! This is our first LG appliance we've owned. I will definitely look for LG

...

read more

on any future purchases. Ps: I love the blue color- makes it easier to see the food and it's pretty!

Sweepstakes entry received for review.

Good stove

We bought this stove about 6 months ago. I really like this range, but it is hard to keep clean. Every time you use it, you have to take off the grates and clean it. It is not hard to do, but sometimes just a pain. I finally found the secret to make it easier, just use a wet cloth, no soap, and wipe it out and dry it. Looks as good as new when done. It takes some getting use to with the open grates. Also, the timer is harder to use, it only goes to 59 minutes. I think they should change

...

read more

that and make it easier.

Sweepstakes entry received for review.

Perfect for our family!

We purchased our stove last year when our 25 yr. old stove had a broken door. I looked at the double oven options on many gas stoves but I needed to have an oven that could cook a 20lb. turkey for the holidays and didn't think they could fit in there. My kitchen storage for pans is limited so having the storage drawer on the bottom was a must. I haven't used the convention yet so I can't comment on that feature. I like the oven rack levels although I did burn the bottoms of the first batch of

...

read more

cookies that I baked on the lower rack level. I find the timer and temp setting one minute at a time tedious and wish the timer volume could be louder. I love the blue interior of Overall this stove was a great fit for our family and the cooking we do and the Thanksgiving turkey was perfect!
It's amost six years old now, and still going strong!

Sweepstakes entry received for review.

Great overall product!

I LOVE this cook top. The only drawback is that the burners may be too powerful where one will need to use quality cookware and keep a watchful eye while cooking to keep from burning the food. It has excellent heating power on all burners and it is so easy to clean up. The grid is sturdy, level, substantial and strong. The middle burner is excellent for high heat stir frying in a wok. The stainless steel sealed cook top easily cleans up with with just wiping with a damp cloth. I am so pleased

...

read more

with this cook top's performance I recommend it to everyone. Great appliance and I look forward to many years actually enjoying cooking with this cook top.

Almost perfect

This is the second LG cook top we have purchased. The first (in a previous house) was great so we bought another one for the new house. It was also great. Good control of flame level and easy to disassemble burners. The only complaint and it isn't a big one is that the knobs don't seem to be very strong or long wearing. We shall see.
Love my range

I have had my range for about 6 months, I'm not sure how I survived without it......love the convection oven.....I have only used the standard oven once......love the selection of burner options......and the wipe clean exterior is amazing.

Sweepstakes entry received for review.

surprising power!

I have used a Gas range for many years, so I was hesitant when I made the switch to an Electric range. The quickness and intensity of the LG Stove top burners blew me away! I love the instant heat burner, and am very happy that all the other burners heat up quickly. The oven is awesome, works like a charm, and I love the beautiful color and easy clean up inside. It's easy to keep the top clean, after seeing some friends of older range tops, many looked scratched, and beat up. with mine,

...

read more

you just wipe it with a cloth. I use non abrasive soft cloths, in my kitchen. My LG looks like new, and it's been a real work horse. I cook every day, and it still looks sparkling like new. Thank you for coming our with such an excellent range!

Sweepstakes entry received for review.

I LOVE this!

When I purchased a 'fixer' condo and started to plan the kitchen, I knew I wanted a slide in range, so that narrowed my search drastically. Of the two that were offered where I shopped, I decided upon the LSE4613ST. I have had several LG items and have appreciated the quality of each. I am a baker. I have had many ovens in many locations, but I have to say, this one has been remarkable. Out of habit, I purchased and hung an over thermometer. (I'd had too many ovens without working

...

read more

thermostats). It has been consistent in its temp, perfect in its baking and when I opened it for the first time - I got quite a surprise - PURPLE! Love the color inside! I am extremely happy with this purchase and if I ever move from my current condo, it's coming with me!

Sweepstakes entry received for review.
LOVE the look of this stove!

So far, I am loving my new stove. The only complaint that I have is that the stove top AND my microwave above the range gets SUPER hot when the oven is on.

Sweepstakes entry received for review.

Loud Annoying Timer sound

I like everything about the stove except for the sound when the timer goes off. It is loud - I can't tell a difference even with it set to low - and the music tones are very annoying. I didn't see an option to just select a beep when the timer goes off. The really should be an option to change the timer tone

Beautiful and very functional

We bought his stove because of the burner size and the knobs to turn on flame was bigger and easier to use. Love the bigger burner to boil water faster. Easy clean is ok but I'd like regular long oven clean instead. Love the dark blue oven. So stylish

Sweepstakes entry received for review.
Great Stove

I wanted to upgrade and get a slide in stove. The LG had all the features I wanted in my price range and a bigger oven. Overall I am pleased with LG. My only complaint is I would have liked aa key pad for setting oven temps and the timer. Using the + and - buttons to change temperatures and especially the timer is cumbersome.

Sweepstakes entry received for review.

Nice stove!

I am enjoying my new LG stove. The easy clean 10 minute method to clean the stove I'm not fond of. It just doesn't seem to clean very well. Haven't tried the self clean yet. The only other complaint I have is when you set the oven at one temperature then have to lower it to a different temperature, you have to turn the oven off first as it doesn't seem to automatically change just by lowering the setting. Other than these two things, I am enjoying cooking and baking with it.

Sweepstakes entry received for review.

Love it

I have now had my stove for four months, and I have no complaints! I simply love everything about it. It has so many functions that I have to explore. I have every intention of experiencing and learning more if the capabilities once our wheather cools down. Couldnt be happier!

Sweepstakes entry received for review.
Love It

Really love this stove. It replaced a 20 year old electric stove that had coil burners and knobs and dials which were impossible to keep clean. The smooth top and touch pad controls are so easy to keep clean and look so sleek. I'm very happy with all of the features. My only negative comment is that the controls for the "burners" or heating elements are located on the far left side of the control panel. Since the majority of people are righthanded it would make more sense to have the most used

...

read more

controls on the right and controls like bake and timer on left. Other than that, I love this stove.

Sweepstakes entry received for review.

Love my new LG range!

I've had my range for 6 months. I am very happy with my purchase. I use the convection bake feature often, and love the results. I also like the steam clean option for light oven clean-ups, and the regular self-cleaning cycle works great too. The black speckled top is super-easy to keep clean, and the blue color of the oven is pretty cool. I have no complaints. I actually enjoy cooking more with this range.

Sweepstakes entry received for review.

Beautiful Refrigerator but the Ice Door Sticks

I love the look and design of this fridge aesthetically however the ice door from the refrigerator seems to stick closed which causes ice to clog unless you manually pull the door down. Interesting enough the lower freezer has a ice bucket but no lower icemaker just the one on the upper door. Other than those couple of surprises the refrigerator has plenty of space and shelving which allows for a lot of variation.

Sweepstakes entry received for review.
I love the stove but the oven seems to brown food to quickly on the top and not done on the bottom, also if you touch the knobs they turn on too easily when you do not want them on, until you smell gas you don't know their on.

Sweepstakes entry received for review.

Nice but.....

This unit has 4 different size burners from simmer, regular, high, and ultra. The largest burner, ultra is at the front right, while regular and high are on the left. To me, the locations are the reverse of what I use daily probably because I am right handed. Inconvenient. Also this unit has a large oval shaped burner in the center, perfect for a grill or griddle. However, it does not come with a grill/griddle. Yet a very similar model with a central Round burner comes with a grill/griddle. I

...

read more

think someone in marketing is confused as to what accessorizes belong with which unit. Finally, the upper oven is not uniform in heating. It's hotter towards the back. Cupcakes came out brown on top at the back of the oven and tan on top at the front. Same with a chicken breast. A little burnt for the portion at the back. My main gripe is no grill/griddle included, and I did not analyze the burner location vs how I mainly cook.

Sweepstakes entry received for review.

Great features!

The range is wonderful, I am very happy with the features and performance.

Sweepstakes entry received for review.
LG Product Service and Support
Get your questions answered about product setup, use and care, repair and maintenance issues. We can help.
Telephone
Call an LG Support Representative.
(800) 243-0000 Consumer (7am-midnight CST)
(888) 865-3026 Commercial (8am-6pm CST)