April Showers Bring More Savings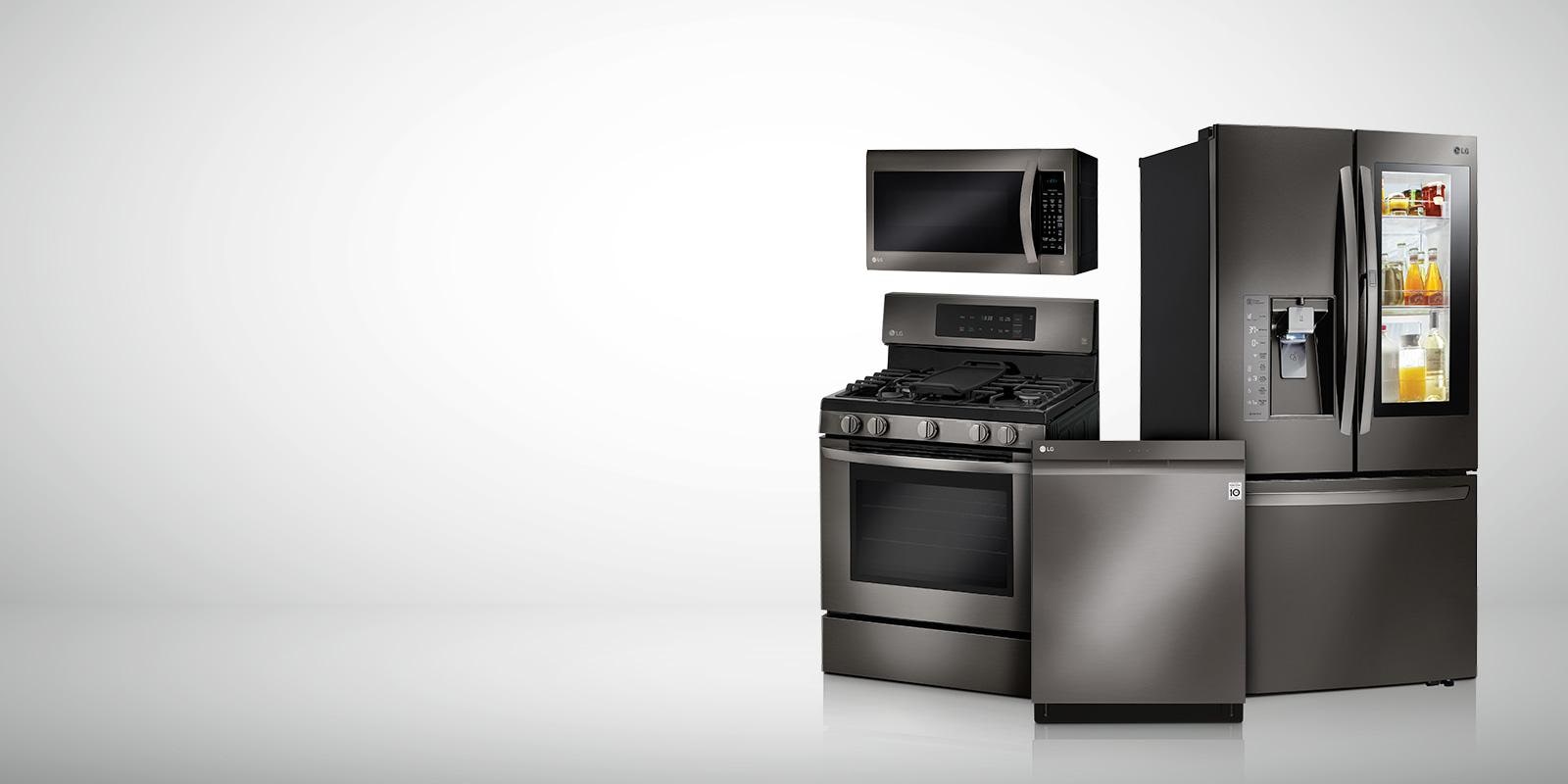 Buy More Save More Kitchen Bundle Offer
Get an LG Visa® Prepaid Card worth up to $500 by rebate when you bundle eligible LG and LG STUDIO Kitchen Major Appliances.

Welcome MATTE
Experience the style of LG's exclusive MATTE Black Stainless Steel appliances.
Selecting a checkbox will update the products displayed on screen.
Refine Your Search
64
Total Results
All Cooking Appliances
Create the kitchen you've always dreamed of. LG cooking appliances perfectly blend form and function -- giving you stylish designs and innovative technology that will bring your culinary skills to a whole new level.
WHAT CUSTOMERS ARE SAYING
Average Rating for All Cooking Appliances
I love our new range

We just bought this and had it delivered about 3 weeks ago and are so happy that we went with LG, we actually bought all new appliances for our kitchen and they are all LG. If i will need a new washer and dryer anytime soon I will first look at LG ones!

Sweepstakes entry received for review.

High class

Looks very high class and easy to use. We have two young children in the house and don't have any issues with the knobs turning on!

Sweepstakes entry received for review.

Great double oven in the same space of single

Just got this oven and love it so far. Preheats quickly, plenty of headroom for the things we typically cook and the black stainless looks great. Numbers on the burner dials could stand out a little better and which direction to turn for the multi-level burners is a little confusing. Bigger windows would be nice too. Hoping this oven will last us a long time.

Sweepstakes entry received for review.
Efficient!

Just got it. So far so good. The oven heats very fast and water comes to a boil quickly. Beautiful stainless stove top. Installation by a licensed repairman gave me helpful hints about keeping display area dry and how to clean the cooktop. Happy about product and installation.

Sweepstakes entry received for review.

Fantastic range

I researched for a year to replace a drop in that had been there when my house was built in 1984. It was still working but not as well as it should. Finally the oven went out completely. This beautiful stove has all the features I wanted. Five burners, an oval center one, with a griddle to go over it, a huge oven, three racks, self-cleaning is so easy. It went in seamlessly and makes my kitchen look beautiful. I have several LG products and every one works the way it is supposed to and I've

...

read more

never had any trouble with any of them. I read all the reviews and one of the issues someone had was the knobs turn too easily. Ridiculous! You have to purposely turn each knob. The top is so easy to clean and wipe down. I know I will have this for many years and I'm very happy with it. We made pancakes, cookies, and turkey with all the fixings for our first go around. It was exciting to have an appliance that could use all burners and the oven all at the same time!

Sweepstakes entry received for review.

Looks great, cooks great!

We replaced a 1995 Kenmore coil type electric range with this LG range. I had to convert the unit to propane, which was very straight forward with the enclosed instructions. Once in place, this unit looks fantastic. My wife is absolutely thrilled with the appearance. But as good as it looks, it cooks even better! Flame control is excellent on all 5 burners. The high power burner has far more available power than we have needed yet, but it will come in handy this summer when we break out the

...

read more

pressure cooker and start canning. Until this unit, we were never able to bake more than one sheet of cookies at a time due to uneven oven temperatures in our old unit. Not so on this one# I baked off 3 sheets at the same time using the convection mode, and all 3 sheets came out perfect! I cook far more than before, and my wife is just thrilled with the range as well.

Sweepstakes entry received for review.
Only had my new stove for two weeks but I love it!! First time for convection oven and it bakes and cooks great. Haven't used the self cleaning as yet. Highly recommend

Sweepstakes entry received for review.

An amazing upgrade!

This oven is amazing. The interior size is very nice; I can fit my long casserole dish in length wise without it hitting the door. I cook for a grouppretty often, so being able to fit four casserole dishes at a time will come in very handy. It cooks so even and quick. The first cake I made came out evenly golden. The stove top gets hot quick. I love that you can adjust the heat in increments of .5 and .2. I appreciate that it not only tells you the surface is hot, but tells you exactly

...

read more

which one. I love the easy cleaning without knobs to clean around/under.

Sweepstakes entry received for review.

Exceeds expectations

I am very happy with my new range. It has taken some adjustments to get used to its efficiency in cooking. I love the convection oven, have baked several loaves of bread already. My only complaint. The information I was given by Home Depot said there were two different oven cleaning settings. There is only the Easy Clean setting. I haven't had to use it yet so I will withhold judgment.

Sweepstakes entry received for review.
Awesome Cooktop

The only thing better than finding out that your house does, in fact, have gas, is to have a gas cooktop that performs outstanding. It has a super quick ignition and cooks food evenly and quickly. Love it!

Sweepstakes entry received for review.

It's amost six years old now, and still going strong!

Sweepstakes entry received for review.

Works well, except for the worthless knobs

in less that two years we have had every knob on this cook top break. First off, we like how well it works and the overall design. Our daughter has not yet learned to turn down the heat when she is cooking soup, pasta, etc and the boil overs are easy to clean. The individual burners are quick and easy to put back into place with little fussing to get them re-aligned to their proper position. I have had zero issues with this cook top EXCEPT for the knobs. They are absolute garbage. They look very

...

read more

nice when new, there are three little blue LED lights that light up when you turn on a burner and the light shines through the top of the knob. It never occurred to us that LG was using cheap plastic to make these knobs when we bought the cook top. Using plastic is not necessarily bad, but when every one of them has broken in almost the exact same spot where the knob attaches to the stem, its pretty obvious that its either a design flaw, or inferior materials were used. Given the rest of the cook top is well designed and has not had a single problem I think LG went too cheap with the knobs.
Like It a Lot

I've had this two months and have used the cooktop and oven with great success. Haven't had time to use the broiler or easy clean feature yet. Having 4 cooktop burners gives a lot of flexibility and they all work well. (Haven't used the griddle option) The oven has performed well and bakes evenly. The manual which came with the range was invaluable since this range is 25 years newer than my old one. The manual is clear, thorough and well organized.

Sweepstakes entry received for review.

Efficient and sleek

We love our new oven! It looks so sleek and takes our kitchen to a new level of aesthetics. This oven inspired us to paint our cabinets, and our whole kitchen feels brand new! I love how it preheats so quickly and tells you the current internal temperature. All of the notification sounds are unique and easy to hear. I also like how evenly the range top cooks.

Sweepstakes entry received for review.

Great stuff

Because I wanted the oven and broiler in the oven and pan storage in bottom

Sweepstakes entry received for review.
GREAT OVEN

Never owned a dual oven such as this. Easy to use, operate both ovens at same time, easy to clean, very pleased with it's performance!

Sleek and stylish

I waited over 3 months to get this range due to a mix up from the store i purchased from. I was ready to cancel my order but im so glad that i did not. this oven is easy to use and stylish. The double oven feature is perfect for my family and the features are easy to use. I have not had to use the cleaning features yet... But any minor spills wipe clean with ease on the stovetop and inner oven. The purple interior is an extra perk as well.

Sweepstakes entry received for review.

Very Nice Gas Range

I am very happy with my new LG Gas Range except for a items - the back of the range has no indention, so therefore, I am not able to slide the range back to be flush with the wall. It is about 2 1/2 inches away from the wall and it looks silly. The only thing I might be able to do is cut out the wall behind the range and have the electrical box and gas line moved to inside the wall. The other thing is the lip on the bottom of the control panel sticks out, so a larger pot placed on the back

...

read more

burners actually sits closer to the front burners and that causes an issues with the pots placed on the front burners. It also seems like the top oven does not cook even and there are hot spots when baking items. I really like the range and hate that I have a few concerns. I have been very happy with my LG french door refrigerator and I also love my LG front loading washer and dryer. Thank you for making great products.

Sweepstakes entry received for review.
LCS1112ST micrwave

We bought this microwave a few weeks ago. It is so easy to operate and enables us to have good meals when the menu at our retirement home us not to our liking.

Sweepstakes entry received for review.

Best microwave oven we've ever had!

We checked consumer ratings and found this oven highly rated in every category. Turns out, the ratings were correct: this is the easiest oven to use and very efficient. Easy to clean, too. We were surprised and delighted. Highly recommend this oven!

Sweepstakes entry received for review.

Almost perfect

The key pad is very dark and I can not read it without extra lighting. This is too bad because it works great!
We purchased this LG gas stove in August of 2016. It has the double ovens and I absolutely LOVE having 2 ovens. I don't know how I ever cooked huge meals before with just one oven. This is an awesome stove. It has great features, heats up to the proper temp. in such a short amount of time. ( I was having to wait about an hour or so for the oven to get to the temp. on my old gas stove.) So this is amazing. I LOVE my LG Double Oven Gas stove.

Sweepstakes entry received for review.

LOVE IT!!!!

We purchased this unit less than a month ago as part of our renovation to the kitchen, dining room and living room so this review may be a bit premature. My wife chose this make and model over 3 others that all had good ratings and reviews. SHE LOVES IT!!!!! If I had to post a "Con" about this it would be the fact that the unit does not come with an adapter for connecting the gas and there is no mention of the possibility of needing an adapter in the product description or details. Luckily;

...

read more

I never throw anything away and I had an adapter "in stock" :)

Sweepstakes entry received for review.

Great range

We recently purchased the LDG4315ST because we wanted a double oven but did not have the space for a wall oven. So far we really like the oven. Water boils much faster with the 18.5k btu burner. Both ovens heat quickly. Love that it is fully grated on the top with 5 burners. Only complaint so far was the upper oven ran very hot compared to the actual set temp. Purchased an oven thermometer, adjusted the temp down. Now its correct.

Sweepstakes entry received for review.
Fell in love!

Purchase this range and actually waited two months while it was on back order. Worth the wait. Love the controls being easier to reach and see. Feature all work and convection oven is perfect.

Sweepstakes entry received for review.

Dream come true

I debated buying a gas oven, so glad I didn't. The stove design is beautiful. It has great features. It heats quickly, evenly and cooks thing fast. I've only owned it a month but so far so good.

gas range happiness

I have had my LG Gas Range since August 2017 and I absolutely love it. The oven bakes at a consistent temperature and is so reliable, something I was not used to with my old range. The "hot" Burner adds to my delights in cooking. The grill(5th burner) is a great addition too. I love the design except the burner/ oven control knobs have a relief on the edge and this is a cleaning hiccup. If the knobs were flush(smooth) it would be more aesthetically pleasing and more hygienic. I have used

...

read more

the self cleaning over feature and when the cycle completed the oven looked brand new. Thank you LG for the wonderful product. Life is Good

Sweepstakes entry received for review.
LG Product Service and Support
Get your questions answered about product setup, use and care, repair and maintenance issues. We can help.
Telephone
Call an LG Support Representative.
(800) 243-0000 Consumer (7am-midnight CST)
(888) 865-3026 Commercial (8am-6pm CST)