LG Quick Circle™ Snap-On Folio Case for LG G3™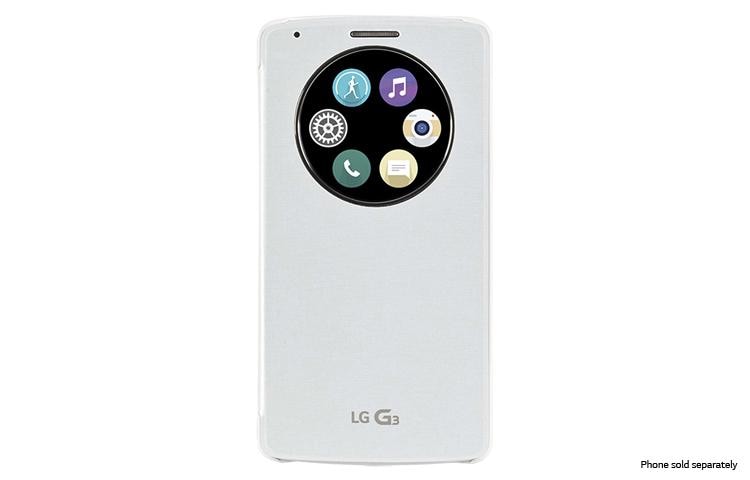 Key Features
Unique Circular Window Displays a Clock; Swipe to Access the Music Player, Call Logs, Camera, LG Fitness, or Messaging Apps
Simply snap your phone into the case for a seamless fit
Wakes Your Phone Automatically When Opened
Make Calls via Call Logs; Answer or Decline Incoming Calls
Read Text Messages and View Text Notifications
LG Quick Circle™ Snap-On Folio Case for LG G3™
LG Quick Circle™ Snap-On Folio Case for the LG G3™
Slim, smart, and attractive, the LG Quick Circle™ Snap-On Folio Case protects your LG G3™ with distinctive, ultramodern flair. Expressive lighting effects encircle the window when you tap the screen, and the app widgets are designed to fit perfectly in the round space. Simply snap your phone into the case for a seamless fit.
Quick Circle™ Apps
Discover a collection of apps designed to work seamlessly with the G3's Quick Circle™ case. Play music, turn on the flashlight and more, without opening the case or even unlocking your phone!
TECHNICAL SPECIFICATIONS

| | |
| --- | --- |
| Material | Polycarbonate, Polyurethane |
| Type | Fitted hard shell |
| Weight | 1.62 oz |
| Dimensions | 3.03" (W) x 5.80" (H) x 0.48" (D) |
| In Box | LG Quick Circle™ Snap-On Folio Case, Warranty Card |
We're here to support you with our product.
ASK & ANSWER
Ask your questions. Share your answers.
Ask Your Questions, Share Your Answers
Ask your questions. Share your answers.
Category: 
I own this product
Interested in: 
How To use
2 months, 3 weeks ago
User Name:
chanler
Ipswich, MA, USA

Additional information about chanler could not be loaded.
0
out of
0
found this question helpful.
Helpful
Not Helpful
http://answers.lg.com/answers/7676/product/MD05128761/question/2282386/undohelpfulness.djs?format=embeddedhtml&sessionparams=__BVSESSIONPARAMS__&return=__RETURN__&innerreturn=http%3A%2F%2Fanswers.lg.com%2Fanswers%2F7676%2Fproduct%2FMD05128761%2Fquestions.djs%3Fformat%3Dembeddedhtml%26scrolltotop%3Dtrue%26expandquestion%3D2282386&user=__USERID__&authsourcetype=__AUTHTYPE__&submissionparams=__BVSUBMISSIONPARAMETERS__&submissionurl=__BVSUBMISSIONURL__
Answers
Answer: 
I apologize, but no; this Snap-On Case is designed specifically for the G3 phone design. We cannot guarantee its operations for the G4 models. No information is currently available regarding such an accessory for the G4 phone.
2 months, 1 week ago
User Name:
NeilE

Additional information about NeilE could not be loaded.
0
out of
0
found this answer helpful.
Helpful
Not Helpful
http://answers.lg.com/answers/7676/product/MD05128761/answer/2275648/undohelpfulness.djs?format=embeddedhtml&sessionparams=__BVSESSIONPARAMS__&return=__RETURN__&innerreturn=http%3A%2F%2Fanswers.lg.com%2Fanswers%2F7676%2Fproduct%2FMD05128761%2Fquestions.djs%3Fformat%3Dembeddedhtml%26scrolltotop%3Dtrue%26expandquestion%3D2282386%26expandanswer%3D2275648&user=__USERID__&authsourcetype=__AUTHTYPE__&submissionparams=__BVSUBMISSIONPARAMETERS__&submissionurl=__BVSUBMISSIONURL__