CONNECT TO LG SMART TV SERVICES
If you've activated your LG Smart OLED TV with webOS, the next thing you'll want to do is tap into the limitless entertainment and services we have to offer. Some services require subscriptions, but many are completely free. Have a look at what LG Smart TV has to offer and we'll let you know what you need to do to get it.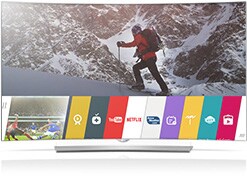 AVAILABLE SERVICES
NETFLIX®
Instantly watch TV shows and movies streaming from Netflix. Just connect your LG Smart TV device to your Netflix account to watch instantly. You decide what to watch and when to watch.
Netflix unlimited streaming membership required. More information at www.netflix.com.
Already have Netflix?
Just sign into your account after selecting NETFLIX in your LG OLED TV Home Dashboard.
Want Netflix?
To access streaming movies from Netflix, including 4K content, unlimited membership is required and sold separately.
Go to www.netflix.com to sign up and then get an activation code by selecting NETFLIX in your LG OLED TV Home Dashboard.
AMAZON
Amazon Instant Video offers the newest movie releases, must-watch TV shows, and classic favorites, including 4K and exclusive content. Plus, you can subscribe to current TV seasons, with new episodes available the day after they air right on your new LG Smart TV.
Want Amazon Instant Video?
Head to Amazon.com and sign up for an account so you can start streaming.
YOUTUBE®
With YouTube on your LG Smart TV, you can watch millions of YouTube videos on the biggest screen in your house, from comedy to gaming tips to today's viral trends. Search for any specific video or explore a category to find something new. Favorites, subscriptions, and playlists in your YouTube account are available right on your LG Smart TV.
Want YouTube?
If you've activated LG Smart TV and have an active Internet connection, you're ready to go. All Smart TV-capable LG home entertainment devices give users unlimited and direct access to millions of web videos on YouTube.
HULU PLUS™
Hulu Plus offers unlimited instant streaming of current hit shows, classic series, and acclaimed movies. Watch any current season episode of top shows like Modern Family, Gossip Girl, and many more, including popular Spanish and Korean-language shows. Catch up on classic series including Lost, Battlestar Galactica, The Office, and Arrested Development or explore hundreds of critically acclaimed movies. Available on LG Smart TV devices in HD, with limited advertising, for a low monthly subscription rate.
Want Hulu Plus?
Simply visit hulu.com/plus/LG and activate your subscription. In a few short minutes you'll be viewing your favorite seasons of your favorite primetime shows.
LG CONTENT STORE
Welcome to the LG Content Store, your portal to limitless premium content—all in brilliant 4K resolution. Get endless movies, TV shows, and the best new apps. Best of all, the LG Content Store is always open for business!
Watch the video and see how it works
NOTE
For 4K streaming while watching movies and TV shows we recommend Internet download speed at 25 Mbps, but please contact your provider.