393L Crystal 6 Shiny Steel Top Freezer/Fridge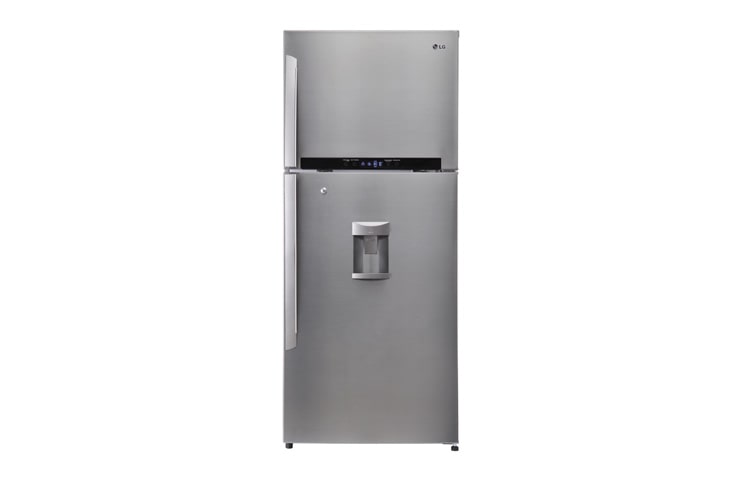 Key Features
Inverter (10y Warranty)
Hygiene Fresh
Pull Out Tray
Water dispenser
Shiny Steel
393L Crystal 6 Shiny Steel Top Freezer/Fridge
Moving Ice Tray
Hygiene Fresh
LED Lighting
Inverter Warranty
Inverter LINEAR COMPRESSOR
LG's Inverter Linear Compressor technology enables its refrigerators to be industry leaders in energy savings, freshness, noise levels, capacity and durability. The Inverter Linear Compressor efficiently controls cooling power and reduces internal friction to achieve an A++ grade rating. Changing from reciprocal to piston drive means optimal efficiency and big energy savings. Fewer friction points work to reduce noise levels significantly while enhancing the product's durability, allowing LG to offer a 10-year parts warranty on refrigerators utilizing the Inverter Linear Compressor.

LED Lighting
LED Lighting is more energy efficient & has longer life span than conventional bulb lighting. Multiple location at the top in freezer and back in fridge for better illumination even with food loaded condition.
Moving Ice Tray Moving Ice Tray
LG's new top freezer refrigerator has a detachable & moving ice maker which you can easily take out and move this ice tray whenever they need more freezer space.
4-Step Hygiene Caring System keeps fresh air every minute.
Applying LG patent material which eliminates *99.999% bacteria, Hygiene Fresh filter delivers strong sterilization and deodorization
performance with a 4 stage filtering system. So, it is effective in reducing dust, fungi spore, and harmful bacteria while deodorizing the inside of the refrigerator.
General Specification

| | |
| --- | --- |
| Refrigerator Type | Top Freezer |
| Energy Grade | A+ |
| Colour | Shiny Steel |
Features

| | |
| --- | --- |
| Water Dispenser | Yes |
| Inverter Compressor | Yes |
| LED Lighting | Yes |
| Hygiene Fresh | Yes |
| Pull Out Tray | Yes |
Capacity (L)

| | |
| --- | --- |
| Net Capacity | 392 L |
| Gross Capacity | 421 L |
Dimensions

| | |
| --- | --- |
| Dimension (mm) | 680*1725*710 |
Stuffing Quantity

| | |
| --- | --- |
| Stuffing (Qty) | 67 |
Finishing

| | |
| --- | --- |
| Type | Shiny Steel |
QUESTIONS? LET US HELP
Simply choose a support option from the icons below: