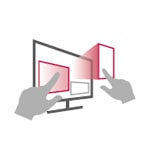 Smart Customization
Create your own solution along with LG's smart customization tools and content management software. With the tailored solution, hotel can elevate their brand to new levels.
Enhanced Guests' Experience
Delight your guests with vivid picture quality and entertaining features including webOS 3.0 and its smart apps. It captivates guests' taste and brings them again.
Smart Connectivity
Cross display boundaries freely and without hassle. With LG Smart Share, mirroring and content sharing between TV and other smart devices are made incredibly easy and user-friendly.
External Speaker Out
Let's users enjoy the external speaker in a separate place such as the bathroom.
Instant On
Instant on function's high speed loading system saves and enables users to enjoy the contents immediately when they first turn on the TV.
Multi IR
Multi IR function eliminate the remote control signal interference between TVs in multiple dwelling beds.
Pro:Idiom®
Prevent any illegal copying of content by the widely used DRM (Digital Right Management).
SoftAP
SoftAP means Software enabled Access Point. This "virtual" Wi-Fi feature executes by software working on the device to create a wireless hotspot.
* SoftAP should be set in installation menu after TV is on.
* Miracast may not be operated at the same time.
Pro:Centric Smart Application Platform

LG Pro:Centric SMART offers extended customizable tools; HTML5, Java and Flash. With these, the partners can optimize Commercial TVs to edit and develop their own enhanced service design. Also, it gives visual impact on and delivers messages to customers as users intend.
Pro:Centric Server Application

You can now differentiate your hotel with our customizable templates and pages which can be specialized for your property. Pro:Centric® provides you a solution that is easily customizable for your business.
Pro:Centric Direct Ready
Simply create your own templates and remotely manage TVs on the IP network with Pro:Centric Direct, LG's content management software. Pro:Centric Direct offers a blank design template, along with customizable widgets and three types of theme templates (Cinematic-type, Grid-type, Bar-type)* in order to promote branding and meet guests' tastes and needs. Its interactive solution, including 1-click service, and intuitive UI impress guests while elevating their hotel experience. Plus, for hoteliers, not only does it offer efficient content production and management, but it also maximizes advertisement effectiveness, which contributes to improving the hotel brand.
OLED TV
Blade Slim

Innovative reduction of thickness
Artistic thin design of the EW961H perfectly matches and blends into any types of hotel rooms. Its extremely thin depth makes better use of the space.
OLED TV
Intense Colors

Vibrant picture quality
OLED hospitality TVs bring colors to life with superb accuracy. Self-lighting pixels give the TV expanded color scope, delivering finest details of color and gradation. This enables guests to enjoy content more vividly.
OLED TV
Infinite Contrast

Limitless contrast and deepest black
Self-lighting pixels switch off completely to reproduce black. No light bleed. Absolute black offers infinite contrast, and guests can appreciate its clarity.
ULTRA HD TV
4K Resolution

ULTRA HD is the future of digital picture, possessing four times higher resolution than that of full HD. Stunning 8.3 million pixels gives a flawless picture quality and incredibly vivid detail.
ULTRA HD TV
4K Upscaler

Enjoy Full HD content in 4K ULTRA HD quality. The 4K Upscaler automatically upgrades Full HD content to ULTRA HD through the six steps of the upscaling processes.
Smart Connectivity & Convenience
Smart Share

Smart Share allows users to share content more easily and quickly. It also searches for the content they want in order to share it more easily and accurately, thereby simplifying the process of sharing between various devices.
Smart Connectivity & Convenience
Bluetooth Sound Sync (Bluetooth 3.0)

Bluetooth Sound Sync enables users to listen to music on a mobile device through TV speakers via Bluetooth connection.
*Support devices for Bluetooth Sound Sync : Android (above v4.4 KitKat) / iOS based Mobile Device
Smart Connectivity & Convenience
Magic Remote Ready

Take control of your entertainment experiencewith a new level of remote control convenience.
Spend less time for searching and more time for enjoying.
QUESTIONS? LET US HELP
Simply choose a support option from the icons below:
Phone

Call an LG Support Representative on

Nigeria : 0800 9811 5454 (Toll Free)

Angola : +244 935 979 006

Benin : +229 21 37 74 09

Benin : +229 21 37 74 10

Cameroon : +237 671 385 050

Burkina Faso : +226 25 40 81 52

Cote D'Ivoire : +225 2032 6918

Cote D'Ivoire : +225 2031 9454

Cote D'Ivoire : +225 2033 1218

Cote D'Ivoire : +225 0782 8025

Cote D'Ivoire : +225 2540 8152

Cote D'Ivoire : +225 2124 5588

DR Congo : +243 999555999

DR Congo : +243 999977774

Gabon : +241 0172 1790

Gabon : +241 01 747 765

Gambia : +220 4375900

Gambia : +220 7955815

Gambia : +220 439 6669

Ghana : +233 550 780 779

Guinea Conakry : +224 664 199 999

Guinea Conakry : +224 64289354

Liberia : +231 880538538

Liberia : +231 880538538

Mali : +223 2029 0058

Mauritania : +222 45 24 24 24

Niger : +227 20 73 72 11

Niger : +227 97 72 11 88

RP Congo : +242 222 94 45 00

RP Congo : +242 666 255 55

RP Congo : +242 055 18 9728

RP Congo : +242 05 521 92 92

Senegal : +221 338 596 902

Senegal : +221 338 596 910

Sierra Leone : +232 77 000 200

Sierra Leone : +232 77 000 203

Sierra Leone : +232 77 000 202

Togo : +228 70 42 32 24

Monday to Friday : Open
Saturday - Sunday : Closed
Bank Holidays : Closed

Email