IT'S TIME. LITERALLY… THE LG G WATCH SET TO LAUNCH IN AUSTRALIA
SYDNEY, 23 July, 2014 - Excitement surrounding one of the first Android Wear™ devices to hit the market has been palpable over the last few months. Today, LG Australia (LG) announced that the new LG G Watch will be available for purchase at retail stores in Australia from early August, having gone live on the Google Play Store this month.
The excitement, in this case, is certainly justified. The LG G Watch boasts a number of highly desirable user features, including a screen that remains "Always On", a long lasting battery and a stylish display. Beyond these desirable assets, the LG G Watch has a host of other incredible technologies on hand… or wrist, if you will.
WHAT'S ON OFFER
Always On, Always Connected:
Unlike some smart watches, the G Watch displays never sleeps. The monitor-sensor technology will activate the display when you raise your arm to look at it or when you touch the screen. When you're not using the watch, the screen will dim to enhance battery life.
Smart Living:
Get all the information you'll need for the day with the flick of a wrist. Connected to your Android smartphone*, the G Watch will be able to tell you everything from the day's weather, when your next meeting starts and how long it will take you to get there. Oh, and the time – all of which can be done without taking your smartphone out of your bag or pocket.
Wireless connectivity:
As one of the first Android Wear™ smartwatches, LG and Google conceived the G Watch to be open to all Android devices, running 4.3 or later, that support Bluetooth connectivity.
Sends voice messages as text for you:
The G Watch excels in helping to simplify your life, offering an interactive and connected user experience. Whether that be reminding you of a lunch meeting, checking the travel time to get home or reading messages.
You can also speak to the watch to look things up and get stuff done. Just start with "Okay Google" and ask away. For example, ask for, "Restaurants in Paddington"… and it'll list them for you. Likewise, if you need to send a message, start with "Okay Google" and then go, "Send message to Sammy… " When it takes you to the message page, you speak again, "I'll meet you there at 6pm." Sure enough, the G Watch will write the text and send it. Too easy!
Ergonomic, stylish design:
LG is not just proud of the inner-workings of the G Watch but also the outward design. The smart watch features button-less sides, offering a design that combines form and functionality in a subtle and minimalist fashion.
It's also customizable:
If you want to share your personality, LG even allows you to customize your G Watch with many standard 22mm watch straps – something that will be sure to please the fashion conscious amongst us.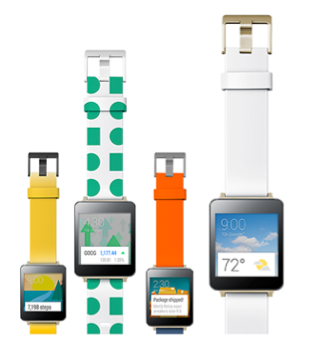 THE STATS'N'FACTS
This is a quick and relatively tech-heavy introduction to some of the more specific workings of the G Watch.
> Powerful Performance: At the core of the G Watch is a powerful Snapdragon 400 CPU clocking in at 1.2GHz.
> Long Battery Life: The G Watch boasts one of the largest batteries currently developed for wearables. Optimised through a high-density process, it allows the G Watch to stay continuously powered-on for up to 36 hours.
> IPS Display: The 1.65-inch IPS screen boasts eye-catching visual clarity and colour reproduction.
> IP67-Certified Water and Dust Resistant: With an Ingress Protection Rating of IP67, the G Watch is resistant to dust and water for up to 30 minutes at a depth of one metre.
WHAT LG HAS TO SAY
"As one of the first Android Wear™ devices to market, we see this as the beginning of a long-term commitment to making wearables an integrated part of the everyday lives of consumers," said Lambro Skropidis, General Manager Marketing at LG Electronics Australia. "We're confident that once consumers see how useful and compelling the new G Watch can be, it will become a useful and fun addition to their daily lives."
Key Specifications:
> Display: 1.65-inch LCD IPS (280X280)
> OS: Android Wear™ (compatible with smartphones running Android 4.3 and above)
> Compatibility: Smartphones running Android 4.3 and above
> Chipset: 1.2GHz Snapdragon 400 processor
> Total Memory: 4GB eMMC/512MB
> Internal Storage: 4GB
> Bluetooth: 4.0
> Sensor: 9-Axis (Gyro / Accelerometer / Compass)
> Water & Dust Resistance: IP67**
> Battery: Li-Polymer 400mAh
> Strap size: 22mm (Interchangeable with other 22mm straps made of leather, fabric, or metal)
> Colours: White Gold and Black Titan
> Dimensions: 37.9 X 46.5 X 9.95mm
> Weight: 63g
HOW MUCH AND WHERE?
The LG G Watch will be available for outright purchase at Harvey Norman and Telstra, as well as other selected retailers for RRP $259.
*Compatible with smartphones running Android 4.3 and above
**IP67 is short for 'Ingress Protection,' which is an IP number used to specify the environmental protection of enclosures around electronic equipment. These ratings are determined by specific tests. The IP number is composed of two numbers, the first referring to the protection against solid objects and the second against liquids; the higher the number, the better the protection. The number '6' the G Watch obtained, is to certify the device is 'totally protected against dust,' while the number '7' means it is protected from water submersion of 15cm and 1m for 30-minutes.
Media Contacts:
For further information please contact HKAus@lg-one.com
About LG Electronics Mobile Communications Company
LG Electronics Mobile Communications Company is an innovator and trend leader in the global mobile communications industry. LG is driving the evolution of mobile forward with its highly competitive core technologies in the areas of display, battery and camera optics and strategic partnerships with noted industry leaders. LG's consumer-centric products — including the flagship premium G Series models — incorporate unique, ergonomic designs and intuitive UX features that enhance the user experience. The company remains committed to leading consumers into the era of convergence, maximizing inter-device connectivity between smartphones, tablets and a wide range of home and portable electronics products. For more information, please visit LG.com.au
About LG Electronics Australia
LG Electronics Australia is based in Sydney and is a subsidiary of LG Electronics, Inc, a global force and technology leader in consumer electronics, home appliances and mobile communications. In Australia, LG Electronics sells a range of stylish and innovative home entertainment products, mobile phones, home appliances, commercial displays, air conditioning systems and solar energy solutions, all under LG's "Life's Good" marketing theme. For more information, please visit LG.com.au or facebook.com/LGaustralia