LG BRINGS STYLISH DESIGN TO THE LAUNDRY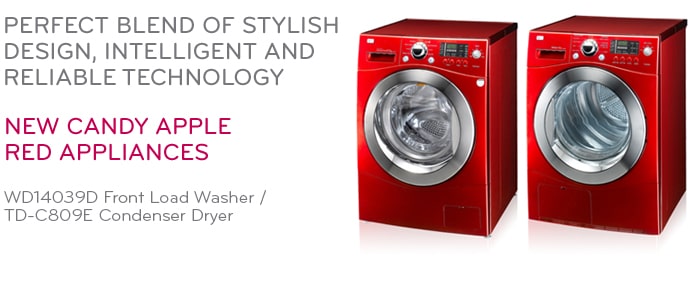 Sydney, 9 December, 2009 - LG Electronics (LG) reinforces its position as a global leader in style and design with the launch of its latest Front Load Washer and Condensing Dryer in bold candy apple red finish in Australia.
The striking colour brings a new look to the laundry - one LG is sure will be a great success. Designed to complement each other as a pair, the two laundry products are a stylish, sophisticated fashion statement that will brighten any modern laundry.
The launch of the new candy apple red front load washer and condensing dryer follows the successful expansion of LG's laundry range earlier in the year and is an example of LG's commitment to continuously provide stylish and smart products that fit consumer's lives. These additions to LG's popular laundry range offer consumers more choice and cements the company's leading position in the category.
Glacel Lubrin Zabat, Category Manager Home Appliances, LG Electronics Australia, comments on the new products: "The past few years have shown a significant shift in the home appliance category with consumers demanding products that are aesthetically pleasing and sophisticated in their design.
"The candy apple red finish of the new Front Load Washer and Condensing Dryer is a first for the laundry category and we are excited to be offering consumers more choice and variety. As with all LG products, these new appliances don't just look good - they also provide consumers with superior performance and functionality. We are proud to be launching two new appliances that highlight our commitment to providing consumers with products that are the perfect harmony of stylish design and smart technology," said Ms Lubrin-Zabat.
The Front Load Washer (WD-14039D) features LG's innovative Inverter Direct Drive Motor - state of the art technology that integrates the motor to the centre of the drum, eliminating the belt and pulley. This causes less vibration and noise and increases durability. As always, the LG Direct Drive Motor comes with a 10 year warranty (2 years parts and labour + 8 years on motor part) for consumer's piece of mind.
This exciting new washer also features LG's leading laundry technologies including the Intelligent Wash System. With this system, sensors detect the load and selected water temperature to optimise water level and cycle time according to the size and type of load. This prevents people from selecting excessive spin speeds and temperatures, which can damage clothes. The intelligent washing system also detects and adjusts imbalances and excessive suds during operation for the best washing performance.
As with all LG Front Load Washers, the new washer also comes with the Pause & Add Function which conveniently allows you to pause and add clothes to your wash load. It also features the Baby Care program which heats the water up to 95 degrees, providing a more hygienic wash for your children's clothes.
The new Condensing Dryer (TD-C809E) has dual sensors to improve drying performance - the Electrode Sensor detects the actual wetness of clothes, while the Microchip Sensor detects the humidity in the drum - working together to provide premium drying results. The Dryer also features a larger drum capacity (8kg) and a wide, transparent door (36cm wide). The Candy Apple Red Condensing Dryer also incorporates LG's Clothes Care technology, which features three cycles - Cool Air, Wool Cycle and Sports Wear. These three cycles provide consumers with a customised drying performance specific for their needs. Working on top of this is the Multi Temperature Control heater which allows consumers to choose the precise temperature appropriate for different clothing items.
Utilising LG's advanced technologies, the LG Candy Apple Red Front Load Washer and Condensing Dryer feature:
Front Load Washer (WD-14039D) SRP $1,999
Candy Apple Red Finish
10 Year Direct Drive Motor Warranty (2 years parts and labour + 8 years on motor part) - For less vibrations, noise and greater durability
Intelligent Washing System - Sensors to detect the load and selected water temperature
Load Sensing - Detects how much laundry is loaded to optimise wash time, rinse time and water consumption providing efficient use of water and energy
Baby Care - This special program heats the water up to 95 degrees providing a more hygienic wash for your children's clothes
Quick 30 - This cycle can be selected for items that are only lightly soiled where the wash cycle completes in just 30 minutes
Pause and Add function - Conveniently allows you to pause and add clothes to your wash load
Water Rating - 4.5 Star WELS, 73 litres per wash/4 Star Energy Rating
8.5kg capacity
LED Display - For convenience
Condensing Dryer (TD-C809E) SRP $1,999
Candy Apple Red Finish
Dual Sensors - Electrode Sensors to detect the wetness of clothes, and Microchip sensor to detect the humidity in the tub to provide optimum drying results
Clothes Care - Three cycles - Cool Air (for sensitive fabrics such as silks and hats), Wool Cycle (the two heaters in the Wool Cycle dries wool fabrics with less wrinkles) and Sports Wear (drying of sportswear through its controlling two stage heater)
Multi-temperature control - Precise temperature control with a variable heat source to allow consumers to choose the perfect temperature appropriate for different fabrics
Larger Drum - More space for convenience. Also results in less tangling and less wrinkles
Wide Door - Easier to load and unload laundry and fit bulky items such as curtains and bed linen
LED Display - For convenience
2 Star Energy Rating
The Front Load Washer and Condensing Dryer are available in selected retailers. For more information or stockists please visit the LG website at www.lg.com.au or call 1300 LG CARE (1300 542 273) for stockists.
About LG Electronics, Inc.
LG Electronics, Inc. (KSE: 066570.KS) is a global leader and technology innovator in consumer electronics, mobile communications and home appliances, employing more than 84,000 people working in 115 operations including 84 subsidiaries around the world. With 2008 global sales of $44.7 billion, LG comprises of five business units - Home Entertainment, Mobile Communications, Home Appliance, Air Conditioning and Business Solutions. LG is one of the world's leading producers of flat panel TVs, audio and video products, mobile handsets, air conditioners and washing machines. LG has signed a long-term agreement to become both A Global Partner of Formula 1™ and A Technology Partner of Formula 1™. As part of this top-level association, LG acquires exclusive designations and marketing rights as the official consumer electronics, mobile phone and data processor of this global sporting event. For more information, please visit www.lg.com.
About LG Electronics Home Appliance Company
The LG Electronics Home Appliance Company is an innovator in the home appliance industry, dedicated to offering healthier and greener products, blending smart technology and trend-setting design and providing a complete solution for improving daily life. LG's insightful products, including refrigerators, washing machines, dishwashers, cooking appliances, vacuum cleaners, and built-in appliances, are designed to resonate with consumers around the world. LG's innovative technologies and convenient features, including the world's first interactive refrigerator, steam washing machine and combination oven and microwave, set new trends in the appliance industry, helping to establish LG as a global leader.
For further information, images or to organise an interview please contact:
Nicole Thurston, Burson-Marsteller
Tel: 02 9928 1584 (direct)
Mob: 0401 677 178
Email: nicole.thurston@bm.com
Fax: 02 9928 1557
Charlotte Ferrand, Burson-Marsteller
Tel: 02 9928 1579 (direct)
Mob: 0406 578 771
Email: charlotte.ferrand@bm.com
Fax: 02 9928 1557
Distributed on behalf of LG Electronics Australia Pty Ltd
2 Wonderland Drive, Eastern Creek NSW 2766
Phone: (02) 8805 4000