LG G3 STUNS WITH LASER PRECISION
Sydney, 3 July, 2014 — By now you'll have seen that LG has released their new flagship G3 phone globally and quite rightfully tech-savvy Australians are excited about the 5.5-inch Quad HD display. Straight up, the screen is simply amazing to look at.
LASER AUTO FOCUS SET TO...STUNNING
The killer screen isn't the only benchmark-breaking new feature the LG G3 is toting. It also comes fully kitted out with LG's revolutionary Laser Auto Focus – as well as a 13.0MP rear camera with OIS+ (Optical Image Stabiliser).
The new LG G3 Laser Auto Focus technology allows you to focus on your subject in as little as 0.276 seconds. Have you heard the term "blink and you'll miss it"? Well, with the G3's camera, it's quicker than a blink and you won't miss it. In other words, blur is minimized for those on-the-fly happy snaps.
So what does that mean in practical terms? Quite simply, all you do is touch the screen's focus-point, the laser homes in virtually instantaneously on your subject and shoots, and there you have it - stunning images made simple.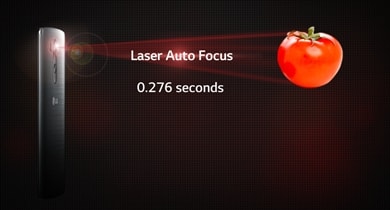 THE IDEAL SELFIE-TAKING TECH
The revamped front-facing camera is set up specifically for all those selfie enthusiasts out there. With a larger image sensor and more lenses, this means improved resolution and better quality even in low-light. The device has an intuitive rear button but, better yet, the G3 lets you direct your own selfie. Simply raise your hand in front of the camera to signify that you are ready and then make a fist to activate a countdown that allows three seconds to create a pose.
AWESOME AUDIO CAPTURE
Not only does the G3 capture killer video and photos, it also addresses the often overlooked problem of quality audio capture. Boasting better microphones than its G-series predecessors and more of them, it allows the G3 to detect and filter ambient noise levels in different environments. So, even if you're recording at a rock gig or footy match, it will automatically choose the best setting for sound recording. Importantly for playback, the G3's enhanced speakers and Boost AMP provide a rich, clear and textured audio experience.
WHAT LG HAS TO SAY
Lambro Skropidis, General Manager Marketing at LG Electronics Australia said, "'Simple is the new smart' was LG's mantra when developing the LG G3 and nowhere is that more evident than in the handset's incredible Laser Auto Focus technology and impressive 13.0MP rear camera and OIS+. Lightning-fast hardware and intuitive controls mean that consumers never need to miss capturing those special moments again."
I WANT ONE
Why wouldn't you? The LG G3 will be available to Australian consumers in early August.
Stay tuned for pricing and availabilities.
THE G3 SPECS
Ÿ > Chipset: Qualcomm Snapdragon™ 801 (up to 2.5GHz Quad-Core)
Ÿ > Display: 5.5-inch Quad HD IPS (2560 x 1440, 538ppi)
Ÿ > Memory: 16GB eMMC ROM / 2GB DDR3 RAM / microSD slot (128GB max)
Ÿ > Camera: Rear 13.0MP with OIS+ and Laser Auto Focus / Front 2.1MP
Ÿ > Battery: 3,000mAh (removable)
Ÿ > Operating System: Android 4.4.2 KitKat
Ÿ > Size: 146.3 x 74.6 x 8.9mm
Ÿ > Weight: 149g
Ÿ > Network: 2G, 3G, 4G
Ÿ > Connectivity: Wi-Fi 802.11 a/b/g/n/ac, NFC, SlimPort, A-GPS/Glonass, USB 2.0
Ÿ > Colour: Metallic Black, Silk White and Gold
Ÿ > Other: Smart Keyboard, Smart Notice, KnockCodeTM , Guest Mode, etc.
# # #
Media Contacts:
For further information please contact australia@lg-one.com
About LG Electronics Mobile Communications Company
LG Electronics Mobile Communications Company is an innovator and trend leader in the global mobile communications industry. LG is driving the evolution of mobile forward with its highly competitive core technologies in the areas of display, battery and camera optics and strategic partnerships with noted industry leaders. LG's consumer-centric products — including the flagship premium G Series models— incorporate unique, ergonomic designs and intuitive UX features that enhance the user experience. The company remains committed to leading consumers into the era of convergence, maximizing inter-device connectivity between smartphones, tablets and a wide range of home and portable electronics products. For more information, please visit LG.com.au
About LG Electronics Australia
LG Electronics Australia is based in Sydney and is a subsidiary of LG Electronics, Inc, a global force and technology leader in consumer electronics, home appliances and mobile communications. In Australia, LG Electronics sells a range of stylish and innovative home entertainment products, mobile phones, home appliances, commercial displays, air conditioning systems and solar energy solutions, all under LG's "Life's Good" marketing theme. For more information, please visit LG.com.au or facebook.com/LGaustralia