LG MAKES ENTERTAINING EASY WITH FOXTEL PLAY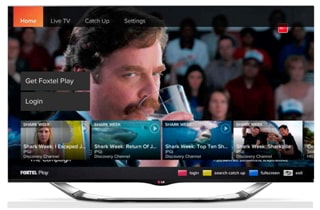 Sydney, December 13, 2013 – After confirming the release of the Foxtel Play app earlier this week, LG has today announced the arrival of the Quickflix app to the LG Smart TV 2013 platform.
"LG is committed to providing a premium entertainment experience and with the addition of the Quickflix and Foxtel Play apps to our Smart TV platform, popular TV programs and movies will never more than a click away for our customers," said Lambro Skropidis, General Manager Marketing at LG Electronics Australia.
As Australia's leading online movie rental company, from today the Quickflix app will provide LG customers with instant-on-demand access to an ever-expanding range of movie and TV series titles. Quickflix streaming on LG also features the added bonus of Microsoft Smooth Streaming technology which automatically adapts the quality and bit rate of Standard and High Definition content to improve display quality without buffering.
Released on select 2013 LG Smart TV models on December 10th, 2013 the Foxtel Play app makes accessing popular and varied TV content easy and convenient. Customers are now able to enjoy programs from Foxtel's amazing range of sports, drama, entertainment, documentary and movie channels live or on in catch-up mode without worrying about lock-in contracts and installation costs.
With the introduction of the Foxtel Play app, LG customers now have access to packages featuring over 45 live channels including Fox Sports 1, 2 and 3, Foxtel Movie channels, Showcase, FOX8, Arena, Lifestyle, History, Discovery, A&E, National Geographic, UKTV, FX, SoHo, Syfy, MTV, Universal Channel, ESPN, Cartoon Network, Nickelodeon and Disney Channel and hundreds of catch up video on-demand titles.
Pricing
Quickflix
Customers are able to sign up for a range of packages starting from just $14.99 per month with the option to receive DVDs via post or to purely stream content online.
Foxtel Play
Customers are able to choose from four genre-based packages (entertainment, drama, documentaries, kids) and can subscribe to one package for $25, two for $35, three for $45 or four for $50 per month. Sport and Premium Drama and Movie packages can also be purchased for an additional $25 each per month.
Availability
Quickflix*
From today, the Quickflix app is available on all LG 2012 and 2013 Smart TV models.
Foxtel Play*
Available now on the below models once the latest software update has been installed.
Classification

Model

Firmware

H13

60LA8600

04.21.01

55LA8600

M13-LCD

60LA7410

04.21.01

55LA7400

55LA6910

42LA6910

55LA6620

50LA6620

47LA6620

42LA6620

60LA6230

55LA6230

50LA6230

42LA6230

32LA6230

55LA6200

60LN5710

55LN5710

42LN5710
*New Australian residential users with a compatible internet connected device running an eligible operating system.. Credit card details are required at time of sign up for any ongoing direct debit subscription payments. Broadband Internet connection with minimum speed of at least 3Mbps required. ISP and data charges may apply.
Limited to Foxtel Play: Not all channels/content available on all devices with Foxtel Play and Foxtel Go. Additional charges apply for Foxtel On Demand titles. Ongoing subscription fees reflective of your package apply unless you cancel your subscription. Foxtel Go available on compatible smartphone and tablet devices with an eligible operating system. See full list at: https://www.foxtel.com.au/discover/foxtelgo/default.htm. You must subscribe to the relevant channel/tier in your Foxtel Play pack to access corresponding content on Foxtel Go. Video quality may vary. Full terms and conditions available at www.foxtel.com.au/foxtelplay/terms.
###
Media Contacts:
For further information please contact australia@lg-one.com
LG Electronics Home Entertainment
The LG Electronics Home Entertainment Company is a top global player in flat panel displays, audio players, video products, monitors, commercial displays, and security systems for consumer and commercial markets. Key product areas include OLED, Ultra HD, LED, LCD, and Plasma TVs, LED/LCD monitors, home theatre systems, Blu-ray Disc™ players, audio components, video players, and plasma display panels. While focusing on creating feature-rich devices, the company pursues stylish designs and pushes technological boundaries to improve the home entertainment experience for consumers.
LG Electronics Australia
LG Electronics Australia is based in Sydney and is a subsidiary of LG Electronics, Inc, a global force and technology leader in consumer electronics, home appliances and mobile communications. In Australia, LG Electronics sells a range of stylish and innovative home entertainment products, mobile phones, home appliances, commercial displays, air conditioning systems and solar energy solutions, all under LG's "Life's Good" mantra.
For more information, please visit LG.com.au, or connect with us on Facebook.com/LGAustralia