Hospitality & Healthcare
LG TV for hospitality and healthcare industry has an outstanding management solution called Pro:Centric. Pro:Centric drives success for your business enabling to provide upgraded service level.
Overview
In hotels, TVs play a crucial role to deliver rooms' first impression to guest stepping into their rooms. Hotel managers make a ceaseless effort to provide guests with enjoyable and informative content services while their staying. With LG Pro:Centric Hotel TV and Signage Solutions, hotel managers can create customized guest caring contents in a simple and easier way.
Application Scenes - Hospitality (Hotel)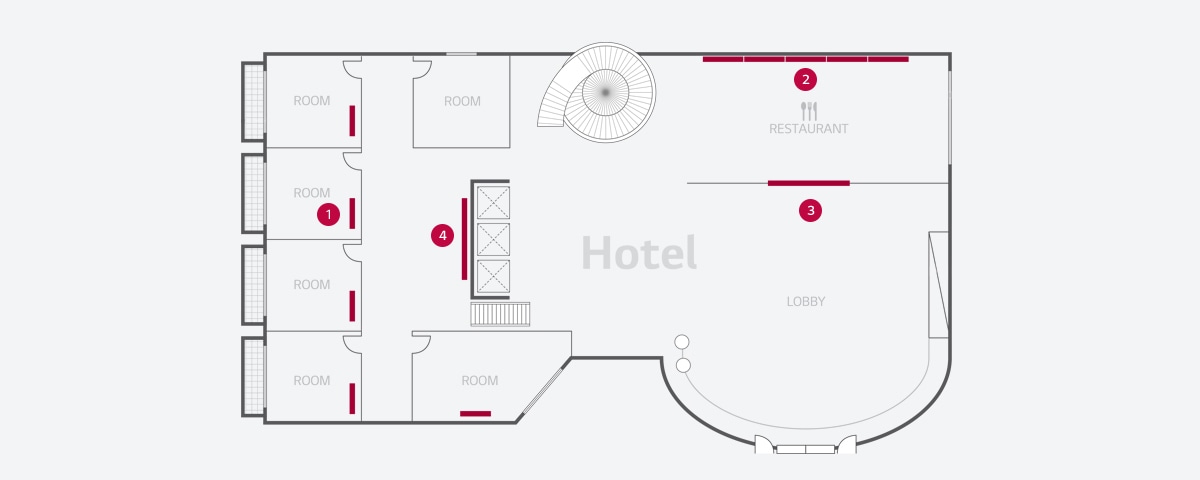 1. Guest room
Installed inside guest rooms for entertainment of guests.
2. Hotel Bar
Installed in bar for enjoyable TV entertainment and commercial message.
3. Hotel Lobby
Installed in reception desk or concierge at lobby for hotel information.
4. Executive Lounge
Ultra large Display that gives you Ultra HD resolution and add a warm and luxury atmosphere to an upscale lounge.
webOS Commercial TV
LG Pro:Centric SMART offers webOS Commercial TV user interface and customizable tools that our partners can optimize their Hotel TVs with IP-based programs to provide premium hotel services.
Soft AP
Soft AP means software enabled Access Point. This "virtual" Wi-Fi feature executes by software working on the device to create a wireless hotspot. LG Commercial Smart TV enables guests to share secured content sharing between TV and their own devices when Soft AP is on.
Cinema Screen Design
The display is a seamless, edge-to-edge panel of glass over an ultraslim, almost unnoticeable bezel. It's a sleek, elegant, virtually borderfree design that will appeal to even the most refined sense of style. Your guests will love the stunning picture while it's on and marvel at its appearance while it's off.
2. Pro:Centric Application
Enhanced Customer Experience
Personalize the page with the Pro:Centric Applications(PCA) which improves guests' in-room experience as well as providing a variety of additional features conveniently just for your customers
Personalized Pages
When linked with the Property Management System, it provides a Welcome Page with the guest name, Auto Language Setting and Billing information with the guest's name.
Various Additional Features
PCA serves the convenience of the guest through a Wake-up setting, Weather Information, Map Service, and much more functions that you can choose from
Easy Content Creation & Management
Pro:Centric allow you to create your own content and manage up to 8 hotel channels which can be specialized for your Hotel. It provides you a solution that easily customizable for your Hotel Service.
Customizable Pages
8 sections with 40 pages of billboards can be made with the web based editing tool.
Hotel Channel Spooling
Operation of up to 8 hotel channels can offer various information and added services.
MyPro:Centric
MyPro:Centric enables our partners to create their own contents based on a various SDK such as Java and flash, which gives flexibility for unique and different hospitality service.
Simple Connectivity
With built-in SoC (System on Chip) and Wi-Fi dongle support, installation has been simplified. By removing the external media player and ethernet/RS232C cables, the total cost of ownership (TCO) can be reduced.
Fail Over
The USB fail over function enables content to be displayed without dead spots when no input signal is available. It supports files in JPG format with a maximum file size of 10MB.
Content Management
The SuperSign Solution includes the SuperSign Lite, W, and C software to provide digital media editing, scheduling, distribution, and management capabilities. By installing SuperSign W on a server, you can manage up to 1000 TVs.
Welcome Video/Screen

With the capability to display various video formats* as well as images, Commercial Lite TVs allow for a greater variation of greeting messages in hotel rooms which make customers feel more welcome and cared for.
* mp4, avi, mov, tp, wma, ts etc.

One Channel Map

One Channel Map feature allows users to edit and list the channels of their choice from any of the multiple broadcasting signals.
Remote Jack Pack
The plug and play function of the Remote Jack Pack enables users to seamlessly view their media on the hospitality TV in the guest room.
Simple & Effective Maintenance
Hotel Mode

From channel selection to volume setting, you can control the TV settings in all the rooms with Hotel Mode. Prevent misuse by customers, set volume limits, or reset settings to default for any TV. You are in control of it all.

USB Cloning

Clone all Commercial TVs with astonishing speed and ease. The USB Cloning feature allows you to simply copy the TV settings to all TVs using a USB stick, a process that is fully automated to save time without having to set each TV individually.
Lock Mode

The Lock Mode blocks external input signals with non-compliant content. A useful feature for preventing misuse of TVs in various facilities or public spaces.

Self Diagnostics

Enables service engineers to recognize technical issues in a TV quickly and easily through a USB stick. The TV stores any technical issues encountered and deliver them to a USB device. Service engineers use this information to analyze technical issues instead of visiting sites.
USB Auto Playback

LG Commercial TVs recognize playable contents in external storages and play them automatically and repeatedly. USB auto playback feature adds commercial usabilities in various situations such as in lobby, restaurants and or other facilities.

External Speaker Out

The external speaker out function lets users enjoy the external speaker in a separate place such as the bathroom, pubs, even hall and etc.
Guest Connectivity
Guests can enjoy their own content on TV screens from their own mobile devices, tablets and other portable devices with MHL (Mobile High-Definition Link).
LG Solution
Different businesses require specific features offered at a range of price points. To meet these diverse needs, LG Electronic Display Solutions offers one of the industry's broadest hardware lineups.
Download LG SuperSign Software
LG Digital Signage is committed to offering comprehensive and indispensable technology solutions with the latest digital products and features tailored to the particular requirements of commercial environments.
Please download LG SuperSign Software : Partner Portal Home> Download> Utility> SuperSign
Global Reference video: Hospitality & Healthcare
From the rooms to the lobby to the offices, LG Commercial Display offers state-of-the-art products and technologies to benefit every facet of hotel operations.
Download: Innovation for a Best Hospitality Experience
LG Pro:Centric Hotel TV and Signage Solutions provide customized guest caring contents in a simple and easier way. Please download the reference and get more information of the line-up.
LG C-Display+
Customer App
Find the latest product information along with reference cases, OLED/LED/Video Wall configurator, manuals and sales contact information.