LG Electronics engages with its stakeholders based on a set of guiding principles born out of its management philosophy, and aims to address the concerns and meet the expectations of its stakeholders by delivering differentiated value. Our guiding principles for stakeholder engagement are applied to all our business sites across the world, with consideration to the social, cultural, and environmental aspects of the respective communities. Nevertheless, LG Electronics regards "Respect for Stakeholders" as the most fundamental principle in its engagement with stakeholders.
Approach to Stakeholder Engagement
LG Electronics formulated its guiding principles for stakeholder engagement based on the international standard "AA1000SES (Stakeholder Engagement Standard)," and engages and collaborates with stakeholders. We first prioritize stakeholder groups based on internal standards and analysis of opportunities and risks, establish a communication strategy and action plan for each stakeholder group. And then, we identify needs and interests of our stakeholders by utilizing a wide range of communication channels, and finalize major issues through a materiality analysis.

If there is a major issue that requires better efforts on the part of LG Electronics, we communicate and collaborate with stakeholders to make improvements. The results are provided to stakeholders through our disclosure channels (sustainability report and corporate website) within a predetermined time frame. In order to assess the effectiveness of our efforts toward informing stakeholders, LG Electronics actively seeks feedback from major stakeholders.
Stakeholder Engagement Process
LG Electronics performs a materiality analysis to systematically manage important CSR issues based on the "Five-Part Materiality Test" of AA1000SES. First, we create an issue pool by carefully reviewing latest CSR trends, after which we perform an assessment based on stakeholder interest and impact on LG Electronics. Finalized material issues are fully disclosed, along with a detailed review of our performances and directions, in the sustainability report and website. The issues are also presented at our Stakeholder Consultation as a key agenda, utilized in contribution programs and formulating marketing campaigns as an important reference.
LGE Materiality Analysis Process
The criteria for our material analysis consist of external standards (industry standard, stakeholder interest, and social norms) and internal standards (short-term financial impact and internal policy/awareness). In order to make an objective assessment on one of the key factors, stakeholder interest, we conduct surveys on experts, the public, and employees, and perform analysis of stakeholder consultation results, external stakeholder inquires, media coverage, and benchmarking issues of the industry.
LGE Materiality Analysis Criteria
2017 Social and Environmental Impact analysis
Since 2016, we have used KPMG's True Value tool to better understand the social and environmental impacts of our global business practices and have made the information public through our annual report. In 2018, we added to the report the estimated economic loss incurred by industrial accidents using statistics by the Korean Ministry of Employment and Labor.

This information helps us recognize not only the direct but also indirect impacts that we have on the society and environment, thereby serving as a valuable guideline in our Environment, Health, and Safety decision-making process.

It was identified that our impact in 2017, when converted into social cost, was some 220.7 billion KRW (360,000 KRW per 100 million KRW in sales) -62.2% from water usage, 31.4% from energy usage and CO2 discharge, and 5.6% from industrial accidents.

As a strong corporate citizen, we believe in the importance of analyzing our social and environmental impacts and actively communicating with those who share our interests. The data helps us not only review our progress and set future goals but also make positive contributions for the society.
Impact analysis (True Value) FY 2017 (Unit: KRW 100 million)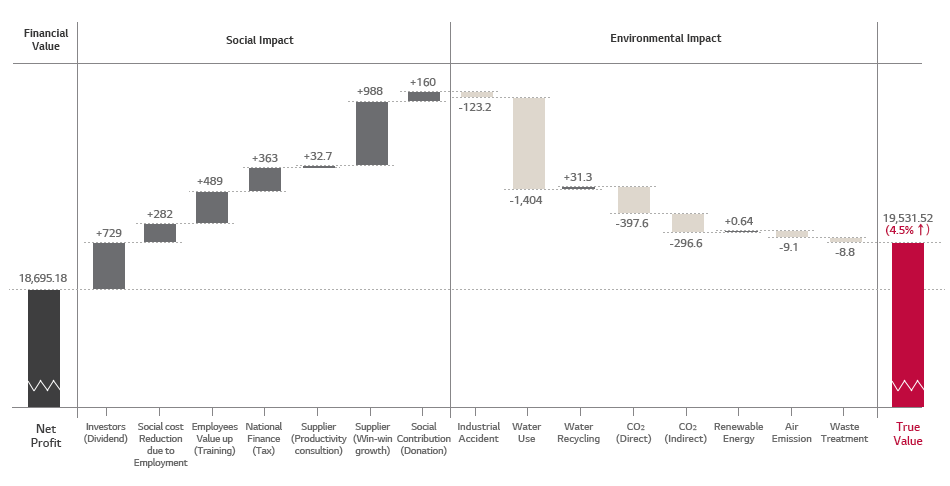 Memberships and Fees (Unit: KRW 100 million)
Membership / Fee
2015
2016
2017
2018
2019
Total
915.487
901.222
959.717
1012.84
1159.34
Top 5
KEA (Korea Electronics Association)
456.75
456.75
456.75
456.75
416.75
KEF (Korea Employers Federation)
208.93
208.93
208.93
219.38
377.13
KCCI (Korea Chamber of Commerce & Industry)
81.6
88.8
88.6
94.9
102.6
RBA (Responsible Business Alliance, formerly EICC)
50.89
50.76
50.90
48.00
50.27
KAIT (Korea Association for ICT Promotion)
8
20
20
20
20
Memberships and Fees Top5
2015
| Membership | Fee |
| --- | --- |
| Total | 915.487 |
| KEA (Korea Electronics Association) | 456.75 |
| KEF (Korea Employers Federation) | 208.93 |
| KCCI (Korea Chamber of Commerce & Industry) | 81.6 |
| RBA (Responsible Business Alliance, formerly EICC) | 50.89 |
| KAIT (Korea Association for ICT Promotion) | 8 |
2016
| Membership | Fee |
| --- | --- |
| Total | 901.222 |
| KEA (Korea Electronics Association) | 456.75 |
| KEF (Korea Employers Federation) | 208.93 |
| KCCI (Korea Chamber of Commerce & Industry) | 88.8 |
| RBA (Responsible Business Alliance, formerly EICC) | 50.76 |
| KAIT (Korea Association for ICT Promotion) | 20 |
2017
| Membership | Fee |
| --- | --- |
| Total | 959.717 |
| KEA (Korea Electronics Association) | 456.75 |
| KEF (Korea Employers Federation) | 208.93 |
| KCCI (Korea Chamber of Commerce & Industry) | 88.6 |
| RBA (Responsible Business Alliance, formerly EICC) | 50.90 |
| KAIT (Korea Association for ICT Promotion) | 20 |
2018
| Membership | Fee |
| --- | --- |
| Total | 1012.84 |
| KEA (Korea Electronics Association) | 456.75 |
| KEF (Korea Employers Federation) | 219.38 |
| KCCI (Korea Chamber of Commerce & Industry) | 94.9 |
| RBA (Responsible Business Alliance, formerly EICC) | 48.00 |
| KAIT (Korea Association for ICT Promotion) | 20 |
2019
| Membership | Fee |
| --- | --- |
| Total | 1159.34 |
| KEA (Korea Electronics Association) | 416.75 |
| KEF (Korea Employers Federation) | 377.13 |
| KCCI (Korea Chamber of Commerce & Industry) | 102.6 |
| RBA (Responsible Business Alliance, formerly EICC) | 50.27 |
| KAIT (Korea Association for ICT Promotion) | 20 |