LG launches Dual Inverter ACs with new star ratings
LG launches Dual Inverter ACs with new star ratings (ISEER)
Starts manufacturing Inverter AC's in India under the Make in India initiative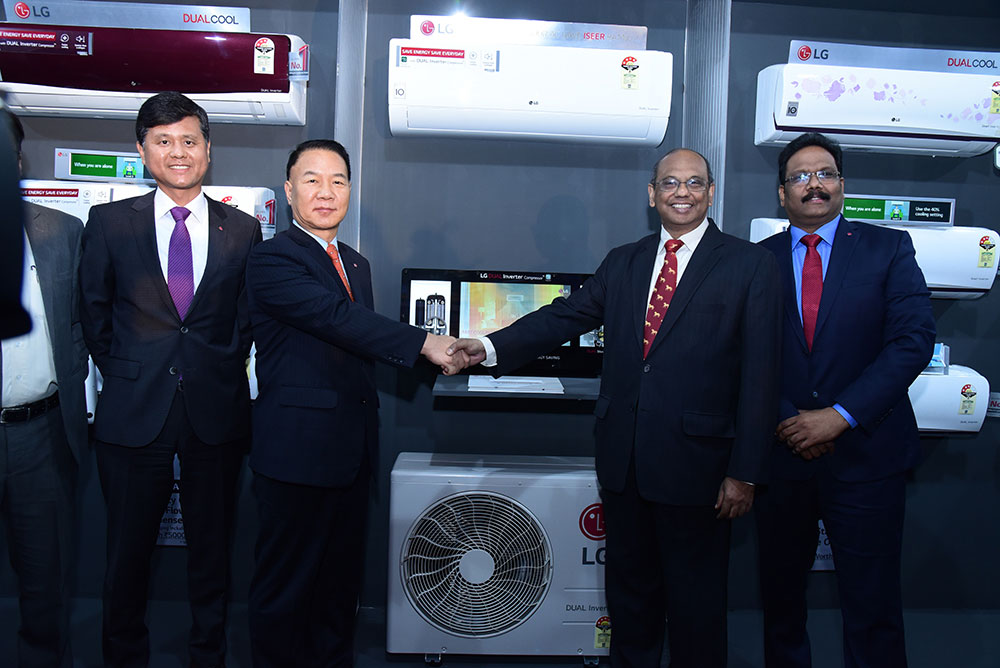 Launched 45 new RAC models
LG ACs can effectively save up to 50 % of running cost and are designed to perform even at high temperatures of up to 52°C
Introduces Stabilizer free technology
New Delhi, 7TH March 2017: LG Electronics (LG), a global leader in air conditioning today unveiled a new DUAL Inverter Air Conditioner series with innovative design. LG has been consistently developing products based on consumer insights. Traditionally, air conditioner running costs have been a concern for consumers. Keeping this in mind, the company has been working closely on the vision of energy conservation and plans to take proactive steps this year. LG is the first manufacturer to shift the entire line of spilt ACs to Inverter ACs. LG Dual Invertor ACs complies with ISEER Ratings (Indian Seasonal Energy Efficiency Ratio), a new efficiency rating for AC by BEE (Bureau of Energy Efficiency). Under the 'Make in India' initiative of Prime Minister Narendra Modi, LG Electronics India has started manufacturing Dual Inverter ACs in their manufacturing plants located in Greater Noida and Pune. With this move, inverter technology will become affordable for consumers who are looking to upgrade to energy efficient air conditioners.
LG has taken the inverter technology one step further to Dual Inverter, which will consume much lesser energy than a conventional AC. LG Inverter AC uses dual rotary compressor which has twin Rotors, which results in faster cooling, high energy savings, low operational noise and greater stability.
For instance, a 1.50 Ton, Dual Inverter AC will save 834 units with respect to a 5 star Split AC in one year, which is absolute saving for the consumer. With the LG dual inverter ACs, consumers can save up to 50% of running cost annually. Moreover, LG's stabilizer free technology will not only help consumers to save money spent on the stabilizer (approximately 2,500/-) but also enhance the aesthetics of the room as well as cools up to 52 degree Celsius. Also, the company is offering a 10 year warranty on the compressor and 5 year warranty on the condenser for each AC. The company is launching 45 new models in the price range of 36,000/- to 54,000/-.
LG's air conditioners are also equipped with the mosquito away feature that aid consumers to stay protected from mosquitoes at home. The electronics giant took consumers' convenience to the next level with the Himalayan Cool Technology, which allows the air conditioners to automatically adjust to room temperature and use minimum energy to provide enhanced cooling and saves on electricity bills. Unlike ordinary air conditioners, LG's smart air conditioners don't create unpleasant noise and ensure maximum peace. All LG Dual Inverter AC use R-410 Refrigerant gas. (R-410 A is an environmental friendly gas which has zero ozone depletion potential).
Announcing the launch of this new range of Air Conditioners, Mr. Kim-Ki-Wan, Managing Director LG
Electronics India, said, "Indian consumer has been the top most priority at LG and we attempt to offer
the best of our products for customer delight and satisfaction. With our technologically innovative products, we aim to continue our leadership in the AC segment. This year, LG India will be completing 20 years in India and we will continue to introduce products which will enhance consumers' lifestyle. The Dual Inverter series is developed with an aim to provide the most efficient air conditioners and we are very confident that 2017 will be a landmark year for LG Air Conditioners."
"Energy efficiency is one of the key parameters for consumers while making purchasing decisions for air conditioners. The LG Dual Inverter AC series combines design innovation with advances in technology to deliver an optimal cooling performance. This holistic approach to product design has resulted in increased power efficiency and an abundance of smart features that enhance the air conditioning experience. Earlier the price gap between normal and inverter AC was 25% to 30%. Due to local production the price gap has been reduced to about 12% to 15%, bringing the energy efficiency inverter technology within the reach of more and more consumers. Now the price of LG Inverter AC is less than the regular 5 star of any brand and marginally higher than the 3 star. Because of reduced price difference, consumers who buy through finance offers will hardly feel any difference in EMIs. At the same time through Dual Inverter technology consumers can save up 50% of total annual running cost, said Vijay Babu, Business Head-RAC, LG Electronics India."
Ajay Mathur, Director General-The Energy & Resources Institute (TERI) Said- There is a strong need to conserve energy and increase awareness about the energy conservation options. Due to increasing high-temperature days, the running time for appliances is far longer and hence there is a need to develop household appliances which are highly energy efficient. LG Electronics Dual inverter AC range is developed based on ISEER ratings – that is on Indian temperature conditions - and is high on energy efficiency; we expect AC manufacturers will be committed to develop technologies which are energy efficient and work on sustainable growth.
Saurabh Diddi- Energy Economist- Bureau of Energy efficiency said " BEE is committed to work in areas of energy conservation. The Indian seasonal Energy Efficiency Ratio (ISEER) ratings announcement is one step forward in this direction and I am very happy to see that LG Electronics has taken proactive steps and introduced 100% split AC with ISEER ratings. We expect other consumer durable makers to strengthen their R & D and introduce energy efficient technologies. Let's make India a great example of energy conservation.
About LG Electronics India Pvt Ltd
LG Electronics India Pvt. Ltd., a wholly owned subsidiary of LG Electronics, South Korea was established in January 1997 in India. It is one of the most formidable brands in consumer electronics, home appliances, IT hardware and mobile communications space. In India for a decade, LG has earned a premium brand positioning and is the acknowledged trendsetter for the industry. LGEIL's manufacturing unit at Greater Noida is one of the most eco-friendly units among all LG manufacturing plants in the world. The second Greenfield facility is located at Ranjangaon; Pune has the capacity to manufacture LED TV's, air conditioners, washing machines, refrigerators, and monitors.
For further information contact:
LG LG-One
Neeta Linz – neeta.linz@lge.com Shakun Sharma – shakun.sharma@lg-one.com / 09599500951
Deepika Kukreti – deepika.kukreti@lge.com Deepika Sachdeva – deepika.sachdeva@lg-one.com / 08860416858