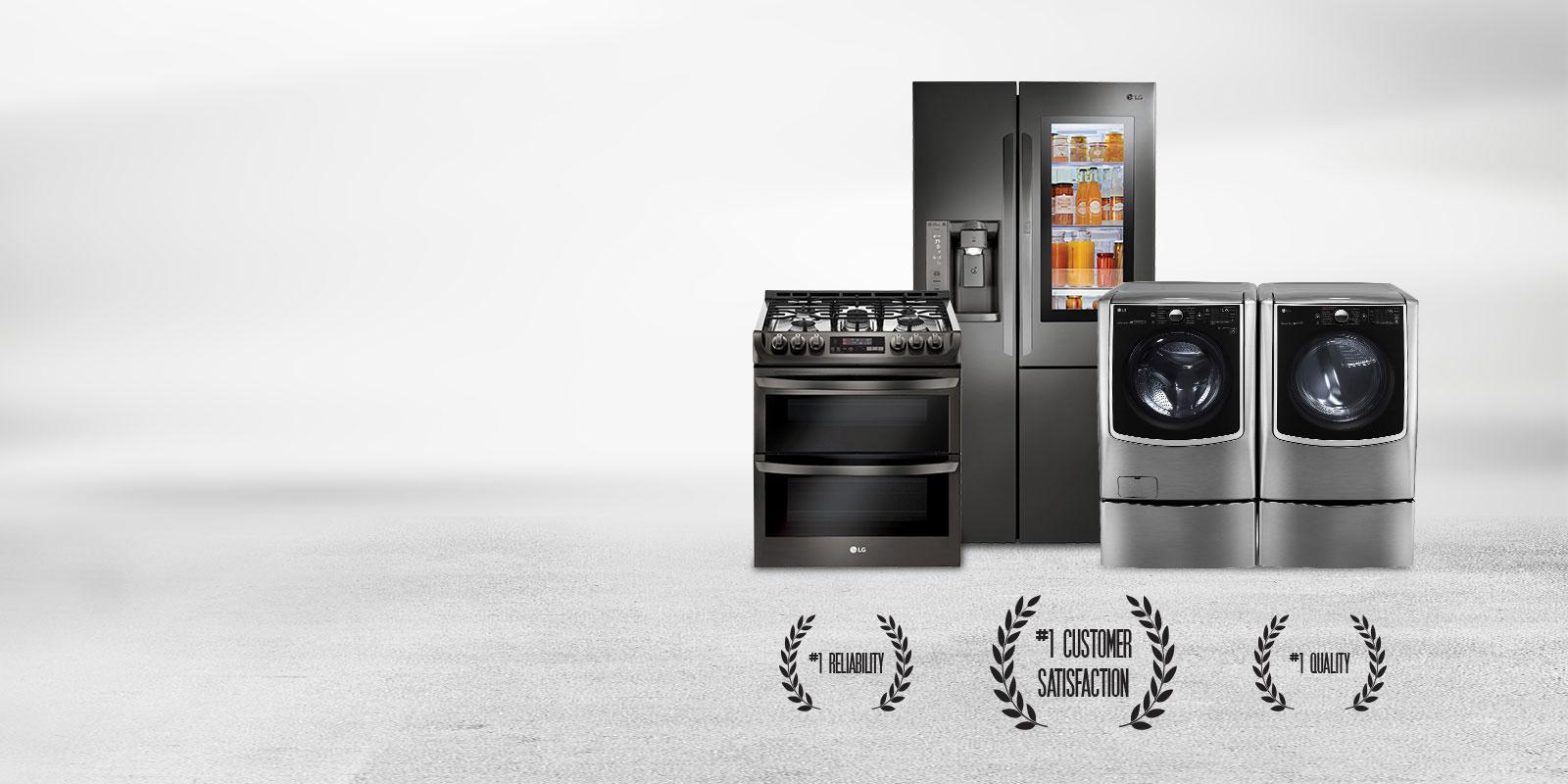 Buying appliances shouldn't be a chore
Shop with confidence. Get the home appliances that dominate the ratings and awards.
Save Big This Fall Season
Check out the latest offers on LG refrigerators, ranges, dishwashers and more.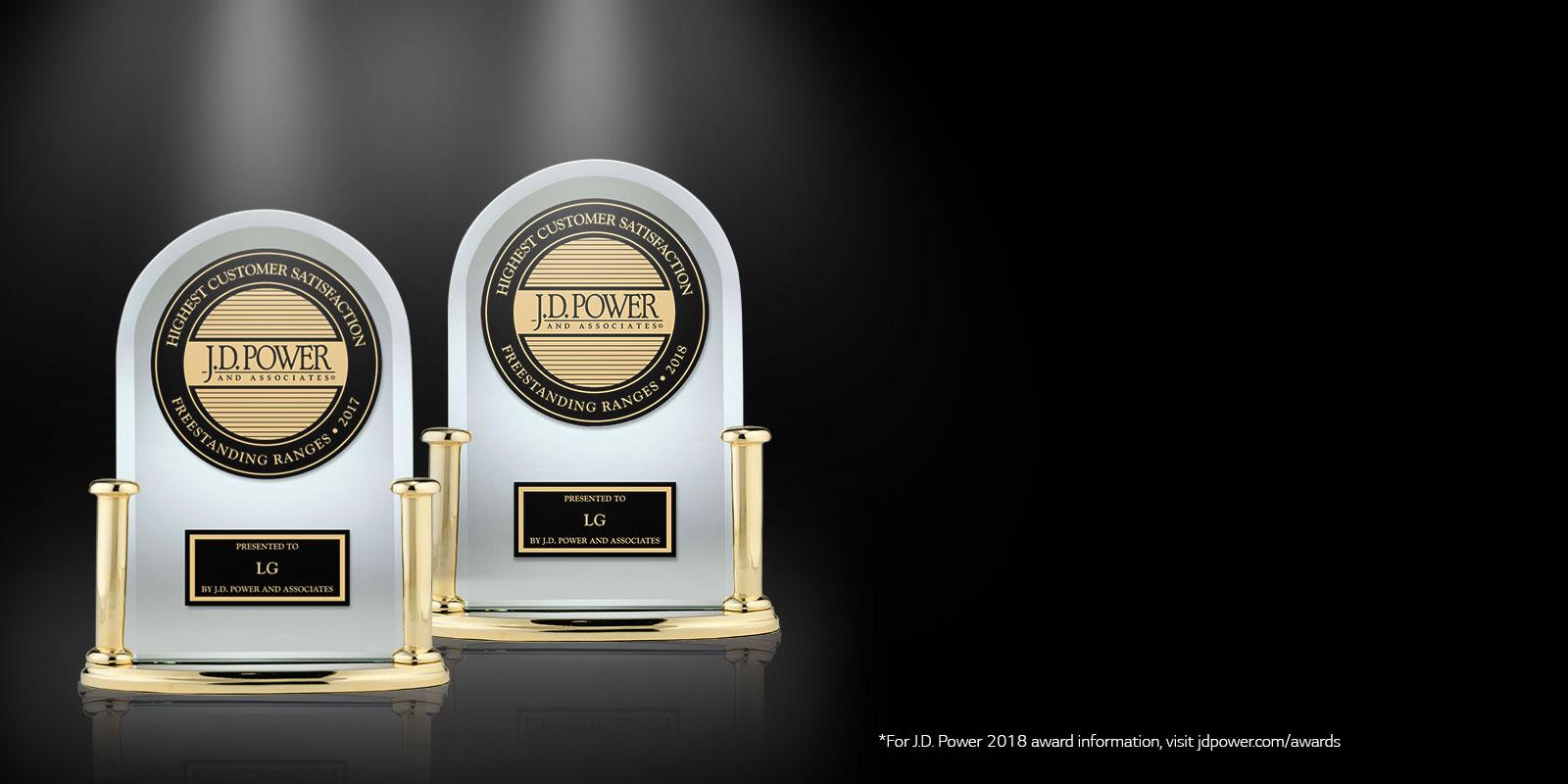 Rated Highest in
Customer Satisfaction

LG was ranked highest in customer satisfaction with freestanding ranges, 2 years in a row.

Say Hello to the LG STUDIO Kitchen
With innovative freestanding and built-in appliances that perform flawlessly and look awesome, you may never want to leave your home again.
Welcome MATTE
Experience the style of LG's exclusive MATTE Black Stainless Steel appliances.
Selecting a checkbox will update the products displayed on screen.
Refine Your Search
5
Total Results
Ranges & Ovens
Cook every meal with power and precision. LG ranges and ovens boast innovative technology for restaurant-worthy performances every night of the week. And with their stylish clean lines, they'll blend seamlessly into your décor.
WHAT CUSTOMERS ARE SAYING
Average Rating for Ranges & Ovens

Looks fabulous

I got my range a little over a month ago. So far everything works great. I love having the choice of ovens to use. The convection portion bakes really well. Glad I bought this one.

Sweepstakes entry received for review.

Work of Art Range!

Have had this range about 2 weeks...love, love, love it!! Everyone who has come over immediately asks me where I bought it, what brand, etc. Even the delivery guys commented on how sturdily built it is compared to other ranges. It handles everything I've cooked in the ovens superbly. The range top is terrific as well. Cannot say enough good things about it, except Life is Good!!!!

Sweepstakes entry received for review.

LG Signature 7.3 CuFt Double Oven

Beautiful, functional stove. Love the design and ease of use. The wife is still having problems learning how to operate the ovens but she will get there.

Sweepstakes entry received for review.
Love it

This range had all the features we wanted plus greats looks. The burner selection is excellent - 2 large burners (2 heat rings and 3 heat rings), 2 small burners plus a warming burner. The front left burner is labelled 'ultra heat' and it will indeed heat things more quickly. The oven is large with a very nice, large viewing window in the door. It also has convection baking. A small feature but very nice ... instead of just one light to indicate a hot surface - there are separate

...

read more

indicators for each of the 4 heating burners. No more guessing which one is hot.

Sweepstakes entry received for review.

I'm thrilled!

I researched my new kitchen appliances for a LONG time. We were replacing our white appliances with stainless steel, to update our kitchen. When I began looking, I thought I would purchase another range like my other double oven range, but came across this slide-in, which I had not considered. The newer double oven options available didn't allow me a large oven AND a smaller one, as I was used to. Instead both ovens were too small for a turkey, so I resorted to a single oven, and finally

...

read more

decided on this one, for the size of the oven, the warming drawer, and the two large front burners. The burners heat very quickly! I am still learning the new convection option. The only problem that we came across, is that our electric plug behind the oven was too high on the wall, and we had to have an electrician lower our outlet so that the plug would fit into the lower recess on the back of the appliance. I very much like the stainless steel/black appearance.

Sweepstakes entry received for review.

Love This

I purchased about a month ago...just realized it has a warming drawer! Had guests over for dinner and everyone loved it...and the blue inside is gorgeous. I ordered the "package" with DW, Refrigerator, and Microwave...Love everything. Totally changed the appearance of the kitchen.

Sweepstakes entry received for review.
Nice Unit

It works great! I love having both the convection oven and the regular oven. I have not used the center burner yet. Oven wipes out perfectly and like new every time. The black shows every bit of dust n crumb. And the stainless shows every finger print. Over all it's a good stove.

Awesome gas range!

I've had my gas range for a month now and I lam cooking and baking up a storm these days! The grill on the top is super handy to make French Toast and pancakes. No more fighting with a skillet. The cooktop burners are FAST. The tray under the grates is amazingly easy to clean! I've never had a convection oven before and it is so convenient to put 2 racks of food in the oven and have them bake evenly. And, silly as it may seem, the chiming timer makes me smile every time!

Sweepstakes entry received for review.

much easier to clean than previous range , faster

I have a very limited space due to cabinet layout. This range was purchased to replace an older gas range ... cook-top seems faster probably due to diameter of the burners. Completed install myself. No issues , very straightforward . Everyone comments on how good it looks .... I comment on how much better it is than the old one. Due to sale price the cost was very close to what I paid for the older range 15 years ago. This range has become the second appliance replace by LG. Very pleased with this company.

Sweepstakes entry received for review.
Love the oven, easy clean, quality product and cooktop is spaceous

Sweepstakes entry received for review.

Best oven I have owned

I was a bit skeptical about the purchase of this oven reason being I read some bad reviews about heating. Well let me tell you this stove heats quickly and the oven cooks evenly and to temperature. My only regret is that I waited do long to upgrade. I am truly an LG fan after this purchase.

Sweepstakes entry received for review.

one of the BEST!

The LRE3061ST is true to the high quality standards of the LG brand. The convection oven is bakes very effectively; the glass cooktop is beautiful and relatively easy to maintain. I have absolutely no complaints. The only reason I didn't give it 5 stars is that I know LG has even better models with 2 ovens.

Sweepstakes entry received for review.
perfect union of function and elegance

The functionality of the range and of the ovens is superb. I like the two oven-cavities. You can still cook a large turkey or the like in the lower oven, but conserve energy by using the smaller oven alone when cooking smaller dishes. I also enormously enjoy the high-heat burner for getting large stock pots to boil rapidly. The simmer-burner is also wonderful. At an aesthetic level, my wife and I also appreciate the overall appearance--and, especially, the console conveniently up front with a

...

read more

low-profile back. (So many other ovens these days have unnaturally high consoles projecting up at the back, which are not only ugly but which also pose the hazard of forcing you to reach across burners.)

Sweepstakes entry received for review.

Great Range

I've had this range installed for about 6 months now, and I am loving it. I wanted to take enough time to use it before writing a review. The convection feature will cook just about anything perfectly, I've roasted both chicken and turkey and they have both come out tender and juicy (covered in foil). It roasts vegetables very evenly. It is very easy to clean up. The gas burners cook quickly and evenly, it just took me some time to adjust to them because I had an electric flat cook top

...

read more

previously. I know there are more features I have yet to tap into but for all the basic features I've used so far I have been happy. I even had a slight corrosion problem on one of the burners and when I called customer service, they sent me a replacement quickly and without and push back. I am very happy with this purchase. A little pricey, but well worth the money so far!

Sweepstakes entry received for review.

Great stove

Everything works great but I must admit The feature I get a kick out of is the temperature probe Just plug into a jack in the sidewall of the lower oven insert into your meet start the oven set the temperature for the probe and never check for doneness again The probe temperature displays on the front of the oven and when it reaches temp the stove beeps and shuts off remove your meat and serve easy as can be Roasts meatloaf whatever always comes out perfectly
At last, A Stove That Lives Up to the Hype

In the past I have purchased two top of the line cook stoves, and each time they failed to live up to the hype written about them in one way or another. But, after a couple of months with this LG Stove I think I have found a unit that meets all of my expectations. Easy to use, outstanding results from the convection oven, the surface units are responsive and seems to be accurate. A good friend of mine who earned his living as an appliance repairmen classified LG appliances as well designed

...

read more

and engineered and a good unit to work on. Totally happy with this product thus far.

Sweepstakes entry received for review.

Great Range

I have had my new range for over a month now and totally love it!!! The cook top is very fast to heat up and is so easy to just simmer . The big oven heats up rapidly and cooks evenly.The temp. is very accurate. So glad I chose LG.

Sweepstakes entry received for review.

Excellent Range

We've had this range for a couple of months and found it to be a wise choice. Baking and roasting are both highly effective and accurate. The top burners are insanely fast and the controls are very user friendly.

Sweepstakes entry received for review.
seems to be well engineered.

We have only had this a couple of weeks. Have used all 5 of the range burners, will take a little time to get used to the higher heat burners. Have not used the oven yet,the bright color makes it look like a show piece ! THE DRAWER UNDER THE OVEN WAS A BIG SELLING POINT, ACTUALLY HAD DRAWER GUIDES TO MAKE IT WORK SMOOTHLY A+ !! My brother and his wife were so impressed with ours , they also bought a range, refrigerator, dishwasher, microwave. Have other LG products, and very satisfied .

Sweepstakes entry received for review.

Nice stove, but not excited about the oven control panel

Sweepstakes entry received for review.

Great features

I love the middle grill on the stovetop. Also, the buttons have nice big lettering that I can see without my glasses. I love everything about this range

Sweepstakes entry received for review.
Beautiful stove

It's taking some getting used to. Cooks hotter than my old stove. Been adjusting times on all my recipes, pan of cookies went from 12 minutes to 9, that's in the regular oven. The bottom oven is so low you almost need to get on your knees to use it. But I'm sure I'll get used to it. The one thing I really hate about this stove is the vent on top. I have to put a cloth over it, so when I'm frying, grease won't splatter into it. Which you'd never be able to clean it, if it did. That is just a bad

...

read more

design. Everyone who's seen my new stove says the same thing. Overall, I do like the stove.

Sweepstakes entry received for review.

Perfect

We've had this refrigerator a month now and are very happy with it! Plenty of room in the doors and drawers, able to adjust the shelves for our needs... and then the ice and water in the door!!

Sweepstakes entry received for review.

Stylish look

I chose this oven as an upgrade and it does not disappoint. The food cooks more evenly especially pizzas. One warning, be sure to remove the hidden shelf in the bottom oven when new. We were scraping baked plastic for hours because we missed it.

Sweepstakes entry received for review.
Easy cooking

We bought our range a year ago. I love all the features on this stove. It is my first time with the glass top range. It has been very easy to learn and the cleaning and maintenance is a breeze. You have two options for oven cleaning with the Easyclean or self clean. The spills in the oven wipe up easily. The Warm feature is great to keep your food warm without cooking. The proof option is great for raising bread. Last be not least I like the tunes that play when your oven is preheated.

Sweepstakes entry received for review.

maintains perfect temperatures

This oven is the best one I've ever used for maintaining perfect temperatures evenly distributed throughout the racks. This oven outperforms our old Viking range, and is on par with a $7500 pastry oven that I worked with in a commercial kitchen.The top boils water extremely fast, but has the usual draw backs of a flat surface stove, but for the money I am not disappointed at all. The front controls and low profile back edge make are easy to clean and look great in our custom countertop kitchen.

Sweepstakes entry received for review.

LG Range- LSE4613BD

This was my first time buying appliances, so I purchased 5 different brands and LG was the option for the range. I now regret not buying LG all around!! This range exceeded my expectations. I cook and bake every day and put my new range to extreme tests. The electric burners work great, as expected, but the ovens different options and precise temperatures have me cooking with a smile. Very happy with this product. No complaints so far!!

Sweepstakes entry received for review.
LG Product Service and Support
Get your questions answered about product setup, use and care, repair and maintenance issues. We can help.
Telephone
Call an LG Support Representative.
(800) 243-0000 Consumer (7am-midnight CST)
(888) 865-3026 Commercial (8am-6pm CST)