EXPANDING YOUR HOME
AUDIO NETWORK
LG's family of Music Flow products are designed to work seamlessly together, allowing you to create an impressive home audio network. Discover how easy it is to add additional speakers and much more.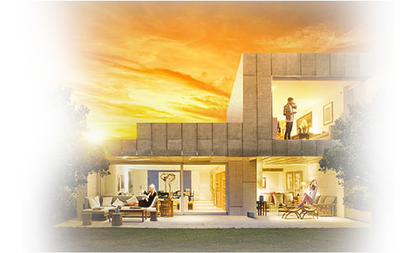 MUSIC FLOW ADVANCED SETUP
To get the best possible help in setting up your new Music Flow advanced system, watch this step by step video to make it easier for you.
LG MUSIC FLOW ADVANCED SETUP
MULTI-ROOM NETWORK SETUP
See how easy it is to connect and customize the sound across your home audio network.
Make sure that a wireless network environment using a router is installed at your home. The home router should be connected to the internet.
Connect your smart device to your home network.
Connect the speaker to the power supply.
If you want to enjoy the music on media server (PC, Mac or Network Storage), connect the media server to your home network.
CAUTION
MUSICflow system communicates over both 2.4 GHz and 5 GHz home network supporting 802.11b/g/n wireless technology.
Wireless signal interference may lead to disconnection of network or stopping playback.
Depending on the speed of your network, playback of online contents may not work well.
Network connection may not be made with some routers (or modem) from certain internet communication service providers. In such case, purchase a router from general market and use.
Because of a firewall on your PC, Music Flow PC Software may not work well. In this case, disable all your firewalls and try to connect again. Refer to your firewall's instruction or website.
CONNECTING TO THE SOUND BAR
If you connect the initial MUSICflow product to your home network, you can connect the Sound Bar to your home network.
Power on your Sound Bar
Launch smart device or PC application and follow instructions on set-up wizard (Application Menu Add > Speakers)
Press the ADD icon at the back or the top of your Sound Bar
Check is the WiFi network indicator LED is blinking in a red box
If you install successfully, update speaker software to the latest: (Application Menu > Settings > Version Info)
NOTE
If you failed for "Add Speaker" configuration. It seems that location is too far from between speakers, it may not be connected. Place and use it at a location that is close enough for router and each speaker.