ADVANCED LG OLED TV FEATURES
There's much more to your television than you might expect. It's loaded with innovations that are made to enhance your viewing experience and eliminate any potential barriers to your enjoyment. Whether it's making sports more clear, connecting wirelessly to audio devices, or watching movies in 3D*, find out what your LG OLED TV is capable of.

Click here to learn all about your new TV's incredibly innovative 3D capabilities*— like Dual Play, which takes gaming to the next level—or choose another specialty feature below.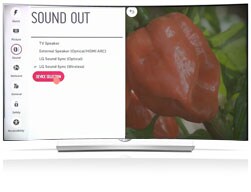 CLOSED CAPTIONING
Learn how to control closed captioning options on your LG OLED TV.**
Click here to learn about all the great content your LG OLED TV has to offer!
UNIVERSAL CONTROL FOR EXTERNAL DEVICES
Want to pair your LG Smart TV with a Blu-Ray disc player, home theatre system, sound bar or gaming console? It's simpler than ever! Learn how to connect and control your external devices here.
ADJUSTING SOUND SETTINGS
Too often we forget to consider the sound that goes along with that beautiful LG picture. Fortunately, LG has put a lot of thought into it, and we're putting you in control of the audio. Find out more here.
ADJUSTING PICTURE SETTINGS
For the most enjoyable viewing, you'll want to adjust your LG Smart TV to suit your personal preferences, as well as the demands of the different types of programming you're watching and any unique considerations for your viewing environment. Here's how.
*Internet connection and certain subscriptions required and sold separately. Content and services vary by product and are subject to change without notice.

**Your TV model may vary from what is shown.