21:9
UltraWide
With a cinema-like view, the 21:9 screen ratio enhances your entertainment experience when playing games or watching your favourite movies.
21:9 Full Screen or 2560x1080 Resolution may not work depending on contents, device, interface or graphic card. Cinema Mode should be applied for 21:9 full screen viewing when used with certain contents players. For HDMI connections with Mac®, 2560x1080 resolution is not available.
4-Screen

Split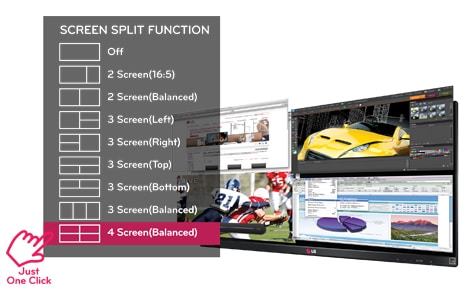 The 21:9 UltraWide Monitor allows up to 4 windows to be shown in 8 different screen rations at the same time. Multitask more efficiently and comfortably with just one click.
4-Screen Split software requires Win Vista/7/8 or Mac® OS X/Mountain Lion and DVI-D or HDMI connection with Win OS PC or DVI-D or DP connection with Mac® OS PC.
Mac®

Compatible
The 21:9 Ultrawide monitor can be enjoyed easily on a Mac as well. Dedicated Macintosh users like graphic designers who handle heavy graphics and videos will find the LG 21:9 Ultrawide efficient and comfortable to use.
For connection with Mac®, Mini-DP to DVI-D/DP/HDMI adaptor is required. 2560x1080 resolution is not available for HDMI connections with Mac®.
Dual

Link-up
For efficient working, the Dual Link-up feature allows two portable devices, such as a computer, camera, phone or Blu-Ray player to be connected to the monitor and used on a single screen simultaneously.
One device must be connected to the display Port.
Cinema

Screen
Cinema Screen design is an ultra narrow frame, for a screen with minimal framing obstructions. The almost "frameless" Monitor is made possible through LGs technological advancements in monitor innovation.
MHL

(Mobile HD Link)
Connect and watch High-Definition content from your Android Smartphone on your Monitor, via an MHL cable.
MHL enabled Android 4.0 Smartphone or Tablet & MHL Cable required (sold separately).
Stereo

Sound
Enjoy your movies or games with realistic stereo sound. With the built-in stereo speakers, there is no need for extra speakers around your monitor.
Lifelike

Colour
LG IPS reduces changes in colour temperature, offering lifelike colour impression.
Design, features and specifications subject to change without notice. Screen images simulated and/or dramatised. Some features in videos may not be available on all models. Please refer to the TECHNICAL SPECIFICATIONS tab for a complete list of features by model.