J.D. Power Award Winner

"Highest in Customer Satisfaction with Dryers"

LG has been Evaluated by Consumer Reports
*Consumer Reports does not endorse products or services.


Get the Wrinkles Out
Refresh clothes and reduce wrinkles in just 10 minutes with LG TurboSteam™ technology.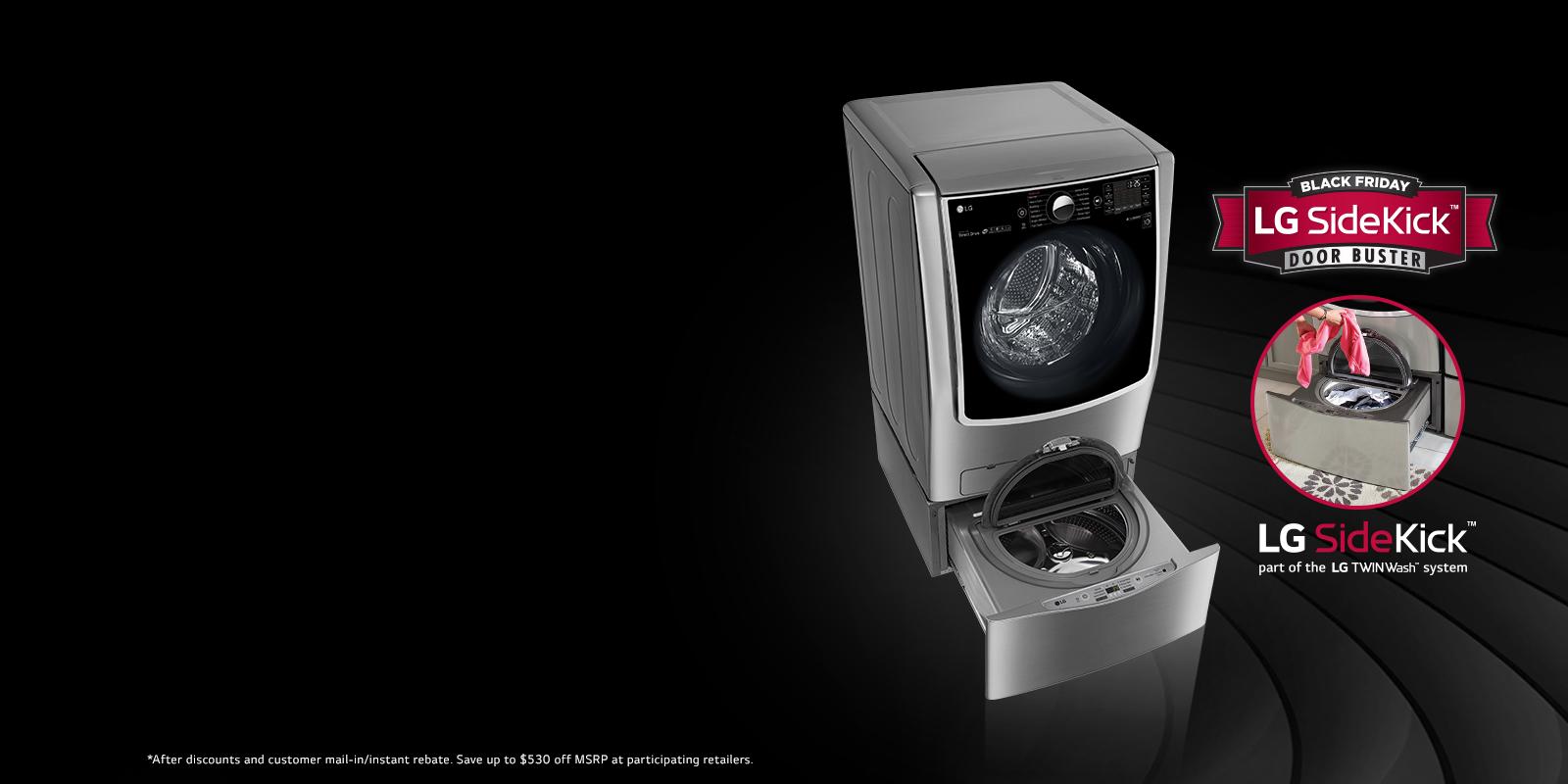 Black Friday Savings on LG SideKick™ ONLY $249*
Add an LG SideKick™ Pedestal Washer to any LG Front Loader or Qualifying Top Load Dryer to wash small loads that can't wait or two loads at once to save time.

LG Dryers were Evaluated by Consumer Reports
*Consumer Reports does not endorse products or services.
Selecting a checkbox will update the products displayed on screen.
Refine Your Search
49
Total Results
Dryers
Explore the next level in cleaning technology with a dryer from LG. An increased capacity and higher efficiency means less time drying clothes and more time for doing the things you love!
WHAT CUSTOMERS ARE SAYING
Average Rating for Dryers
I love this dryer!!!

I bought both the matching set washer and dryer and just love them!

Everything I wanted in a Dryer, Dryer

Our previous dryer had given up. It was time to get a new dryer. We have heard about LG from friends and went to investigate. We saw one at Grand Appliance and was very much impressed. The controls were easy to understand and easy to use. It was large enough for our needs. It drys our clothing quickly.

Sweepstakes entry received for review.

fun to operate

like all the bells and whistles, washes clean, quiet,,,,it's all people have told me LG is here to stay!

Sweepstakes entry received for review.
Fabulous dryer!

I bought both the washer and dryer and I absolutely love them! Very large capacity (I haven't filled them yet), cleans and dries very well and very quiet. I love the little chimes that they play when the load is done although it could be a little louder since my laundry door is usually closed. All in all a great pair! Only issue is we originally purchased the gas dryer but could always smell gas. Exchanged it for another and same issue. Ended up with electric which works just fine.

Sweepstakes entry received for review.

Great features, simple to operate

We bought both washer and dryer and could be happier. The musical minders are a pleasure and always put a smile on our face

Sweepstakes entry received for review.

Best Dryer Ever

I bought this dryer back in May, one of the best decisions I have ever made. Dryer is efficient and quick, great settings and most of all quiet compared to my other dryer. Couldn't of been happier with our purchase.

Sweepstakes entry received for review.
Dryer

Great appliance with great options and service. Great durability and the appearance is great as well.

Sweepstakes entry received for review.

Great Dryer

I bought this dryer as a pair with the WM9000HVA. I still haven't figured out all the bells and whistles on my new dry but I'm amazed at how well it drys. My old dryer would take twice as long.

Sweepstakes entry received for review.

Large dryer

This is an Awesome dryer...but...control program not set the way I dry and you can't change each program on dial, need to push several buttons to adjust but not all programs on dial...get pedestal if you're tall, drum very very large...clothes are very hot when they are finished cooling at the end of cycle and still have wrinkles when you do steam fresh...King size?...sheets only not with comforter...color ok but would rather have white and you can't use your iPhone...it says smartphone but you

...

read more

can't use iPhone...and setting app is too complicated.

Sweepstakes entry received for review.
Love my new dryer!

I bought a new washer and dryer a few months ago after our old ones finally died. I wish I had done it a long time ago! When this dryer buzzes to say the clothes are dry, they are actually dry! And yesterday the dryer had an error message saying there was a problem with the exhaust, because the outside exhaust had slipped and was blocked. I have been very impressed!

Sweepstakes entry received for review.

Nearly perfect

Perfect dryer. Except, like all dryers, when using sensors, the dryer always stops when the clothes are still fairly damp, even when set on "extra dry". Always have to run a 20-30 minutes time dry cycle on low to get them fully dry. In my experience, this is an issue that every dryer has, though, so I'm not knocking it a star.

Sweepstakes entry received for review.

Good Dryer

We bought this dryer to replace our last LG front load dryer (was about 6 years old). This dryer works well but the features are different than I'm used to. I don't like that it doesn't have the "refresh" cycle. I have to manually set the dryer now. I also don't care for the energy saver button. You have to turn the setting off before each load or the load takes a long time to dry. I haven't used the steam setting yet, so no comments there. Overall, it's a good dryer and gets the job done.

Sweepstakes entry received for review.
Love! Love! Love!

Couldn't be happier! Clothes are so clean and fresh with so little soap used. Love the steam options and wrinkle release (haven't had a need to do daily ironing since purchasing, only touch up ironing). Just wish one of the downloadable cycles was a fold and put away...Truly couldn't want more from a dryer

Sweepstakes entry received for review.

Great Purchase

We've had the dryer only a short time but so far it has been easy to use and dries the clothes much more efficiently than our previous dryer. The features work well even alerting us to a blockage in our ductwork. Once cleaned out, it reset itself as it said it would. Read the manual about this feature, especially afterwards so you don't mistakenly think you still have a problem. Maybe I didn't need a new dryer after all, but this one is more sophisticated and has the modern conveniences I'll enjoy.

Great Dryer

This dryer is larger than our previous model from a competitor. What is different is the steam function. Our older towels we washed and dryed with our old matching models came out matted and rough feeling. With this dryer using the steam function the towels came out almost like new softer and fluffy. I knew this dryer was different.

Sweepstakes entry received for review.
Excellent Dryer

I had an electric dyer that was so large it would not adequately dry smaller loads and even larger loads took too long. This gas dryer is excellent. I dried a queen size comforter in less than 30 minutes. I highly recommend it.

Sweepstakes entry received for review.

Well worth the coin!

Great unit, even at the price! Bought the pedastl with the unit and the drawer storage really comes in handy, and is most convienant. Had the unit for over a year and the only thing we've had to do is clean the lint filter after every use. Dials and operating instructions are easy to understand and use, and the unit has been a dream. Get one, you won't regret it!

Sweepstakes entry received for review.

Best washer and dryer on the planet.

At my rental I luckily had these units and thought that I would get the same when I bought a house. I didn't realize they were so top-of-the-line, but they are TOTALLY WORTH IT. If you do a lot of laundry you will for sure appreciate it. Also, no matter how many times I accidentally wash a tissue I forget is in a pocket, it somehow never shreds like in other washer and dryers...

Sweepstakes entry received for review.
Great Features, Beautiful!

First of all, This is My first LG Brands that I have for My entire life. After reading all reviews, I decided to get LG Gas Dryer. It was arrived on 10/07/17. My first impressions, this dryer is beautiful with Tones, LED etc. The drying quality are amazing, with 3/4 of drum capacity loaded with shirts etc, it comes out without any wrinkles even without " Wrinkles Care Feature. " If You need to drying Your office clothes, then loads with small amounts ( activate Wrinkles Care Feature ),

...

read more

it'll comes out almost perfect, all You have to do is a little touch up with Iron on the collars. The ones that I need to mentioned, the sensor dryer is very sensitive. If You loaded with King Size Comforter, then You need to rotates more often, if not, only outer of Your Comforter will get dried and the machine will stop rotating ( To save energy ). YES! I would recommend this Dryer Model! Looking forward to get any others LG Appliances for Our House. Yes! I am a big fan of LG Brands now.

Sweepstakes entry received for review.

Perfect Addition to our New House

We're really enjoying our LG gas dryer in our new home. We already had a gas line running to the stove in our kitchen and BBQ in the back yard, so connecting a gas dryer was not difficult (although we did have to have a contractor come in to do it). The performance is excellent - we're very pleased with our purchase. Fortunately the pedestal was on sale when we bought and it makes loading and unloading the dryer so much easier. Let's hope we enjoy many years of worry-free drying!!

Sweepstakes entry received for review.

awesome dryer

I was skeptical about the steam dryer and washer but I absolutely love my new LG set as I have another new home and this time I got the pedestals. The Washer and dryer has a lot more features than my old LG set and I love the fact I can use smart phone with both units. Cleans and dries clothes and heavy loads with a breeze. Front loaders have advanced as my original set use to have an odor and had to be cleaned every few days with this new set no odors and clean up is very minimal.

Sweepstakes entry received for review.
super fast and efficient drying

So satisfied with my purchase. Needed a new washer but my old LG dryer was still functioning. I decided I wanted a matched pair so we went ahead and bought the dryer too!

Sweepstakes entry received for review.

cleans beautifullu, easy to maintain

I bought this washing machine several months ago, and have not been disappointed. I love the variety of was cycles, the capacity and the noise level (barely noticeable). Cleans my clothes the way they should be cleaned - what more could you want?

Sweepstakes entry received for review.

Very nice dryer

Our previous dryer failed for the last time and was going to be too costly to repair. We decided on LG because of the nice feel of the controls, the variety of settings, and the capacity. So far, so good. It has taken some time to determine which settings are best for the types of laundry that we do. The machine is very quiet and the countdown timer and chime are great features. The only negative is that you must be careful how much bulky/heavy items you dry at one time. The sensor

...

read more

sometimes does not get it right and you have to run it on manual to ensure proper drying. Otherwise, we have no complaints. You just have to take some time to learn what works with what you are drying.

Sweepstakes entry received for review.
Easy to use, and so quick and quiet.

This dryer is quiet while running, and I love the little tune it plays when the cycle is complete. It took a few cycles to adjust the drying cycle for my clothes, and noticed that it completes a full drying cycle in less time than my old dryer. It can easily handle large towel loads 7+ beach towels. The 27.5in width allowed it to fit through the doors in my older home! The only thing that was frustrating was trying to level the dryer during installation. It was hard to turn the front and back

...

read more

feet in the tight spot that it is located in. It would be nice if the feet auto leveled like my washer. My basement floor is not level, because it is an old home.

Great Dryer!

We replaced a Maytag 9000 which was unable to do small loads.This dryer is able to do small loads 95% of the time which is important for some delicates and other special items. We tried this dryer on comforters and it also performed very well although we did need to run it through a couple of extra cycles. While the controls look formidable compared to some older models, even my technology challenged wife has been able to learn the settings very quickly. Large loads, small loads, it does them

...

read more

all and after learning the settings, clothes are dry when the alarm goes off. We have not experienced that before.

Best Dryer I Have Ever Owned!

I bought this dryer in July of 2015. It is the third dryer I have personally owned and it is one of many dryers I have used over the years. It is truly the best dryer I have ever used. It dries the clothes quickly and efficiently. The clothes come out wrinkle-free every time. It is quiet and easy to use.
LG Product Service and Support
Get your questions answered about product setup, use and care, repair and maintenance issues. We can help.
Telephone
Call an LG Support Representative.
(800) 243-0000 Consumer (7am-midnight CST)
(888) 865-3026 Commercial (8am-6pm CST)