J.D. Power Award Winners
"Highest in Customer Satisfaction with Dishwashers"
April Showers Bring More Savings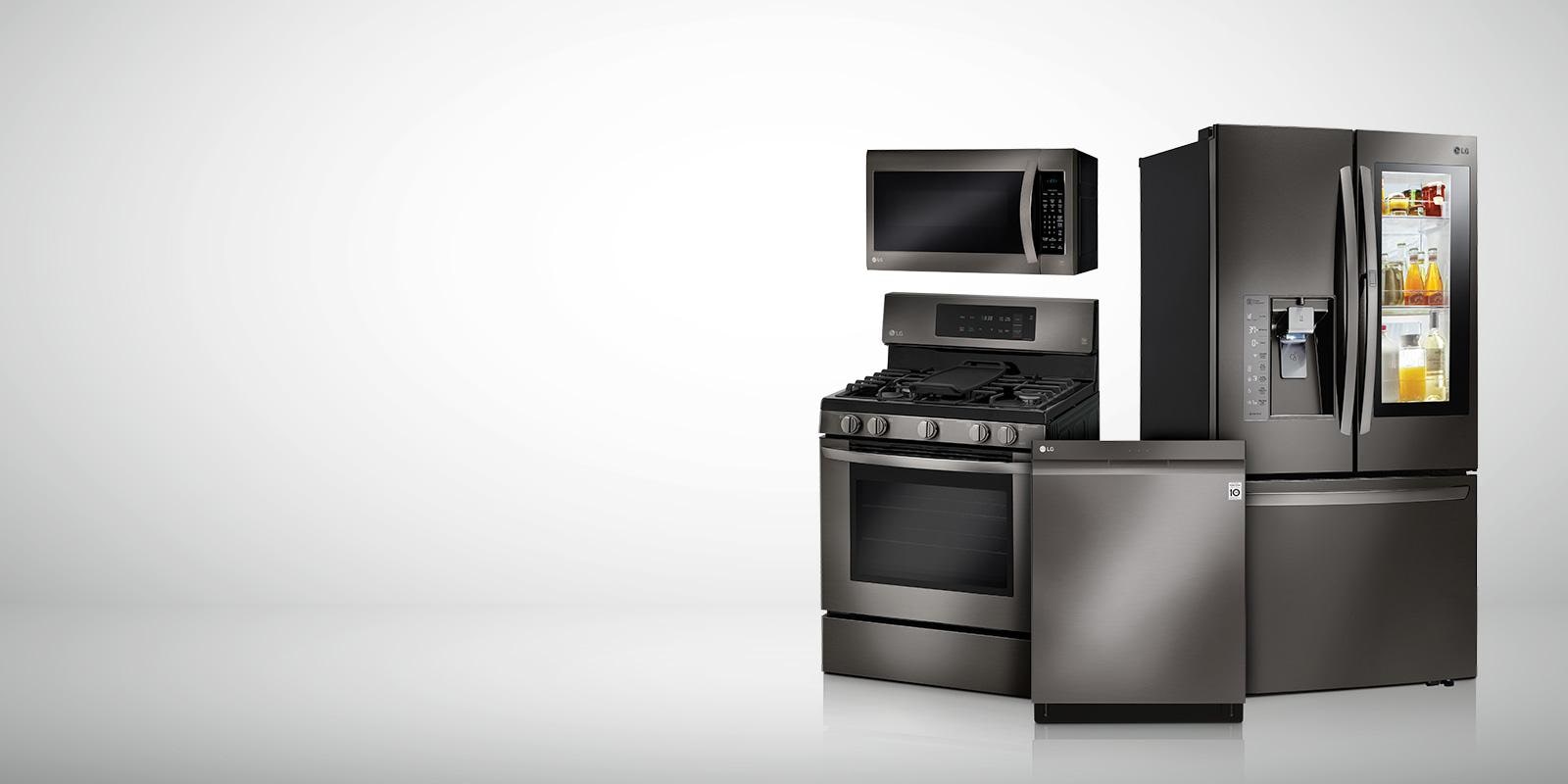 Buy More Save More Kitchen Bundle Offer
Get an LG Visa® Prepaid Card worth up to $500 by rebate when you bundle eligible LG and LG STUDIO Kitchen Major Appliances.

Selecting a checkbox will update the products displayed on screen.
Refine Your Search
13
Total Results
Dishwashers
Simplify your life, streamline your kitchen and get spotless, sparkling dishes. LG's sleek, powerful dishwashers feature innovative technology and stylish designs -- for faster cleanup and a look you'll love.
WHAT CUSTOMERS ARE SAYING
Average Rating for Dishwashers

Great Dishwasher, needs minor changes

We love the dishwasher. It is very quiet, the setting are varied and perfect for all sorts of a mess. The 3rd draw is quiet useless. The time required to arrange your silverware in perfect order.. all when there is a perfectly fine basked for silverware. The space for the 3rd draw could have be better utilized. the soap dispenser door is a bit difficult to close. The space provided for the Rinse Agents is quite small. I seem to be filling it every 2-3 weeks. But all in all.. we are

...

read more

quite happy with the dishwasher

Sweepstakes entry received for review.

Dishwasher Quietness

Quietness is the very 1st noticeable feature you come to appreciate, you can hear the water leaving and going into the dishwasher, but that is it. It does a great job of cleaning. Your True Steam Technology really helps out on keeping my glassware and dishes coming out of the dishwasher very clear and clean in comparison to my old dishwasher. This makes everything worth the price. After about a month of usage, some cycles of cleaning appear to be long, (I am still in my learning curve of what

...

read more

this dishwasher can do). Before, I normally started the dishwasher before I went to sleep or left the house in the past, but now I can now run the dishwasher and not be disturbed at any time. You could talk or work around dishwasher and not realize the dishwasher is running. The design is very well thought out, and the look is very stylish in stainless steel. The door is recessed to allow more basket room. The countdown timer on the top of the door is easy to read. I really love the chime to alert you the cycle is finished. I would highly recommend this dishwasher to any or many people, you will not regret this purchase.

Almost perfect Dishwasher

My husband and I are very pleased with every appliance we have bought from LG and everything about this dishwasher stands up to the standards they have in appliances with a couple of drawbacks in design flaws. The panel at the top of the door with all the controls for the dishwasher are very hard to read. If you have bad eyesight this is a negative. It would be nice if LG would of used the same coloring on the Logo at the left side of the door for the whole panel. The next problem was the bottom

...

read more

rack wants to roll off the guide on the door. I do not know if this is due to small wheels on the rack. It causes dishes to collapse because the tines fold over due to being bumped. I love how quiet this dishwasher is and how sparkly clean the dishes come out. I have to say my dishes have not looked this good in years. My glasses actually look new to me. I hope LG goes to redesign these few things and then they will corner the market with a fabulous dishwasher.

Sweepstakes entry received for review.
Best dishwasher ever

There are so many things I love about this dishwasher, 1) it's so quiet, 2) it has an awesome half load feature so if you don't have a full dishwasher you can still wash those dishes without wasting all that unnecessary water. 3) the top rack is adjustable to three different positions and 4) some of the tines are able to be folded down to fit larger dishes. I can't say enough about this dishwasher. I love mine. Plus we have the matching refrigerator. Both are great products

Sweepstakes entry received for review.

Excellent value and great perfomance

I purchased this dishwasher a month ago, replacing a contractor grade dishwasher appliance. What a difference in performance and build! The stainless steel on the outside and stainless steel tub make this quite the looker at a much lower price than competitors. But the esthetics are only half of it; the dishwasher is extremely quiet! So much so that the first few times of use I had to verify for myself that is was actually running the wash cycle! There are a plethora of wash cycles to choose

...

read more

from to get the dishes done just the way you want it. The top rack is adjustable so you can place taller glasses, for example. You can also choose to run a wash on either the top or bottom rack, which makes it very convenient for small jobs. I particularly enjoy the overnight dry cycle. Essentially, if you like to run a dishwasher load in the evening and tackle the unloading in the morning, this will ensure that steam build-up overnight will be periodically released, so that you actually have dried dishes the next day. And it does work as advertised. Dishes come out clean and bone dry! All in all this is an excellent dishwasher. It feels premium, performs great and has the looks to boot!

Sweepstakes entry received for review.

Quiet,good features.

We have had this dishwasher for about two weeks now. It is very quiet and I like the controls on the front to know where I am in the cycle. The normal wash is about two hours though so I do have to think about when to wash. I have been experimenting with other cycles like turbo and gentle seance my last dishwasher did not have all thes cycles. Overall it is great. The only down is I had some older plastic glasses and when those got washed it looks like they have been etched. Probably due

...

read more

to age we examined them and I think it's cause they are old. Not the most expensive dishwasher, but definitely one that outperforms many other. I think it is a good middle of the road.

Sweepstakes entry received for review.
My New Dishwasher!

I love, love, love my new dishwasher! It is so quiet and the dishes comes out sparkling clean. The many different features are really a plus. So happy we selected this LG dishwasher!

Sweepstakes entry received for review.

Very good dishwasher

The LDT5665ST is a very solid dishwasher. The design is remarkable and it is very quiet. The dishwasher also has some nice features built in. If you connect it to wifi, it alerts you through an app when the dishwasher cycle is finished, tells you when to put in more rinse aid, and you can also download new cleaning options! I do wish that you could start the machine through the app as sometimes I load it up and put in the soap, but forget to start until I'm out of the house. It fits a good

...

read more

amount of dishes, but I still need to do two loads of washes to clean all my dishes. The dishwasher does a good job at cleaning dishes, but sometimes there are still little stains on the dishes and that's even on the heavy option. The stains easily wipe off though and it could be due to the fact that I have both the dual zone and heavy load options selected or even the type of dishwasher soap that I use. The only thing I don't like about this dishwasher is that it picks up fingerprints very easily and it is not easy to remove. I would recommend this product to anyone looking for a dishwasher as it does a good job cleaning dishes, it's very quiet, and it's from a very respectable company in LG.

Sweepstakes entry received for review.

Quiet, Reliable, Efficient.

All my concerns regarding my purchase with an unknown product from my experience made me confident for future purchases. This washer is very energy efficient and thorough with every wash cycle. Extremely easy to install. Having an adjustable top rack is a great addition I've never had before and most importantly the QuadWash has been everything advertised.

Sweepstakes entry received for review.
Works great and quiet

I've had the dishwasher for just over a month now. Installed it myself. So far it has worked perfect, no leaks, no problems with the controls and cleans great. The small third drawer is really handy for wooden spoons and other small items. I have a lg refrigerator and also washer and dryer. There are some reviews that say they have problems but all my appliances have worked great with no issues whatsoever and will continue to buy lg products when I finish remodeling the kitchen. This was

...

read more

definitely worth paying a little extra for and a great upgrade from my 15 year old dishwasher.

Sweepstakes entry received for review.

GOOD MACHINE

I BOUGHT THIS NEW DISHWASHER ABOUT 3 WEEKS AGO AND IT APPEARS TO BE DOING A GOOD JOB AND IS VERY QUIET. I HAD TO BUY THIS NEW DISHWASHER BECAUSE THEY COULDN'T FIND PARTS FOR THE OLDER LG THAT I HAD THAT IS ONLY SIX YEARS OLD. I NEEDED THE SEAL ON THE MOTOR FOR THE WATER DISTRIBUTION MODULE AND THEY SAID I HAD TO BUY THE WHOLE SUB ASSEMBLY. I AM STILL FIGHTING WITH THE HOME WARRANTY PEOPLE ABOUT THIS. I STILL HAVE THE OLD DISHWASHER AND AM HOPEING THAT I CAN GET IT FIXED AND GIVE IT TO MY SON.

Sweepstakes entry received for review.

My dishes are finally clean!

I picked this dishwasher because the baskets felt the most secure out of all of the dishwashers Lowes had. I have 4 young sons that take turns unloading and loading the dishwasher. The boys tend to lean against the baskets, so I didn't want something that felt flimsy. I have had this dishwasher for about a month and so far I am very pleased. I have no problem fitting tall plates on the bottom rack, tall cups in the middle, and small items on them 3rd rack. My dishes are very clean and nearly

...

read more

dry at the end of the load. (Even without jet dry because I keep forgetting to buy it) I read a lot of complaints about wet dishes. Compared to my old dishwasher, the small amount of remaining moisture now is nothing!! If I'm not going to empty for awhile I simply crack the door open a bit and have no problem. This dishwasher holds more than my old washer. This one is also much quieter than my old machine. I can barely tell it is running. My only complaint is that there is a countdown on the top of the door, but it is very difficult to see as top of the door isn't only about half an inch below the counter. This is not a deal breaker, but it is a silly design. Obviously the person that designed it did not use it in a normal kitchen setting. I didn't want the Black Stainless finish, but the regular Stainless was unavailable. It doesn't look bad, so I put up with it.

Sweepstakes entry received for review.
Quiet!

Love this dishwasher. We have an open concept floor plan, and this dishwasher is nice and quiet. I like the different positioning of both the drawers and the grid posts so all of my dishes, from coffee cups to pots and pans, can fit in the same load. My dishes come out great every time.

My best dishwasher ever

It is quiet and cleans the dishes thoroughly with no residue. My only complaint is that the cycle is so long. It is so quiet that we can watch television and have a conversation in the same room. My previous top-of-the-line Whirlpool had two major/expensive problems in its first two years so I purchased the LG with some concerns and have been thoroughly pleased with the function. The steam feature gives me great confidence when anyone isn't feeling well.

Super Quiet

We bought this dishwasher several months ago and it is amazing. We love the ability to change the size of the silverware holders and the arrangement of the shelves. What we really love and appreciate is how quiet it is. You can barely hear it running at all and the loudest part is when it is draining water.
LG Made Some Great Improvements

I am a former LG dishwasher owner and this product replaced my LDF7932ST product. When I reviewed the product manual, I discovered there were major improvements. The first thing I noticed was the interior light. That was a huge plus and major product improvement. When I opened the dishwasher, I was so pleased with the interior light. It's such a great feature. Since the dishwasher is under a counter, it was like looking into a dimly lit cave. The interior light changed all of that. It

...

read more

helps me take less time to load the dishwasher. The second change was the fold down/up dish tines. The new tines are a major improvement over the plastic pieces on our older model. The collapsible tines will make the dishwasher more durable. The tines are also quite sturdy. Improvement three - the ability to wash small dish loads in the upper or lower rack. This was always a feature I wanted on my older model. LG heard me and provided the feature on this model. The other thing is the utensil tray, located at the top of the dishwasher. The upper rack is supplemental because the dishwasher also comes with a utensil basket. The utensil basket fits snugly, thanks to the slots; therefore, no sliding basket. Improvement four - there are no more buttons. The drawback: some of the touches are multi-function. I had to press buttons before this dishwasher, so there was a learning curve. I had to use a much lighter touch, on this model. There's nothing to depress, so a light touch starts the dishwasher easily. The multi-function buttons are also a new feature. To access the rinse feature, for example, I hold the normal cycle button for three seconds. You know the feature has been activated, when you see the cycle time change from 0:33 minutes to 0:12 minutes. The dishwasher also has an overnight feature. If you run the dishwasher overnight, like I do, then this is an outstanding feature. The dishwasher blows air intermittently, to ensure the dishes dry and the interior condensation dries, eliminating mold and a moldy smell. On to operation; the dishwasher is whisper quiet. There is almost no noise. As you can tell, I am pleased with this dishwasher.

Sweepstakes entry received for review.

The ONLY reason this review is not a 5 is because my dishwasher took 3 months to get to my house. Other than that, the dishwasher itself is freaking awesome. Love the design, the quietness and all the great features it has to offer. The Smart ThinQ app that you can download that hooks up to the dishwasher through wi-fi is kind of neat. It basically tells you what cycle you selected on the dishwasher, the time that's left, and then it alerts you when the cycle has stop. Overall I'm loving my

...

read more

new dishwasher.

Sweepstakes entry received for review.

Very quiet!

Our new LG dishwasher was installed about a month ago. I love how quiet it is and the light inside. You definitely have to use a rinse aid as recommended with this dishwasher. We are still experimenting with all the different cycles but they seem to all be very long. But the dishes do come out clean!

Sweepstakes entry received for review.
So quiet & cleans dishes so well.

We bought this because our other dishwasher was 8+ years old and was going downhill fast. I did A LOT of research on various dishwashers before deciding on one. This had raving reviews and plus I loved the black stainless and the towel bar! I am so glad we chose this one - amazingly quiet (to the point I wasn't sure if it was running) and does a bang up job on getting the dishes clean and spotless. Not to mention a THIRD RACK.... craziness. Love this dishwasher!

Sweepstakes entry received for review.

Great features

Bought this about 3 weeks ago. It is very quiet & has some great features that I'm still figuring out. Love the multiple racks & how they adjust. One minor flaw is the silverware holder, not a big fan of the design. But overall super happy with this purchase.

Sweepstakes entry received for review.

Dishwasher From Heaven

We bought all new LG appliances this past summer. We have been so pleased with all of them. This review is for the dishwasher. Our other dishwasher was so loud that I would set it on delay so it would run while we were asleep and not have to hear it. With the new LG, we have to look at the light to see that it is actually on. The dishwasher is organized so well that it just takes a couple of minutes to unload. Having the adjustable rack is a great feature so you can put bigger items in if you

...

read more

need to. The third rack is so nice because you can put odd pieces in it that don't normally fit in a traditional dishwasher. So many features that we never knew a dishwasher could have such as the stem holders and moveable racks to adjust for what you are loading! I would highly recommend an LG dishwasher. It is pure heaven!

Sweepstakes entry received for review.
Almost perfect

I have found only 2 issues. The silverware basket allows for food or cleaning solution to sit in the spot where it touches the basket on the utensil and dry. When you get your utensil out, it will have long streaks of dried cleaning solution on it. The utensil doesn't look clean, although it probably is. The basket is poorly designed in this way. The basket should be lower than the utensil mouth area so that this area is able to be fully cleaned without touching anything else. Also, for

...

read more

short utensils like a salad fork, the basket is ineffective at a proper placement place for short utensils. The second issue is that plates will fall over quite easily instead of standing upright as they are placed in between the tines. On a positive note, the unit is extremely quiet, very pretty inside and out, and has lots of options for dish placement. Fold down tines, 3rd rack, and ease of operation are best aspects of the unit.

Sweepstakes entry received for review.

Cleanest dishes ever!

I bought this dishwasher and had it installed in April after a kitchen remodel. I cant say enough good things about it. The dishes are always clean and sparkling. No water spot problems on any glasses or silver. It has a great half load program too. Plus its so quiet you don't even know its running. Great dishwasher!

Sweepstakes entry received for review.

Great Features/Great Look

We like that it is an extremely quiet dishwasher (though we're a little surprised by the length of the wash cycle - 2 hrs, 11 mins.) and the dishes come out shiny clean. The top slide-out for utensils is a real plus, and we really like the silverware tray. We are still working on figuring out all the changes that can be made to the interior dish compartment to get it to where it works best for us. All in all we're very satisfied with this dishwasher.

Sweepstakes entry received for review.
Excellent Dishwasher

Our 11 yr old dishwasher finally died and we had to get a new one. We were surprised to say the least but how much change there was in dishwashers! We settled on this LG because of our other LG products and are very HAPPY with it! Runs quietly and efficiently! Definitely use the recommended dishwasher tabs. We choose this model because of the drying ability and the disposal in it. This for the price while expensive is an excellent buy! We'd do it all over again!

Best Dishwasher I've EVER Had!!

Believe me, I've gone through my share of dishwashers, but hands down, this one is the best! I will admit this one was the most expensive, but not that much more, and I am sure I will have this one for quite some time. The dishes ALWAYS come out clean, no matter how crusty they go in. I love the 3rd rack feature, the adjustable rack and all the options for fold-down tines, which gives you many options for odd/oversized items. Be sure to keep the filter clean and you won't go wrong. This is a

...

read more

wonderful dishwasher and I'm sure as I need to replace other items in my kitchen, LG will be the first things I look at! LOVE THIS DISHWASHER!!!! Oh, one more thing, it is EXTREMELY QUIET, you'd never even know it was on!!!

Looks awesome with awesome performance

First impression, it looks great. Appreciate the variable racking system, but the folding tines take some getting used to. Incredibly quiet. Almost impossible to hear. Don't let the lack of a heated dry option scare you off. The dishes come out nice and dry with this dishwasher's drying system. And a 10-year warranty on the motor? What's not to like?
LG Product Service and Support
Get your questions answered about product setup, use and care, repair and maintenance issues. We can help.
Telephone
Call an LG Support Representative.
(800) 243-0000 Consumer (7am-midnight CST)
(888) 865-3026 Commercial (8am-6pm CST)