"15-inch Laptops Don't Get Lighter Than This."
The LG gram 15-inch laptop offers impressive screen size without the weight. With gram's innovative design and construction, it weighs less than 2.5 pounds, so it's easy to take anywhere.

LG gram 13" i5 Touch is rated by Consumer Reports
Read the Consumer Reports rating.
Consumer Reports does not endorse products or services.

INTRODUCING THE LG GRAM
WORK. WHERE YOU WANT TO BE.
With incredibly long-lasting batteries – up to 17.5 hours¹ - and touchscreen displays available in 13, 14 or 15-inches, LG gram laptops make any workload seem light – weighing in at a mere 2.07 pounds².

The All-New LG gram
Tech Experts Approve
The incredible battery and extremely lightweight laptops are leaving a lasting impression on tech experts. Check out their reviews.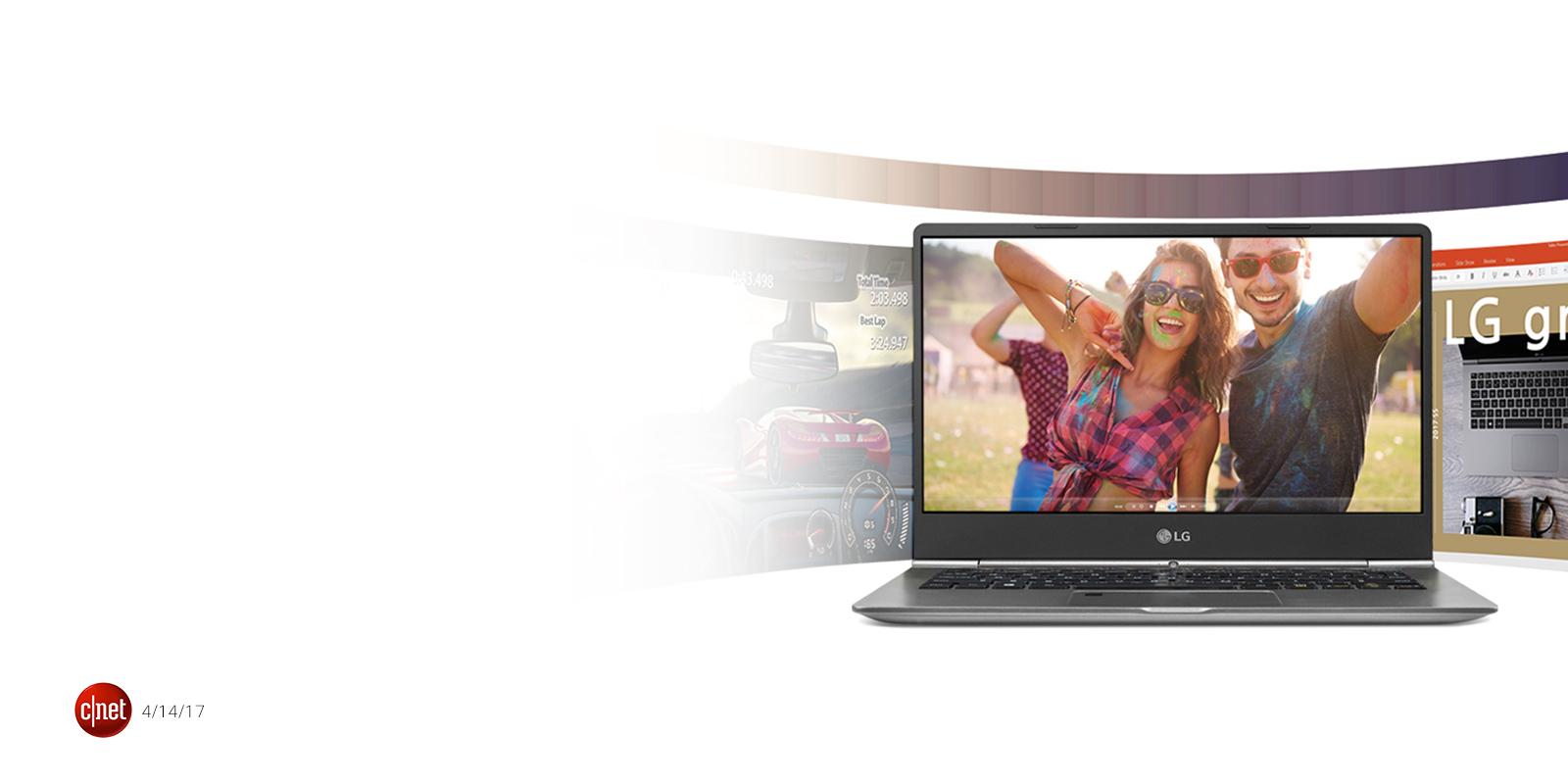 "When weight and battery matter most."

The praise from CNET wasn't just for the weight of the 13-inch gram; with up to 17.5 hours, it has enough battery to make any workload light.
TOP-NOTCH PERFORMANCE
Robust Processing Power
For nimble performance and robust processing power, this LG gram Touch comes with the 7th generation, Intel® Core™ i5 processor, Windows 10 Home, and 8GB RAM with a 256GB SSD.
Backlit Keyboard
The ergonomically designed keyboard of the LG gram is now backlit--with adjustable brightness--to be easier to use than ever in a variety of different environments, even in darkened rooms.
Operates on Windows 10
Multitask with Virtual Desktops
All LG gram laptops have Windows 10 – creating virtual desktops, snapping up to four apps on the screen and advanced pop-up notification – to support multitasking as you work or play.
Easier With Touch Screen
Take Work into Your Own Hands
The LG gram Touch's thin-bezel, 15.6-inch, Full HD, touchscreen IPS display provides a laptop with a big screen that's responsive to the touch and showcases exceptional color reproduction viewable from nearly any angle.
The 2017 LG gram Lineup
Which LG gram is right for you? Expand to compare.
Use to compare different products or product lines to clearly show them in ascending order from good to best

| Features | 15.6" Full HD IPS Laptop i7 | 15" Full HD IPS Laptop i5 | 14" Full HD IPS Laptop i7 | 14" Full HD IPS Laptop i5 |
| --- | --- | --- | --- | --- |
| Processor | Intel Core i7 | Intel Core i5 | Intel Core i7 | Intel Core i5 |
| Battery Life in Hours* | 12.5 | 15.5 | 14.5 | 14.5 |
| Weight | 2.4 lbs | 2.4 lbs | 2.14 lbs | 2.14 lbs |
| Touchscreen | Yes | No | Yes | Yes |
| Memory - RAM | 16GB RAM | 8GB RAM | 8GB RAM | 8GB RAM |
| Memory - SSD | 512GB SSD | 256GB SSD | 512GB SSD | 256GB SSD |
| Operating System | Windows 10 Home | Windows 10 Home | Windows 10 Home | Windows 10 Home |
| USB Type-C/HDMI /USB 3.0 | 1/1/2 | 1/1/2 | 1/1/2 | 1/1/2 |
| | View Products | View Products | View Products | View Products |
*MobileMark® 2014 Standard
Selecting a checkbox will update the products displayed on screen.
Refine Your Search
6
Total Results
Laptops
Whether for work or for play, an LG gram laptop lets you do it all! Our lightweight notebooks are slim, sleek and nimble, yet durable—without sacrificing on powerful performance and innovative features.
LG Product Service and Support
Get your questions answered about product setup, use and care, repair and maintenance issues. We can help.
Telephone
Call an LG Support Representative.
(800) 243-0000 Consumer (7am-midnight CST)
(888) 865-3026 Commercial (8am-6pm CST)