600Hz

Max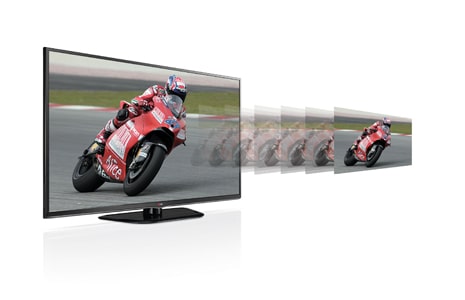 Up to 600 images per second, LG Plasma TV offers very clear, smooth images, particularly during fast motion. This feature is activated in "max energy save" mode.
Tru

motion
TruMotion is an indicator of the screen refresh rate, which determines the clarity of fast moving images. The higher the TruMotion number, the smoother and more fluid fast moving images will appear.
Triple
XD Engine
The latest and most advanced Triple XD Engine provides the highest level of image processing that LG has to offer, to provide excellence in colour, contrast and image clarity.
Full HD

1080p
Full HD TVs are double the picture definition of HD TVs, giving you a very clear image in larger screen sizes. Details are rich, gradations are smooth, giving you an oustanding picture on your LG TV.
DivX
HD
LG TVs are DivX Certified® and can play DivX® video up to 1080p HD. Enjoy the variety of internet video created by DivX HD, on your LG TV.
Picture Wizard

II
Picture Wizard II allows you to easily adjust picture elements such as black level, colour, tint, sharpness and brightness levels to the way you prefer it.
Photo

Mode
Turn your TV into into an interactive photo album and editor. Add special effects to your photos, edit and add style to them all on your LG Plasma TV.
USB

Movie
Watch movies or listen to music directly from your USB stick or Hard Drive, on your TV.
Smart

Sharing
Simply view photos, videos and music from your Smartphone, PC, Hard Drives and other devices connected to your home network directly on the LG Smart TV.
Smart

Control
The LG Smart TV is designed for simple control of your home entertainment, with the intuitive Magic Remote and customisable Smart Home.
LG TV Remote App
Control your LG Smart TV using your Smartphone with the LG TV Remote App.

Available on Google Play and iTunes.
Smart

Home
LGs Smart Home is customisable, making your Smart TV entertainment personal.
Overseas model shown. Contents may vary.
Motion

Control
A TV that can be controlled by waving your hand – now that's Smart!
Built in camera for LA86. Camera (AN-VC400) required and available for purchase separately for other 2013 LG Smart TVs.
Universal Search
Universal Search will provide Video On Demand, TV programs and videos from YouTube with a simple search term; giving you easy access to entertainment available online.
Network
File Browser
Browse media files from devices connected to your home network (LAN or Wi-Fi) including PCs, Smartphones, Hard Drives and more to watch them on your TV.
Time Machine

II
Record Live TV to your LG Smart TV.
Recording: Record TV to a connected USB hard drive or built in memory.*
Watch and Record: Record a TV show while you watch another channel with the built-in twin tuner.**
Scheduled Recording: Schedule a recording so you won't miss your favourite shows.
Live Playback: Play, Pause and Rewind live TV.***
*USB hard drive (min.40GB) sold separately and required for longer recordings.
**Available on LA86 series only.
***External USB hard drive (min. 40GB) required and sold separately.
Wi-Fi Built-In
Wi-Fi Built-In TVs have an on-board Wi-Fi chip allowing easy connection to your home Wi-Fi network without any additional hardware.
Wi-Fi
Certified
An assurance that the Wi-Fi Alliance has tested a product to ensure compatibility with other Wi-Fi CERTIFIED equipment.
Miracast
TM
Send your Smartphone or Tablet directly to the big screen wirelessly, enabling easy sharing of your mobile device in your living room TV.
Miracast enabled Smartphone or Tablet PC required.
2nd

Display
Enjoy TV programs directly on your Smartphone or Tablet, so you can enjoy TV viewing anywhere in your home.
Device must be in range, on the same Wi-Fi network as the TV.
Dual

Core
The 2013 LG Smart TV has become stronger and faster, providing faster LG Smart TV actions and smooth sharp TV images. Dual-Core delivers nearly 2 times faster smart TV performance than single core CPUs.
Comparison against 2012 LG Smart TV CPUs (0.9GHz Single Core)
MHL

(Mobile HD Link)
Connect your Android phone or tablet directly to your TV via a dedicated MHL link to share your media files on the big screen, whilst charging your device.
MHL enabled Android 4.0 Smartphone or Tablet and MHL cable required (sold separately).
Intel's

WiDi
Connect your PC directly to your TV in Full HD and 5.1 sound, via the inbuilt Intel WiDi chip. No Wi-Fi network required, just your TV and Intel WiDi compatible PC.
Web Browser
Use the inbuilt web browser which is optimised to view content on your TV. Use the Magic Remote for one of the most simple browsing experiences available on a Smart TV. For those who prefer, a USB keyboard and mouse can also be connected to enhance your browsing experience.
Keyboard and mouse must be purchased separately.
With Flash Player version 11.1
Smart

Entertainment
With an internet connection, your LG Smart TV can connect to an endless array of entertainment, giving you more choices from around the world for entertainment on your TV.
Internet connection is required. Data usage charges and conditions apply.
Premium

Content
The premium content card provides the very best content available on the LG Smart TV, customised for the Australian market in one easy to find location.
Social

Centre

Tweet or Facebook your friends, whilst you are watching TV.
Skype
TM
Come together in your lounge room and talk to your loved ones all around the world on your LG Smart TV. Utilise the big screen to bring more people into the call, making it a very social activity.
Game

World
Hours of fun, with a huge variety of games available via the Game World App. Wave LGs Magic Remote to control your games; it's like having an inbuilt gaming console. A Smart TV with your entertainment inside!
2D

to

3D
With LG Cinema 3D, you can convert any visual media including regular TV, Blu-ray and Photos to 3D, which means you'll never run out of 3D content to watch.
3D

World
3D World app has an ever expanding array of 3D entertainment for you to view at the click of a button, including Movies, Sport, Music Videos, Education – the list goes on!
Smart Sound

Mode
Smart Sound Mode automatically selects the optimal sound mode for the content you're watching; whether it be music, movies, sports, or games, your LG Smart TV will switch to the most suitable sound mode, allowing you to enjoy customised sound for your entertainment.
Virtual
Surround Plus
The Virtual Surround feature produces a sound effect that mimics a surround sound speaker system. Surround Sound PLUS adds an additional sound effect which gives the listener the sensation that sound is also coming down from above.
Clear Voice

II
Clear Voice II automatically recognises and enhances the volume of human voices in movies and shows to make them clear compared to televisions without this feature.
Razor

Frame
A minimalised frame for Plasma TVs that reduces visual obstruction for improved TV viewing.
Protective

Glass
LG Plasma TVs are protected by a protective glass which provides an impact and scratch resistant screen, giving you peace of mind on your TV purchase.
Design, features and specifications subject to change without notice. Screen images simulated and/or dramatised. Some features in videos may not be available on all models. Please refer to the TECHNICAL SPECIFICATIONS tab for a complete list of features by model.