Welcome MATTE
Experience the style of LG's exclusive MATTE Black Stainless Steel appliances.
J.D. Power Award Winners
"Highest in Customer Satisfaction with Freestanding Ranges"

J.D. Power Award Winners
"Highest in Customer Satisfaction with Freestanding Ranges"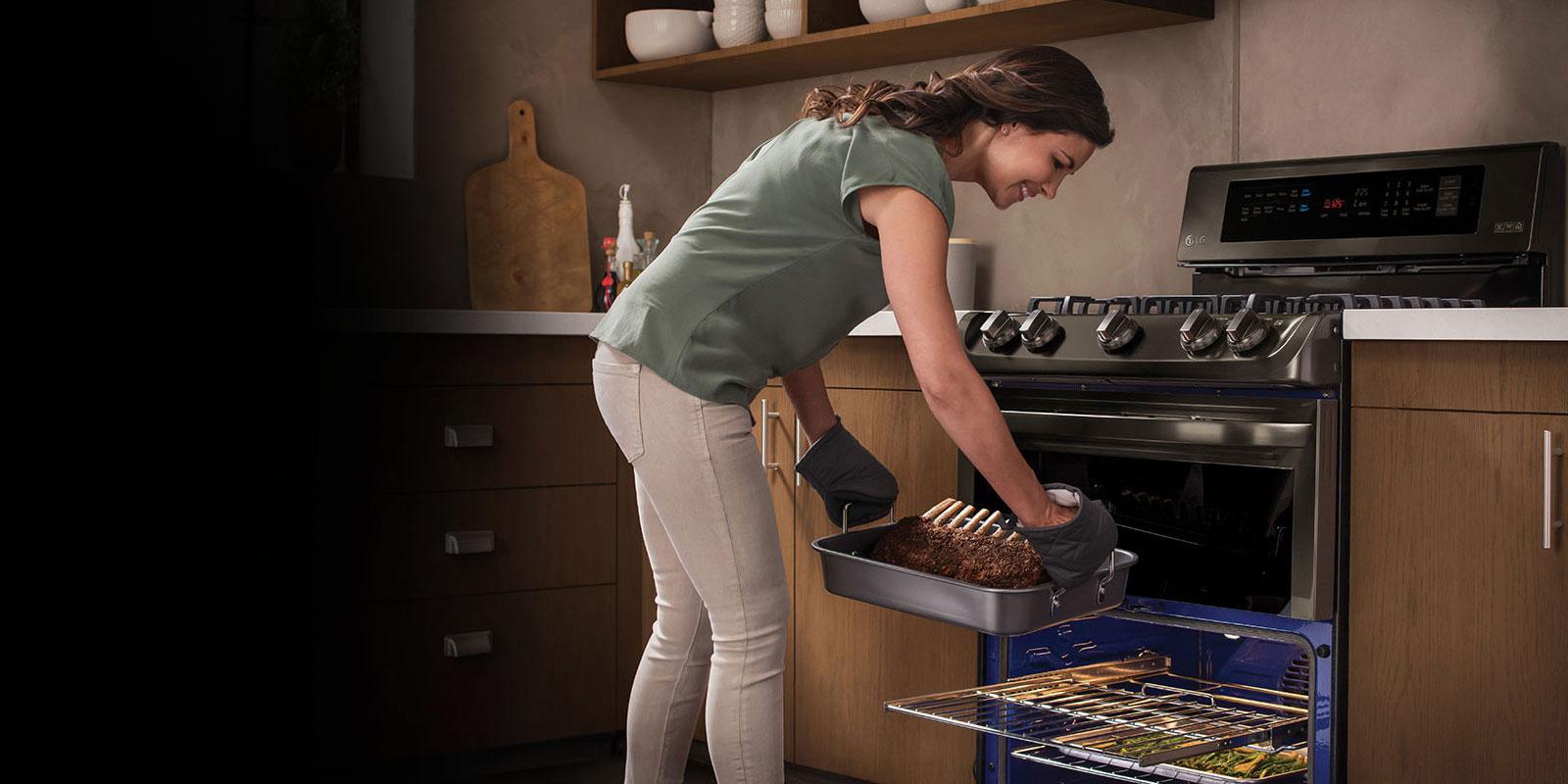 From Rare to Well Done, It's Always Done Well.
With innovations like ProBake Convection® and high-powered cooktops, LG cooking appliances will give you that perfect golden crust, savory roast or velvety smooth sauce every time.
TIMELESS.
BOLD. YOU.
Make a statement with LG STUDIO appliances and enhance the look of your home with timeless appliances.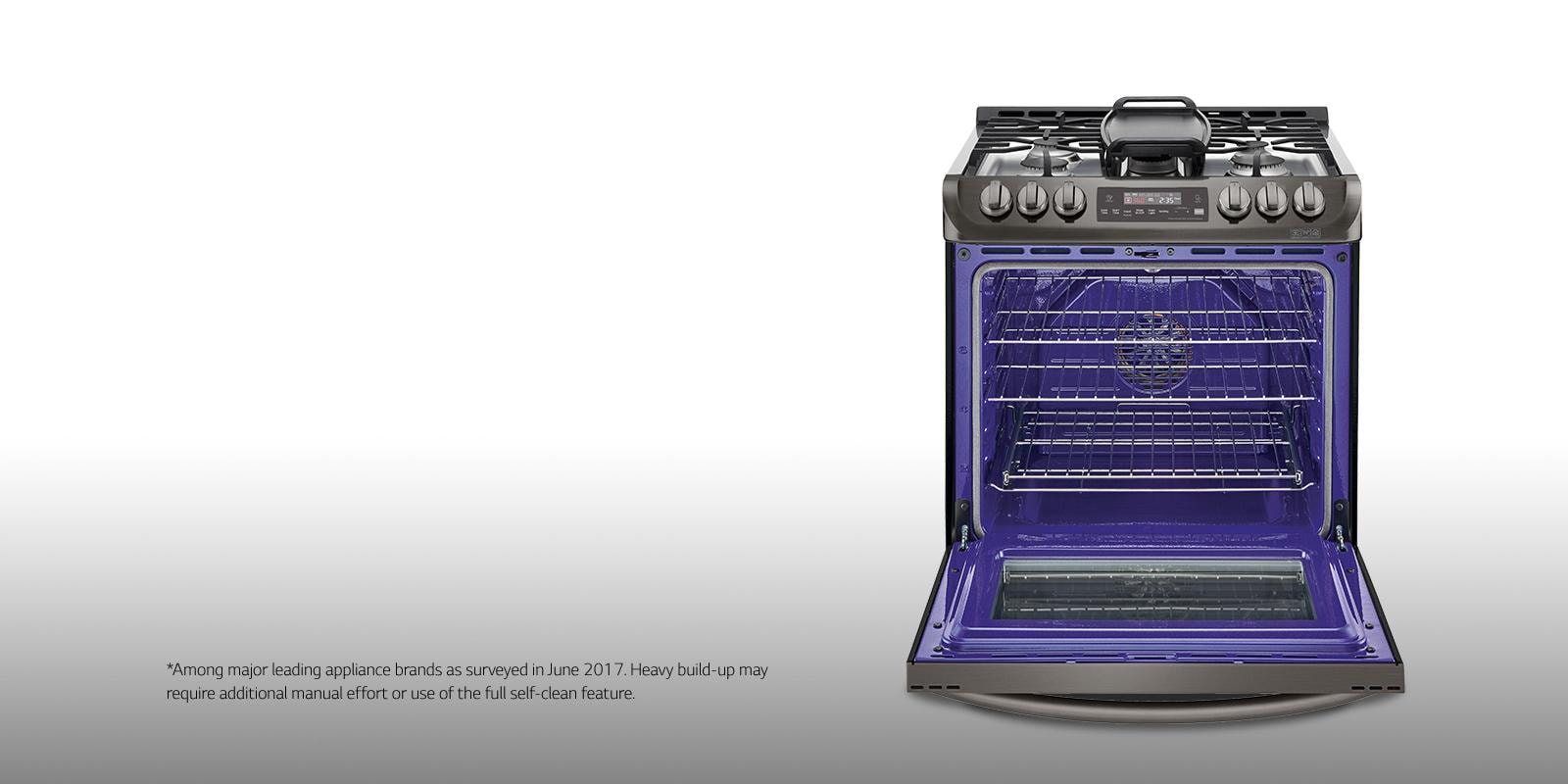 10 Minutes. 1 Spotless Oven.
Enjoy a sparkling clean oven without strong chemical fumes or high heat using LG EasyClean®, the only 10-minute oven cleaning cycle technology.*
Selecting a checkbox will update the products displayed on screen.
Refine Your Search
2
Total Results
Ranges & Ovens
Cook every meal with power and precision. LG ranges and ovens boast innovative technology for restaurant-worthy performances every night of the week. And with their stylish clean lines, they'll blend seamlessly into your décor.
WHAT CUSTOMERS ARE SAYING
Average Rating for Ranges & Ovens
Fast Cooking!

I bought this range as part of a bundle. I really needed a fridge, however, I am totally pleased with this range! The oven cooks faster than my old range (which was ten years old), so now I have adjusted to the lowest range of time when given a range. The middle grill is wonderful and very useful as we are the grill cheese and pancake family! I can also remove the grill if I need to which is another good feature. The burners do what they say they will do! I have had this range for four

...

read more

months and I am totally pleased with it!

Sweepstakes entry received for review.

Excelent easy to used

this LG gas range is wanderfull easy to clean easy to understand great stile

Sweepstakes entry received for review.

Wonderful stove

I have had this stove for three weeks, replacing the electric one that was in the house when we moved in. I had gas for 35 years and am ecstatic to have it again . Love the oval griddle, use it all the time, nice that the pan can be removed for extra space. I like the "singing" for notification- timer, oven temp reached, etc. So far, no problems with anything.

Sweepstakes entry received for review.
Excellent Electric Range

I have had this LG Stainless Steel Convection Oven and Smooth Glass Top for almost a year and really love it. The smooth glass top has five burners. One burner is a warming burner which is great if you want to have your gravy stay warm while your preparing your potatoes. There is also one burner inside another burner. The smaller burner is a rapid boiling burner and it boils water within under a minute. Inside the convection oven is bright blue and it reminds me of a expensive industrial oven.

...

read more

The oven has a few different options for cooking and baking. The oven also has your regular cooking buttons. It does have an easy clean button which I used once when some food spilled and baked on the bottom of the oven.The stove/oven also came with a metal scraper to help you remove caked on food in the oven but I didn't use it because I don't want to scrape or gouge the oven. The directions say use the metal scraper carefully. This stainless steel electric range and convection oven comes with directions which explains each feature thoroughly. I will enjoy this electric range and convection oven in stainless steel for many years to come. I definitely recommend this LG electric range and convection oven.

Sweepstakes entry received for review.

Features

I bought this because I fell in love with the blue oven!!! I like the stove top but I feel the burners up front are too big for everyday cooking , the push buttons seem like they will be the first thing to break and I would have loved a top light...other than that I love it very stylish.....

Sweepstakes entry received for review.

Dresses up my kitchen completly.

Love all the "bells & whistles" on this stove. The warmer, easy clean on surface & inside of oven. Love the feature where it takes less than 10 minutes to heat the oven, short time for easy automatic clean. Feel I nade the best choice on this LG OVEN.

Sweepstakes entry received for review.
Pretty to Look At

Exceptional value, love knobs that are easy to use & easy to read. Outstanding blue color in oven. All the features that I need plus.

Sweepstakes entry received for review.

Love It

I bought this stove ahead of a planned kitchen remodel that got delayed several weeks. It was finally installed 2 weeks ago and although I haven't tried all the features, I love it. It looks good. The top is easy to clean and the oven is a wow factor - the blue color is great and so far everything I have cooked has come out perfect. I would highly recommend this stove with the limited experience I have of using it.

Sweepstakes entry received for review.

Wonderful range.

We have been very happy with our new range. It heats up fast and evenly. Great buy! It was not cheap but the price reflects the quality of the product. It's worth it!

Sweepstakes entry received for review.
Love the Double Oven!

I bought this range specifically for the double oven feature, and I haven't been disappointed. I haven't used the convection oven feature yet, but just using the conventional settings on both ovens I was able to bake a ham, two large trays of biscuits, and three breakfast casseroles in under 3 hours, which I thought was amazing. As an added bonus, my range burners have a variety of settings, including Ultra Heat and Keep Warm. My range provides everything I need to cook for a crowd, and more.

...

read more

I'm absolutely thrilled with my purchase.

Sweepstakes entry received for review.

HAPPY CHEF

I really enjoy cooking on my new LG BakePro stove. The heat cooks even on the top and in the oven. After baking a large batch of cookies I noticed that it did not create a lot of heat in my kitchen. I am very satisfied with my new stove.

Sweepstakes entry received for review.

Love the double oven feature

I chose this product for the very reason of having a double oven as well as the nice features. I am loving this. There are so many times I have had to cook different food on different settings, now I can do it at the same time. So convenient. I also love the glass top. It is beautiful and amazing.

Sweepstakes entry received for review.
Handsome and functional

We are pleased as punch with our LG gas range. It is easy to clean, and it is nice having different sized burners for pot / pan size, and having five of them is fantastic. The cast iron grates are really nice too. The oven and boiler work flawlessly, and we like the convection feature as well. I haven't tried the cleaning cycle yet but I am sure that works well too. My only complaint is that the larger burners are on the front. However, I came to realize that is for a reason; not to throw too

...

read more

much heat onto the control panel. I would certainly recommend this range.

Sweepstakes entry received for review.

Very easy to clean!

I have owned this range/oven for two months now and it got me through one Thanksgiving and one Christmas dinner with out a hitch. I love the different size range burners. The entire stove top and display panel are super easy to wipe clean. I haven't used the self-cleaning oven feature yet but I have wiped out a few spills from the oven interior. I only gave it four stars because I haven't used all of the features and because I haven't owned it that long. Some of my favorite features are that it

...

read more

beeps when the oven is up to temp, and the timer on the oven will beep continuously until you turn it off (that is a good thing for me because I can ignore noises easily).

Love this oven

After over 20 years of electric cooking, I checked all of the options prior to getting a gas range. In picking LG, I am excited that I made the best possible decision. One of the first items I cooked was Kung Pao chicken. I was able to get my wok up to the CORRECT temp to get the best stir fry ever. At the same time, cooking with the convection created a uniform pan of eclairs. I cannot say how much I love this oven and would recommend to anyone.

Sweepstakes entry received for review.
Everything I Expected and More!

I purchased this stove about a month ago giving me many occasions to try it out. I was apprehensive at first because it was my first gas stove. I love the double oven and had the opportunity to cook for fifteen people on Christmas Day. I cooked a ten pound prime rib roast in the lower convection oven and a pan of lasagna in the upper oven. Along with using all the upper gas burners, our dinner was a huge success! The stove was easy to clean and is a wonderful addition to our kitchen. Thank you

...

read more

LG for making a superb appliance!

Sweepstakes entry received for review.

Sleek and stylish

I waited over 3 months to get this range due to a mix up from the store i purchased from. I was ready to cancel my order but im so glad that i did not. this oven is easy to use and stylish. The double oven feature is perfect for my family and the features are easy to use. I have not had to use the cleaning features yet... But any minor spills wipe clean with ease on the stovetop and inner oven. The purple interior is an extra perk as well.

Sweepstakes entry received for review.

Very Pleased

I am extremely pleased with my new LG gas range. The different sizes of surface burners is a great feature, The power burner allows me to boil water much more quickly then my previous range and the simer birner allows for even heating of delicate sauces and soups. I am particularly pleased with the oblong center burner. It works great with my two sided griddle for breakfast items such as pancakes, eggs and bacon and also for odd shaped cooking vessels such as my fish poacher. Having two

...

read more

ovens that can be set at different temperatures is a dream come true. This is the best feature of the range. It has made preparing meals requiring varying oven temperatures and cooking times much easier than a conventional one oven range. The self cleaning feature is simple to use and cleans the ovens very well. The blue color finish of the ovens is an added bonus as this is my favorite color. I would, and have, recommended this LG range to my family and friends. Thank you for a wonderful product.

Sweepstakes entry received for review.
Love this range

I love the way this range bakes and convection bakes. Love the blue interior and it's so easy to keep clean. The front-mounted cooktop controls are excellent and so much easier to use than the models that have the controls on the back. The burners heat up very quickly and glow an impressive red. The clock is very accurate. I love the chimes that sound when the oven's set temperature has been reached. My only nits are that the glass cooktop is very difficult to keep clean and streak-free and the

...

read more

timer is could be a little more intuitive. Otherwise I just love this range and would buy it again in a heartbeat. Highly recommended.

Sweepstakes entry received for review.

I bought this 6 months ago, I absolutely love this Range. It is my first Electric range and I am so amazed at how fast the burners get hot and cool down. Virtually it is like working with Gas , this Stove is that responsive. It looks amazing in my beautiful kitchen. When people come over its ohs n ahs, and then they open the oven and see this fantastic blue interior. The next thing asked is what kind is this ? an I say LG...its awesome ! Thank you...going to bake some cookies now...

Amazing range

Love the look of my range and all the updated features it has

Sweepstakes entry received for review.
Awesome!

I bought this range for the convection and proofing features as well as the smooth top, all of which work great, but there are so many other great features. I also love the blue oven interior that lets you see when it needs cleaning as opposed to just a black hole. The quick clean cycle makes oven cleaning a breeze! Love it! I don't think I have ever had such a clean oven before. Alarms are not just beeps but short tunes that even my hard-of-hearing husband can hear! Oven temp can be switched

...

read more

between Fahrenheit and Celsius. Cook time is another great feature where the oven shuts itself off once the time runs out. I really love my new range, and the price was right, too.

Sweepstakes entry received for review.

Just awesome!

I'm so glad I bought the LG Range. It's so efficient and I can bake or use the convection mode. Incredible! And the bright blue interior walls are beautiful! I look forward to baking and roasting something everyday because I'm so impressed with it. Reasonably priced. It has many bells and whistles on it and every heat cycle it plays a nice tune! I'm in love with my new range.

Sweepstakes entry received for review.

New to glass cooktops

This is a new experience to me having a cook top instead of coil eyes. I had cooked on them before at the homes of family. With this one I even have the warming eye which is really nice to have. It heats up really quickly and cooks everything without a hassle. The Convection oven is the best oven I've ever used. Baking multiple things at the same time is a dream and it all comes out just the way you want it. I have to say over all I am highly impressed.

Sweepstakes entry received for review.
cooks nicely

It is definitely an upgrade for me, easy to clean and cooks nicely.

Sweepstakes entry received for review.

Love the looks

Actually haven't had that much time using my new range, as we are also doing some other remodeling. But it is a beautiful looking range, and I'm very excited to start learning how to use the convection oven better. So far I'm loving it.

Stainless steel top

Love the stainless steel top oven heats up great. Girls love the interior of the oven beautiful color. Burners are so powerful heat up water in no time.

Sweepstakes entry received for review.
LG Product Service and Support
Get your questions answered about product setup, use and care, repair and maintenance issues. We can help.
Telephone
Call an LG Support Representative.
(800) 243-0000 Consumer (7am-midnight CST)
(888) 865-3026 Commercial (8am-6pm CST)