J.D. Power Award Winners
"Highest in Customer Satisfaction with Freestanding Ranges"

April Showers Bring More Savings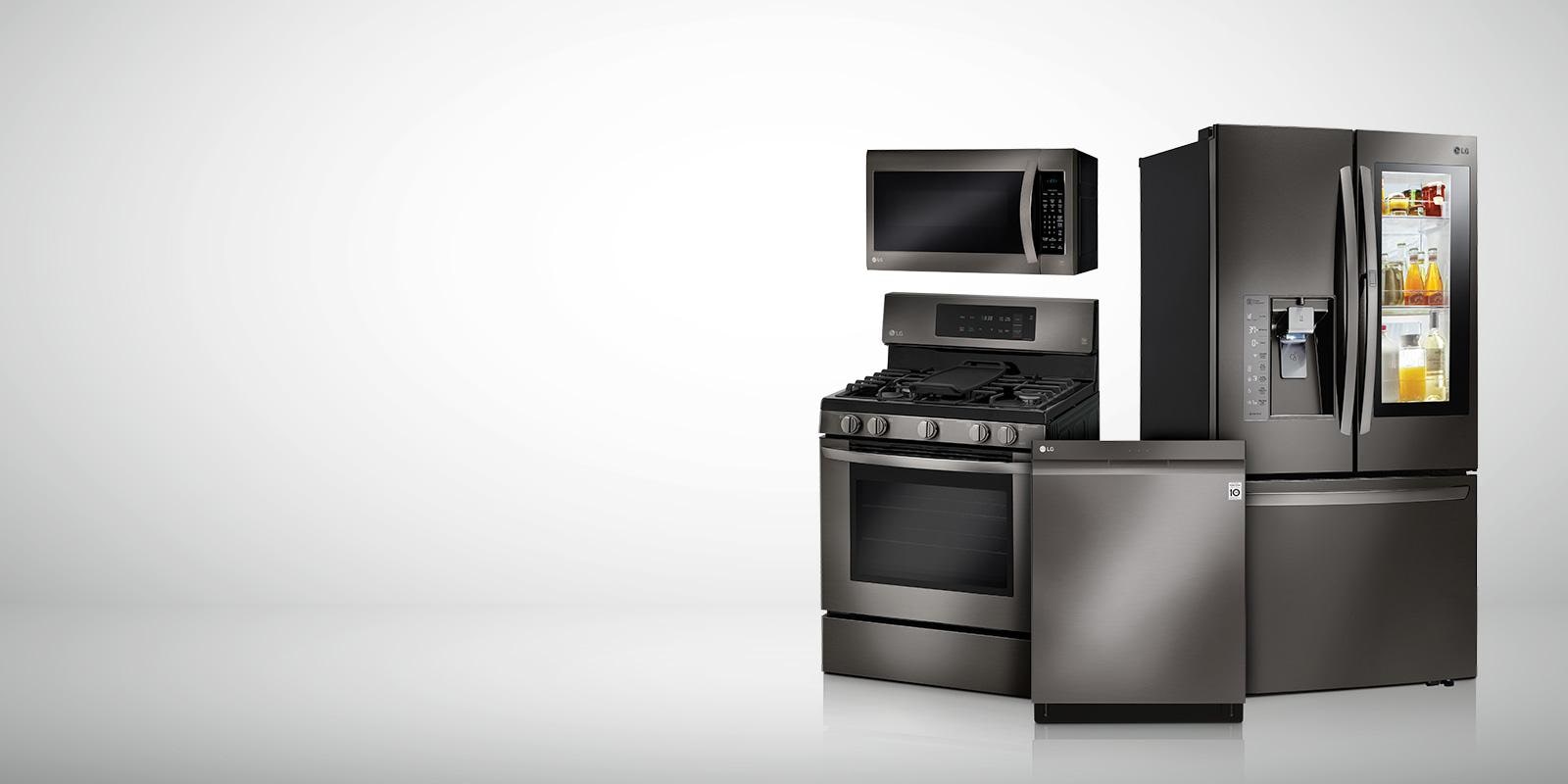 Buy More Save More Kitchen Bundle Offer
Get an LG Visa® Prepaid Card worth up to $500 by rebate when you bundle eligible LG and LG STUDIO Kitchen Major Appliances.

Welcome MATTE
Experience the style of LG's exclusive MATTE Black Stainless Steel appliances.
Selecting a checkbox will update the products displayed on screen.
Refine Your Search
0
Total Result
Ranges & Ovens
Cook every meal with power and precision. LG ranges and ovens boast innovative technology for restaurant-worthy performances every night of the week. And with their stylish clean lines, they'll blend seamlessly into your décor.
There is no matching product.
WHAT CUSTOMERS ARE SAYING
Average Rating for Ranges & Ovens
Best oven ever!

Ok, I admit that the blue interior is one of the reasons we bought this particular oven. It makes me happy every time I open the oven door. But it has everything going for it. The convection setting bakes everything perfectly, and with less heat than the normal setting. The burners are the right size in the right places. The timer has taken some getting used to. On previous ovens, I could set the time and walk away. On this oven, I have to push the timer button again after setting the time.

Sweepstakes entry received for review.

Very easy to clean!

I have owned this range/oven for two months now and it got me through one Thanksgiving and one Christmas dinner with out a hitch. I love the different size range burners. The entire stove top and display panel are super easy to wipe clean. I haven't used the self-cleaning oven feature yet but I have wiped out a few spills from the oven interior. I only gave it four stars because I haven't used all of the features and because I haven't owned it that long. Some of my favorite features are that it

...

read more

beeps when the oven is up to temp, and the timer on the oven will beep continuously until you turn it off (that is a good thing for me because I can ignore noises easily).

great looking

I love this range. the only issue is that the aluminum burner caps stain and they are impossible to clean.

Sweepstakes entry received for review.
Love the double oven

The double oven is so versatile - I can bake in the upper oven and roast in the lower oven at two different temperatures - at the same time! The oven is easy to clean and easy to use. The musical timers took some getting used to, but now I really like them - it makes my kitchen unique. The ultra heat burner is also a winner - it quickly heats up a large enamel dutch oven, just be careful not to rest your cooking utensils on the side of the pot - they can heat up quickly! Overall, I'm so happy

...

read more

with this purchase.

Sweepstakes entry received for review.

We purchased this LG gas stove in August of 2016. It has the double ovens and I absolutely LOVE having 2 ovens. I don't know how I ever cooked huge meals before with just one oven. This is an awesome stove. It has great features, heats up to the proper temp. in such a short amount of time. ( I was having to wait about an hour or so for the oven to get to the temp. on my old gas stove.) So this is amazing. I LOVE my LG Double Oven Gas stove.

Sweepstakes entry received for review.

Easy Glide Rack & lower convection oven

Loving it so far. Wish it had an easy glide rack for the top oven and wish the top oven was also convection. I have had a problem with items like brownies and cake taking longer to cook in the top oven than the instructions say. If I do what the box says, they're raw in the center. I use the top oven the most because of bending over to get to the bottom oven.

Sweepstakes entry received for review.
gas range happiness

I have had my LG Gas Range since August 2017 and I absolutely love it. The oven bakes at a consistent temperature and is so reliable, something I was not used to with my old range. The "hot" Burner adds to my delights in cooking. The grill(5th burner) is a great addition too. I love the design except the burner/ oven control knobs have a relief on the edge and this is a cleaning hiccup. If the knobs were flush(smooth) it would be more aesthetically pleasing and more hygienic. I have used

...

read more

the self cleaning over feature and when the cycle completed the oven looked brand new. Thank you LG for the wonderful product. Life is Good

Sweepstakes entry received for review.

Fell in love!

Purchase this range and actually waited two months while it was on back order. Worth the wait. Love the controls being easier to reach and see. Feature all work and convection oven is perfect.

Sweepstakes entry received for review.

So far so good!

Have not bought a range for 10 years and they all have so many new features it was a challenge to pick one. I liked the fact that the controls are on the front and not on the top. I felt I would be knocking into them. Wipe the top every day. It looks better and helps with cleanup. I needed a slide -in for my use. It has a lot of nice features and heats up quickly. Looks great too.

Sweepstakes entry received for review.
Beautiful range

The black stainless finish is beautiful. However, the top is not black stainless and does show fingerprints and water spots, but overall it looks beautiful. The best feature is how the convection bake automatically adjusts the temperature to what it would have been in a conventional oven. And and low and high broil setting - I've never had that option before. I used the broiler to cook steaks last night and they were cooked perfectly.

Sweepstakes entry received for review.

Cooks amazingly!

This oven heats up so fast and cooks so much better than any oven I've used before. Vegetabless ae roasted and browned at least 10 minutes faster than my last oven set on the same temperature. And if I heat the oven to 400 degrees or more I can to lean back when I open it because the heat coming out is so intense. Burners on top of the stove are placed so you can get several,large pots on at once. The large burner's flame covers the entire bottom of my 14 in saucier and I rarely turn it on high

...

read more

because it is hotter than I need it to be. Love this appliance for what it does.

Sweepstakes entry received for review.

Looks great, cooks great!

We replaced a 1995 Kenmore coil type electric range with this LG range. I had to convert the unit to propane, which was very straight forward with the enclosed instructions. Once in place, this unit looks fantastic. My wife is absolutely thrilled with the appearance. But as good as it looks, it cooks even better! Flame control is excellent on all 5 burners. The high power burner has far more available power than we have needed yet, but it will come in handy this summer when we break out the

...

read more

pressure cooker and start canning. Until this unit, we were never able to bake more than one sheet of cookies at a time due to uneven oven temperatures in our old unit. Not so on this one# I baked off 3 sheets at the same time using the convection mode, and all 3 sheets came out perfect! I cook far more than before, and my wife is just thrilled with the range as well.

Sweepstakes entry received for review.
Beautiful

First LG stainless appliance i have bought. Very pleased

Sweepstakes entry received for review.

I bought this 6 months ago, I absolutely love this Range. It is my first Electric range and I am so amazed at how fast the burners get hot and cool down. Virtually it is like working with Gas , this Stove is that responsive. It looks amazing in my beautiful kitchen. When people come over its ohs n ahs, and then they open the oven and see this fantastic blue interior. The next thing asked is what kind is this ? an I say LG...its awesome ! Thank you...going to bake some cookies now...

great appliances, we bought 4 products

Bought LG dishwasher ( you can barely tell it is on , very quiet ) LG French Door Refrigerator , great functions, adjustable shelves, also very quiet, LG Range with convection, Best oven we ever had!! Period!! Cleans like a breeze with steam no hard detergents. Cooks everything in 30-40% less time!!! Everything tastes better. LG Microwave. Works great easy. We love the little "song" the dishwasher and the oven make when you turn them on.. Just great professional products. Perfect appliances !

Sweepstakes entry received for review.
Great but room for improvement

I am happy with my LG Electric stove with convection oven. I'm getting used to an electric stove again after years of gas stoves. I ha w never had a glass top stove but I like the ease of cleaning and not having to remove cast iron grates. I love my blue oven! However, the drawer below the oven needs a handle! It would also benefit from a better quality of metal for the drawer itself. It seems cheap and flimsy when compared to the rest of the stove. One more improvement I would like to see is a

...

read more

deeper recession on the back of the stove to accommodate the cord and gas pipe. My stove is too far away from the wall because of this. I must add a complement re: strength of stovetop surface. I recently dropped a heavy paperweight on it and expected to see a crack but there was none! Awesome! Thank you for the overall experience!

Sweepstakes entry received for review.

Great cook top and range

We purchased this a few weeks ago and are very happy with the appliance. The cook top is faster than our old stove and the oven is also. We haven't used the convection part yet. The oven is nice with the enclosed heating elements and the many levels for the shelves, more than any others. The oven is the same color as our kitchen, which the delivery people never saw before.

Sweepstakes entry received for review.

I have bought LG convection stove oven last month. Is so great to own one of the best kitchen appliances by LG. The oven cook perfectly especially convection oven, and also cut cooking time in half. I am so happy with this and can't wait to try another product of LG.
Efficient and sleek

We love our new oven! It looks so sleek and takes our kitchen to a new level of aesthetics. This oven inspired us to paint our cabinets, and our whole kitchen feels brand new! I love how it preheats so quickly and tells you the current internal temperature. All of the notification sounds are unique and easy to hear. I also like how evenly the range top cooks.

Sweepstakes entry received for review.

Excellent appliance

I love the easy clean up. The griddle in the middle is just perfect for the two of us. I love the different size burners, which I didn't notice when I purchased it. The oven controls are easy to use. I would highly recommend this product to e everyone.

Sweepstakes entry received for review.

Nice range for the Price

What made my decision to buy this range was the features on it. The oven was bigger than my old one and I love the easy way that I can clean the top of it. The only problem I have is the touch screen. It seems like I have to push hard on it to make the range to work. I have arthritis and didn't know it would be hard. Overall, I do like the range.

Sweepstakes entry received for review.
Looks great, works great

First time using all electric, glass cooktop. 5 burners all with a different purpose- some heat up faster than others, and some keep the high heat going longer. Having two ovens seem perfect for my family as sometimes we aren't needing to heat the entire oven. We got rid of our countertop toaster oven because of this range. I don't see an issue with 5 burners- some reviews complained it wasn't functional. I think it's fine. Overall, range with matching microwave have worked great together.

Sweepstakes entry received for review.

Great design

I bought this stove about a month ago and am loving it. I love having the control knobs on the front for easy access. The two door oven gives me flexibility with baking. Love my new range!

Sweepstakes entry received for review.

Great look and features

Bought the Range about 2 weeks ago works great and I love the color of the inside of the ovens.

Sweepstakes entry received for review.
Love my LG double oven

Easy and fun to use. Very easy to clean ovens and stove top. Regarding stove top be sure to use approved cleaners and follow manufacturers instructions. On ovens spray some water (follow guidelines) and it truly does the trick. Stove super easy to keep clean. Cooks quickly, love the convection oven, made a stuffed tenderloin and OMG it was perfectly cooked and tasted amazing! The stove dials can be turned on if one leans wrong against it, but u can lock the stove to prevent this from happening

...

read more

if you are concerned. Looks amazing. Totally recommend this range!

Sweepstakes entry received for review.

Impressive Operation and Eye Pleasing Appearance

Bought this Electric Oven/Range almost a month ago along with a full suite of LG kitchen appliances. Incredibly happy with the performance of both the range cooktop features and especially the double oven. The cooktop heats evenly on all burners including the speed boil burner and is very easy to clean since it is textured vice the purely flat glasstop we replaced. Double ovens are awesome. Lower oven has a convection feature which results in the oven automatically lowering the entered

...

read more

temperature by 25 degrees to account for the more efficient convection heating. Both ovens have separate timers which is also very convenient when using both to cook different items.

Sweepstakes entry received for review.

Best Range!

I have had this oven/range for 3 months now and am more pleased every day. The dual ovens allow cooking multiple dishes at different temperatures. The bottom oven is a low if you are not very limber but is able to cook a 25 pound turkey! The convection oven has been a time and energy saver. The control knobs for the cook surface are easy to use and look good. The cooking surface, as with any ceramic cooktop, needs to be cleaned after almost every use but even with heavy use, it still looks like new.

Sweepstakes entry received for review.
LG Product Service and Support
Get your questions answered about product setup, use and care, repair and maintenance issues. We can help.
Telephone
Call an LG Support Representative.
(800) 243-0000 Consumer (7am-midnight CST)
(888) 865-3026 Commercial (8am-6pm CST)