Declare Your Freedom From Laundry Day
Get mega-sized savings on our large capacity 29" front load washer! See retailer for updated promotional pricing. Offer valid June 20 – July 11, 2018.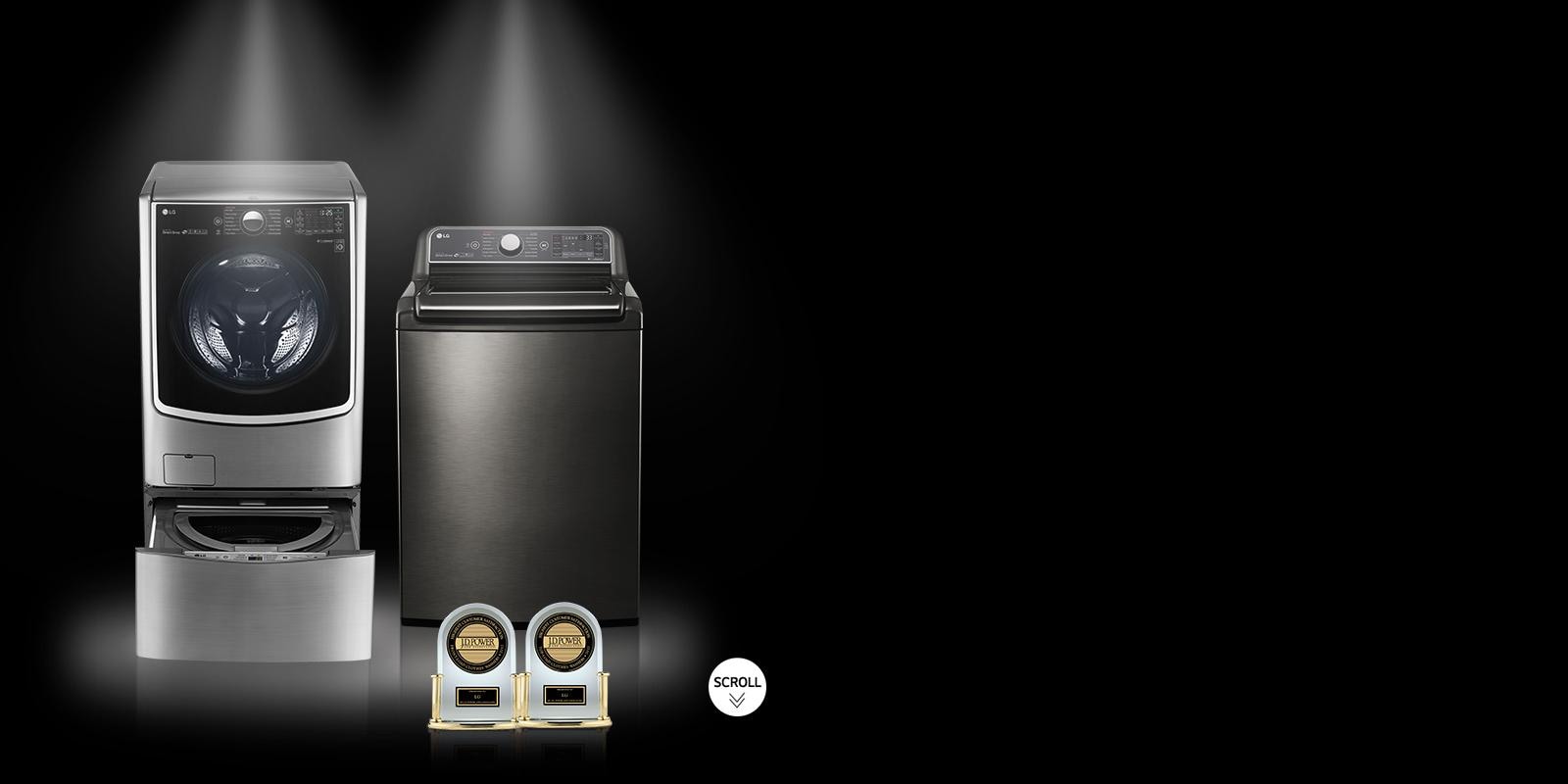 J.D. Power Award Winners
"Highest in Customer Satisfaction with Front Load Washers, Top Load Washers."**
Selecting a checkbox will update the products displayed on screen.
Refine Your Search
41
Total Results
All Washers
WHAT CUSTOMERS ARE SAYING
Average Rating for All Washers
Dream Washer

I had read the reviews about the new high efficiency washers. I, too, was doubtful as to how clean my laundry would get with so little water being used. And that 'may' be the case with other washers....but not this one. This truly is the washer of my dreams. It has so, so many combinations of settings, small loads, huge loads, extra water, delicate, heavily soiled. Yet, with so many available settings, it's easy to use. LG truly has designed the washer of my dreams. Thank You!!

Review for LG washer WT5680HWA

I am very, very pleased with this LG washer. I love all the features (Steam, sanitizing, and the option to add extra water levels. My clothes come out sparkling clean. I am a happy LG customer

Great Washing Machine

We purchased this washing machine to replace an older agitator model that was leaking.. This washing machine performs flawlessly. The clothes come out cleaner than with the agitator model. We were worried that the newer machines using less water would be a problem. How wrong we were!!! Do not hesitate to buy this if you need a new washing machine that handles all size loads including very large loads. The only small issue we have found is that if you don't open the top completely when loading

...

read more

and unloading it can fall down on you. After a this happening a few times one should not forget to completely open the top, a very easy thing to do.
How to activate the Wi-F- Function

This was not spelled out in the Owner's Manual, or discussed on the internet. I figured it out by looking at our washer. My Wife had loaded the LG Laundry program from the Google app store. It loaded fine, but could not get the washer Wi-Fi symbol to come on. *By pressing and holding any function button for 3 seconds, with an *, will activate the secondary function listed under that main function. An important example is by pressing the "Delay Wash" button for 3 seconds. That will bring up

...

read more

the "Wi-Fi" function. Once we did this, the washer worked as a smart washer with our smart cell phone. For the rest of the Smart Appliance Connectivity, see "Connectivity Setup" in Owner's Manual, beginning on page 31. Hope this saves somebody from calling LG technical line.

Sweepstakes entry received for review.

Love it!

Easy to use, quiet and very efficient. The height is perfect. No more bending over to do laundry. After my purchase, I discovered that this unit is ranked #2 out of 64 makes/models. However, I'd give it a #1 rating. I highly recommend this product to anyone looking for a new washing machine.

Sweepstakes entry received for review.

Beautiful machine, awesome features!!!

I bought this washer a year and a half ago after much research, and I've enjoyed it ever since. It has all the features one could wish for, from hand washables to sanitary. I know when I wash a load, it will come out clean and well treated. I especially love being able to customize the cycle for special loads, and it even cleans itself! This washer is definitely a girl's best friend.

Sweepstakes entry received for review.
Hidden Gem

This little washer has surprised me with its usefulness. When our main washer was broken, the Sidekick got us through, taking care of essentials. When I have a sweater that needs a "handwashing" cycle, I just do it whenever I want, rather than trying to get several to do together in the big washer. And now instead of breaking up my laundry into two medium-sized loads, both run in the big washer, I can do one big load in the big washer and one little load in the Sidekick. I'm glad that we're

...

read more

saving water, and yet still getting it all done.

Sweepstakes entry received for review.

So Handy

I love this little washer. At first I wasn't sure just how useful it would be or if I really needed it. However, my husband purchased it for me for Christmas and I'm so happy he did. One of the best features is that you can use it and your large (regular) LG washer at the same time - imagine!!! Very efficient.

Sweepstakes entry received for review.

Great Little Machine!

Purchased the sidekick as a companion to a large LG washer and it was the best decision. This little washer helps me keep my laundry more manageable because I can wash delicates or bathing suits right away. It is very quiet and gets the job done. Thanks LG for such a great product.

Sweepstakes entry received for review.
Great washer

Excellent product. Very quiet and effective. Low or no vibration with large loads. High speed spin almost dries the items.

Sweepstakes entry received for review.

Better than expected!

My old washer was about 15 years old. I am stunned how much better this new one is and it has a huge bin. I have a 2nd home and have a front loader and I don't like it. So I chose to go with this top loader and I love it! I went through many reviews and the LG was always in the top ranks. Not disappointed with this machine, its AWESOME!

Sweepstakes entry received for review.

Quality, Performance and Value

I bought this machine about two weeks ago, and I'm especially pleased with how quiet and well-made it is. I was also impressed that LG offered a ten-year warranty. Everything about this machine (especially it's fit and finish) inspires confidence.

Sweepstakes entry received for review.
Best little secret

The greatest thing in this world. I didn't think I would even use it but I use it non stop . It's great to not have to run the big washer for a small load too.

Sweepstakes entry received for review.

Love the ability to wash small loads

We have a toddler, who causes messes everyday. We are able to wash small loads easily.

Sweepstakes entry received for review.

Great!!! Love it!

I am so happy with my purchase! Highly recommend!! Love the results!

Sweepstakes entry received for review.
Just as good as my old LG

I bought this LG washer to replace an old LG washer that I have had for almost 11 years. This washer performs not only as well as my old washer, this updated version has a lot more wash features and a slightly bigger capacity.

Sweepstakes entry received for review.

Easy to use, wonderfully efficient

The default settings for different wash cycles are very intuitive, and adjusting anything I might want to do differently for a particular load is simple. My clothes are coming out clean, but much less wet than my previous washing machine so it takes less time to get them dry. The pleasant chime when a load is complete is really cute, and while it doesn't seem like it's something that should make a difference, it still makes me smile when a load is done.

Sweepstakes entry received for review.

Not perfect

Super washer but like so many, if not all washers, it has an issue or two. Towels is an issue with all washers and this one is no exception. If ever a company creates a washer that will spin without sounding like it's ready to fly through the wall while doing bath towels, they'll sell millions of them. The door on this one looks like it's ready to bust open when the spin cycle is running with bath towels too. Overall it's a great washer if you don't wash too many bath towels or jeans in one load.

Sweepstakes entry received for review.
washing machine

excellent product. I've been an LG customer for years. excellent quality. i've had an LG dryer for 10 years. best product for the money. i am a loyal customer and will never buy from another manufacturer. would even pay a premium for this product.

Sweepstakes entry received for review.

Really impressed

We purposely selected LG washer and dryer for noise reduction as our last set (another brand) were very loud. We couldn't be happier - not just less noise, but more efficient, better cleaning and definitely quicker at drying our cloths.

Sweepstakes entry received for review.

lg washer top loader

This is a large capacity washing machine. I am 6'2" with long arms and have to stretch to reach the bottom of the tub. My wife cannot reach the bottom, therefore, unless you have a long reach, I would recommend a front loading machine. So far the machine does a very good job. It has numerous features, all electronically controlled, therefore, I elected to buy the extended warranty. Too many things could go wrong as time goes by. The machine senses the load and goes from there, if it

...

read more

senses wrong then there will not be enough water in the tub. This happened only once so far. I think it was just a fluke as it only happened once. I also have a LG gas dryer of about the same size and appearance which also does a good job. I am so far very satisfied with both machines.

Sweepstakes entry received for review.
Must have Accessory!

Purchased this and the main washer in July 2017 (I also reviewed the main washer in its own review). They were on national backorder. The delay was very much worth the wait. This is useful for me because often I have just a couple shirts or something that I just want to wash and hang up. This sidekick fits that bill. It's gentle on the shirts and jeans I have put in it. There are not that many programs for this unit but the ones that are included with it make sense for the type of

...

read more

garments its can wash (its tiny). It is VERY quiet! You don't hear it running. I have these units placed in my apartment kitchen (there is on premises laundry but I prefer to use my own). These units replaced an LG WM3997HWA. I upgraded to these because I wanted the latest and greatest in combo washer/dryer units. It does NOT have an auto dispense system like the main washer, so you have a little rubber cup you put in there with detergent. If you want to add softener in the final rinse, the system will alert you by a soft chime and via the smartphone app (Android). Setup was super easy. There are NO cold/hot water hoses included so make sure you get a set. Using the smartphone app, the units paired up easily and it also set them to the wifi system. It also includes a remote controller so you don't have to bend down to set your program. You can use the smartphone app to start a cycle remotely (has to be on the wifi network) if you want, in addition to using the main screen on the washer. Overall, it is a quality machine. It's quiet, cleans your garments as you expect, and I did not realize I needed it until I started using it!

Sweepstakes entry received for review.

Quiet.

Love the efficiency, large shiny tub, tunes over an obnoxious buzzer

Sweepstakes entry received for review.
Looks small but is mighty!!

My first thought when I saw this washer next to my gigantic dryer was: uh oh it's too small. I had a set of mega capacity Maytag washer and dryer, and the washer died, so we were looking at big washing machines. This one looked (online) to be perfect, and the reviews were just awesome. The drum is very big, so don't be intimidated by its compact size. So far (about 2 weeks in), it's doing a great job! It goes through a balancing process before it starts a cycle, and sings a little song

...

read more

when it's done. We are very happy!!

Sweepstakes entry received for review.

Converted Believer

I have been a long time user and believer of using washers with the big agitator. After a long and exhausting search for one, I finally decided to try this one and was very shocked at the results. I had an extremly large amount of clothes to wash so with my new washer I decided to start a washing marathon. My washer ran for 8 loads over the next 2 days without a single hiccup. Unbelievably clean clothes and very satisfied to be a new believer in this product.

Sweepstakes entry received for review.

Large Capacity that washes large loads well

Bought this washer two months ago and very happy with the purchase. It cleans the clothes well, even when stuffed full of towels or sheets. We ended up buying a reach-n-grab tool to be able to reach small articles like socks from the bottom of the tub. Our only negative would be even though this is an HE machine, we wish that the washer would mix more hot water. We actually returned the first machine thinking there might have been a problem. After getting the same model delivered as a

...

read more

replacement and seeing the same issue we had a tech come look at it and learned that the machine was fine and by design barely uses hot water even on the hot setting, clothes come out clean and fresh so we're getting used to it. We like the features of the machine and the laundry is clean so we would recommend this model if asked.

Sweepstakes entry received for review.
LG Product Service and Support
Get your questions answered about product setup, use and care, repair and maintenance issues. We can help.
Telephone
Call an LG Support Representative.
(800) 243-0000 Consumer (7am-midnight CST)
(888) 865-3026 Commercial (8am-6pm CST)