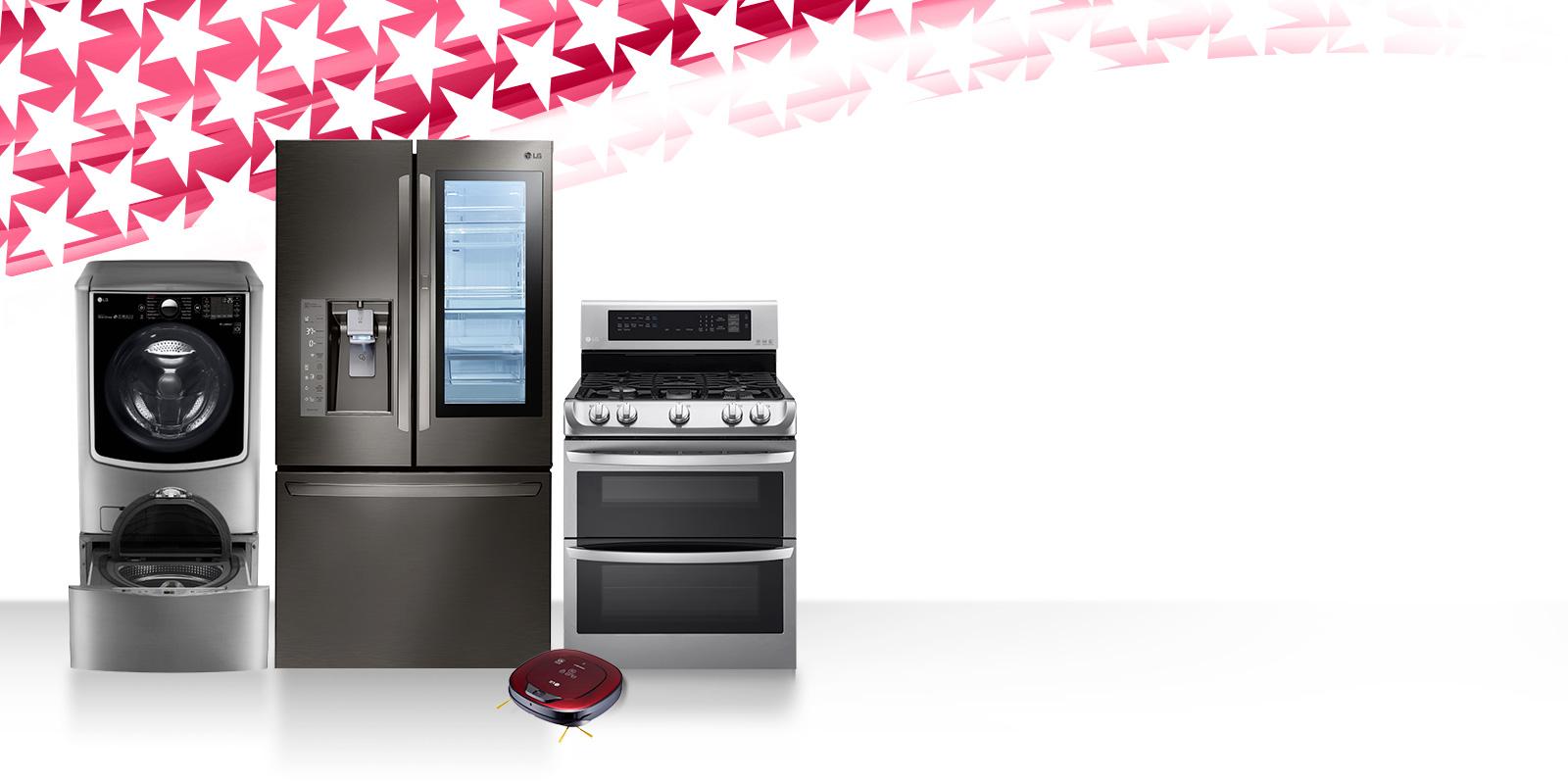 President's Day Savings
Don't miss out on special President's Day savings on qualifying LG Home Appliances.

Save Big On the Ultimate Laundry Room
Get an LG Visa® Prepaid Card worth up to $500 by mail-in rebate or online when you bundle eligible LG laundry models from participating retailers 1/11/18 through 4/25/18.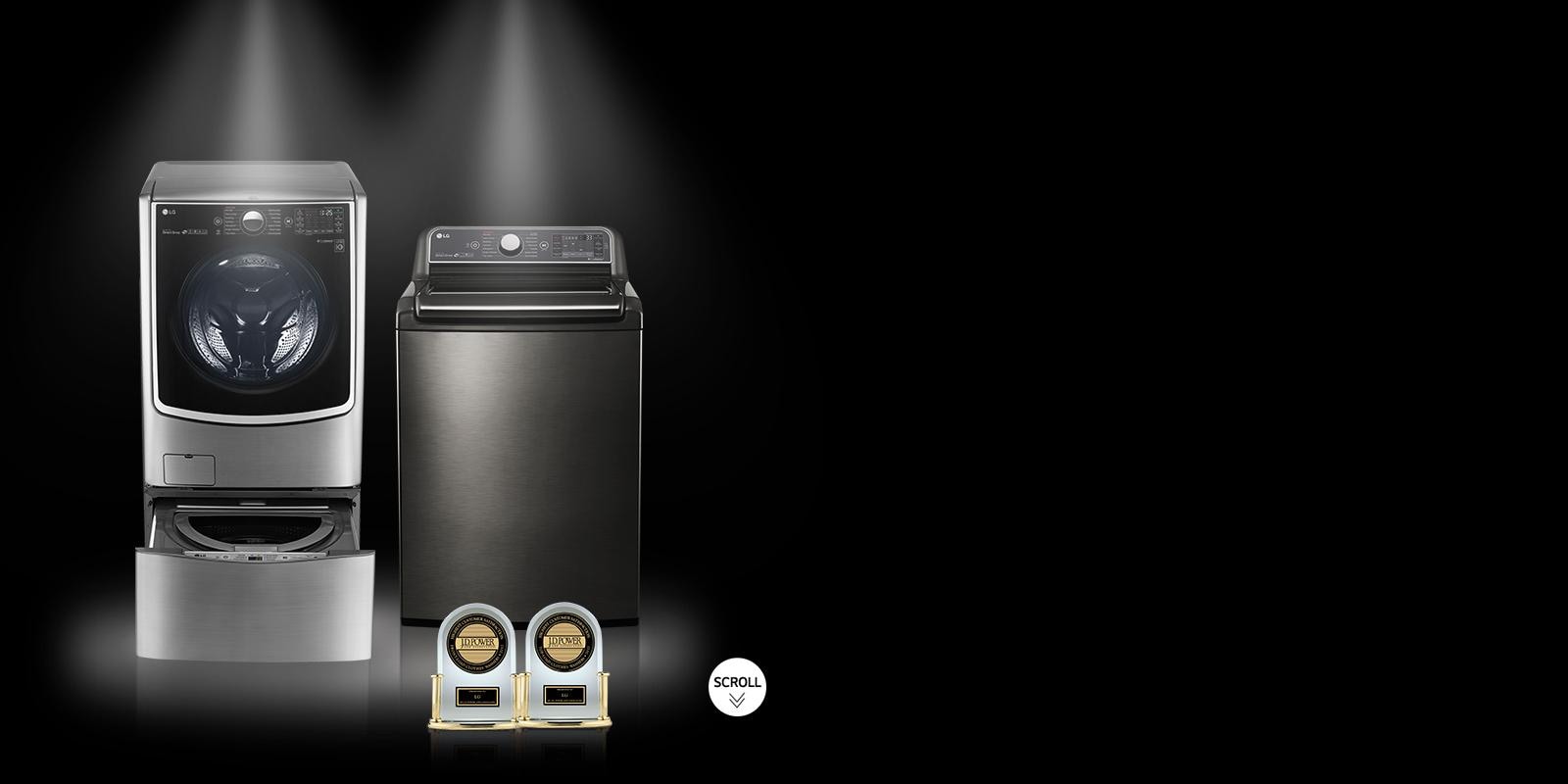 J.D. Power Award Winners
"Highest in Customer Satisfaction with Front Load Washers, Top Load Washers."**
Busy Philipps and LG Get Real About #MOMLIFE
Mom life isn't always perfect. See the "life hacks" Busy employs to master motherhood, including one of her favorites: The LG SideKick™ Pedestal Washer.
Only with LG!
2-in-1 Washer Your Way
The LG SideKick™ is the perfect size for small loads that can't wait and saves time by washing two loads at once. From washer type and size to features and price, only LG lets you customize the right LG TWINWash™ System for you.
"One of our favorite appliances."
LG WM3770 front load washer have received the Editor's Choice Award from Reviewed.com Discover them for yourself and see why.
Selecting a checkbox will update the products displayed on screen.
Refine Your Search
40
Total Results
All Washers
WHAT CUSTOMERS ARE SAYING
Average Rating for All Washers
Great product

I have had this washer for almost a year now. It has good features and runs problem free. It's mega capacity is very helpful in making less time needed for washing. This is my 3rd LG washer that I have had in about 15 years and non of them broke down during my ownership time.

Sweepstakes entry received for review.

Love,love,love

I bought this washer about 6 months ago. We have two dogs and I am constantly washing doggie bedding that is quite large and bulky! I was sick of dragging everything to laundromat. And , we also have two king sized beds so washing those linens was another challenge. I can easily wash king- sized bedding with room too spare. And, it gets my comforters and quilts squeaky clean. Washer has tons of features so you can customize it to your specific needs. And, don't worry, it is user friendly, so

...

read more

easy to operate! I would highly recommend.

Sweepstakes entry received for review.

Love My Washer!

Our old laundry pair was 18 years old and the washer finally said it was too tired to go on, it wanted to retire. I had been looking at LG washers in the stores and reading reviews for two years now and jumped at the chance. The stainless steel tub is HUGE, with no agitator to take up space or get tangled on clothes. The settings take a little to get used to, but I have finally figured out how to wash everything! I love the dispensers and, I love how quiet this machine is. Our clothes come out

...

read more

very clean in a normal amount of time.

Sweepstakes entry received for review.
I am completely astonished

I will be honest. Every time I see these washes with front door I always thought these are useless... Well LG, surprised me. I got this washer, plus the dryer and the mini washer last Black Friday. Before to decide which one Buy I review every single review on line and technical details that I don't complete understand. Finally I got this one but I had not too much faith on it. First thing I washed, was a white comforter. I so surprised, I had never seen my comforter so white and clean.

...

read more

This washer changed totally my mind about this front door design. Now I love my washer, I am so glad I chose it! Totally recommend. Btw, I'm not working for LG

Sweepstakes entry received for review.

Best Dryer I ever owned

I bought this washer about 3 weeks ago. We use it about 5 days out of the week. With our old washer the dryer was being over burdened. Love the jingle it plays when done. It makes my day!

Sweepstakes entry received for review.

Reliable Product!

This is our second machine and we have been using it for two months. The first one lasted over 14 years and we gave it to a friend's child who was moving out for the first time. The washer cleans well, saves on the water bill, and has every setting you could need. Would highly recommend.

Sweepstakes entry received for review.
Absolutely love it!

I both this washer dryer combo 3 months ago for my tiny home and love it! Although the machine is tiny, it fits perfect in my space and I can do full loads. Washes in about 40 mins and drys in 2 hours. Very quiet I barely ever know it's running

Sweepstakes entry received for review.

Tiny space!

After 4 months, I'm still loving this awesome little space saver. It does a great job on laundry and holds as much as I need. I'd buy it again!

Convenience

I bought this for a smaller condo that will be a rental. Space is limited for a full washer and dryer so this is a good alternative. As long as you don't expect to get the same experience as with a full washer and dryer this will be sufficient. I find the controls and manual to be confusing - there are so many choices for washing and it changes the overall time it takes to complete a load and you can't choose the speeds and timing of drying for all the different loads. But overall, it works

...

read more

fine when the loads are kept small and you're not in a hurry.

Sweepstakes entry received for review.
Great Washer

This is the best washer we have ever had. Handles very big loads and cleans great.

Best all round

I purchased this item. Had to wait a bit for it to become available, because it was such an "in demand washer". I have to say it was well worth the wait. Machine has a lot of cycles, & i have use pretty much all of them, without disappointment. From the most delicate items to heavy blankets, I was very impressed. No issues with "not enough water", or "spinning & sounding like machine was fixing to take off"....nope, nope....none of those issues like in my last machine. I absolutely LOVE my LG mega machine!!

Sweepstakes entry received for review.

Super Capacity !!

I have had it for 1 month and so far I love the very large capacity. It is quieter than any of my previous machines, and while the glass lid made me nervous it is nice to be able to see what is going on at any point during during the cycle.

Sweepstakes entry received for review.
Great features and energy efficient

We based our purchase from online reviews. We where considering a lot of brands however this pair or model has all the features that we needed. So far we are very happy on the performance of the products. It uses less water and less detergent. I highly recommend this model WM8100HVA.

Sweepstakes entry received for review.

LG FRONT LOADING WASHER MODEL WM8100HWA

I ordered my LG Model WM8100HWA thru Best Buy online on 11/20/16, and it was delivered & installed on 11/25/16 (this is a replacement for a 7 year old Whirlpool Duet w/Pedestal when the bearings seized, washer became so out of balance it exploded sending plastic pieces into my laundry!). When my LG washer was delivered & installed, the delivery/installation crew were somewhat clueless as to the leveling adjustment using the supplied adjustment wrench. I ended up supplying my own open end

...

read more

SnapOn wrench in order for the machine to be leveled on the concrete basement floor. Once the washer was leveled, I have not had to adjust it again. I chose not to purchase the Pedestal as I feel this may be part of the reason my other washing machine failed (allowed machine to wobble & wrack thus causing bearings to wear). In the months to follow, I have done countless loads of laundry (including King size comforters, sheets, insulated winter coveralls & delicates) using all settings of the machine. Although I will agree with some of the previous reviews as to the length of the cycles, I have been very pleased with the performance of this washing machine.

Sweepstakes entry received for review.

Amazing machine

It handles all our families needs and we are an army of 7.

Sweepstakes entry received for review.
Love this washer!

I have had this washer for a few weeks now and have done all types of laundry, from small loads to our king size comforter and I have to say this washer is amazing. I had actually purchased another brand and went home and started reading reviews..I wasn't impressed with what I read about the other brand and started getting a bit nervous..started reading about other washers and came across this LG which had mostly good reviews. I am so glad I did. This is one amazing washer,cleans clothes very

...

read more

well and if you read the manual about clothes placement this washer will not get unbalanced.Also one of the quietest washers I have ever seen! Had to go check a few times to see if it was running lol..Only disappointment is I came across the rebates after I purchased the washer. Was told I had to purchase dryer at same time to be able to qualify, I didn't have the money at the time but I will definitely be getting the dryer ASAP. Wasn't sure about front Control Design as I had never seen it but love it. Final thoughts...buy this washer, you won't be disappointed.

Sweepstakes entry received for review.

Great Washer !!

I bought the washer and dryer a couple of weeks ago, The drum is twice as big as my old washer, spins easily to unloade and looks great. I like the glass top to "see in" and love the fact that it knows exactly how much water to use to save on wasting water. There are a lot of optional settings to choose from and clothes always come out clean, Love it !!

Sweepstakes entry received for review.

Washing clothes now easy

After reading reviews and consulting with the local appliance repair person, I decided on the LG top loading washer. I am not disappointed at all. The washer is easy to operate and the manual is easy to understand. I am 5'2" and I can reach the bottom of the tub if I stretch. Do make sure you get the serial number off the back of the washer before it's put in place so you can register it.

Sweepstakes entry received for review.
High Quality, Very Quiet, Outstanding Performance

This Washer is a lifesaver. It does a great job at an economical price. The features are outstanding and I love the ability to download custom cycles from the website. This washer does a fabulous job of getting the toughest stains and dirt clean. The only minus I see is it seems to take a while to get cleaning. I believe it calibrating and balancing the load before it starts. but this is only about 2 - 3 minutes. Overall a great washer.

Sweepstakes entry received for review.

Awesome washer

Just had it installed yesterday, done four loads yesterday and one today. It cleans great and is quieter then my old front loader. Did towels and stayed in balance didn't even realize towels were spinning. Time will tell if it stays great. Had a GE front loader have nothing good to say about it, and the warranty company refused to repair it again. Never buy another front loader let alone a GE.. And this washer had just gone on sale when I cancelled another one because of time period to be

...

read more

delivered. It rates a 71 out of 72 on consumer reports. Has a large drum so if your short you will have issue leaning over to get clothes. I am 5'6" and do lean into it alittle to get bottom of clothes but that's ok. Love the machine. I did alot of research over two weeks to see what was out there and which machine was really good for the money. This tops them all.

Sweepstakes entry received for review.

Quality just arrived !

So I had LG washer and dryer before . Then I moved the new washer and new dryer came with the house. Ok well I love my LG I passed them onto my nephew. Well let's say the new washer has been replaced with this beast of a washer only after 2 years. I love my LG . Ginormous tub and things are much cleaner that the front loader I replaced ! Win Win for me !

Sweepstakes entry received for review.
BEST PURCHASE EVER!

My husband bought me this for Christmas, and it is the BEST! Saves me so much time, being able to wash a second small load while simultaneously washing another in the main washer. And it holds so much more than I would have thought. Buy this now, you will not regret it.

Sweepstakes entry received for review.

Convenience down under

I installed the Sidekick below a combo unit, replacing the lighter-weight pedestal. This substantially reduced the wobbling of the combo unit on spin cycles, and provided the benefit of a smaller washer. The Sidekick capacity is perfect for small loads, and high-speed spin dries the loads well enough to air dry or put into the above unit for a 30-min drying period. Great for special washes. I only with it was easier to dry out the interior after the washes were done since leaving the lid open to

...

read more

air dry requires that the drawer remain exposed for hours (not ideal for closet washing areas like mine; my solution is to let it dry overnight while I'm asleep).

Sweepstakes entry received for review.

Nice Addition

I've owned this pedestal washer for about a month and use this more than the large washer. It's great for undies, socks, a few shirts, workout clothes, etc..... Cuts down on washing time as I can use both washers at the same time. I am happy with this machine.

Sweepstakes entry received for review.
Nice washer

Got this washer last month. It is our first top load HE washer. It has a large capacity, is easy to use and quite. It has many costimizable wash settings. Wash times are longer then on front load or top load agitator models, however the large capacity helps make up the larger cycles.

Sweepstakes entry received for review.

Most an LG Washer and Dryer fan

We have two homes. We tried stackable LG but really didn't like them. Very black dirt accumulated in the washer collar. Had to be clean thoroughly after each use. Very happy with the side by sides at both locations even though new washer is squeaking.

Sweepstakes entry received for review.

Lots of Great Features!

Have had this washer for only a short time, but I love it!!! So many options for laundry load types and it's so quiet compared to my previous washer. Would recommend this washer to everyone!
LG Product Service and Support
Get your questions answered about product setup, use and care, repair and maintenance issues. We can help.
Telephone
Call an LG Support Representative.
(800) 243-0000 Consumer (7am-midnight CST)
(888) 865-3026 Commercial (8am-6pm CST)