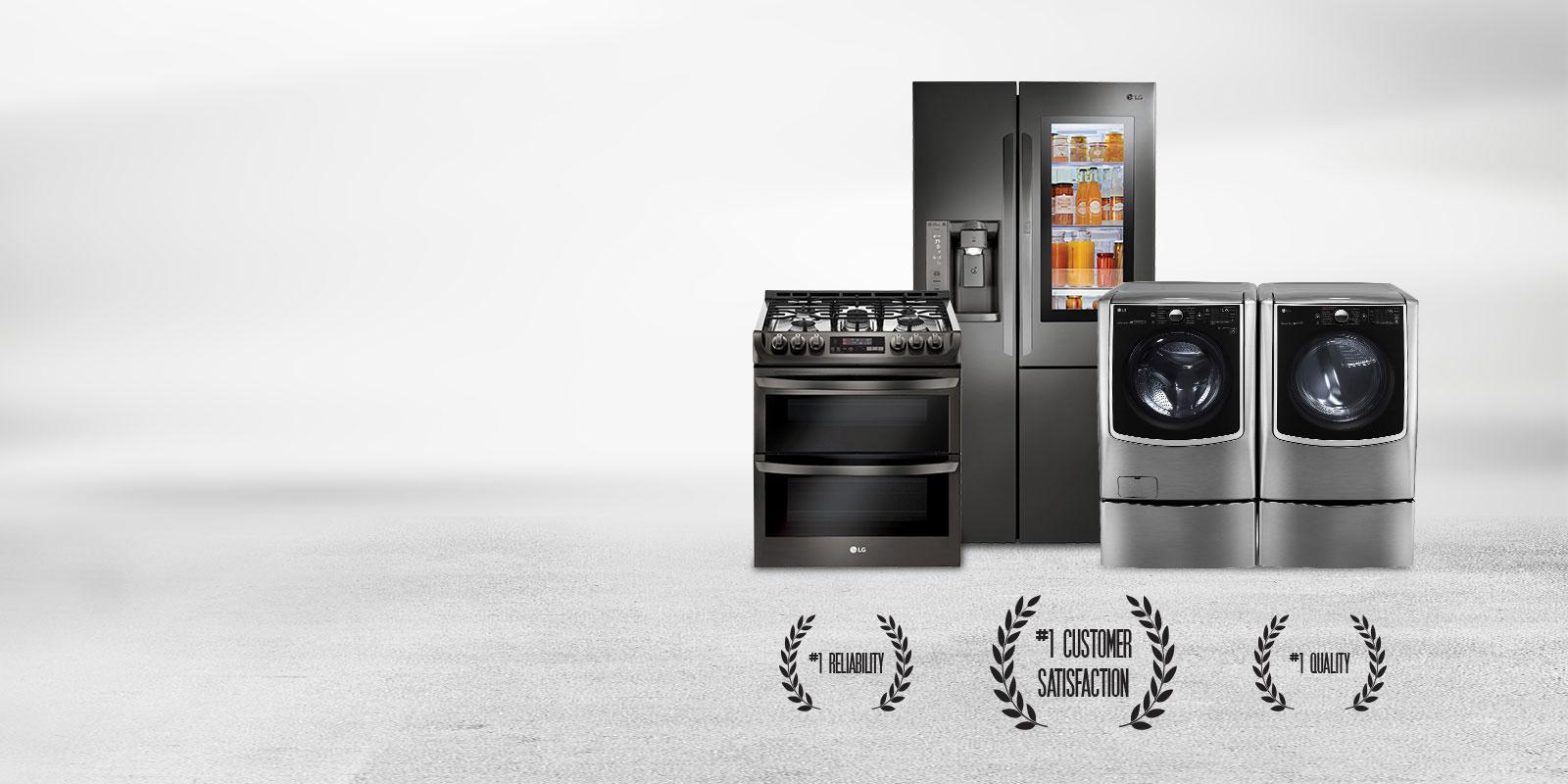 Buying appliances shouldn't be a chore
Shop with confidence. Get the home appliances that dominate the ratings and awards.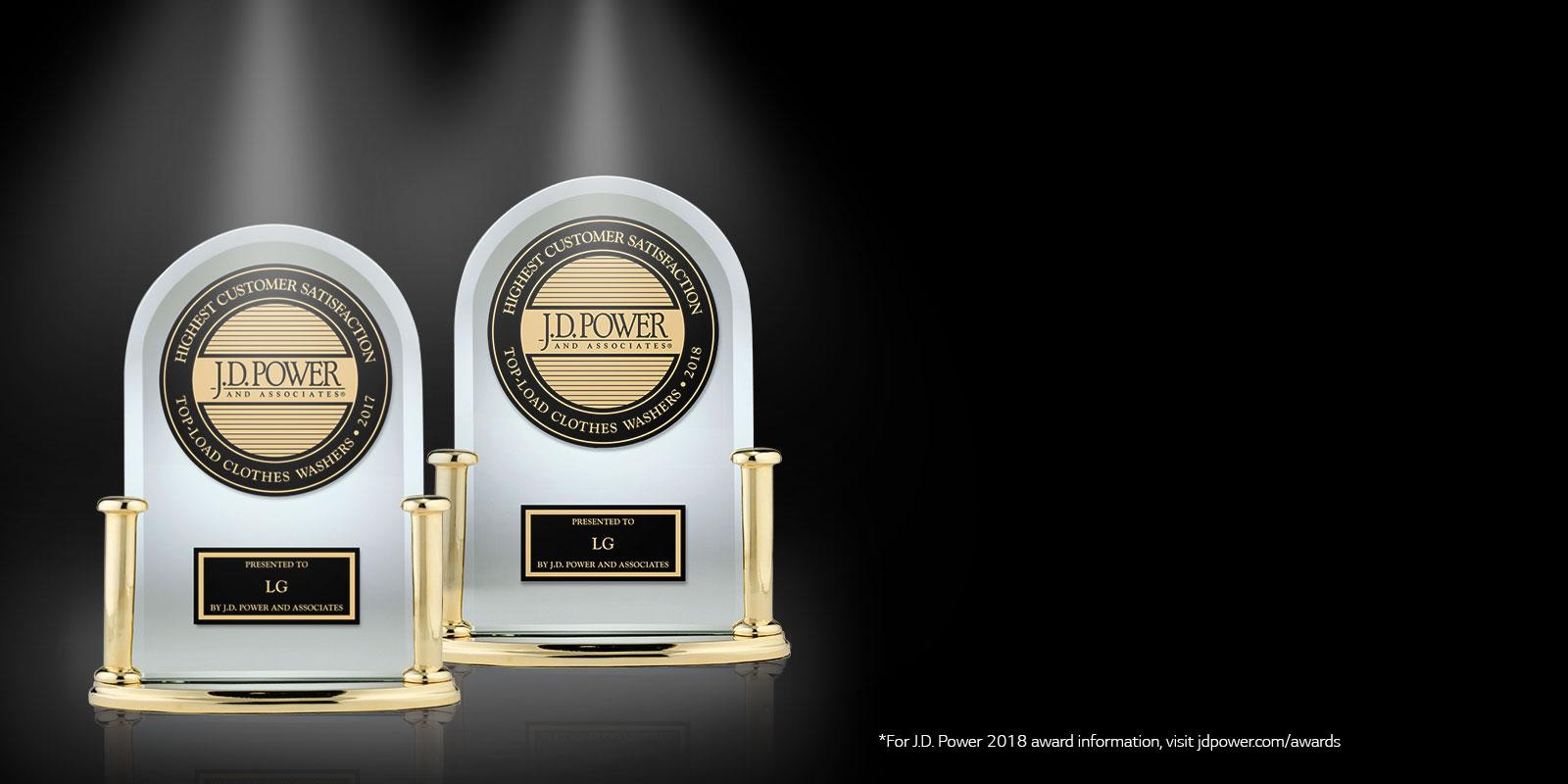 Rated Highest in
Customer Satisfaction

LG was ranked highest in customer satisfaction with top-load clothes washers, 2 years in a row.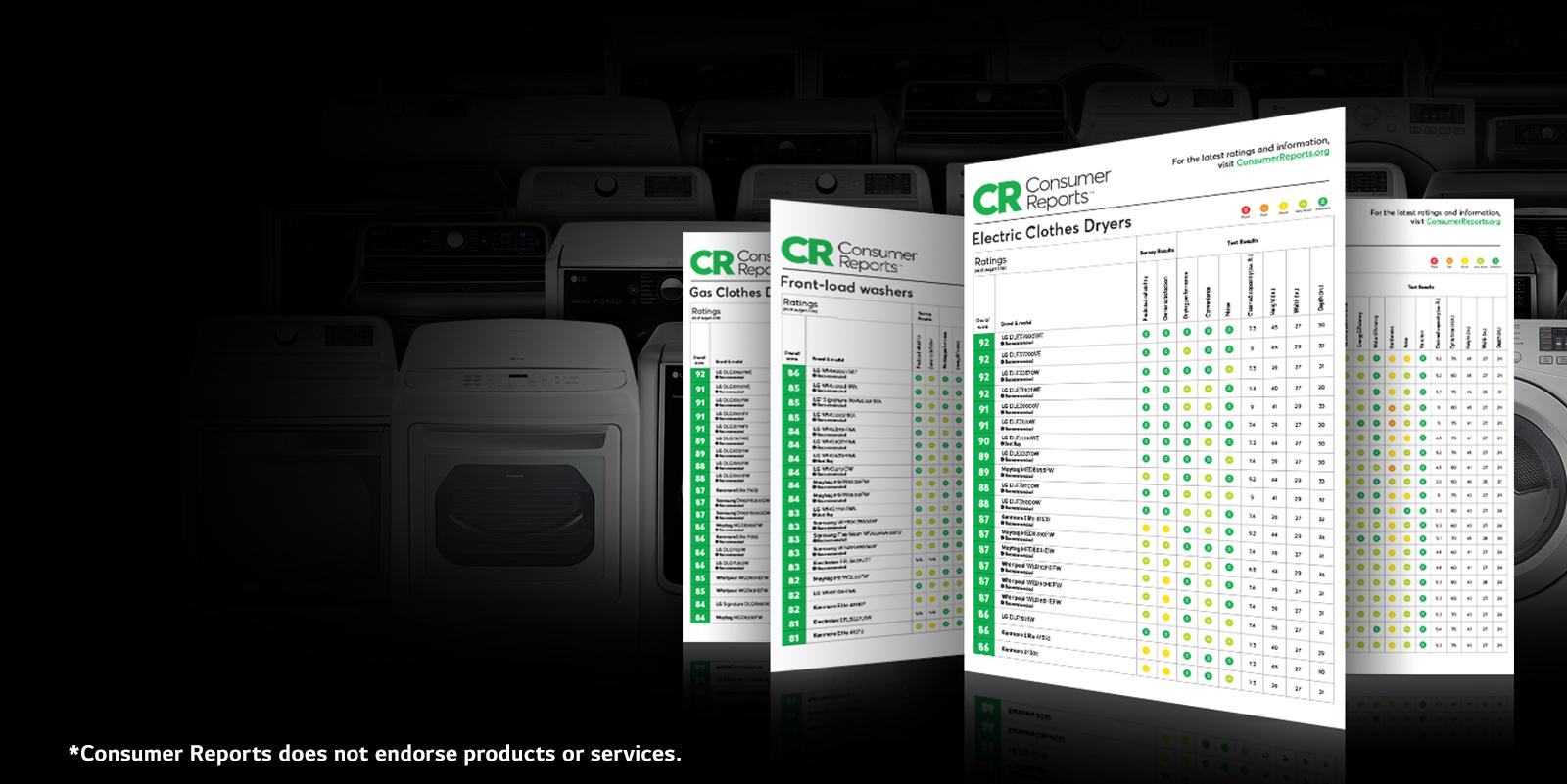 LG washers & dryers
were rated by
Consumer Reports
Read the Consumer Reports rating.
Selecting a checkbox will update the products displayed on screen.
Refine Your Search
8
Total Results
Top Load Washers
WHAT CUSTOMERS ARE SAYING
Average Rating for Top Load Washers
Washer and dryer

I bought this washer and dryer last month and I am very happy .

Sweepstakes entry received for review.

Love the features

We have only had our washer for 3 weeks, but it washes efficiently and demonstrably lessens drying time. I am impressed with the extra features, especially the ability to add extra water.

Sweepstakes entry received for review.

Really impressed

We purposely selected LG washer and dryer for noise reduction as our last set (another brand) were very loud. We couldn't be happier - not just less noise, but more efficient, better cleaning and definitely quicker at drying our cloths.

Sweepstakes entry received for review.
What an awsome washer

While I have had this washer for only a short time, its features and delivery of service is unbeatable.This is my first new washer in 39 years, and I wish I had updated sooner. The clothes cycle wash is quicker, uses less water and a lot less detergent. I expect to see real savings . I'm very impressed by the look of the device from the outside and watched the performance of the wash thru the glass top believable, The clothes did not take the pounding of my old type washer, but were as clean or

...

read more

cleaner than what I usually got. The controls and the settings were placed well and very easy to use.The washer is a real winner. Im very satified.

Sweepstakes entry received for review.

An outstanding washer

I bought this washer about a month and a half ago when my 17-years old washer started loosing its marbles. I LOVE this LG washer. It has huge capacity comparing to my old machine. It is very easy to operate, zero learning curve. I already noticed a huge difference in my water bill. Now I look for excuses to do laundry. It does not get any better than that.

Sweepstakes entry received for review.

Quiet washer

I bought my machine about a month ago to replace another LG that was on it's last leg. This machine is very quiet and large. My clothing washes nicely and has multiple settings. I have not used all the settings yet but it washed my bedding very well, bulky load. I am very happy with my purchase. This brand was recommended over Samsung.

Sweepstakes entry received for review.
Love This machine

I've had this about a month and so far I love it. I bought it for the large capacity to do comforters. It does a great job with them. Also works great on very small loads. Everything comes out clean

Sweepstakes entry received for review.

Good Machine

The pump is kind of loud, the end of cycle tune is annoyng, the smoked glass on the lid is virtually useless. I wished that it hd a tub light like the GE it replaced.

Sweepstakes entry received for review.

Sleek efficiency

I love my new washer and dryer. I would recommend this set to anyone who is looking for a washer/dryer dry cleaning function all in one. The allergen mode is what is appreciated most in this home. This setting allows the comfort of knowing your clothes went through a vigorous cleaning for an allergen clean feel. The steam function will only work when the machines are hooked up side by side so bit of a down fall if they do not connect that way. Quiet, sleek and very effortless efficiency. Great buy.

Sweepstakes entry received for review.
I love this washer

I replaced my 20 year old washer with this beauty. I read lots of reviews on lots of washers, and this is the one I decided on. I think I made the right choice. This is a smart and trouble-free machine. It does all the work, I just hit start and it does the rest. Love it.

Sweepstakes entry received for review.

Quiet...great options...efficient!!

I bought the washing machine to replace one where the bearings had worn and was so loud it sounded like an airplane taking off. This machine is super quiet..I had to make sure that it was spinning because I could not here it. So far this has all the features we need and more. We are extremely happy with this quality purchase.

Sweepstakes entry received for review.

I love the washer!

I have been using this washer for a couple of months now and I am very happy with it. It is very quiet and a normal load will wash in about an hour. I never had a load off balance. This washer is much larger than my last one, and I love it! The only issue I have is that it is very deep and I have to reach in real far to reach the clothes on the bottom. I can live with that for the larger washer.

Sweepstakes entry received for review.
Large washer with great features!

We bought this washer about 3 weeks ago and love it. We replaced a front loading washer and are so happy to have a top loader again. I don't drop the clean wash on the floor transferring it to the dryer and it is so much easier on my back. This washer is also huge, so you can get very large loads and bedding done with ease. It has all the different wash options you would want and is relatively quite and HE.

Sweepstakes entry received for review.

Awesome washer

Just had it installed yesterday, done four loads yesterday and one today. It cleans great and is quieter then my old front loader. Did towels and stayed in balance didn't even realize towels were spinning. Time will tell if it stays great. Had a GE front loader have nothing good to say about it, and the warranty company refused to repair it again. Never buy another front loader let alone a GE.. And this washer had just gone on sale when I cancelled another one because of time period to be

...

read more

delivered. It rates a 71 out of 72 on consumer reports. Has a large drum so if your short you will have issue leaning over to get clothes. I am 5'6" and do lean into it alittle to get bottom of clothes but that's ok. Love the machine. I did alot of research over two weeks to see what was out there and which machine was really good for the money. This tops them all.

Sweepstakes entry received for review.

So far so good!

I bought this two weeks ago and have been enjoying it. I has no idea that the drum held as much wash as it does. I can actually do fewer washes and function more efficiently. I will admit it took a few times to get used to not having an agitator. I'm still not 100% sold on not needing one, but the clothes came out fine and clean. This particular style is so quiet, it's amazing! I've caught myself multiple times checkyti make sure it is stull on. Overall, I'm impressed. Will be

...

read more

curious to see how I feel in about a year, but so far- it's great!

Sweepstakes entry received for review.
AMAZING! Best Washer I've ever had!!

It is perfect, quiet, and leaves clothes super clean. It's the best LG model out there. I hate to wash, but this one has me loading it up just to see the amazing technology at work. So in love with this product!!!

Awesome! Saves $$$! Uses less H2O & Detergent.

Awesome! Saves $$$! Uses less H2O & Detergent. Easy to use. Its like having a robot do your laundry for you.

Great for a large family.

We bought this after researching the best machine for a large family. This works fabulously for our family. (We have 13 children.) The amount of clothes it can wash alongside the various options make it a great product. I also enjoy the clear explanations of the various features in the owner's manual. I refer to it often. The only 'complaint' is that my poor dryer can't keep up.
Washer cleans clothes well

This washer is well worth the money if you have a lot of clothes to wash on a regular basis. PLEASE read the manual and know how it works first. Do not attempt to figure it out on your own. You need to know how to work it so you can achieve maximum results with the cleanliness of the items you are trying to clean. It takes time to get used to this washer, especially if all you have ever used is conventional models/ types. I love how it spins the clothes almost dry. I love the capacity of this

...

read more

washer. It has cut my loads in half. I don't feel like I am spending hours in the laundry room as I used to before. The chrome areas scratch easy, so be cautious of that.

Awesome Washing Machine!!!!

I love this washing machine, the inside is huge. It's very simple to use. You add your detergent, softener and Clorox (if needed), turn the dial to they type of garments you are using and the machine will instruct you when to load your garments and it will play a musical tune when your clothes are complete and can be removed. I love the safety feature, you have to turn the washer off for the door to unlock. This is a great washer, I have been really satisfied with it and I love it.

Sweepstakes entry received for review.

I am in love with this washer

I love all the functions of this washer. All my clothes feel clean and the washer never smells. It is also very quite. Couldn't have purchased a better washer.

Sweepstakes entry received for review.
LG Product Service and Support
Get your questions answered about product setup, use and care, repair and maintenance issues. We can help.
Telephone
Call an LG Support Representative.
(800) 243-0000 Consumer (7am-midnight CST)
(888) 865-3026 Commercial (8am-6pm CST)