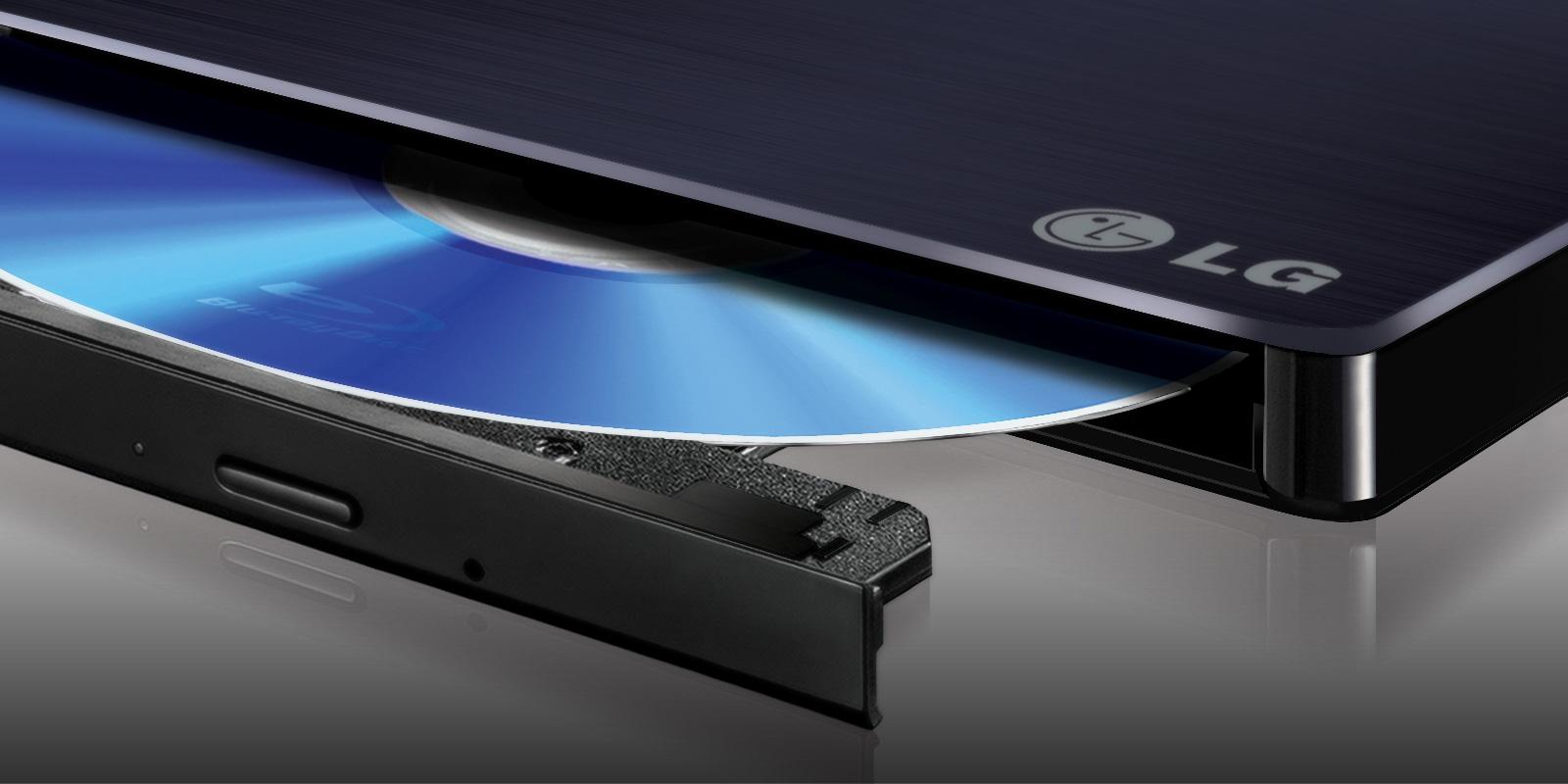 LG Burners & Drives
Discover unmatched data storage and entertainment solutions with LG Blu-ray burners and drives.
Store & Manage with Security & Ease
Count on high performance and reliability with LG DVD burners and drives, designed to secure your data with the speed and power you expect from LG
Selecting a checkbox will update the products displayed on screen.
Refine Your Search
36
Total Results
Burners & Drives
Protect those important files and secure your memories with backup solutions from LG. LG's drives and burners boast features like 10X faster USB speeds, Cinema 3D playback, unparalleled storage capacity and more.
WHAT CUSTOMERS ARE SAYING
Average Rating for Burners & Drives
Great Product

I purchased a new laptop and needed to get an external CD DVD drive. I have tested the product some and thus far I am very pleased with all that it does and can do.

Sweepstakes entry received for review.

Mac Compatible external Blu-Ray, M-DISC, 3D compat

I bought this unit so that I could back up data using a Windows PC as it did not advertise macOS compatability. I decided to try it out with my MacBook Pro and it recognised the drive flawlessly. There is no need for any 3rd party software - it works out of the box (I ran it on a Mid 2012 MacBook Pro i5 2.5GHz, 16GB, macOS 10.12.6). You will need to get some playback software from the net, but there are plenty of options out there now. I have since tried it on my Mac Mini and have had no issues

...

read more

whatsoever. The read and write speeds quoted are accurate and I normally get about +5% more than these actual speeds. Complaints from other reviews about excessive noise have not presented themselves yet. This is a visually slick looking, quiet, quality burner which does what it says on the packet.

Sweepstakes entry received for review.

Great Find

Bought this to archive files on MDiscs and do backup on re writable blu ray discs. So far it has met all of my expectations as far as speed and reliability.

Sweepstakes entry received for review.
Great product!

I've had an exterior LG Blu-ray Disc Drive (BE14NU40) for several years now. I wanted an interior version. Since I've had such great service from the exterior model, I decided to purchase an interior model. I had it about a month now and couldn't be happier with it. I have no doubt I will get the same service from the new one as I have from the older one. Great product!

Sweepstakes entry received for review.

Excellent back-up drive.

Rating for the device itself: Excellent. Rating for the accompanying software: Good. Install time was very quick (maybe, 10 minutes). Fit and finish is good within the existing case. Immediately used to back up an existing NAS box over GigE on the corp net. Took about 10 hours to back up 1.2TB of data, no issues whatsoever - clean and fast and quiet backup. I like the fact that it can burn 100GB M-DISC BDR blanks - these are excellent for archive storage and have a very long lifespan,

...

read more

so I know our data is safe in offsite-storage.

Sweepstakes entry received for review.

I wish that DVD-DL was writeable at ×16.

DVD-DL reading at ×12 and writing at ×8. BD-R MDisc SL at 4x CLV but DL at 6x CLV. BD-R writing at 16x but reading only 12x? CD-RW only 24x? Why not 32x? Good drive, but I do not understand these limitations.

Sweepstakes entry received for review.
This product works very well

This product works very well. The only problem I had with it was the fact that it did Not come with any software. I purchased it as a stand-alone OEM unit. I was able to Burn and Read Blu-Ray Discs as well as normal/regular DVD's. I have Not had any problems with it. I have software that I can use with it, but I am still looking for the best freeware for it. Next time I think that I will pay more for the Non-OEM version so that I can begin using it right after I Install it.

Best thing in optical since optical came out

The storage capacity is amazing and perfect for me and my movie and music collections. It was awful having to spend and spend on hundreds of CD's and even DVD-DL's for this. Not only is the storage capacity fantastic, this thing works beautifully out-of-the-box on Linux. This is another main important feature for me since I will not ever use Microsoft's OS's ever again. It's fast, quiet, and even the eject button is much nicer and easier to hit than any other similar device on the

...

read more

market. This thing simply made life easier for me and the price was extremely nice too since I live on a pittance of a disability check and can't afford these things just any ol' time I want one - cheap or not!

Top Notch Super Blu Ray Writer!

I bought this drive from Newegg about 6 weeks ago. It has performed superbly! It writes regular 4X 25GB BD-R discs at 8X! No hiccups, no problems or issues. Be sure to use BRAND NAME discs though. I highly recommend this drive to any who are considering purchasing a Blu Ray writer. The front faceplate has a glossy black frame surrounding the drive tray and control panel. Very nice brushed anodized black aluminum on the drive tray and control panel plus the eject/close button is concealed

...

read more

under the brushed aluminum which has a slight rise or bump. Nice clean look, very attractive.
Seems to be just fine

I can't say too much as yet as I don't burn CDs and DVDs very often. So far I only have played a DVD and it was fine. I was a little nonplussed that there is not really any player software included with this unit, except some third-party commercial "trial" version. But I will say the unit was super easy to install, and customer support was able to direct me to download good player software, and to reassure me that I had done everything correctly. The specs are perfect for what I needed for my

...

read more

laptop, whose DVD reader apparently died. So, keeping my fingers crossed that this will last for a good long time and prevent my having to buy a whole new computer.

Should have bought this in the first place.

Fast and quiet, and it worked perfect the first time I used it to make DVDs from old recorded home VHS tapes. I had been struggling for two months trying to get the right program to work. It turned out the cheap external optical drive I bought previously was outdated and useless. Admittedly the first capture program I purchased was cheap and useless also. I was able to send that back.

Sweepstakes entry received for review.

Works well

I bought this for cd transfer to my computer and to play dvds on my computer. It worked well

Sweepstakes entry received for review.
Works great with a Mac

As a photographer, I can capture quite a lot image files. Burning off to DVD, I have well over 500 DVD archives. Blu-ray was the next step, but I was a bit nervous due to reviews stating they had issues on a Mac platform (like it didn't work). I decided to give this LG writer a try-out. No issues at all (using Toast). Over 23GB of data written in about 7 minutes, verifying took just about 15 minutes...faster than burning a DVD on my MacBook Pro super drive (yet 6 times the data!). So, yep! I'm a happy camper!

LG's BE14NU40 Blu~Ray External Drive

I use my LG Blue~Ray external drive for quickly transferring the entire 3DBlue~Ray/Blue~Ray Disc with special features, and chapters to my SanDisk 128GB Class 10 microSDXC Card. The 128GB microSDXC is located in my Galaxy Note 3. The LG BE14NU40 rapidly reads the Blue~Ray Disc and transfers it through USB 3.0 to my Laptop to a program called 123 Copy Blu~Ray/DVD Platinum. Upon about 4+/- hour's replication the program stores it on my hard drive and is then transferred to my Galaxy Note 3 via USB

...

read more

3.0. I understand that I can easily access my Blue~Rays via digital copy but Digital Copy does not have the special features and deleted scenes as well as different movie versions (Directors Cut, Extended, Theatrical etc.). I also purchased the 2 year Best Buy Geek Squad Protection for peace of mind. Overall for what I use my LG BE14NU40, I am very satisfied with my Purchase.

I am 100% pleased with this product

I have suffered with DVD burners in the past not being easy to use so was a little apprehensive when I plugged this exterior burner in and used it for the first time to make a Blu-ray disc. The first one worked perfectly as did everyone since. It is now my go to burner for DVD's also as it appears not to have the quirks of my other two devices I used to use to burn DVDs and music CD's. I would highly recommend this product.
Very good little DVD writer!

I've only used it 4 times now, but so far so good. I use it with a Mac and iTunes to RIP the last few CDs I own. No problems. Just plug in the USB cable and it works. I gave it only 4 stars because of the plastic casing. I'd pay more for the item if the body was made out of recycable material, like aluminum. It would feel more durable that way too.

Sweepstakes entry received for review.

Purchased this a few months ago with a Mac 15.5" and couldn't be happier. It's easy to us and has been very useful and reliable.

Sweepstakes entry received for review.

lITTLE BOX big deal

tHIS HAD SOME GIMPY REVIEWS BUT ASFTER I GOT IT I LOVED IT ITS SIMPLE IT DOES EVERYTING LARGER MODELS DO AND IT IS TOTALLY SILENT.

Sweepstakes entry received for review.
This is a FANTASTIC external drive!

I bought this drive brand new on eBay at 50% of the full retail price. Talk about a steal! This drive will easily and quietly handle ALL your reading and writing needs! It requires two USB ports to fully operate so you'll need two open ports preferably side by side due to the included cable. That could be an issue for those who have devices with a lack of enough ports. I'm glad the drive is powered this way to avoid a wall wart AC adapter. Highly recommended!

Sweepstakes entry received for review.

Blue ray

Great. Light weight, easy to use. I use mine for video editing.

Sweepstakes entry received for review.

Great!

I bought this drive a month ago - and it is doing well. I gave it 4 stars because it made a lot of noise while reading CDs involved in software installation; however, it was quiet when playing DVDs and blu-rays! Excellent drive and I recommend it.

Sweepstakes entry received for review.
The "Perfect recorder"!

I tested it with a lot of supports: never a fail, fantastic for CD, DVD and BD recording, very quiet in writing, it has been recognized by W7 in a flash. I'm very satisfied and it has a good "aestetic" design too.

Good for ripping

Have used this to backup my bought Blu-ray disc and CDs. With MakeMKV I can rip my Blu-ray discs in about 20 minutes and with a 33 GB output file. The drive is very quiet in operation and seems to work well. I've not actually burned any discs with it yet, but will start backing up my photos at some point, and it's good to know that the M discs should last longer than standard Blu-rays.

Sweepstakes entry received for review.

Just what the doctor ordered!

I installed this in my DELL XPS8700 that had a spare drive bay. Installation of the drive was easy, although I did have a problem with the door on the computer. It wouldn't open to allow access to the drive tray. After a slight adjustment of the drive in the bay, everything works as it should. This drive is FAST! Quiet too! Drivers installed after I booted up and installed the included software. I burned a BluRay disc shortly after I installed the drive and it took it less than 45 minutes to

...

read more

write 22Gb of data. I'd highly recommend this drive to anyone looking to either upgrade or replace an older drive.
Really good performance

I bought this from an ebay seller and it was shipped promptly and was undamaged. But when installing it in my pc I noticed a small piece of plastic on the floor. Then I realized it was part of the sata connection. I don't know if it was a manufacturing defect or my clumsy attempt to connect the cable. I have super glued back on and waiting a day to see if it took. I will let you know.

own it's predicessor

I Own the UH12NS29. I guess it was sitting on the shelf for a while. I'm using Windows 7 Pro. It worked OK after I did the firmware upgrade. The software that came with it didn't work that great, but when I got different software it worked fine! It burns fine, but playback on computer is grainy. It works even worse with Windows Media Player. Playing the same DVD in a home DVD player the same DVD works great. Don't know what to think of that. I hope they dealt with the issues with the UH12NS30 unit

Great Blu-Ray Drive

I Bought this drive with another LG Drive after the two that were purchased for the computer, would not install and gave nothing but problems. i wont give names i am not here to complain about others. I am here to say that this drive and the other LG drive i bought installed easy. i did nothing more than plug them in and turn the computer on. They worked on the first try. I know that might seem trivial or obvious, but think about how many things don't work on the first try, always have a problem

...

read more

or just plain don't work. Karma Exists and i give credit where it is due, whether it is good or bad. LG i own a lot of your products. (TV's, Cell Phones, Computer Products and more). You have never done me wrong. Thank you.
LG Product Service and Support
Get your questions answered about product setup, use and care, repair and maintenance issues. We can help.
Telephone
Call an LG Support Representative.
(800) 243-0000 Consumer (7am-midnight CST)
(888) 865-3026 Commercial (8am-6pm CST)