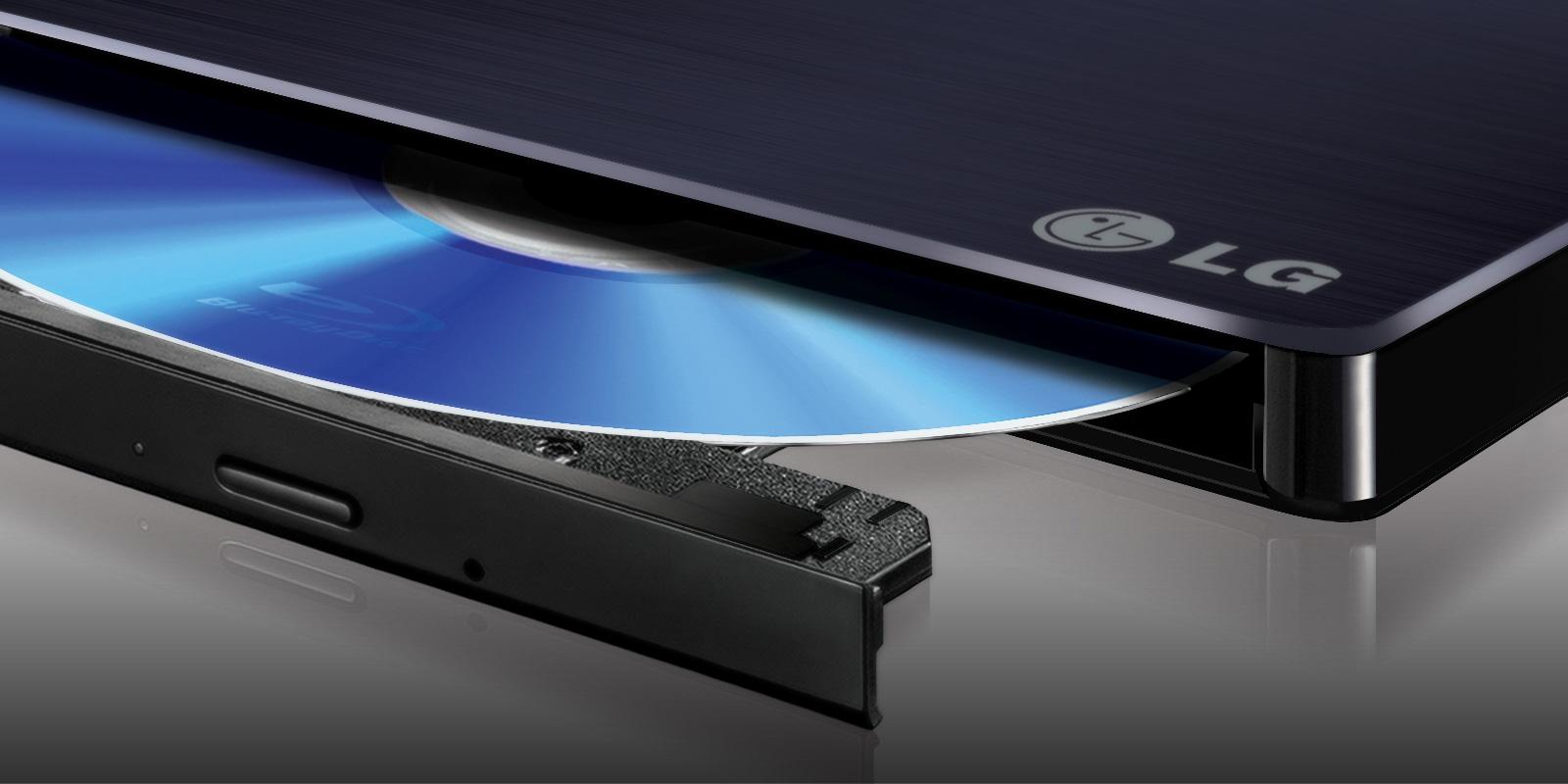 LG Burners & Drives
Discover unmatched data storage and entertainment solutions with LG Blu-ray burners and drives.
Store & Manage with Security & Ease
Count on high performance and reliability with LG DVD burners and drives, designed to secure your data with the speed and power you expect from LG
Selecting a checkbox will update the products displayed on screen.
Refine Your Search
36
Total Results
Burners & Drives
Protect those important files and secure your memories with backup solutions from LG. LG's drives and burners boast features like 10X faster USB speeds, Cinema 3D playback, unparalleled storage capacity and more.
WHAT CUSTOMERS ARE SAYING
Average Rating for Burners & Drives
So far, so good.

Needed a burner for my IMAC. Some people said that even though this drive does not list Mac it will still work. So...I took the chance and yes...it works just fine. No need to install software. My imac did not see it on desktop....but it recognized it when I was ready to burn from FCPX. I did get an error message toward the end of processing...but just selected "burn again" and it worked quickly...quietly and quality is quite good.

Amazing Product

This product is great to do anything with blue-ray and more! I only had one problem that took me 30 minutes to know what was going on. I know computers and have worked with them for a long time. Its wasnt big for me, but other I can see having problems. When I opened it and connected it to the computer and tried to installed the driverrs and that, that came on the cd, I ran into a problem. The cd said does not support the device. I had togo to the LG website and download a fireware update for

...

read more

the device! and then i was able to instal;l the driver. I should not have to do that!! It was a poor part on LG for that. Othere then that minor problem which i had no problem doing. I was thingking of the the other people that would run into this problem. Its a fantastic product and would get another one.

Works great with a Mac

As a photographer, I can capture quite a lot image files. Burning off to DVD, I have well over 500 DVD archives. Blu-ray was the next step, but I was a bit nervous due to reviews stating they had issues on a Mac platform (like it didn't work). I decided to give this LG writer a try-out. No issues at all (using Toast). Over 23GB of data written in about 7 minutes, verifying took just about 15 minutes...faster than burning a DVD on my MacBook Pro super drive (yet 6 times the data!). So, yep! I'm a happy camper!
own it's predicessor

I Own the UH12NS29. I guess it was sitting on the shelf for a while. I'm using Windows 7 Pro. It worked OK after I did the firmware upgrade. The software that came with it didn't work that great, but when I got different software it worked fine! It burns fine, but playback on computer is grainy. It works even worse with Windows Media Player. Playing the same DVD in a home DVD player the same DVD works great. Don't know what to think of that. I hope they dealt with the issues with the UH12NS30 unit

My first Blu-ray drive and I love it!

I have been using this Blu-ray BD-Rom DVD combo for a couple of months and it has given me a flawless performance.It is great for watching movies on my pc.

Excellent blu ray dvd recorder/player

This is a great device as usual from LG. The product has more features than others costing more. the customer service from L:G is always great, and their web site is the easiest to use I have seen. Well worth the money. I always use LG, been burned too many times by other brands.
lITTLE BOX big deal

tHIS HAD SOME GIMPY REVIEWS BUT ASFTER I GOT IT I LOVED IT ITS SIMPLE IT DOES EVERYTING LARGER MODELS DO AND IT IS TOTALLY SILENT.

Sweepstakes entry received for review.

Purchased this a few months ago with a Mac 15.5" and couldn't be happier. It's easy to us and has been very useful and reliable.

Sweepstakes entry received for review.

Very good little DVD writer!

I've only used it 4 times now, but so far so good. I use it with a Mac and iTunes to RIP the last few CDs I own. No problems. Just plug in the USB cable and it works. I gave it only 4 stars because of the plastic casing. I'd pay more for the item if the body was made out of recycable material, like aluminum. It would feel more durable that way too.

Sweepstakes entry received for review.
The "Perfect recorder"!

I tested it with a lot of supports: never a fail, fantastic for CD, DVD and BD recording, very quiet in writing, it has been recognized by W7 in a flash. I'm very satisfied and it has a good "aestetic" design too.

I am so happy .. I went and bought another one

I purchased one of these drives 8 months back for my Windows desktop and since then I have burned over 125 plus BluRay discs for my photography business. Its perfect every single time and no coasters. So when time came to add an external BluRay burner to my iMac I went and bought another one of the LG BluRay burner and paired it with Vantec NexStar DX External USB 3.0 Enclosure. iMac recognized this drive with no issue, works perfectly with PlexDisc 6x Blu-ray every single time.

Great product!

Stayed with a winner when I needed to upgrade a failing drive. LG BD burner is exactly what I was looking for when balancing value and price.
I wish that DVD-DL was writeable at ×16.

DVD-DL reading at ×12 and writing at ×8. BD-R MDisc SL at 4x CLV but DL at 6x CLV. BD-R writing at 16x but reading only 12x? CD-RW only 24x? Why not 32x? Good drive, but I do not understand these limitations.

Sweepstakes entry received for review.

Excellent back-up drive.

Rating for the device itself: Excellent. Rating for the accompanying software: Good. Install time was very quick (maybe, 10 minutes). Fit and finish is good within the existing case. Immediately used to back up an existing NAS box over GigE on the corp net. Took about 10 hours to back up 1.2TB of data, no issues whatsoever - clean and fast and quiet backup. I like the fact that it can burn 100GB M-DISC BDR blanks - these are excellent for archive storage and have a very long lifespan,

...

read more

so I know our data is safe in offsite-storage.

Sweepstakes entry received for review.

Great product!

I've had an exterior LG Blu-ray Disc Drive (BE14NU40) for several years now. I wanted an interior version. Since I've had such great service from the exterior model, I decided to purchase an interior model. I had it about a month now and couldn't be happier with it. I have no doubt I will get the same service from the new one as I have from the older one. Great product!

Sweepstakes entry received for review.
So far, so good. No errors even on cheap media.

So far movie playback has been flawless. The few data discs that I've created have burned correctly (verified by third-party data copy/move/verification software in addition to the burning software) and are working as expected despite being on cheap house-brand 4x BD-R media. One of them was even created at 12x write speed by accident and is fine. Hopefully the drive lives up to reviews of it and its' 16x successor, so far it hasn't let me down at all aside from cost of related software (which

...

read more

it was clearly labeled OEM, so not the drive at fault).

Best thing in optical since optical came out

The storage capacity is amazing and perfect for me and my movie and music collections. It was awful having to spend and spend on hundreds of CD's and even DVD-DL's for this. Not only is the storage capacity fantastic, this thing works beautifully out-of-the-box on Linux. This is another main important feature for me since I will not ever use Microsoft's OS's ever again. It's fast, quiet, and even the eject button is much nicer and easier to hit than any other similar device on the

...

read more

market. This thing simply made life easier for me and the price was extremely nice too since I live on a pittance of a disability check and can't afford these things just any ol' time I want one - cheap or not!

This product works very well

This product works very well. The only problem I had with it was the fact that it did Not come with any software. I purchased it as a stand-alone OEM unit. I was able to Burn and Read Blu-Ray Discs as well as normal/regular DVD's. I have Not had any problems with it. I have software that I can use with it, but I am still looking for the best freeware for it. Next time I think that I will pay more for the Non-OEM version so that I can begin using it right after I Install it.
Stylish looking!

I'm coming up on a month now since my purchase of my unit and have not been dissappointed. It does have a large footprint but I managed to make it work in my situation. It's quiet, stylish and the features are awesome. I was up and running in 2 minutes after plugging the power cable and USB cable.

Sweepstakes entry received for review.

Mac Compatible external Blu-Ray, M-DISC, 3D compat

I bought this unit so that I could back up data using a Windows PC as it did not advertise macOS compatability. I decided to try it out with my MacBook Pro and it recognised the drive flawlessly. There is no need for any 3rd party software - it works out of the box (I ran it on a Mid 2012 MacBook Pro i5 2.5GHz, 16GB, macOS 10.12.6). You will need to get some playback software from the net, but there are plenty of options out there now. I have since tried it on my Mac Mini and have had no issues

...

read more

whatsoever. The read and write speeds quoted are accurate and I normally get about +5% more than these actual speeds. Complaints from other reviews about excessive noise have not presented themselves yet. This is a visually slick looking, quiet, quality burner which does what it says on the packet.

Sweepstakes entry received for review.

Great BlueRay Player

Instructions were pretty straight forward and the device connected to my Laptop with no issues. The player and software are performing as described by LG. I still have to test out the BlueRay writing option. Wish the unit was smaller for easier portability.

Sweepstakes entry received for review.
Blue ray

Great. Light weight, easy to use. I use mine for video editing.

Sweepstakes entry received for review.

Very pleased.

So far so good. Pleased with this refrigerator. Smaller unit than our last one, but roomy enough for our needs. Only drawback are the funky noises it makes. Still not sure if they are all attributable to the ice maker - which is working perfectly fine.

Sweepstakes entry received for review.

Excellent cleaning features, Easy to read buttons,

I purchased the LG Washer (my first experience with LG) over a year ago and every time I do the laundry, I tell myself this is the best investment I could have made. Multiple wash cycles provide easy ways to clean various fabrics and I love the bulky and delicate features. The machine is a work horse but you hardly know it's running.

Sweepstakes entry received for review.
Works well

I bought this for cd transfer to my computer and to play dvds on my computer. It worked well

Sweepstakes entry received for review.

Dvd Writer

Highly efficient and extremely fast - good product!

Great Product!

I ordered a laptop without a CD writer/reader because it is seldom used and another item to get broken on the laptop. I do take it along sometimes if I think I'll need it but most of the time I leave it at home and use it when needed. My personal thoughts on the matter is CD writer/readers were very important for backups and such but with USB drive with much more storage space, the CD writer/reader is seldom needed.
LG Product Service and Support
Get your questions answered about product setup, use and care, repair and maintenance issues. We can help.
Telephone
Call an LG Support Representative.
(800) 243-0000 Consumer (7am-midnight CST)
(888) 865-3026 Commercial (8am-6pm CST)