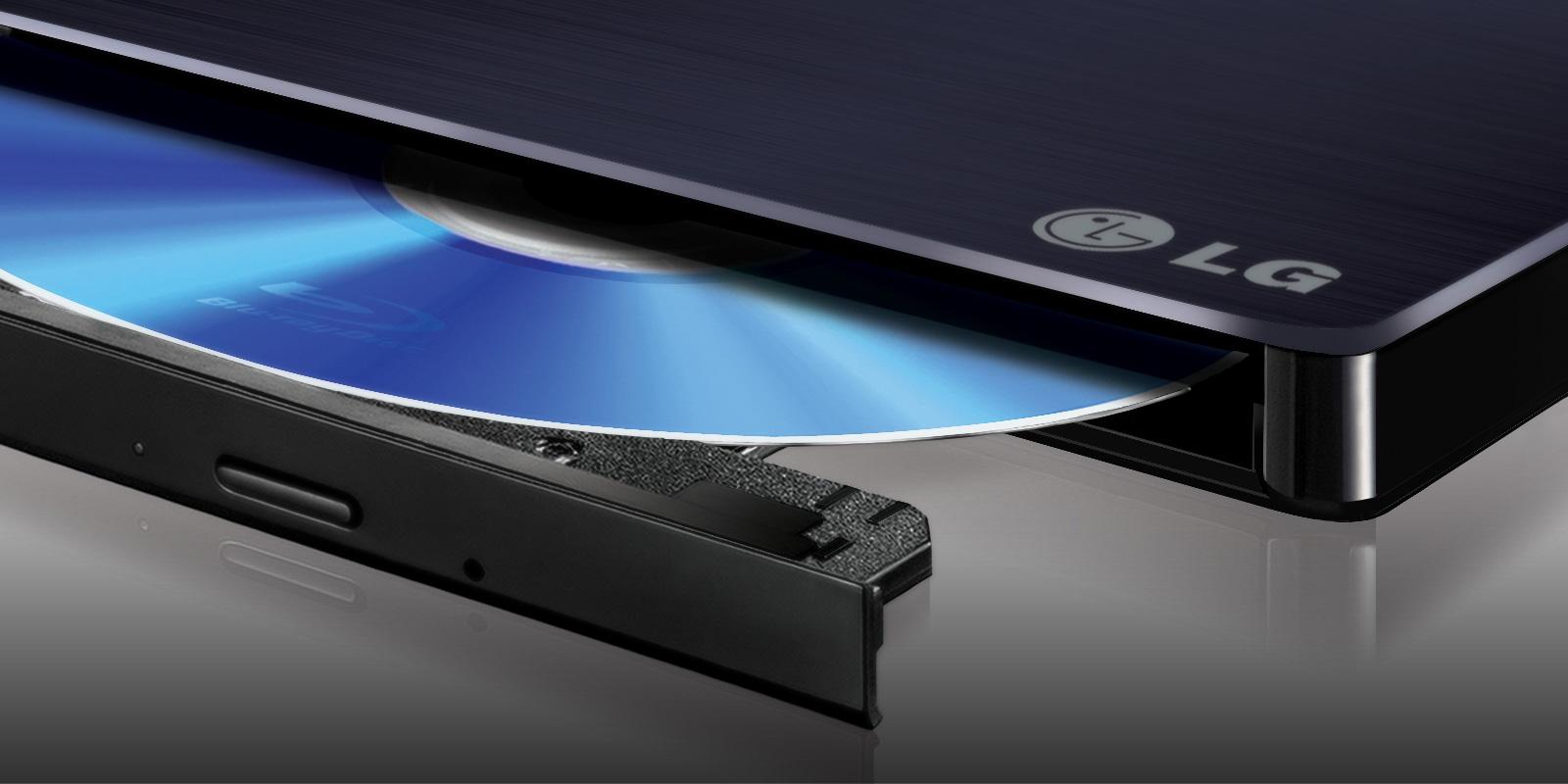 LG Burners & Drives
Discover unmatched data storage and entertainment solutions with LG Blu-ray burners and drives.
Store & Manage with Security & Ease
Count on high performance and reliability with LG DVD burners and drives, designed to secure your data with the speed and power you expect from LG
Selecting a checkbox will update the products displayed on screen.
Refine Your Search
36
Total Results
Burners & Drives
Protect those important files and secure your memories with backup solutions from LG. LG's drives and burners boast features like 10X faster USB speeds, Cinema 3D playback, unparalleled storage capacity and more.
WHAT CUSTOMERS ARE SAYING
Average Rating for Burners & Drives
Just what I needed

Ultra portable drive that plays numerous formats when I am on the road. Software for school, Blu Ray for relaxing times, and CDs to import - this drive does it all!

Sweepstakes entry received for review.

Plug n play

Handy drive s,all enough to fit in my backpack and briefcase no matter where I'm going to get some work done. Software it comes with is very functional.

Sweepstakes entry received for review.

I LOVE ❤️ this DVD Player right now I do NOT have ANY Blu Ray Dvd's YET, But I like the fact that it STILL plays NON-Blu Ray Discs, I only WISH that it also PLAYED The BLANK Homemade Recorded DVD's, otherwise its a great player just the SAME.
Has stood the test of time

I bought this over 5 years ago and have used it at least 10 times a month since that time. It has never failed me yet. I know for a fact that if and when it gives up the ghost I'll be buying another LG external burner. It is running fine at the present time with Windows 10 as an operating system - no issues at all

Sweepstakes entry received for review.

Great value for the money

I recently purchased this drive because my cpu drive wont write any more. I had it hooked up and working in a heartbeat. It is very easy to use, sits easily on my computer desk, and is compatible with Windows 7(my OS recognized the hardware immediately and installed; it did however, cause a problem when I inserted the actual installation CD because the hardware was already installed, but it was easily fixed). I love the lightscribe feature and use it all the time instead of writing on the discs.

...

read more

That featrure was a MUST for me because I have it with my other drive that doesn't write any more. It burns very fast. I love it! "Life is Good" again!

LG External Burner & Lightscribe

I bought this burner so that I could convert my family VCR's on to DVD's and make copies for other family members. It is working great. I am a little bit dissapointed in the lightscribe part of it as I guess I thought it would do a better job and it seems to take a long time to finish one. Otherwise the burner is great. Thanks
Stylish looking!

I'm coming up on a month now since my purchase of my unit and have not been dissappointed. It does have a large footprint but I managed to make it work in my situation. It's quiet, stylish and the features are awesome. I was up and running in 2 minutes after plugging the power cable and USB cable.

Sweepstakes entry received for review.

Lacks ability to work with VGA projector

I bought to connect with my VGA projector, my computer has both a HDMI and VGA output. I have the VGA output connected to my projector and the HDMI output connected to a computer monitor. The computer can easily switch to ether or both outputs. The LG Blue Ray disk drive does wonderfully well when run with the monitor, however, when I attempt to use the projector I get and error stating that it cannot play because it is not connected to an HDMI port and does have the rights to show through a VGA

...

read more

output. I was going to return it but decided that it was a good drive and it may be a CyberLink software problem, Nothing wrong with the drive. I would advise my friends to buy it if the have a HDMI projector because it is does work well and is economical.

Sweepstakes entry received for review.

It works well

I purchased this about six months ago, and I've been able to burn Blu-ray and DVDs equally in under an hour for most movies that I have created on my computer. One I have created the movie on my computer, burning it to a Blu-ray or DVD is easy with my LG M-Disc burner.

Sweepstakes entry received for review.
One GREAT BD drive

I ordered this so that I could burn Blu Ray discs. It has proven to be one GREAT burner. I am sure it will be useful for many years to come. It includes litescribe technology which is a must nowadays. It is durable and yet light weight installed in seconds. One great burner for the cost. BRAVO

Reliable

I have had this drive for quite a while as hardware goes, and it has worked flawlessly the entire time. The software that came with it is really useful, especially for the Blu-Ray function which wasn't offered in my machine at time of purchase. My only complaint is that it can't open the tray past the little spring loaded door on the faceplate. Not a big deal for me but worth mentioning.

Solid drive

I only got this particular unit because it was the only one the store had. Lucky break for me. This drive is great. I've burned several types of media with it so far without problem, but where this thing really shines for me is in it's ability to extract audio CDs! I listen to a lot of audio books because I drive a lot for work. I hate bringing my original CDs because they are a bit bulky, and they are expensive to replace if damaged, so I like to copy them to my MP3 player. Unfortunately, I

...

read more

have one particular series that doesn't like to rip very well, about 3 of every 5 CDs has huge problems ripping the last 1 to 3 tracks, leaving the resulting files unusable - until now! This drive will certainly slow down with these problem tracks, but the resulting files still sound perfect! To LG I say "THANK YOU for building such a reliable drive!" I will certainly buy LG equipment again.
Great value overall, but room for improvment.

Lots of good features, but missing a few things I'd like to have. Linux NFS support for one. This is my biggest beef. Windows file sharing is just plain slow compared to NSF when backing up from my server or Linux workstation. Please, please add NFS support in a future update...... The web server works, but was unable to use it for a simple accounting web site, (Phreebooks) even though SSL and mysql is supported. Lack of cURL support was the major show stopper. Openssl and php ftp support were

...

read more

also lacking but those were not as critical. Not what I bought the NAS for, but would have been a nice bonus had it worked. Perhaps a future firmware update will address this. One issue I did have was, DLNA did not work out of the box, but a firmware update took care of that just fine. I recommend getting the latest from the support site. Performance when accessing the NAS via web portal is Sluggish, not what I'd want in a work environment, but just barely acceptable for home use. A faster CPU would be great. Overall, a good product. Great for home users, but a little lacking in performance and features for business or power users.

N2R1D

Had it up and running on my network in about 20 minutes. Changing the router settings to enable remote access was more challenging because the UPnP Port Forwarding feature did not work for my router. Very quiet with not a lot of heat output. I have seen some reviews stating this unit has Wi-Fi built in - it does not. The web interface menu is nice and clean. An automatic check to see if it has the newest firmware would be nice. Overall I am very satisfied with my purchase and would/have

...

read more

recommended this item to friends and family.
speedy burner

This burner is QUICK!! Easy to hook up and straight forward operation. Burns DVD super fast. Don't let the 24X fool you.

Great DVD-RW

Purchased this drive to replace a dead internal drive. Installation was simple and quick. USB connectivity allows me to use with laptop and small footprint allows me to take it on the road with me. Great drive at a great price.

Quality item that set up & works out of the box.

This item was so easy to put in service, I wasn't sure it was ready to use. Our Mac computer read it and loaded the software from the site. It has worked flawlessly since we purchased it 2 months ago. It is used daily many times in our business. Faster than expected.
Very pleased.

So far so good. Pleased with this refrigerator. Smaller unit than our last one, but roomy enough for our needs. Only drawback are the funky noises it makes. Still not sure if they are all attributable to the ice maker - which is working perfectly fine.

Sweepstakes entry received for review.

Blue ray

Great. Light weight, easy to use. I use mine for video editing.

Sweepstakes entry received for review.

Excellent cleaning features, Easy to read buttons,

I purchased the LG Washer (my first experience with LG) over a year ago and every time I do the laundry, I tell myself this is the best investment I could have made. Multiple wash cycles provide easy ways to clean various fabrics and I love the bulky and delicate features. The machine is a work horse but you hardly know it's running.

Sweepstakes entry received for review.
Great product!

I've had an exterior LG Blu-ray Disc Drive (BE14NU40) for several years now. I wanted an interior version. Since I've had such great service from the exterior model, I decided to purchase an interior model. I had it about a month now and couldn't be happier with it. I have no doubt I will get the same service from the new one as I have from the older one. Great product!

Sweepstakes entry received for review.

Excellent back-up drive.

Rating for the device itself: Excellent. Rating for the accompanying software: Good. Install time was very quick (maybe, 10 minutes). Fit and finish is good within the existing case. Immediately used to back up an existing NAS box over GigE on the corp net. Took about 10 hours to back up 1.2TB of data, no issues whatsoever - clean and fast and quiet backup. I like the fact that it can burn 100GB M-DISC BDR blanks - these are excellent for archive storage and have a very long lifespan,

...

read more

so I know our data is safe in offsite-storage.

Sweepstakes entry received for review.

I wish that DVD-DL was writeable at ×16.

DVD-DL reading at ×12 and writing at ×8. BD-R MDisc SL at 4x CLV but DL at 6x CLV. BD-R writing at 16x but reading only 12x? CD-RW only 24x? Why not 32x? Good drive, but I do not understand these limitations.

Sweepstakes entry received for review.
Best product for the price

It was a direct plugin and replaced and dvd drive. The drive works without a flaw. The price was what attracted me and the brand is one I trust. Each of the products that I own that are LG work great and I would not hesitate to purchase some of their products. Blue Ray is the way to store a great many photos that can be displayed anywhere. Keep up the great work guys. and thanks

Internal burner using as external on my laptop

Bought this Blu-ray burner to burn movies that I download off the internet. The Blu-ray discs hold almost five times as much data or video as a DVD disc! If you search you can find the Blu-ray discs almost as cheap as DVD discs. With a sata conversion cable I purchased online I am using it with my laptop, which brings the price down a lot as compared to an external burner!!

Best BD Drive for the Money

This drive is quiet, responsive and fast. I am now able to enjoy BD Disc's as well as CD's and DVDs without having to worry about if my drive will play it or not. As for writing, its quick, accurate and reliable. It has no problem working with my creation software or my player software. The Audio and Video output are Top Notch. I don't know if I'll ever use the M Disc feature, but it sure is nice to know its capable of reading and writing those disc. Overall, this is the best money I've spent in

...

read more

a long time, I can't say enough good things about this performer. Kudos.
LG Product Service and Support
Get your questions answered about product setup, use and care, repair and maintenance issues. We can help.
Telephone
Call an LG Support Representative.
(800) 243-0000 Consumer (7am-midnight CST)
(888) 865-3026 Commercial (8am-6pm CST)