Give the gift of HORROR
The only thing to fear is missing out on a special price for the television experts call the best ever.
LG OLED TV with AI ThinQ®
Serious Picture Quality. Serious Innovation.
"...sets the standard against which all high-end TVs will be judged." CNET, 5/1/18
LG TVs are rated by Consumer Reports

Find out how they stand out against competitors.

All OLED TVs come from LG
World's #1 OLED

LG OLED TV with AI ThinQ uses the latest panels, with brighter, self-illuminating pixels that truly deliver the Best. TV. Ever. In fact, all existing OLED TVs come from LG.

LG Home Theater
TVs, Sound Bars and Beyond
A dream home theater is closer than you think. With stylish, high-performance products, LG has the inspiration you need to transform any room.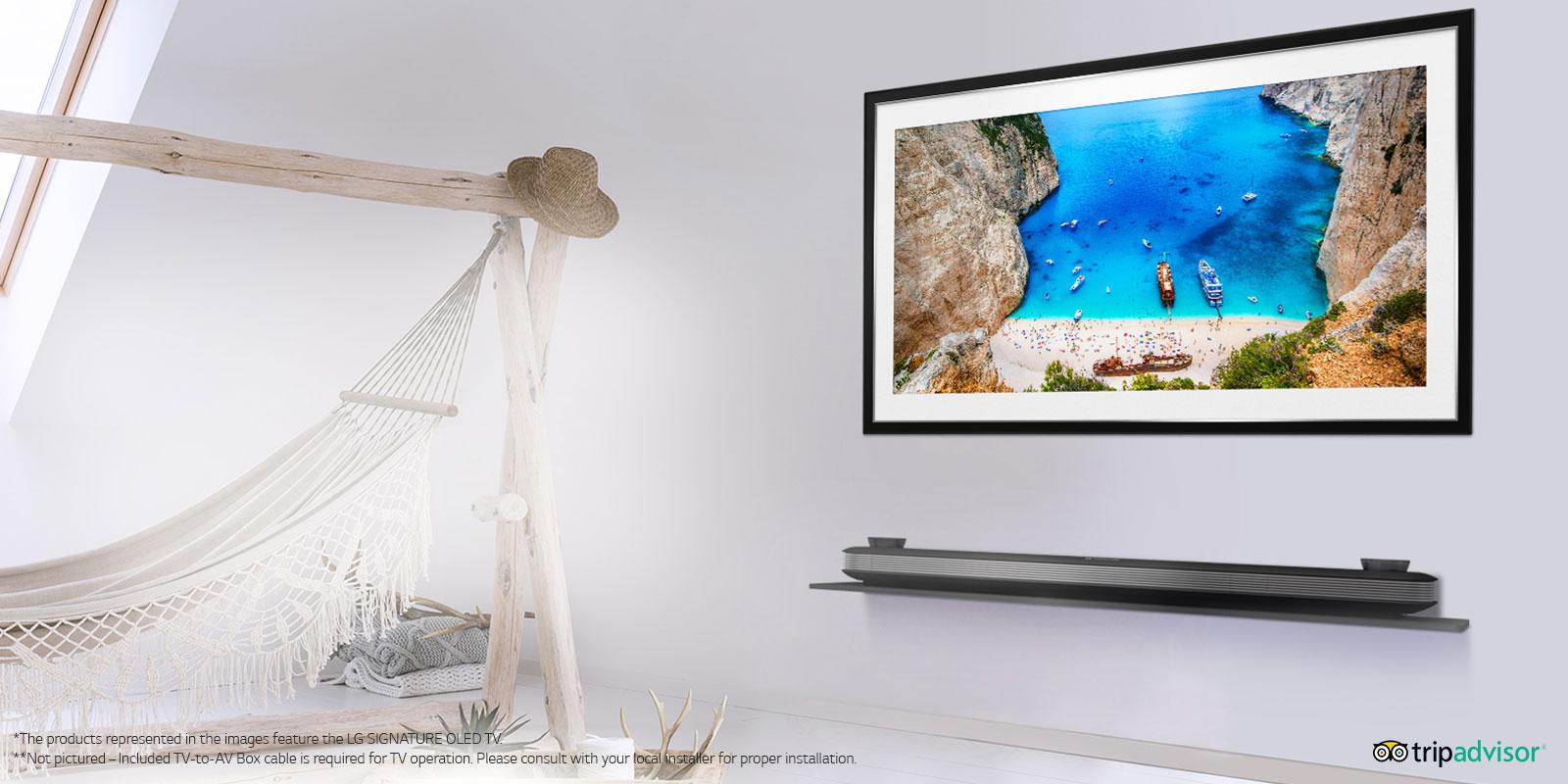 Vacation Frame of Mind
Gallery Mode
Travel the world without leaving home with the scenery of famous places, updated for every season by TripAdvisor.
LG OLED E8 TV
Elevate your Home with Glass
See how interior designer Sarah Sherman Samuel used the LG OLED E8 TV as the centerpiece of a functional, elegant and beautiful space.
Selecting a checkbox will update the products displayed on screen.
Refine Your Search
14
Total Results
OLED TVs
Boasting the latest panels with brighter, self-illuminating pixels and stunning color for the Best TV Ever—plus, incredibly smart AI ThinQ® & alpha 9 processor—LG OLED TVs create a home entertainment center unlike anything you've ever experienced.
WHAT CUSTOMERS ARE SAYING
Average Rating for OLED TVs

It's too early to tell.

Have not yet had the time to check-out all the features. So far, it seams to be a great TV, but have been disappointed I can't get the remote to control the cable box, and there should be a way to get a "frame" around my personal photos.

Sweepstakes entry received for review.

My best purchase yet

I bought it for Christmas 2016 after researching many different brands/tvs. 9 months later I couldn't be happier with my purchase. The pic is great. OLED by far was the way to go. Getting the 3D with the curved was screen was just an added bonus over the flat version. I have really no complaints about this tv. I wish I had another for my bedroom.

Sweepstakes entry received for review.

Terrific picture and performance

I bought this oled tv in early 2017 and can honesty say it is the best set I have ever owned. 4k HDR picture is stellar, as is the upscaling from standard dvd or bluray sources. The 3d picture is stunning and the control interface is very responsive. I'm glad I bought this when I did since it is the last 3d 4k tv LG made. The sound could be better but since I have a home sound system. this doesn't affect me.
Redefines TV

I've had this amazing "TV" for about a month. It replaced a very nice 50" LG plasma unit that still performs like new. 4K OLED is so much better that we are calling it "SVI" (spectacular video display)! Our viewing experience has jumped to warp! Everything looks incredible, from over the air broadcasts to BlueRay disks to even apps like Sling! My wife was a bit hesitant to spend that much, but she's now a complete advocate. Best electronics purchase we've ever made!

Sweepstakes entry received for review.

Best TV I have ever had!!

This TV is amazing with the OLED screen and 4K HDR & Dolby Vision!! The only issues I have it lack of documentation of all the features on how to tweak the picture quality and the remote is a weird shape. Otherwise love this TV! Keep up the good work and hopefully one day OLED big TV's will be more affordable.

Sweepstakes entry received for review.

Amazing Picture!

I bought this tv for my husband and we have both been blown away by the picture. This tv is truly amazing, it's like you are right there in the action. The color and clarity are unbelievable. We really enjoy this tv and every night is movie night now lol. Awesome TV!

Sweepstakes entry received for review.
beautiful picture

This tv is perfect for watching movies, sports, etc. Especially, Disney animated movies. There is no blurry while watch sports, playing games, or any action movies. Also easy to set up various picture mode and very convenience to use remote. The price is kind of expensive but it's worth it if you the person who love watching movies, sports, and playing games.

Sweepstakes entry received for review.

Absolutely Amazing Picture!

The picture on this tv is jaw-dropping. I was a little concerned about burn in, but the 2018 version has a screen saver for paused content and automatically dims static images during streaming video content. I have never seen pure blacks juxtaposed by bright refracted light shining from a street light on a television before... you will understand what I mean if you watch Ozark on Netflix in a dark room on the C8. The AI function which allows you to speak into a microphone on the remote makes

...

read more

searching for specific content very simple as well. I don't believe that any other 4k tv currently on the market can stand up to the lifelike depth, contrast, and richness generated by the Alpha 9 processor on the 2018 LG OLED C8 and above. It may be pricey.... but, WOW!

Sweepstakes entry received for review.

Great blacks, thin screen, but one gotcha...

Moving up from a vizio 2014 M 4k tv to an OLED 4k tv with HDR from LG. Very happy with my purchase but buyers need to be aware of one thing, dimming in HDR content. The tv algorithm for dimming the screen is rather agressive. Do a google for LG C8 HDR dimming and you'll read about it as well as see examples. It is noticeable based on content. I still think the tv is awesome and the best you can get right now, but I wish you could disable the dimming with HDR content or maybe extend the time before it kicks in.

Sweepstakes entry received for review.
Most enjoyable overall

The picture is excellent. Sound v.g. but some trouble with max sound not loud enough.

Sweepstakes entry received for review.

Great Image, but Received It with Burn In

I was happy when I got my 1st new TV. Picked it up in Sept 2017, but noticed a rectangle burned into the scree. It was only visible on bright, solid color screens.

Sweepstakes entry received for review.

#1 in every category

This is by far the best television I have ever purchased. I have compared my TV to "larger" models of ordinary 4k and this television far exceeds their picture quality. I will never purchase anything other than LG's OLED. Don't bother with Samsung's QLED or Sony's version...LG has them beat without even trying.

Sweepstakes entry received for review.
Amazing tv

Superb quality, blacks makes everything pop, hdr colors are awesome. You cannot go wrong with this tv, I fully recommend it.

Sweepstakes entry received for review.

blacks in picture

very much enjoy the picture. Just moved and had to remount the TV it's super light compared to my other TV's

Sweepstakes entry received for review.

Far superior to all other HD TV's.

Amazing picture with advanced OLED technology. The smartest way to control all your internet streaming and local stored media.

Sweepstakes entry received for review.
Superb Picture/Remote Issues

I love the sharp vivid picture, however, the remote seems to unpair on it's own quite frequently. In looking online, this appears to be a known issue. Makes using the Smart Features a hassle.

Sweepstakes entry received for review.

What a TV

At times as we watch movies we feel we can get up and touch the people. There is an inhewrent 3D effect in the TV that is absolutely phenomenal. Great buy from QVC at least $700 below other offers. Only regret is we should have purchased a C version rather than the B we picked and we could have enjoyed the pictures available when the screen is off.

Sweepstakes entry received for review.

Extremely nice picture

I've had this a couple of weeks, and I enjoy the set very much. I've done a little experimenting with the settings, but not in depth. I would like to differentiate the black areas a little more. It's not as defined as I think it can be (hopefully). The menu is not cluttered in my opinion, but I need to learn a little more about the various picture modes.

Sweepstakes entry received for review.
Beautiful picture

Initially I was apprehensive about the price but so far I have Been very happy with the purchase because of the excellent picture and tech features.

Sweepstakes entry received for review.

Replaced Pioneer Elite Pro Plasma - and much bette

Bought this 2 weeks ago and find it even better than my Pioneer Plasma Elite Pro. No manual accompanied the TV but found one on line (pain).

Sweepstakes entry received for review.

The Picture is awesome.

I bought this television after we had a lot of trouble with our previous non-LG set. I was having trouble finding a set with a solid base and not just feet at the far ends of the picture. This set was about the 5th one we looked at and the picture blew us away. Now I have the set on the tv stand and the great picture. The smart tv function was a little awkward to set up and I haven't spent a lot of time reading about it and getting familiar with it, but that will come. I like

...

read more

that Netflix and Amazon buttons are right on the remote.

Sweepstakes entry received for review.
Great features and intuitive interface

Best Buy purchase. 4k picture is amazing. Very little glare from lighting in living room. Simple remote does what I need because interface is so good. Wired and wireless network connection works great. Streams off my Synology NAS using PLEX media server reliably and was easy to setup with software available on LG content store. Store has a bunch of useful apps. Android remote control app is to use, setup, and reliable. Highly recommend overall.

Sweepstakes entry received for review.

very satisfied

i am extremely happy with my choice to purchase this tv the resolution is amazing and i look forward to the end of my day to relax and unwind watching my tv

Sweepstakes entry received for review.

Spectacular viewing

This picture is so crisp it is almost unbelievable; and the color is so true to life. This is the most AWESOME television on the market; no other television even compares!!! And because it is also a smart TV it has almost endless features that allow you view in so many different formats. The only limit to this TV is your imagination.

Sweepstakes entry received for review.
Amazing - Just connect it properly to your gear

I love this TV, it took some time to make sure my equipment worked correctly so do your due diligence. Make sure all gear can pass a 4k/HDR signal. I opted to bypass switches and run directly to the TV. Use a hub for equipment that can't broadcast 4k/audio, etc.

Sweepstakes entry received for review.

Superb Viewing Experience

The quality of the picture is almost startling. It actually has taken a little time to get used to the true 4K material as it almost looks "too real". It is a substantial improvement over my previous HD led set. And the thing about truely black blacks has made more of a difference than I had anticipated. Wish it had an analog sound out port as my nice headphones do not link up to the optical audio out without yet another box and cord. I have enjoyed the smart tv functionality with YouTube,

...

read more

Amazon Prime, and Netflix streaming. Be sure if you get the LG wall mount bracket that you have 16" stud spacing.

Sweepstakes entry received for review.

Great Features

I bought my LG 65" OLED C7 Series 2160p Smart 4K UHD TV with HDR a few months ago and I'm very happy with my purchase. The TV has crisp, clear picture quality from various viewing angles, good overall sound quality, and the setup was extremely easy.

Sweepstakes entry received for review.
LG Product Service and Support
Get your questions answered about product setup, use and care, repair and maintenance issues. We can help.
Telephone
Call an LG Support Representative.
(800) 243-0000 Consumer (7am-midnight CST)
(888) 865-3026 Commercial (8am-6pm CST)