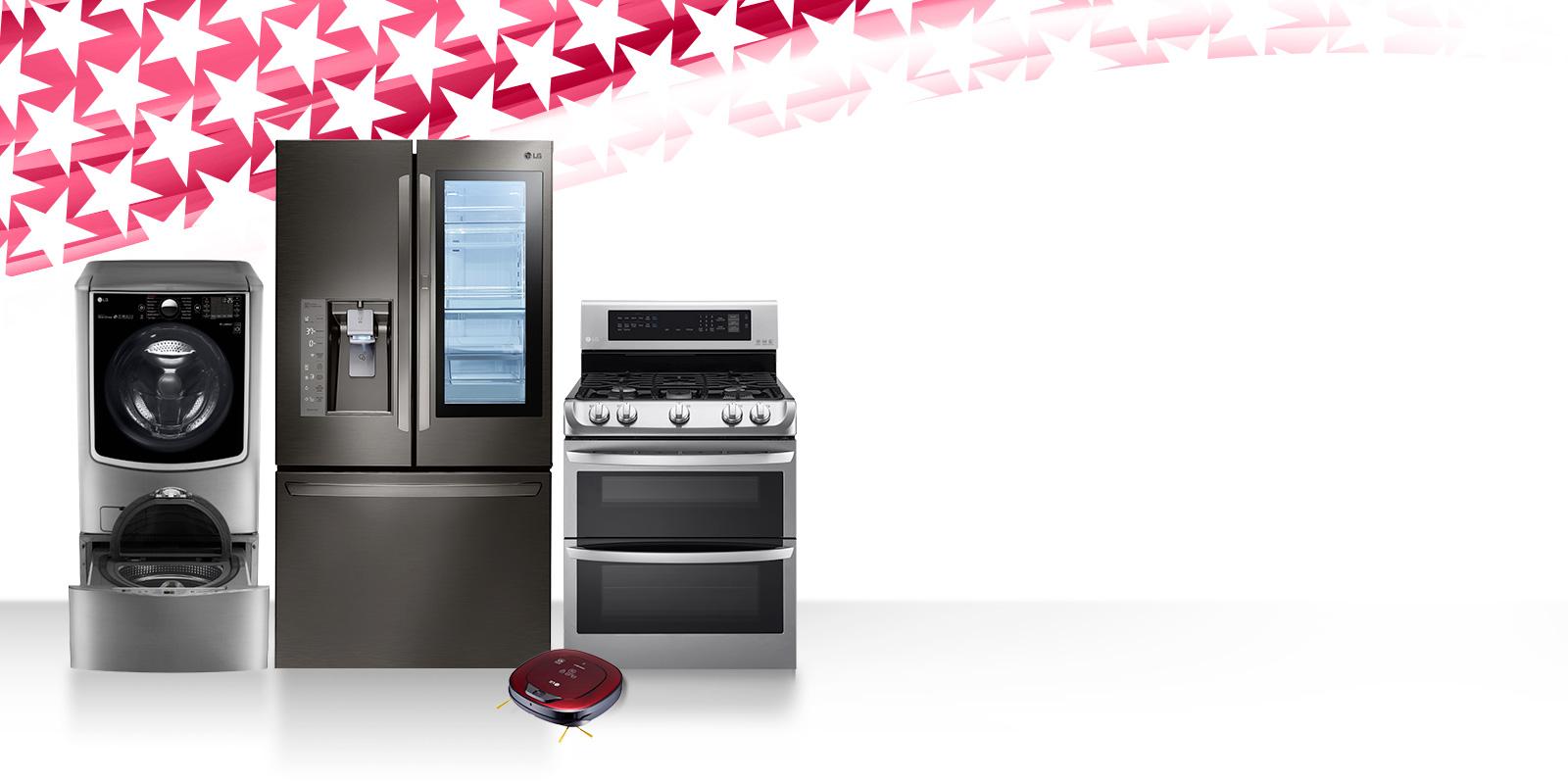 President's Day Savings
Don't miss out on special President's Day savings on qualifying LG Home Appliances.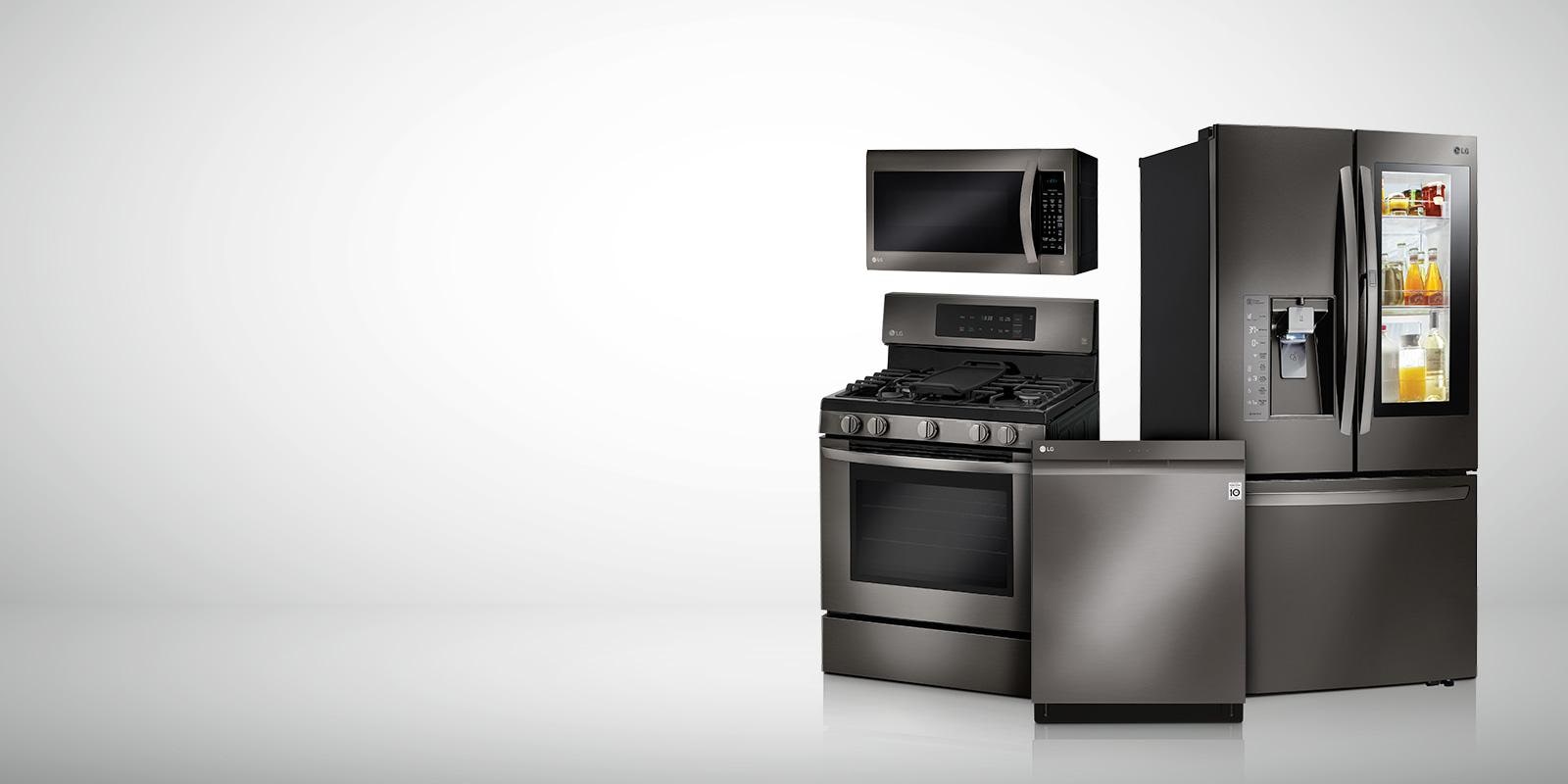 Buy More Save More Kitchen Bundle Offer
Get an LG Visa® Prepaid Card worth up to $500 by rebate when you bundle eligible LG and LG STUDIO Kitchen Major Appliances.

A sparkling review for the LG LDF5545BD dishwasher
J.D. Power Award Winners
"Highest in Customer Satisfaction with Dishwashers"
Welcome MATTE
Experience the style of LG's exclusive MATTE Black Stainless Steel appliances.
"One of the best affordable dishwashers...
we've ever tested." – Reviewed.com. The LG LDF5545 Dishwasher Series won the Editor's Choice award from Reviewed.com for its innovative features and affordable price.
Enhance Your Clean
Doing the dishes just got easier with the new LG Dishwasher Collection featuring innovative QuadWash™.
TIMELESS.
BOLD. YOU.
Make a statement with LG STUDIO appliances and enhance the look of your home with timeless appliances.
Selecting a checkbox will update the products displayed on screen.
Refine Your Search
2
Total Results
Dishwashers
Simplify your life, streamline your kitchen and get spotless, sparkling dishes. LG's sleek, powerful dishwashers feature innovative technology and stylish designs -- for faster cleanup and a look you'll love.
WHAT CUSTOMERS ARE SAYING
Average Rating for Dishwashers
Good product

My contractor told me about this product that he used in another kitchen, and told me they really liked it. I decided to give it a try and am glad I did, it looks really good in the kitchen and the best part is how quiet it is, you don't even know it's running.

Sweepstakes entry received for review.

Almost sound proof

Worked fine until last month. Soap dispenser had to be replaced. Choose repair Co. from LG web page. AG Appliance did a great job

Sweepstakes entry received for review.

A great cleaner

I wife and I find the LG to be a excellent machine very quiet but we do have one complaint it appears that when we push the bottom rack into the dishwasher it often goes off the track which then becomes a problem because we have to lift up the heavy rock and try and get it back on track we also are not content with the way the times fold down very easily making it often hard to use when you want them in the upright position other than that it does clean great and it is very quiet

Sweepstakes entry received for review.
it runs so quiet

i like how quiet it runs and the steam makes it works so good

Wow Super Quiet!!!

This Dishwasher is Super Quiet. I did not know such a Dishwasher exited, had I known I would have bought one long ago. When my wife use it for the first time, we looked at each other wondering if it was working. It was!!! We LOVE it and it cleans very good.

Sweepstakes entry received for review.

LG WOW

This dishwasher LDT9965BD is Amazing. It simply amazed me. It really did. its super quiet and does what it is intended to do. It Looks amazing in my home and when it finishes a cycle it SINGS in my kitchen. LG this Black Stainless was brilliant. Well Done LG. My Next major appliance will be another LG. Thanks for such an elegant and sophisticated machine.
Far exceeds my expectations

Just moved into new home, had contractors grade dishwasher installed because builder couldn't provide what I wanted. Have purchased LG products almost exclusively over past 10 years because of excellent support and construction. This dishwasher exceeded my expectations. Superb cleaning, the quietest machine I've ever owned (I had to check that I had plugged it in the first time I used it.) Self install was easy, instructions were spot on, haven't had it long enough to try all cycles, but am

...

read more

impressed that I can download programming, Kudos LG

Sweepstakes entry received for review.

Excellent Product - Exceeded Expectations!

Bought this dishwasher as part of a suite of four stainless appliances for our kitchen remodel.Dishwasher is extremely quiet compared to units we have had in the past. Also like the LED indicator to inform where in the cycle you are at. Very happy with the purchase, however we had an issue with the first diswasher being delivered damaged. Unfortunately it was on backorder and in my opnion took too long to get the replacement: from the time of order to getting a new one installed was 2 months.

Sweepstakes entry received for review.

Sharp looking

I love the looks of the dishwasher but I am not happy with the dry feature. It's stainless in the inside and even when I have it on extra heat I don't feel it dries the dishes completely. I don't like that there is always moisture inside the dishwasher. I don't know if that is what it is or something I will have to get used to.

Sweepstakes entry received for review.
GOOD DISHWASHER

LG lives up to its name of quality products. The only issue I have is that it doesn't signal whether the dishwasher is clean or dirty after it completes. Other manufactures leave a light on when it completes its washing cycle.

Good features, super quiet

I love the steam cleaning feature, and the look of the dishwasher. It's super quiet - so much so that you can't always tell when it's on. The tone it plays when the dishes are done is charming. You truly don't have to rinse your dishes before washing them, but I have noticed that since we only run it every few days, an odor can develop from the food, so I started rinsing them anyway. The bottom rack pulls out and sometimes goes off the rail, and it is so low that the door has hit my feet a

...

read more

couple of times! Other than that, I'm pleased with this purchase.

Quiet!

Love this dishwasher. We have an open concept floor plan, and this dishwasher is nice and quiet. I like the different positioning of both the drawers and the grid posts so all of my dishes, from coffee cups to pots and pans, can fit in the same load. My dishes come out great every time.
Great dishwasher

I bought my dishwasher almost a year ago and it still works like it did when it was installed. It is so quite that sometimes I forget that it is on. My old dishwasher was so loud that we couldn't hear the tv in the next room. The adjustable racks make it nice to put in pots that would not normally fit. The only issue my family has found that with two little children we have to clean dishes before using the dishwasher or we were cleaning the trap after every couple uses. The controls on top are

...

read more

great when you have a 2 yr old that likes to play with stuff.

Sweepstakes entry received for review.

Quietest dishwasher ever

It has been a while since I had a working dishwasher so I was excited to get my new LG dishwasher. The adjustable shelf and racks really make it easy to fit in all my dishes and cooking supplies. The third shelf is wonderful for my grandson's baby supplies. When I first turned on this dishwasher, I wasn't sure it was running because it was so quiet. This is so wonderful because I am often cooking with family and friends while the machine is running, and we have no trouble talking. Thanks, LG.

We are satified with our choice of this product.

The design and forethought that went into this dishwasher is very impressive. This unit has 3 racks that all have adjustable features that make it easy to accommodate any dish or utensil that we own This dishwasher is so quiet the only way to tell it is operating is by the string of blue indicator lights on the door. We would not run our previous dishwasher until we went to bed because unit made so much noise we would have to turn up the volume on the TV or leave the kitchen if talking on the

...

read more

telephone. This unit is so quiet I have to actually put my ear up to the door to hear it running. As for cleaning performance, our dishes and glassware actually sparkle when we take them out. Wine, Juice and 8oz drinking glasses come out crystal clear. No water marks on dishes or silverware. We have only had this unit for 2 months and still learning how to use its many features including the True Steam Technology. One thing we noted is that this unit does take longer to complete the cleaning cycle than our previous unit but the end results are so impressive and the unit so quiet that we do not mind the time taken. At this time we have no complaints and are extremely pleased with our choice and would recommend it without hesitation.
LG Product Service and Support
Get your questions answered about product setup, use and care, repair and maintenance issues. We can help.
Telephone
Call an LG Support Representative.
(800) 243-0000 Consumer (7am-midnight CST)
(888) 865-3026 Commercial (8am-6pm CST)