LG AND FAZE CLAN GET SERIOUSLY PROFESSIONAL
Practice makes perfect, but a gaming monitor like the LG 21:9 UltraWide® monitor can help gamers get the edge on the competition.
A Perfect Complement
LG UltraFine™ 4K and 5K Monitors let you experience the Ultra High Definition and detail of a MacBook or MacBook Pro.
Discover the
Whole UltraWide® World
The LG 21:9 UltraWide monitors are the ultimate immersive experience.
Work, play, or entertainment, it puts it all on display.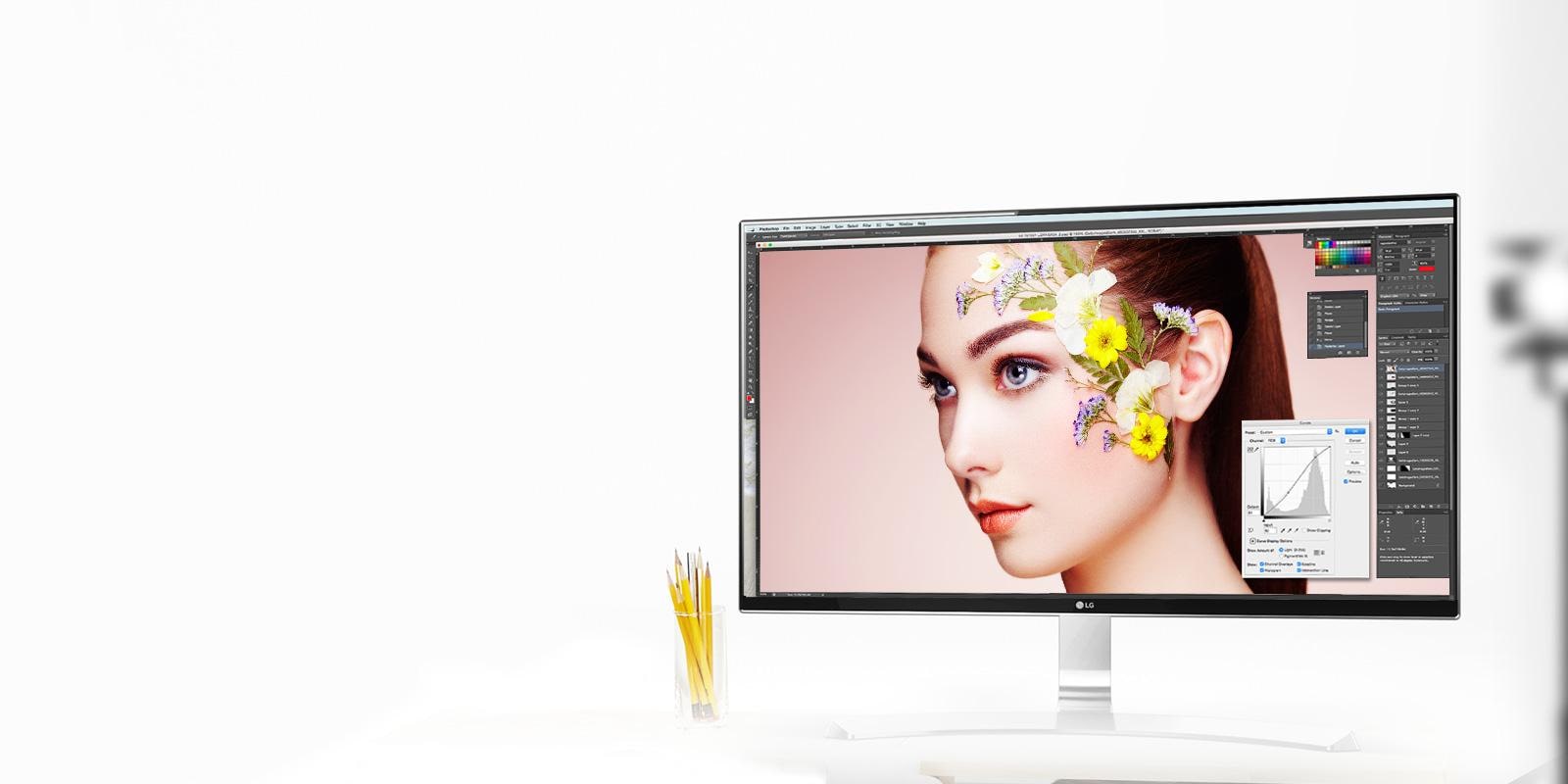 Four Times The Detail
The clarity and fine details of 4K UHD will amaze, even when viewed up close thanks 8.3 million pixels on a screen with resolution of 3840 x 2160. That's four times the resolution of Full HD.
Selecting a checkbox will update the products displayed on screen.
Refine Your Search
65
Total Results
All Monitors
From high-performance curved, ultra-wide computer monitors designed for multitasking, to immersive gaming monitors, stunning digital cinema 4K, and the true-to-life colors of our IPS monitors -- discover the latest in LG innovation.
WHAT CUSTOMERS ARE SAYING
Average Rating for All Monitors

great high speed display

purchased this for a special high speed video system. it is working well so far. no distortion, no glitches. great picture.

Sweepstakes entry received for review.

Solid Quality Monitor

Simply, price/quality, excelent IPS panel, nice OSD (monitor options), It would have been perfect if I had VESA.

Love it

My friends recommended this item to me when I was looking to get a new, main monitor. I love it so far. It's bright and beautiful and fast, everything I could want for a gaming monitor. Great options. I love LG, so I was happy we found a great deal.

Sweepstakes entry received for review.
Amazing and Giganimous

Beautiful monitor! Build quality is excellent. I was a little nervous about the stand but it's extremely stable. I was also surprised that there was zero dead pixels. Factory calibration was very good as well. The speakers are pleasantly decent. I wouldn't use them all the time but they are decent for when you don't want to wear headphones.

Sweepstakes entry received for review.

Excellent product!

I bought this monitor about two weeks ago to use in my home office. It's largely marketed as a gaming monitor but I purchased it to use in place of two smaller monitors on my desktop and really glad I did so. It is REALLY high quality and makes my life much easier as I work at my desk 8-10 hours a day on research and document writing.

Really Wide

This monitor looks really great for gaming and watching videos.

Sweepstakes entry received for review.
It's a good screen

It's a solid ultrawide screen, great build quality and great screen quality. It doesn't have some of the nicer features like custom screen splitting like its bigger siblings but it is a lot cheaper, and the I wouldn't recommend a bigger 1080 screen because the of the dpi. I would also be aware that ultrawide monitors are really incompatible with a lot of games and videos though those somewhat rare times when they are compatible, the screen looks really amazing.

Sweepstakes entry received for review.

Great view

The monitor has a great view en colors. You're able to use two or three program screens, at he same time. A 4k monitor for your computer at home, is'nt necessary.

Sweepstakes entry received for review.

Unbelievable Picture Quality

Instead of getting two separate monitors I decided to get this extra wide screen from LG. I am very happy with my decision. Picture quality is excellent. I love the extra wide screen which allows me to work on two Excel Worksheets at a time. Watching movies and gaming is incredible on the monitor. The stand that supports the monitor is good and the screen fits perfectly on my desk. The only drawback is it does not have a USB outlet. I had to purchase a separate 4 port USB hub so I had

...

read more

connections for my keyboard, mouse and other miscellaneous.

Sweepstakes entry received for review.
Nice Monitor but...

The screen replaces a dual monitor system I was using. It has excellent color and clarity as well as decent response. The only negative I can find in the time I have been using it is, the the stand has zero flexibility for re-positioning or customization for the viewer.

Sweepstakes entry received for review.

Fantastic budget friendly monitor

Bought this monitor on sale a few months ago. I wasn't sure if it was worth it at first, but i could not be happier with it! The extra field of view in games paired with the extra desktop space for productivity is unbeatable with a multi-monitor setup. I especially love the inclusion of AMD Freesync for a higher refresh rate, but I wish it was accessible without downloading the on screen control program.

Sweepstakes entry received for review.

Fantastic Ultrawide

Best gaming experience with this monitor specially on a simulation

Sweepstakes entry received for review.
Increased productivity for business

I love this monitor. When I first got it I felt I may be a little to big compared to the dual 24 inch monitors I was using before. Now I do not know if I could ever work on anything else. The monitors is way better than having two. With the windows arrow quadrant hot keys it makes moving windows around and comparing side by side much easier than dragging windows across screens. A tip I realize is to position my chair in front of the part of the monitor I will mostly be staring at. That

...

read more

prevents any type of neck pain from prolonged use. The picture is great and I have the necessary adjustments I need to work on the brightness. The only thing I have heard is that it is better to design and video edit on a flat monitor. So far I have not had an issue but I am not a professional and only do it for fun.

Sweepstakes entry received for review.

Love IT!!!

FIRST 2K FIRST ULTRAWIDE FIRST IPS FIRST EVERYTRHING FOR ME I LOVE IT ALL CAPS LOVE IT LOVE IT LOVE IT!!!!!!!!! NEEDS MORE ADJUSTABLE STAND BUT I USE WALL MOUNT SOO LOVE IT~~~!!!

Love the wide span

Great clarity hard for me to look at my 1080p monitor without thinking it's fuzzy. Love the PIP feature let's me watch two games at at the same time.

Sweepstakes entry received for review.
Great tv for value

So far so good. No issues so far and it has everything I need for a basic 4k monitor.

Sweepstakes entry received for review.

Great UHD 4K HDR

Great match for my LG OLED UHD 4K HDR 55 inch TV. I use my computer for gaming on my OLED TV and Monitor. Had to lower gaming settings because of my previous monitor. This monitor matched the high end ability of my LG OLED TV. The settings are easy to adjust with the toggle button.

Sweepstakes entry received for review.

My new 27UK600-W monitor

Since it's 4K the colors are great and the writing stands out perfectly. I like the simple stand. I like everything about it.
The screen offers clear sharp images.

I am very satisfied with the product. The only criticism I would make is the on-screen commands work with a small controller on the base of the screen. I prefer to use a mouse.

Sweepstakes entry received for review.

new monitor

a little brighter than previous model, second monitor bought from LG.

Sweepstakes entry received for review.

New Monitor

Replaced a kaput monitor with this one. Setup was easy enough. Visuals more vibrant and clearer than previous monitor. Price was just right though came on sale after purchase, never fails. Now wait for long term use evaluation. Oh can't figure out how to keep the power button access light from blinking when computer is shut down. I've been just shutting off the monitor. Kinda annoying.

Sweepstakes entry received for review.
Love this 4k Monitor

I am a software developer and honestly, my eyes aren't what they used to be. I wanted to get a 4k monitor so I could see my things clearer. This monitor does not disappoint. I've got my old 1080 hooked up next to this to use as a dual monitor, and I can't even look at it any more after using this 4k. Images and text are so crisp and vivid, it is hard to believe how much better the viewing experience is. The stand is very nice and adjusts vertically with ease. Also, you can rotate the

...

read more

display in the stock stand if that's what you fancy. Be warned though. Once you use this monitor, it will feel like you're looking through dirty glasses when you view any display less than 4k

Sweepstakes entry received for review.

Beautiful display

I am a digital artist and need a large display with accurate color and high res. I was using my old iMac as a monitor for my macbookpro. Poor baby lost its display. So I researched and found the 27UD68 LG monitor with high reviews. I'll add mine! Set up easy. Just make sure your macbookpro is not too old, but that is easy to check on the LG site. Love this monitor!

Sweepstakes entry received for review.

Beautiful monitor!

I love this monitor! It has great colors, including deep blacks. It also starts up very quickly out of display off mode on my 2013 Mac Pro. I think it's a great monitor for this computer. I love the style--the bezel is nice and thin--and the stand it came on was of good quality as well.

Sweepstakes entry received for review.
Nice unit

Just got this today. Set up easy. No instructions with monitor, however, I was able to figure it out. Downloaded 4 screen split software. No instructions, Finally figured out the icon is in the tray at the bottom of my screen to use.

Sweepstakes entry received for review.

Greta monitor at a great price

Wonderful clear monitor, good quality, crystal clear colours with a solid stand.

Sweepstakes entry received for review.

Just spectacular

I have only just set up the monitor and been working with it a couple of hours but I am already blown away. The sharpness is great and the colors vibrant. The setup was easy. I recommend this monitor. I look forward to discovering all it can do.

Sweepstakes entry received for review.
LG Product Service and Support
Get your questions answered about product setup, use and care, repair and maintenance issues. We can help.
Telephone
Call an LG Support Representative.
(800) 243-0000 Consumer (7am-midnight CST)
(888) 865-3026 Commercial (8am-6pm CST)