LG AND FAZE CLAN GET SERIOUSLY PROFESSIONAL
Practice makes perfect, but a gaming monitor like the LG 21:9 UltraWide® monitor can help gamers get the edge on the competition.
A Perfect Complement
LG UltraFine™ 4K and 5K Monitors let you experience the Ultra High Definition and detail of a MacBook or MacBook Pro.
Discover the
Whole UltraWide® World
The LG 21:9 UltraWide monitors are the ultimate immersive experience.
Work, play, or entertainment, it puts it all on display.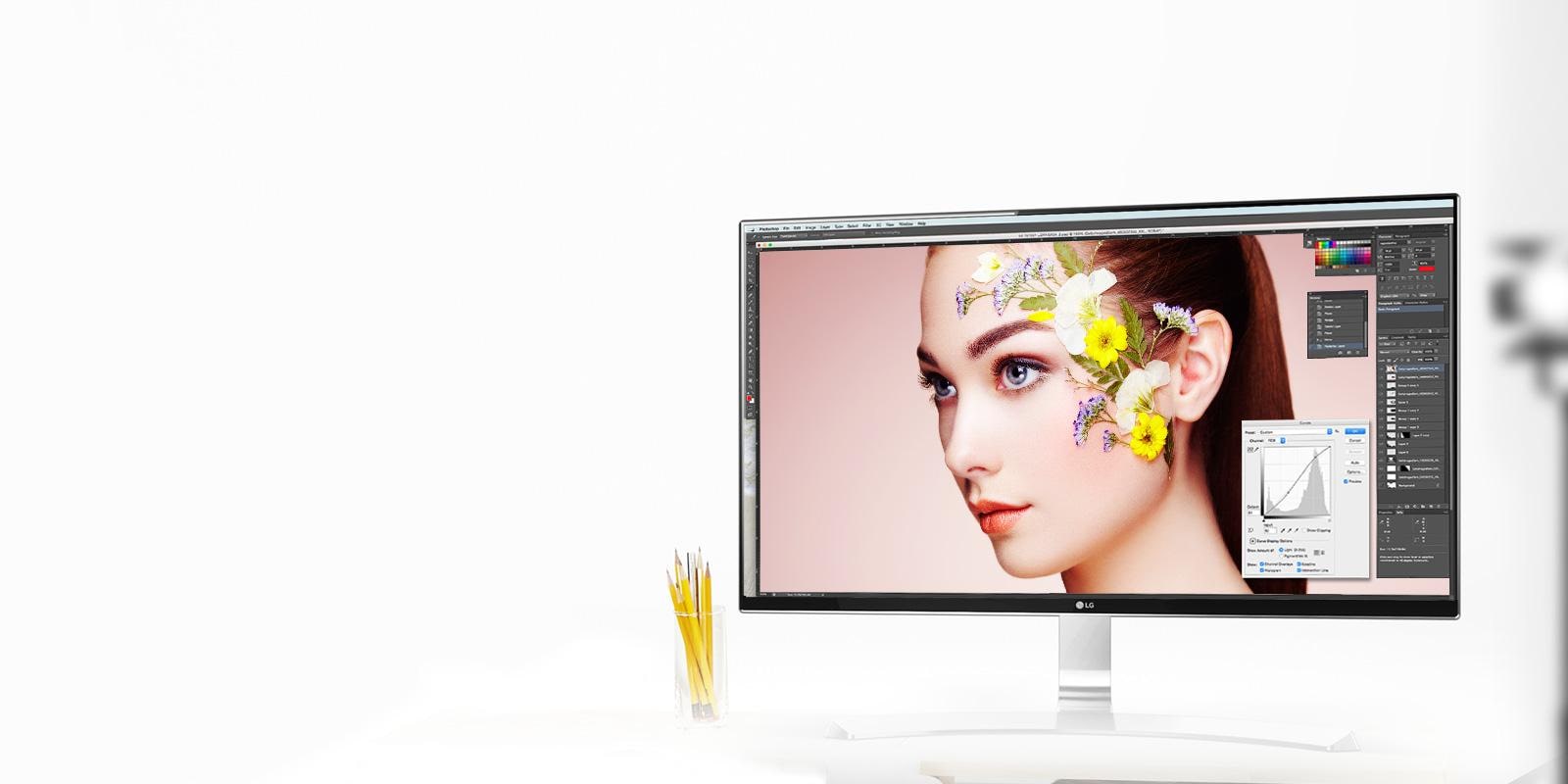 Four Times The Detail
The clarity and fine details of 4K UHD will amaze, even when viewed up close thanks 8.3 million pixels on a screen with resolution of 3840 x 2160. That's four times the resolution of Full HD.
Selecting a checkbox will update the products displayed on screen.
Refine Your Search
65
Total Results
All Monitors
From high-performance curved, ultra-wide computer monitors designed for multitasking, to immersive gaming monitors, stunning digital cinema 4K, and the true-to-life colors of our IPS monitors -- discover the latest in LG innovation.
WHAT CUSTOMERS ARE SAYING
Average Rating for All Monitors

Easy to set up, wonderful to see all the details.

Just installed this monitor a few days ago, simple install, great picture. First HDMI monitor I've owned. After installation, don't forget to double check the refresh rate settings, mine was at 59 (stock setting) and had intermittent screen flickering, until i realized what was causing it and set the refresh rate to 60.

Sweepstakes entry received for review.

A GIFT TO MY EYES!

After several years using a 23" monitor I began searching for a 27" monitor. Waited for months before making my mind. Then, I found this monitor at the last minute but 32" looked too big. However, the reviews were so positives and the price so right that didn't hesitate to buy it. I was afraid about the pixelation both the fonts and the image. Really surprised how sharp are both. This monitor is a gift for my already tired eyes. There is no way going back to a lesser size or

...

read more

something different to IPS technology.

Sweepstakes entry received for review.

My Monitor Replacement.

My monitor died, and I needed a good replacement. Came across, and purchased this LG 32 inch monitor. What a gem! It has good color, and picture quality. A thin bezel design, with a easy to use joystick for the menu options. This was the perfect size for my desktop viewing pleasure. The HDMI / VGA connections make it compatible with both old & new computers. It even has a switchable LED on indicator for the users preference. I feel I did good with my choice, and I would recommend this to

...

read more

anyone who needs a good basic monitor. Thank you LG - keep up the good work.

Sweepstakes entry received for review.
Outstanding Monitor!!

This is the best monitor I've ever owned. I've had a lot of LG products in the past, mostly cell phones, and have been happy with their quality and value. This monitor is no exception. There are no dead pixels, the resolution is crisp and the refresh rate at 5ms is great. I would recommend this to anyone in the market for a monitor.

Sweepstakes entry received for review.

Excellent screen!

I got this monitor earlier this year for my home office and it's fantastic. I use two 24 inch monitors at work and this one screen easily gives me the same productivity area with a much better picture quality.

Sweepstakes entry received for review.

Increased productivity for business

I love this monitor. When I first got it I felt I may be a little to big compared to the dual 24 inch monitors I was using before. Now I do not know if I could ever work on anything else. The monitors is way better than having two. With the windows arrow quadrant hot keys it makes moving windows around and comparing side by side much easier than dragging windows across screens. A tip I realize is to position my chair in front of the part of the monitor I will mostly be staring at. That

...

read more

prevents any type of neck pain from prolonged use. The picture is great and I have the necessary adjustments I need to work on the brightness. The only thing I have heard is that it is better to design and video edit on a flat monitor. So far I have not had an issue but I am not a professional and only do it for fun.

Sweepstakes entry received for review.
Out of the BOX Sweet!

Was recommended this monitor from Amazon when I was searching for the same type of monitor from Dell. Very much pleased with the quality of the screen. It's a little wobbly with the stand but other than that - it's a great buy!

Sweepstakes entry received for review.

Incredible

This is the very first Ultra wide Monitor I have ever purchased and honestly I could not be happier. The 2560x1080 plus my EVGA Geforce GTX 1080 SC make everything from reading news article, watching videos and running design programs amazing, multitasking is made so easy with this thing going back to a 16:9 will never happen. If I ever need to upgrade or get a new monitor it will be from LG and a Ultra wide again. Truth be told it is amazing. Thing is huge for a 29in.

Sweepstakes entry received for review.

Great adjustable monitor

Needed a monitor that would adjust ergonomically, and go from 2 monitors to one. The monitor allows me to compare multiple documents at once, and even split screen when needed. The color and clarity are good in all light conditions.

Sweepstakes entry received for review.
Bretty Gud

Got this on sale for Christmas and it has been excellent. It's the best monitor I've owned to date and it's performing like a champ. Occasionally it flickers when I use an HDMI cable, but I've had that problem with other monitors/TVs so I think it might be on my end.

Sweepstakes entry received for review.

First LG Product...

Purchased this 24" monitor back in August of this year. We are enjoying the size that we chose... its clarity... and the ease of set-up and use. We feel that we made a wise purchase!

Sweepstakes entry received for review.

Easy hook-up

Beautiful monitor, very pleased with it. I was able to hook it up with no problem.

Sweepstakes entry received for review.
First

Coming from an Ostendo CRVD-43, I've been waiting for quite some time for curved ultra wide monitors to catch up with the train I was already onboard. as far as this monitor being curved, it's only slightly more so than a 34 inch dell I tried a couple years back. however, this is the largest 21:9 and highest resolution 21:9 monitor to date. I primarily use this monitor for gaming, I chose it over the acer predator series of curved monitors because of the much higher resolution and extra 4-5

...

read more

inches of screen size. If you intend on using this monitor for productivity or video\photo editing, then pile in, this is the best monitor you can currently buy for such purposes. All things considered I would rate this moitor a 8.5/10, my main con being the basically not existent curve.

Sweepstakes entry received for review.

Performs as Promised

We purchased two (2) of these units and have to say that so far, they are better than expected. Resolution is excellent as is size and shape. We replaced double monitors with this one and it is signifcantly better in terms of comfort and usability.

Sweepstakes entry received for review.

Dimensions confusing

Why is it listed as 3.6" high? With Stand (WxHxD) 32.7" x 17.7" x 11.0" (down) – 15.7" (up) Without Stand (WxHxD) 35.3" x 3.6" x 15.5" Shipping Dimensions (WxHxD) 41.5" x 8.1" x 21.2" And why is it listed as wider without a stand? How is it a stand changes width? This is a fantastic monitor but it worries me that they can't get basic stuff like this correct. If they are as sloppy as this in their engineering department, I don't think the monitor will last very long.

Sweepstakes entry received for review.
Flawless so far for me.

I connect this monitor to my Surface Dock through a miniDP to DP cable and it works flawlessly at 3440x1440 @ 60 Hz. I sometimes hook up my Xbox One X via HDMI and play at 1080p. It doesn't look the best but the ultrawide curved format makes gameplay really immersive. I have LG OnScreen Control but don't use it much. I find just two windows side by side works best, and Windows 10 does that without any extra software. The speakers are good enough for regular desktop use. They're not great but I

...

read more

wasn't expecting an IMAX experience. The build quality is also top notch, and I like the USB 3.0 port on the back. I use it sometimes to charge my phone at my desk. The single navigation button on the bottom is also very easy to use. It takes some getting used to but eventually you get it down. Keep in mind the power brick is quite large, about the size of a sunglasses case.

Sweepstakes entry received for review.

Awesome monitor!

Love this monitor! The curved widescreen is unbelievably immersive and the split screen feature enables the productivity of having dual monitors; combined with my laptop screen, I essentially have 3-monitors without all the bulk, cables, etc. I really like the productivity I'm getting, and the immersive experience makes it better than the dual monitors I use at the office.

Sweepstakes entry received for review.

Great 34"

I bought this for day trading to see my charts better. I used it on my 2013 iMac Pro retina (early) and my 2014 iMac 27" without issue. Also had 3rd monitors hooked up to both machines. There were a few quirks at times (it would wake up and be blank often and I had to put the mac to sleep and wake it up again to get the monitor to display, and it would also tend to change the background resolution). These issues were unique to this monitor, so not sure what's up with that - I think it it

...

read more

wakes in a different resoltion then changes because on my win 10 machine when I wake it up the windows are all smaller than I left them, as if the resolution changed.). Regardless the monitor is one of my favorites. Not a clean and crisp as my imac27 or thunderbolt monitor, but a really good monitor.

Sweepstakes entry received for review.
LG Product Service and Support
Get your questions answered about product setup, use and care, repair and maintenance issues. We can help.
Telephone
Call an LG Support Representative.
(800) 243-0000 Consumer (7am-midnight CST)
(888) 865-3026 Commercial (8am-6pm CST)