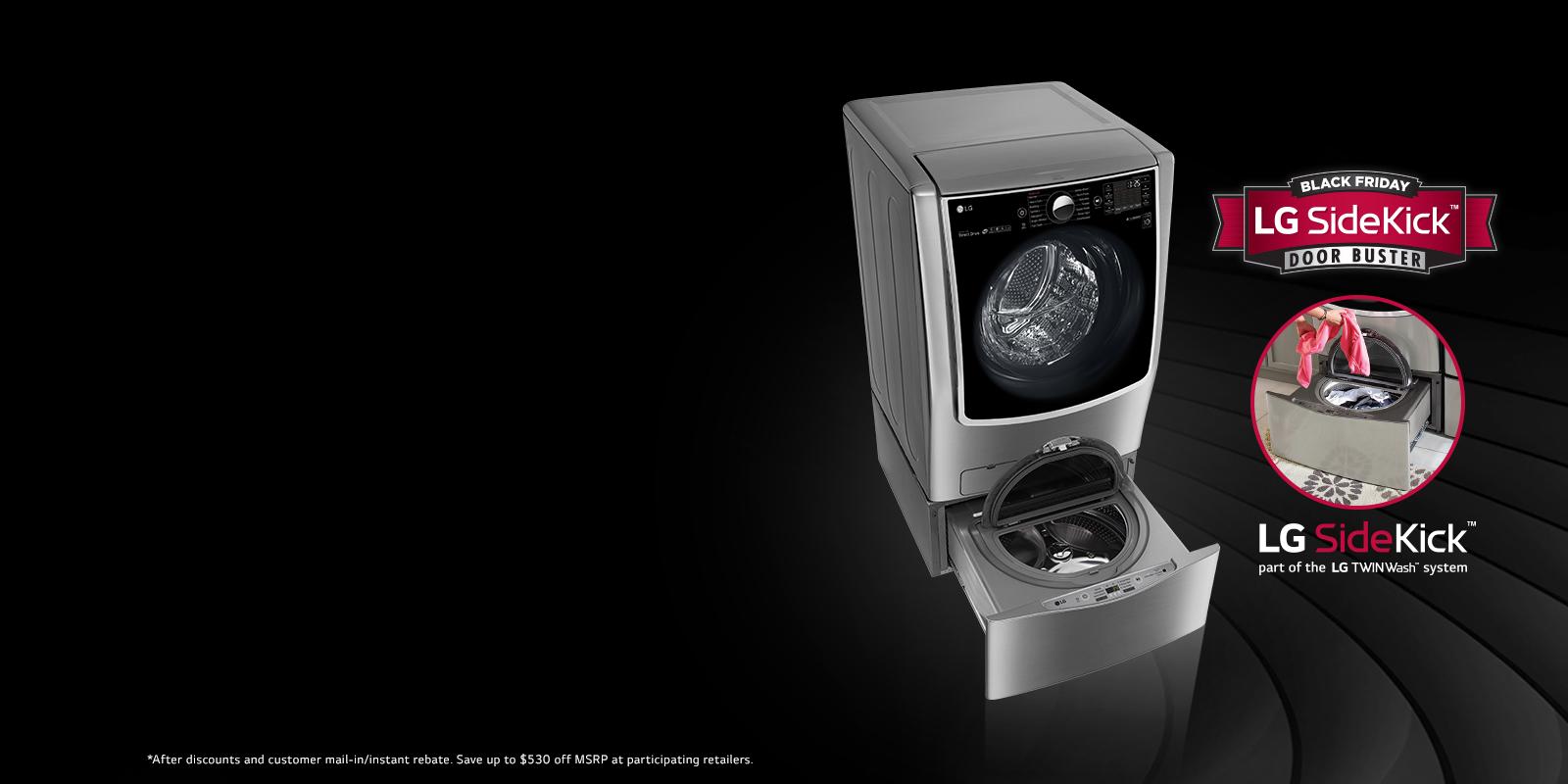 Black Friday Savings on LG SideKick™ ONLY $249*
Add an LG SideKick™ Pedestal Washer to any LG Front Loader or Qualifying Top Load Dryer to wash small loads that can't wait or two loads at once to save time.

J.D. Power Award Winner

"Highest in Customer Satisfaction with Top-Load Washers"

LG Top Loaders were Evaluated by Consumer Reports
*Consumer Reports does not endorse products or services.


Only with LG! 2-in-1 Washer Your Way
Now you can add the revolutionary LG SideKick™ pedestal washer to the Front Control Top Load system you love—only with LG. Wash small, important loads that just can't wait and save time by washing two loads at once.
Do More in Half the Time
With enough space for a king-size comforter and full set of bedding in a single load, biggest is definitely best.
Limited Time Offer!
Get an LG SideKick™ for only $249* after rebate when you buy any LG Front Load Washer.
Learn More
Download Rebate
Selecting a checkbox will update the products displayed on screen.
Refine Your Search
13
Total Results
Top Load Washers
WHAT CUSTOMERS ARE SAYING
Average Rating for Top Load Washers
Great washer with easy to following settings

I've caught myself watching the washer begin the cycles of detecting the balance and water levels needed before each washing cycle. Cheap entertainment. I've had this washer for 2 months and have had very clean clothes with no problems. This machine is easy to use-just follow the directions in the manual and you will have no problems by loading the heavier clothes on the bottom and lighter on top. I had 1 unbalance issue due to washing a very bulky comforter but was able to rebalance and no

...

read more

issue after that. I would highly recommend this washer.

Deep Clean

My review title, 'Deep Clean,' has a double meaning. One meaning is that this machine does an exceptional job at getting out dirt, stains, and odors, using a minimal amount of laundry detergent. I love the useful options available for each load. Bulky queen size blankets and bedding, towels, and throw rugs get washed without it sounding like the machine is shaking the house foundation. This machine is easy to use and efficient. The second meaning of, 'Deep Clean,' is that the tub is deep. If

...

read more

I were any shorter, I would not be able to reach the clothes at the bottom. I am 5'4". If you are interested, I suggest going to the store and trying out your arm length to tub depth ratio. Perhaps a low step stool would alleviate that problem for shorter individuals. In summary, I am super happy with my new washer and would recommend it to taller family and friends who are in the market.

Sweepstakes entry received for review.

Great product

I have had this washer for almost a year now. It has good features and runs problem free. It's mega capacity is very helpful in making less time needed for washing. This is my 3rd LG washer that I have had in about 15 years and non of them broke down during my ownership time.

Sweepstakes entry received for review.
Like everything except the automatic water level

This washer works great, but the automatic water level sensing puts VERY little water in 95% of the time. So little that the clothes never shift from top to bottom during the cycle unless I hit Water Plus, sometimes several times. You do need to get used to leaving the top open when its not in use, which is clearly stated in the instructions, but seems odd at first. The variety of settings lets you set exactly how you want the cycles to run and you can even download cycles (although I've

...

read more

never tried that). Overall a good product, just the water sensing issue is a pain.

Sweepstakes entry received for review.

All - Around Awesome

I love this washing machine! The tub is huge, and even when I put what I THINK is a large load, it looks like a tiny load in the tub! It handles it so easily; and everything comes out so clean. I am still getting used to not having to reach across the top of the machine to the controls, but that is just out of habit. I really like the controls being in the front; makes it so easy and convenient. I have synced up my smart phone to the washer, but I have not yet used that feature; just LOVE

...

read more

that I can make cycle adjustments "remotely." When you are in the market for new washing machine, THIS one should be your first choice.

Sweepstakes entry received for review.

Love it so far!

After I tired of looking at washers, specs, and reviews, my husband finally chose and purchased this washer for me--and what a great choice! It cleans stains out of clothes exceptionally well, is super quiet, and holds an amazing amount of laundry. I don't feel guilty doing a small load either since the water level adjusts automatically.

Sweepstakes entry received for review.
We've had this for about 4 months now. It seems super overwhelming to use at first, but a quick glance over the instructions shows it's super easy to find your presets and wash and go! I love the controls on the front - it's so much easier to see - and especially like the countdown timer. The washer, itself, is HUGE. We can get so many clothes in there in one load! So far, everything seems to be washing up nicely. It looks great and performs well - 5 stars in my book!

Sweepstakes entry received for review.

LG Best ever Products!

I looked at many washing machines before I purchased this LG washing machine 6months ago. Reviews of LG Products were highly liked and the price of LG Products are always competitive. My wife uses this machine everday to save water and electricty! It is a very quite running machine and cleans beautifuly! My family loves to hear it run,it is so quiet! With out a doubt one, the best washing machine on the market! I aways buys LG Products when possible! This is one buy you won't ever regreat! Yes,

...

read more

I have been buying LG Products for many years! No regrets!

Sweepstakes entry received for review.

Very happy with this machine.

This top loading machine is very easy to operate and there are lots of washing options. It senses the load weight (I don't have to choose size of load). The clothes are almost always spun so there is little extra water, Easy to operate. Huge tub. I can wash my Queen comforter. No agitator in the middle of the tub for straps (camisoles etc.)to get stuck or wrapped. The clothes seem to be cleaned and rinsed adequately. I spend less time buying detergent (uses smaller amounts of

...

read more

concentrated detergent) Makes pleasant sounds. Washing sounds (beach) tinkly music the completion of the wash

Sweepstakes entry received for review.
Best Washer Made

I purchased my LG top loading washer and I am totally thrilled. It takes care of the large loads of bedding that I wash on a daily basis. The wash is always fresh and my whites are dazzling. Because the washer enables me to wash large loads at one time, I do not have to spend so much time in the laundry, and it alerts me once the wash has finished. Kudos to LG for making such a fabulous washing machine ... I also purchased the dryer - wow! It has a special setting for Bacterial which I use often.

Sweepstakes entry received for review.

Awesome!

I've had this a few months now and compared to my previous washer this is the cadillac I've always wanted. It has settings for regular soil or tough and the drum is so deep not only can I wash ALL my wash in one load but I can hardly reach the bottom! I love the little tune it plays when it's finished and the fact that it uses less water than my previous washer even though it's a lot larger saves on my water bill.

Sweepstakes entry received for review.

Excellent features!

I purchased this washer about 10 months ago and I am glad I chose this product. I have owned several other brands in the past but wanted to try something different. I had a choice among other major brands that also warranted their products but I purchased the LG brand based on the following: (1) I once owned an LG product many years ago when they were Gold Star and it was not cool to own. Owners/friends who owned major brands replaced their fancy major brand products but my Gold Star was quality

...

read more

built and would not quit. (2) Based on knowledge and experience, LG quality-built products have become my GO-TO brand. I highly recommend this washer.

Sweepstakes entry received for review.
Loving EVERYTHING about it.

There is nothing I do not love about this washer. But, if I had to list what I love best it would be 1- The enormous tub size. A basket of laundry doesn't come even close to filling this tub up. I have no doubts it would handle whatever blanket/comforter I would try to put in it. 2- It sips water compared to other washers I have owned. Yet somehow clothes come out remarkably clean. 3-One can expect longer wash times with any HE washer. But, under an hour a load (unless I use the heavy duty

...

read more

cycle) is not all that bad. But, the spin cycle does such a good job, the drying time is greatly reduced. The only negative that I can think of is that the tub size is so tall, smaller people might have a hard time retrieving clothes out of it. Not an issue for me (as I'm 5-11)

Sweepstakes entry received for review.

Great capacity

I bought this when my other top load washer died after 4 1/2 years of use! The capacity is amazing. I'm having a grand time washing pillows and mattress covers that I used to have to take to the laundromat. Still learning all it's options - it does a good job.

Sweepstakes entry received for review.

Somewhat happy

I've been using the washer for about a month. On the plus side: - washes a lot of items at once - uses less water - easy to operate - fun jingle to alert you when the wash is finished -cleans clothes On the negative side - does wrinkle items to the extreme if spin cycle on normal or above - on some wash cycles, cannot adjust spin cycle to low which helps the clothes to be less wrinkled - spin cycle sometime runs for 20 minutes..very weird Overall... does get the

...

read more

clothes clean, but sometimes a bit too wrinkled

Sweepstakes entry received for review.
What a wonderful machine!

Owned for about three months. I treat this set like it's my new truck! lol I love it! Looks amazing of course, but all the features are really amazing!

Sweepstakes entry received for review.

So far so great!

Only used the washer for about 8 washes, but absolutely no complaints so far. Extremely quiet. Love how it determines the amount of water to use instead of me having to choose a water level.

Sweepstakes entry received for review.

Great for a large family.

We bought this after researching the best machine for a large family. This works fabulously for our family. (We have 13 children.) The amount of clothes it can wash alongside the various options make it a great product. I also enjoy the clear explanations of the various features in the owner's manual. I refer to it often. The only 'complaint' is that my poor dryer can't keep up.
Wonderful Machine!

My husband and I bought this washer about a month and a half ago after we bought our first house. It is an amazing machine! It has many great features. It is big enough to wash our big, bulky items such as bedding, but still gentle enough to wash our delicates. As a nurse, I especially like the Bright Whites setting which really does get your whites, whiter. The machine is very quiet, the first time it washed I insisted that it was not doing anything because I didn't hear anything.

...

read more

Overall, this is the best washer I've ever had!

Sweepstakes entry received for review.

Fantastic washer

Ran 7 loads through this washer the first day after delivery and knew right away it was the right choice! Love the multiple cycle options and the large size drum that will accommodate big items like bedding and towels. It is a little hard to reach the very bottom if you are short statured, but not so much that it's difficult to use. The spin cycle gets out almost all excess water, the clothes feel barely damp when they go into the dryer which greatly reduces drying time as well. Very happy with this washer!

Sweepstakes entry received for review.

Great machine!

My 17 year old Washer was just not able to squeeze as much water out of my clothes anymore. I have only had agitators up to this point. So, I went to Consumer Reports for advice. Around the same time, a friend bought an LG pair (washer and dryer). Opted for an HE machine. It is sooo easy to use. Love the settings, how quiet it is and how clean my clothes come out. Clothes come out with barely any water in them! Washed all my bathroom mats and they were dried in one cycle in the dryer.

...

read more

Same with my comforter. I used to do only normal washes. Now, I take full advantage of the different settings. Very happy with my purchase.

Sweepstakes entry received for review.
LG Product Service and Support
Get your questions answered about product setup, use and care, repair and maintenance issues. We can help.
Telephone
Call an LG Support Representative.
(800) 243-0000 Consumer (7am-midnight CST)
(888) 865-3026 Commercial (8am-6pm CST)