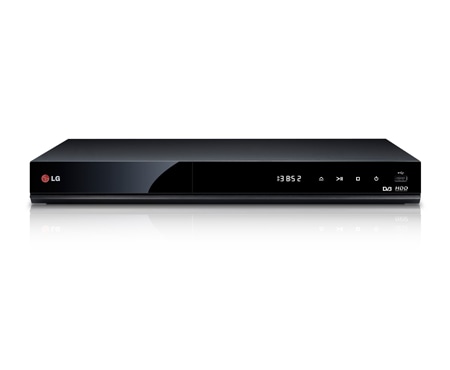 Twin HD Tuner DVD Recorder
Twin HD Tuner DVD Recorder
Twin HD Tuner recording and HD Contents playback
AV Input
USB Plus
Full HD Upscaling
Not what I wanted
Do not buy this unit if you have Foxtel. You cannot use the timer record. So now if you want to watch a game at 3 o clock in the morning... SET YOUR ALARM.
13 December 2014
STAY AWAY FROM THIS UNIT
When looking for a replacement DVD PVR, cost was a large part of my selection. This unit appeared to have all then functions I would need, even some I wouldn't. The simplest of functions would be to play a DVD, of which I have many. But apparently in small print on the back of the unit it advises that you can only play certain regions. Which i must admit the salesman at Harvey Norman also forgot to tell me. The remote is slow and I'm so unimpressed. This has definitely ensured that LG and Harvey Norman has seen the last of my money.
5 October 2014
Overall a disappointment
I bought this recorder to replace my old one (another brand) which had become unreliable. The picture quality is good, but I am very disappointed that it is not possible to edit recorded programs before recording them to disk, which I haven't tried yet. If the disks do not play on other machines as some reviewers say, this will be very annoying. I was hoping to program in a record off-set time - start recording a few minutes before the set time, and go on recording after program end time, but this is not possible so I have to allow for it myself. These were features on my last machine and since the LG is not cheap I expected them to be present. It's also disappointing not to be able to watch a program from the start while it is recording. I was confused at one point in the instruction manual by references to the 'bule' button which I finally realised was a misprint for 'blue'. Such mistakes should not occur nowadays. Does no-one proofread the manuals? The lesson I have learned is to insist of viewing the full manual before purchasing electronic equipment in future, and also checking on-line for review sites such as this one. I have to say I would not have bought this machine if I had read the reviews here and cannot recommend that anyone else does so. I hope the next generation of machines addresses these deficiencies.
4 September 2014
Do not like
I bought this unit 8 mths ago to replace an older LG recorder that i thought was having problems. I have only hooked up this one last week and it is absolutely useless. i have had at least 6 recorders over the years including 2 LG's which i was happy with. So i assumed it would be like all the others and have all the basic functions like the others. But no. i have all the problems everyone else is talking about as well as the unit freezing when i try to continue watching a program. At least half the time after you resume playback from previous session it actually starts earlier than where i was, but i cannot FF or Rewind or Stop it. If i am recording something i can't do anything except rewatch what i already have watched until it runs out. Not even having a visual on the display that it is recording. There are just so many basic functions missing from this unit it's not funny. I wish i had set it up when i first bought it because i might have had a chance at returning it. As it is now i would be reluctant to buy another LG unless it was setup instore so i could trial run it
12 August 2014
newer model backward standards
have replaced our older model LG dvd rec as it died, but this new model doesnt have editing capabilities, the fast forward & rewind, is set to very tiny increments & takes forever, & our old one always recorded Satellite TV in comparison to new one restricting due to regional codes, i wish i had never bought this product, so very disappointing!!!!
10 August 2014