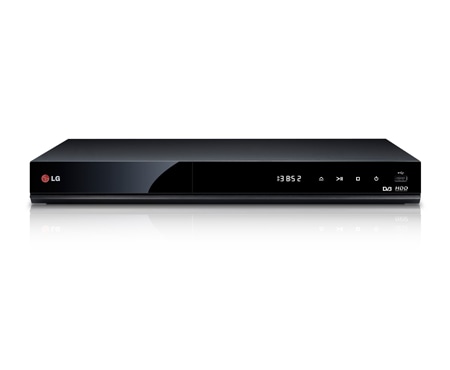 Twin HD Tuner DVD Recorder
Twin HD Tuner DVD Recorder
Twin HD Tuner recording and HD Contents playback
AV Input
USB Plus
Full HD Upscaling
Waste of money - doesn't have basic features of old model
I have had a LG recorder for several years but it is starting to struggle with the disc check on starting. As my old LG product was so good, I assumed the latest DVD recorder would be as well..... WRONG!! This models doesn't let you edit your shows (ie remove ads etc) before you copy to a disc so you're stuck with the bits you don't want to keep. Also doesn't let you add a bookmark if you are wanting to go back to a particular point in a show, or combine recorded programs ie music. The front screen of the player does not give an indication that you are recording a show. Overall this product is rubbish compared to the earlier version I purchased. Surley LG designers should have kept the main features instead of removing them. I would suggest a software update ASAP. This kind of product just gives you a bad reputation and stop people like myself from purchasing your products.... very ordinary indeed.
27 December 2014
Am I missing something
I bought this LG to replace a 4 year old LG that I was very happy with, but it had started taking about 20 minutes to power up. Anyway when I play a recorded program, the only thing on the front display is the word PLAY - How on earth am I meant to know where I am up to and how much time is left to go on anything I have recorded? The timer displays when the show is actually recording but not during play back. Also the channel change buttons are tiny and if you want to delete a program first you have to go into mark mode, mark it, then delete, then exit mark mode-why not just have a delete function like the previous model.
18 December 2014
Not what I wanted
Do not buy this unit if you have Foxtel. You cannot use the timer record. So now if you want to watch a game at 3 o clock in the morning... SET YOUR ALARM.
13 December 2014
STAY AWAY FROM THIS UNIT
When looking for a replacement DVD PVR, cost was a large part of my selection. This unit appeared to have all then functions I would need, even some I wouldn't. The simplest of functions would be to play a DVD, of which I have many. But apparently in small print on the back of the unit it advises that you can only play certain regions. Which i must admit the salesman at Harvey Norman also forgot to tell me. The remote is slow and I'm so unimpressed. This has definitely ensured that LG and Harvey Norman has seen the last of my money.
5 October 2014
Overall a disappointment
I bought this recorder to replace my old one (another brand) which had become unreliable. The picture quality is good, but I am very disappointed that it is not possible to edit recorded programs before recording them to disk, which I haven't tried yet. If the disks do not play on other machines as some reviewers say, this will be very annoying. I was hoping to program in a record off-set time - start recording a few minutes before the set time, and go on recording after program end time, but this is not possible so I have to allow for it myself. These were features on my last machine and since the LG is not cheap I expected them to be present. It's also disappointing not to be able to watch a program from the start while it is recording. I was confused at one point in the instruction manual by references to the 'bule' button which I finally realised was a misprint for 'blue'. Such mistakes should not occur nowadays. Does no-one proofread the manuals? The lesson I have learned is to insist of viewing the full manual before purchasing electronic equipment in future, and also checking on-line for review sites such as this one. I have to say I would not have bought this machine if I had read the reviews here and cannot recommend that anyone else does so. I hope the next generation of machines addresses these deficiencies.
4 September 2014