Genuine LG Refrigerator Water Filters
Enjoy Fresh,
Clean Drinking Water
Genuine LG refrigerator water filters are designed to reduce contaminants, particulates and unwanted tastes and odours from drinking water and ice cubes.
Why Use Genuine LG Water Filters?
LG product warranty provided with all filters.
Correct filter design for your fridge model.
Guaranteed filtration performance.
Where to Buy
Purchase your genuine LG water filter from an LG authorised distributor
---
For other LG Parts & Accessories
Click here to find a Distributor
Filter Replacement Example
Depending on your fridge model, the water filter will be located inside, at the lower bottom or at rear of the unit.
Please consult your user manual for the steps you need to follow to replace your fridge filter.
Replacing the filter is an easy process, taking only a few minutes and requires no tools.
Below is as an example of how to replace an internal ceiling positioned filter.
STEP 1
REMOVE OLD WATER FILTER
Press the push button
to open the filter cover.
Pull the water filter downward
and turn it counter-clockwise
to pull it out.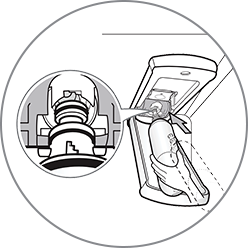 STEP 2
INSTALL NEW WATER FILTER
Open the new filter and
remove the protective cover
from the o-rings. With the
filter tabs in the horizontal
position, push the new filter
into the manifold hole,
rotate it up into place, and
close the cover.
**Sample Instructions only**
Please refer to the instructions provided with your fridge for filter change details.
STEP 3
REMOVE TRAPPED AIR
Dispense 1-2 litres of
water to remove trapped air
and flush the system.
Depress and release
the dispenser pad for
cycles of 30 seconds ON
and 60 seconds OFF.
---
NEED HELP?
Find more information on how to change your filter or
watch a step-by-step video in the LG Help Library.

LG Help Library
---
Frequently Asked Questions
Do unused filters expire?
No. Unused filters have an unlimited shelf life as long as they are kept dry.
How often should I replace my water filter?
LG refrigerator water filters should be replaced every six months or sooner,
depending on how often you use the water from your refrigerator
to reduce the risk of water leakage or flooding.
(Some models have a filter change alert light to indicate when a filter change is needed.)
Can I use other brands' filters in my LG refrigerator?
Counterfeit, deceptively labeled and third-party water filters are not guaranteed
to properly filter water in your LG refrigerator and may cause damage not
covered under the manufacturers warranty. Always use genuine LG refrigerator water filters.
Better Tasting, Safer Drinking Water