DUALCOOL
Enjoy the LG 1.5 Ton Split AC with Low Noise DUALCOOL (KS-H186K3A0)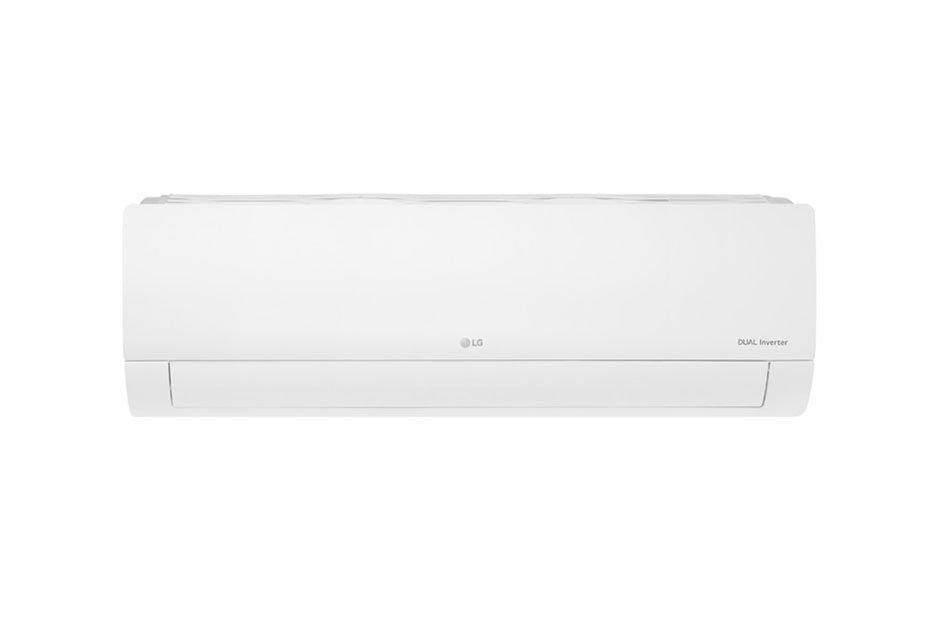 Key Features
Vertical 6 Steps Louver Control
Dual Protection Filter
Jet Dry
FAST COOLING
LG air conditioner begins cooling the air fast using its high speed cooling range, so it expels air farther and cool spaces faster.
SIMPLE AND SLIM DESIGN WITH HIDDEN DISPLAY
LG air conditioner's slim and modern design makes easy installation and convenient cleaning with EZ sliding filter. Moreover large hidden display is perfect for checking your energy display conveniently.
Low Noise
LG air conditioners operate at low sound levels, thanks to LG's unique skew fan which eliminate unnecessary noise and allow for smooth operation.
QUICK AND EASY INSTALLATION
LG air conditioners are designed for easier and more efficient installation, regardless of the surroundings and the number of persons involved in the installation process. By reducing the manpower and time required for installation, it is now possible to install more air conditioners at more homes in a shorter period of time.
Basic Specification

| | |
| --- | --- |
| COP | 3.09 |
| Power Supply(Ø / V / Hz) | 1/220-240/50 |
| Power Factor(%) | 92 |
| Moisture Removal(l/h.) | 2,5 |
| Additional Refrigerant charge- g/m(oz/ft) | 20(0,22) |
| Circuit Breaker* | 20 |
| Power Supply Cable No.*mm2 | 3x2,5 |
| Connection Cable No.*mm2 | 3*1,5 + 2*0,75 (Including Earth) |
| Max. Piping Length- m(ft) | 25(82) |
| Max. Elevation Difference- 15(49) | 15(49) |
Cooling Capacity

| | |
| --- | --- |
| KW | 5,33 |
| Btu/h | 18200 |
Heating Capacity

| | |
| --- | --- |
| kW | 5,48 |
| Btu/h | 18700 |
Power Input

| | |
| --- | --- |
| Cooling | 2092 |
| Heating | 1773 |
Running Current

| | |
| --- | --- |
| Cooling | 9,5 |
| Heating | 8,2 |
EER

| | |
| --- | --- |
| EER(W/W) | 2.55 |
| EER(Btu/h.W) | 8.7 |
Annual energy consumption

| | |
| --- | --- |
| Cooling | 1046 |
Air Flow Rate

| | |
| --- | --- |
| Indoor,Max- m3/min(CFM) | 17(600) |
| Outdoor,Max- m3/min(CFM) | 42(1483) |
Sound Pressure Level

| | |
| --- | --- |
| Indoor,H/M/L- dB(A)±3 | 42/39/36 |
| Outdoor,Max- dB(A)±3 | 54 |
Refrigerant & Charge (5m)

| | |
| --- | --- |
| Type | R22 |
| g | 1150 |
Compressor

| | |
| --- | --- |
| Type | Rotary |
| Model | QVS348PMA |
| Motor Type | Single Phase Induction |
| Oil Type | 4GSI or NM56 |
| Oil Charge- cc | 580±10 |
| O.L.P. name | INTERNAL |
Fan(Indoor)

| | |
| --- | --- |
| Type | Cross Flow Fan |
| Motor Output- W | 30 |
Fan(Outdoor)

| | |
| --- | --- |
| Type | Propeller, Fan |
| Motor Type | AC |
| Motor Output- W | 75 |
Connection Pipe

| | |
| --- | --- |
| Liquid Side- mm(in) | 6,35(1/4) |
| Gas Side- mm(in) | 12,7(1/2) |
| Drain Hose(O.D/I.D)- mm(in) | 21,5 / 16,0 (0,85 / 0,63) |
Dimensions ( Packed )

| | |
| --- | --- |
| Indoor (W*H*D) - mm | 1063*398*264 |
| Indoor (W*H*D) - inch | 41,9*15,7*10,4 |
| Outdoor (W*H*D) - mm | 1016*644*376 |
| Outdoor (W*H*D) - inch | 40*25,4*14,8 |
Dimensions ( Unpacked )

| | |
| --- | --- |
| Indoor (W*H*D) - mm | 998*330*210 |
| Indoor (W*H*D) - inch | 39,3*13*8,3 |
| Outdoor (W*H*D) - mm | 840*577*276 |
| Outdoor (W*H*D) - inch | 33,1*22,7*10,9 |
Gross Weight

| | |
| --- | --- |
| Indoor - kg(lbs) | 16,5(36,4) |
| Outdoor - kg(lbs) | 45,8(100,9) |
Net Weight

| | |
| --- | --- |
| Indoor - kg(lbs) | 12,4(27,34) |
| Outdoor - kg(lbs) | 41(90,4) |
Operation Range

| | |
| --- | --- |
| Cooling(Outdoor) - °C (F) | 21 ~ 54 (69,8~129,2) |
| Heating(Outdoor) - °C (F) | 1 ~ 24 (33,8~75,2) |
Tool Code(Chassis)

| | |
| --- | --- |
| Indoor + Outdoor | SK + UM |
Filter

| | |
| --- | --- |
| HighDensity filter | Yes |
Functions

| | |
| --- | --- |
| Temperature Control | Yes |
| Auto Clean | Yes |
| CHAOS Wind(Auto Wind) | Yes |
| Steps, Fan/Cool/Heat | 3 / 4 / 3 |
| Airflow Direction Control(up& Down) | Auto |
| Airflow Direction Control(left & right) | Manual |
| Remote Controller Type | Wireless LCD |
| Setting Temperature Range(Cooling) | 18℃~30℃ |
| Setting Temperature Range(Heating) | 16℃~30℃ |
| Temperature Increment | 1 |
| Auto Changeover (Micom Control) | Yes |
| Self Diagnosis | Yes |
| Timer | 24h, On/Off |
| Sleep Operation | Yes |
| Soft Dry Operation | Yes |
| Restart Delay(minute) | 3 |
| Deice Control(Defrost) | Yes |
| Hot Start | Yes |
| Jet Cool | Yes |
QUESTIONS? LET US HELP
Simply choose a support option from the icons below:
Telephone

Call an LG Support Representative at




Jordan

Saturday to Thursday: 8:00 am ~ 7:00 pm

Except national holidays

080022154 (Land line)

065608530 (Mobile / Land line)




Iraq

Saturday to Thursday: 8:00 am ~ 5:00 pm

Except national holidays

80011110




Lebanon

Monday to Saturday: 8:00 am ~ 7:00 pm

Except national holidays

1273




Syria

Saturday to Thursday: 8:00 am ~ 7:00 pm

Except national holidays

0115495400