FOR SERIOUS WATCHERS
webOS 3.5 Smart TV
Access your favorite shows and movies with ease when webOS brings together all the most popular streaming video apps, including Netflix, Sling, FandangoNOW and Channel Plus.

webOS Smart TV
FandangoNOW
Experience Wonder Woman and over 50,000 movies and TV shows in Superior Resolution.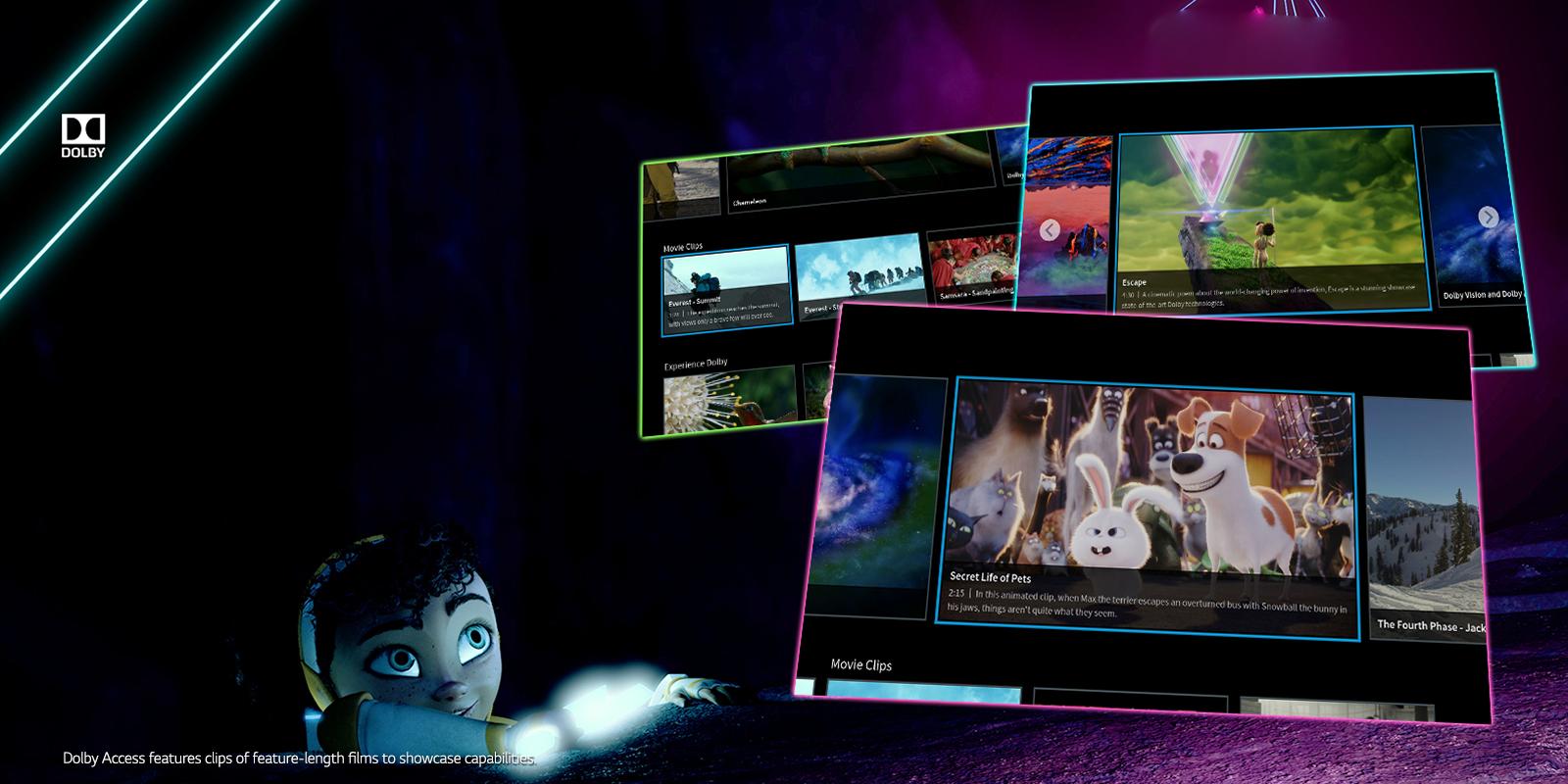 Dolby Access App
Experience Dolby Vision and Dolby Atmos on LG OLED TVs to turn your TV into an entertainment powerhouse.
Channel Plus
Channel the Internet
Get 100 free IP channels including Got Talent Global, Outside TV Shorts, Just for Laughs, and more integrated right into the television. Discover premium new entertainment, sports and lifestyle programming or enjoy old favorites any time.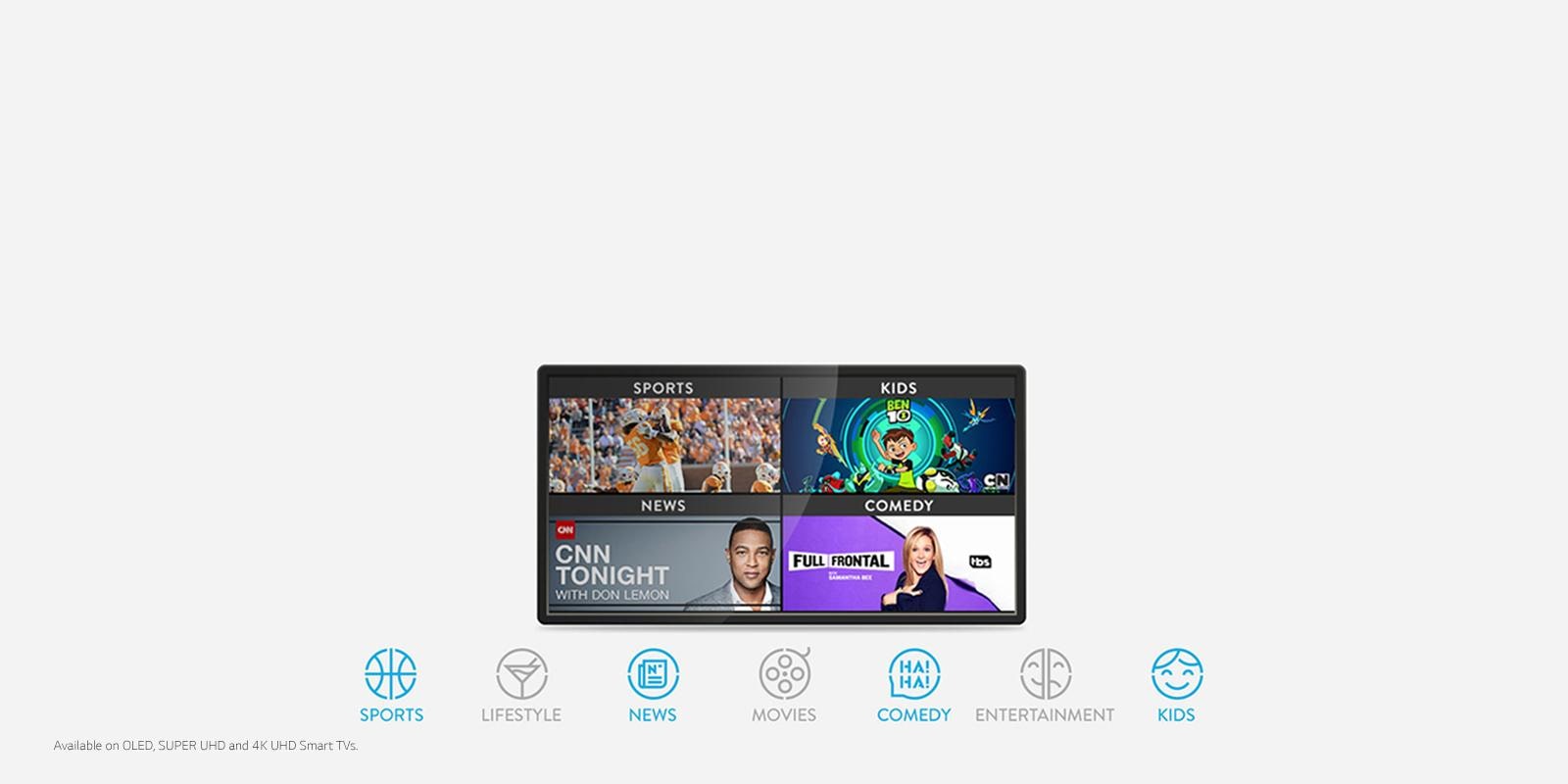 SLING TV
Introducing A La Carte TV, the only live TV service that lets you personalize your channel lineup and save, starting at just $20 a month. Customize with your favorite extras like Sports, Comedy, Kids, News, Hollywood, Lifestyle and more. Watch 7 Days Free! Restrictions apply.
Google Play Movies & TV
Rent or buy, stream instantly and watch across your connected smartphone, tablet or PC, too.
Selecting a checkbox will update the products displayed on screen.
Refine Your Search
44
Total Results
Smart TVs
Get more from your TV. With an LG Smart TV*, you can watch programming from your favorite broadcasters, access streaming content with the touch of a button, seamlessly share content between devices and more.
WHAT CUSTOMERS ARE SAYING
Average Rating for Smart TVs
Gorgeous

Love it!! It's great for gaming, movies, and just pretty much everything!

Sweepstakes entry received for review.

Still learning

Replaced a 10 year old 720p 60" plasma with this so - obviously this is a big improvement. The remote is cool. Picture is great. I'm not sure if it's the LED versus more expensive OLED but there is some wash out with letters on black screen, the letter area (such as credits) becomes more of a gray versus the black that remains off to the sides. A bit annoying compared to the great blacks on the Pioneer plasma. 3D picture is not great, but my only source programming is via cable. I also don't

...

read more

use the sound, having a full 9,2 Dolby Atmos system. But overall, for the price I paid, the vivid picture, the size of the screen, available 24/7 support, smart features - I would buy it again.

Sweepstakes entry received for review.

Solid 4k/HDR performance with good built-in apps

I've had this TV for over 6 months now, and I've used it with many external devices. the color quality is excellent, it starts up quickly, and the remote control is versatile. Experiencing streaming videos in 4K is impressive, and the built in apps are above-average, compared to other built-in apps on Smart TVs. The voice recognition for searches on the remote is convenient, and it is as accurate as you would expect (which is to say, far from perfect, but usable). The default list of apps

...

read more

running down the bottom of the screen is a bit inconvenient, but I consider these two minor details not as important as the quality of both audio, video, built-in OS apps, channel listings, and other strong capabilities of this TV.

Sweepstakes entry received for review.
Best TV experience

I purchased this Oled tv last year, and I bought a few including a Samsung plasma tv. This LG Oledb6p TV is by far the best I ever had. Everything is so well explained and laid out, and the magic remote is so easy to use and simply goe great with the functions you want. Great work LG.

Sweepstakes entry received for review.

An outstanding TV

Color and clarity are outstanding. I fully agree with all published data which indicate that on a price/performance basis this is the top product in its class.

Sweepstakes entry received for review.

Far superior to all other HD TV's.

Amazing picture with advanced OLED technology. The smartest way to control all your internet streaming and local stored media.

Sweepstakes entry received for review.
Loaded tv!

I've owned this tv for awhile now and I'm completely satisfied! Great 4K picture and the sound is so much better than previous tvs I've owned. Plus it's packed with a lot of apps that I use everyday since I only have internet, no cable or satellite.

Sweepstakes entry received for review.

Love it

The 4k is excellent i mount it on the wall thanks to geek squad techs i live in a townhouse so the sound is lovely and clear. But the down perk is that the remote isn't voice recognition meaning i have to buy the upgrade version remote. If people buying these high class 4k tvs shouldn't it comes automatically with the voice remote Far as that i love my 4k thanks LG

Sweepstakes entry received for review.

color impact

easy setup beautiful picture very happy, great value

Sweepstakes entry received for review.
Amazing TV for Movies in 4K

So beautifully crafted , image quality is amazing , easy to use , magic remote is perfect to handle all your devices . A great deal of value if compared to more expensive brands (I bought it at a reduced price). The last tv to have 3D.

Sweepstakes entry received for review.

Amazing: 2-D or 3-D

Various reviews, including CNET, completely born out in this first month of my experiencing this TV. Black, black as it can be; clarity beyond belief; 3-D better than I have experienced on any theatre screen. Couldn't be happier. Can only hope that the longevity of the product matches its initial quality.

Sweepstakes entry received for review.

LGOled 55E6P 2016 model

Had this 55E6P 2016 model over a month now and i just love it. The picture is great and the 3D is out of this world.Love the HDR feature as it is so clear.Just hope it lasts for many years as thisTV experience as for now has been a wonderful experience......................................

Sweepstakes entry received for review.
Fabulous TV

We bought this just prior to the Christmas Holiday. It boost an incredible picture and is a fun interactive TV. I think that the sounder, that is included is a great addition. The remote is traditional but can also be used as a pointer, a huge plus! The only negative is if the remote that came with the TV is damaged, in our case, puppies, it can only be replaced with an older model remote that does not work as well.

Sweepstakes entry received for review.

Best TV hands down

After getting burned by a Best Buy floor model of this TV, I purchased it new from a different store, and it is stunning. The picture never ceases to amaze, the design is top notch, and this is the last model to carry 3D (which is sad, since it does 3D picture so much better than any other TV).

Sweepstakes entry received for review.

BEST TV EVER....SERIOUSLY!

I specifically sought out this model because it still had 3D going for it. I was really disappointed to see LG drop the 3D on its 2017 models because they have absolutely nailed the formula for near perfect 3D. I have never seen a TV display the level of color, clarity, and brightness without any significant ghosting all in the same package. It really is a sight to behold. 4K imagery is also expectedly top notch. The black levels are nothing short of incredible. This statement applies to

...

read more

all content - not just 4k, but with HDR engaged, the difference is that much more noticeable. LG really put out a top-tier TV here and I'm so thankful that I could find one of the 77" units. I actually upgraded from the same year's E6 model once I learned that I could acquire one. Finally, and I don't say this lightly, I haven't found a single thing wrong with the TV. For me, it IS the perfect TV. Sure, it would have been nice to see an 85" model, but this looks wonderful in my home theater as it is. Well done, LG!

Sweepstakes entry received for review.
great features that we can't use!

We bought this set a few month's ago. I like the phone-to-set link to view You Tube video's. I noticed that when a character is in motion across the screen, such as a person or object,(1080p) it has a "ghost" or "Aura" around it. It goes away when it is not moving as compared to the background. It seemed to show after the second software update. I hope LG fixes it with a software update. Great picture with Blue-ray, (not 4K) a very sharp & clear picture. I wish it had 4 HDMI ports

...

read more

& analog audio output.

Sweepstakes entry received for review.

Amazing TV!

I purchased this TV a couple of weeks ago. The set up was simple, I had it up and running in about 30 minutes, the hardest part was getting it out of the boxes. The picture is amazing, watching football it makes me feel as if I am at the actual live game. Accessing the internet is so easy, going back and forth from internet to TV is extremely simple. The sound and volume are amazing. Watching any program or channel on this amazing TV is mesmerizing!

Sweepstakes entry received for review.

Perfect tv for me!

My first 4k tv for my Xbox One S and PS4 Pro, couldn't be more pleased. I'll admit I don't use the smart features much, but I'm glad they are there. I can't really find any downsides to the tv, after tweaking the settings I've been totally satisfied. The sound(which usually is a complaint on a lot of tvs)is quite loud for me, which I found surprising. I would recommend this tv to anyone stepping into 4k with HDR.

Sweepstakes entry received for review.
Best TV I've ever owned!

I love movies and I've always tried to have the best display technology to enjoy them. However, I have to say that I am very, very impressed by the picture delivered by my new 4k LG OLEDC6P. The picture resolution, the brightness, the color range and the reduction in motion blur (when I use optimized picture settings for the program material) are stunning. When I have the picture settings optimized for the 4k program source I'm viewing, it is like a window view into the real world. The remote

...

read more

control and user interface are very well-designed, too - they provide an easy, intuitive control experience with the TV. I love this TV...it is, hands down, the best TV I have ever owned.

Sweepstakes entry received for review.

I purchased my tv a couple months ago and wished I had purchased it sooner

Sweepstakes entry received for review.

LG hit a grand slam with this one!

I have had this tv for 2wks and am amazed every time I turn it on. Colors at crisp, images are sharp, and 3D movies are lifelike. Turn out the lights, turn up the volume and grab the popcorn because you will be transported to the theater!

Sweepstakes entry received for review.
We absolutely love our 65" LG TV!!!

Love everything about our LG and sound bar!!! The only suggestion I could make is that it would be nice to be able to use my wireless bluetooth headphones with it when I need to quiet. If not for that I would've given it a 5 star rating.

Sweepstakes entry received for review.

Great picture & easy to use

Purchased a month ago and it was very easy to set-up & connect to WiFi & cable provider. Great picture & my son also enjoys gaming on it.

Sweepstakes entry received for review.

Awesome Picture and Sound

I definitely enjoy the "Smart" elements of the TV. The apps are a major plus. The TV has great sound without any sound system connected. The picture is crisp clear, and great to watch. The only downfall to me is the remote which is tough to use when typing in emails, scrolling, or searching on the web browser. The phone app remote does make up for this a bit, but is only usable once the TV is on and still has its own glitches.

Sweepstakes entry received for review.
LG Product Service and Support
Get your questions answered about product setup, use and care, repair and maintenance issues. We can help.
Telephone
Call an LG Support Representative.
(800) 243-0000 Consumer (7am-midnight CST)
(888) 865-3026 Commercial (8am-6pm CST)