Dolby Access App
Experience Dolby Vision and Dolby Atmos on LG OLED TVs to turn your TV into an entertainment powerhouse.
Channel Plus
Channel the Internet
Get 100 free IP channels including Got Talent Global, Outside TV Shorts, Just for Laughs, and more integrated right into the television. Discover premium new entertainment, sports and lifestyle programming or enjoy old favorites any time.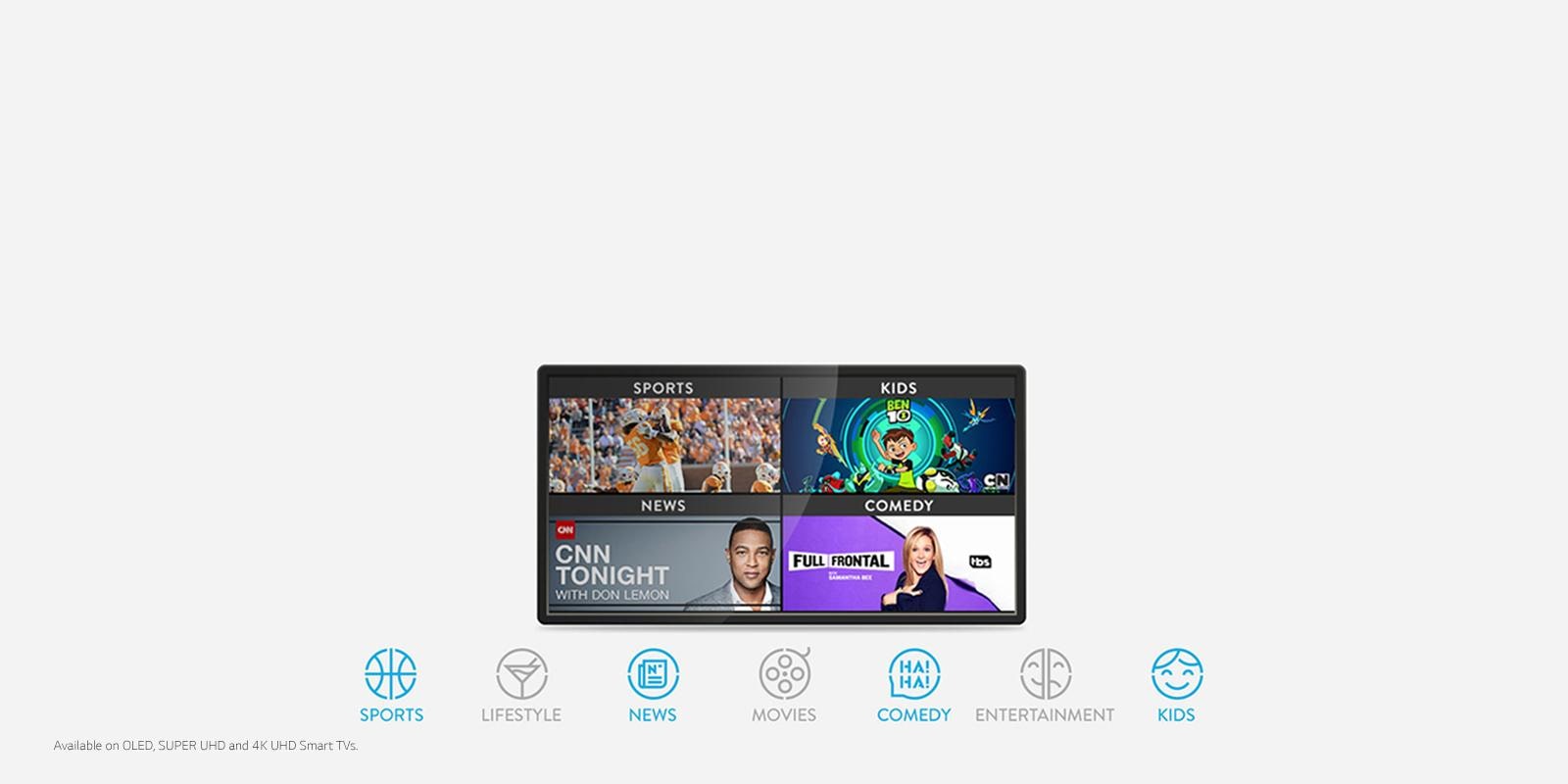 SLING TV
Introducing A La Carte TV, the only live TV service that lets you personalize your channel lineup and save, starting at just $20 a month. Customize with your favorite extras like Sports, Comedy, Kids, News, Hollywood, Lifestyle and more. Watch 7 Days Free! Restrictions apply.
webOS Smart TV
FandangoNOW
Experience Wonder Woman and over 50,000 movies and TV shows in Superior Resolution.
Google Play Movies & TV
Rent or buy, stream instantly and watch across your connected smartphone, tablet or PC, too.
Selecting a checkbox will update the products displayed on screen.
Refine Your Search
52
Total Results
Smart TVs
Get more from your TV. With an LG Smart TV*, you can watch programming from your favorite broadcasters, access streaming content with the touch of a button, seamlessly share content between devices and more.
WHAT CUSTOMERS ARE SAYING
Average Rating for Smart TVs
LG OLED stands out as the best.

After researching the purchase of a new TV over the last year or so, I finally decided to go with the LG OLED 65". Wow. This TV is beyond beautiful, it easily has the best looking picture of any TV I've ever seen, anywhere. The color is vivid and uniform, the blacks ultra-black. Motion on this set is clean and smooth, with crisp, clear lines. Everything about it just shines. Well worth the price. You won't find this kind of quality anywhere else.

Sweepstakes entry received for review.

Best TV I've ever owned!

I love movies and I've always tried to have the best display technology to enjoy them. However, I have to say that I am very, very impressed by the picture delivered by my new 4k LG OLEDC6P. The picture resolution, the brightness, the color range and the reduction in motion blur (when I use optimized picture settings for the program material) are stunning. When I have the picture settings optimized for the 4k program source I'm viewing, it is like a window view into the real world. The remote

...

read more

control and user interface are very well-designed, too - they provide an easy, intuitive control experience with the TV. I love this TV...it is, hands down, the best TV I have ever owned.

Sweepstakes entry received for review.

Great Feautures

I bought it about 6 months ago and i'm so happy i did.

Sweepstakes entry received for review.
Best picture ever!

This is my first OLED and I am absolutely blown away by the picture. Set up was pretty easy and the included remote is really awesome. Has a floating cursor on screen which makes it easy to navigate through the menus. Hooked up to my FIOS set top box via my Sony 4K receiver and was stunned by the picture coming out my set top box. Tried a couple of 4K movies from the built in Netflix and Amazon apps and this is where this TV set really shines. Picture so lifelike and colors so vivid that I knew

...

read more

the extra money paid for OLED was way worth it. My advice...just get this unit. You won't be sorry

Sweepstakes entry received for review.

Best Picture I've seen

I've had this set a while now and have to say it has the best picture quality of any HDTV I've owned (and I have had a number of them). The colors and brightness of the display are amazing. My B6P doesn't have the best sound but that is not an issue for me since I have it connected to a home theater system. The internet apps seem to work OK but from time to time can be a bit sluggish. That may however be due to my cable internet provider. Overall a great set. I highly recommend!

Sweepstakes entry received for review.

It Has a Killer Picture!

I've owned my LG OLED for close to 1 year and it has performed perfectly. The picture is gorgeous and friends constantly ask, "What kind of TV is that?" The sound is above average for a thin TV with built-in speakers. The remote control is compact and intuitive. The additional channels that come with a LG TV and a valuable added bonus and are very enjoyable. The set itself has had 2 or 3 software updates via WiFi and it's good to know the company keeps making improvements. The one feature I

...

read more

wish it had is 1/2 volume mute.

Sweepstakes entry received for review.
Excellent TV with a Excellent Price

I purchased 2 of these TV's. One for the living rooma and one for the "Man Cave" The 3D is excellent and even better with the 4K upscaling. Watching 4K content is a joy and this model is pretty much futureproof with HDR10 and Dolby Vision.

Sweepstakes entry received for review.

Still learning

Replaced a 10 year old 720p 60" plasma with this so - obviously this is a big improvement. The remote is cool. Picture is great. I'm not sure if it's the LED versus more expensive OLED but there is some wash out with letters on black screen, the letter area (such as credits) becomes more of a gray versus the black that remains off to the sides. A bit annoying compared to the great blacks on the Pioneer plasma. 3D picture is not great, but my only source programming is via cable. I also don't

...

read more

use the sound, having a full 9,2 Dolby Atmos system. But overall, for the price I paid, the vivid picture, the size of the screen, available 24/7 support, smart features - I would buy it again.

Sweepstakes entry received for review.

EXCELLENT PICTURE QUALITY

I've had this set for over a year now with no performance problems. I'm very satisfied with the realistic picture it provides.

Sweepstakes entry received for review.
color impact

easy setup beautiful picture very happy, great value

Sweepstakes entry received for review.

Surprise! Love it!

Awesome. We went from a much smaller, non-Smart TV to this baby! I will admit that I don't know how to use it yet as I haven't had time to really study it since my husband brought it home. But our daughter picked it right up and I'm sure I'm going to love it's features. Great picture!

Sweepstakes entry received for review.

Beautiful picture

I also have a 55inch smart LG tv and I love the quality and picture on both of my LG tvs

Sweepstakes entry received for review.
Amazing TV for Movies in 4K

So beautifully crafted , image quality is amazing , easy to use , magic remote is perfect to handle all your devices . A great deal of value if compared to more expensive brands (I bought it at a reduced price). The last tv to have 3D.

Sweepstakes entry received for review.

LGOled 55E6P 2016 model

Had this 55E6P 2016 model over a month now and i just love it. The picture is great and the 3D is out of this world.Love the HDR feature as it is so clear.Just hope it lasts for many years as thisTV experience as for now has been a wonderful experience......................................

Sweepstakes entry received for review.

Amazing: 2-D or 3-D

Various reviews, including CNET, completely born out in this first month of my experiencing this TV. Black, black as it can be; clarity beyond belief; 3-D better than I have experienced on any theatre screen. Couldn't be happier. Can only hope that the longevity of the product matches its initial quality.

Sweepstakes entry received for review.
Awesome picture

This TV has a picture as crisp as watching it in the movies. I haven't had it long and am still exploring all it has to offer. One thing I really like is the picture mode from sports to cinema. The colors are great. All my favorite apps. I like the search mode too. I can punch in any title and it will give me multiple options to watch from Netflix, Hulu and many others. I love watching Game of Thrones on this TV. It's like you are right there. A simple click and I can switch from live

...

read more

TV to my blueray player to Netflix.

Sweepstakes entry received for review.

Great picture but the apps are lacking

Overall I'm very happy with the quality of this TV. The picture is fantastic wifi works good but I wish I had researched the available apps prior to my purchase. There is no premium channel apps like HBO NOW and near as I can tell they do not have one in the pipe. It has a Sling app but there is a lot of buffering that occurs. Netflix & Amazon apps work perfectly so I know it is not the wifi.

Sweepstakes entry received for review.

Actually, I Bought the 65" Model

I knew I'd be happier with the 65" model. Smart remote works great and paired perfectly with my cable box. The wireless streaming works great for concerts or old TV programs I like to watch. There are a number of factory settings in the HDR range, vivid, sports, game, etc. I'm happy with those settings and didn't need to tweak the factory settings. The Dolby sound is great by itself without a sound bar. I have noticed, from time to time, people in my complex out on the sidewalk and in

...

read more

the parking lot, looking in to see the TV picture.

Sweepstakes entry received for review.
65G6P Review

I bought this TV as a gift for myself and couldn't be happier. The screen after calibration is phenomenal and the blacks are deep with no bleeding. The signature remote is pretty awesome in itself and the mouse cursor function makes navigation easy. The only reason why I am giving this TV 4 stars is because there are way too many functions on this TV and it's not intuitive as to what each one does or how to use them. I didn't receive an owners manual - it was missing - so I have had to

...

read more

figure things out on my own. All in all the TV has the best picture I have seen.

Sweepstakes entry received for review.

Perfect

Got this TV at a huge discount when it was returned to a local electronics store. The picture is amazing. Sounds is great and has all the features you'd want on a new tv. Only comlaints: blacks and greys are not perfect especially when there is movement . For this price point I expected more cutting edge tech. Why hasn't lg offered a Bluetooth or wifi surround system to integrate?

Sweepstakes entry received for review.

great tv

Happy with my purchase: Great design, great picture, great 3D!

Sweepstakes entry received for review.
I bought this when my previous lg tv quit working.bigger is better

Sweepstakes entry received for review.

Wonderful picture and brightness!

The picture quality of this TV is absolutely amazing! I have some very minor gripes, and would give it a 4.5/5 if that were possible. Fantastic TV and I would definitely buy an LG again. +Picture +Brightness +Build quality -Angle of the feet make it hard to fit something like a sound bar. -only 3 HDMI ports -Menus can be frustrating as some normal adjustments require going through multiple deeper menus

Sweepstakes entry received for review.

Best Value for the size

I did extensive research and came to the conclusion curved TVs are non-sense and LG is the way to go. LG needs to add one feature though, a keyboard on it's remote(Vizio puts one on the back of their remotes) with TVs so web-based now hunting around for letters with up and down arrows is not convenient.
LG Product Service and Support
Get your questions answered about product setup, use and care, repair and maintenance issues. We can help.
Telephone
Call an LG Support Representative.
(800) 243-0000 Consumer (7am-midnight CST)
(888) 865-3026 Commercial (8am-6pm CST)