LG SIGNATURE RESPONDS TO MARKET DEMAND FOR LUXURY APPLIANCES WITH EXPANDED LINEUP
LG's Premium Brand Teases New Products for Enhanced Living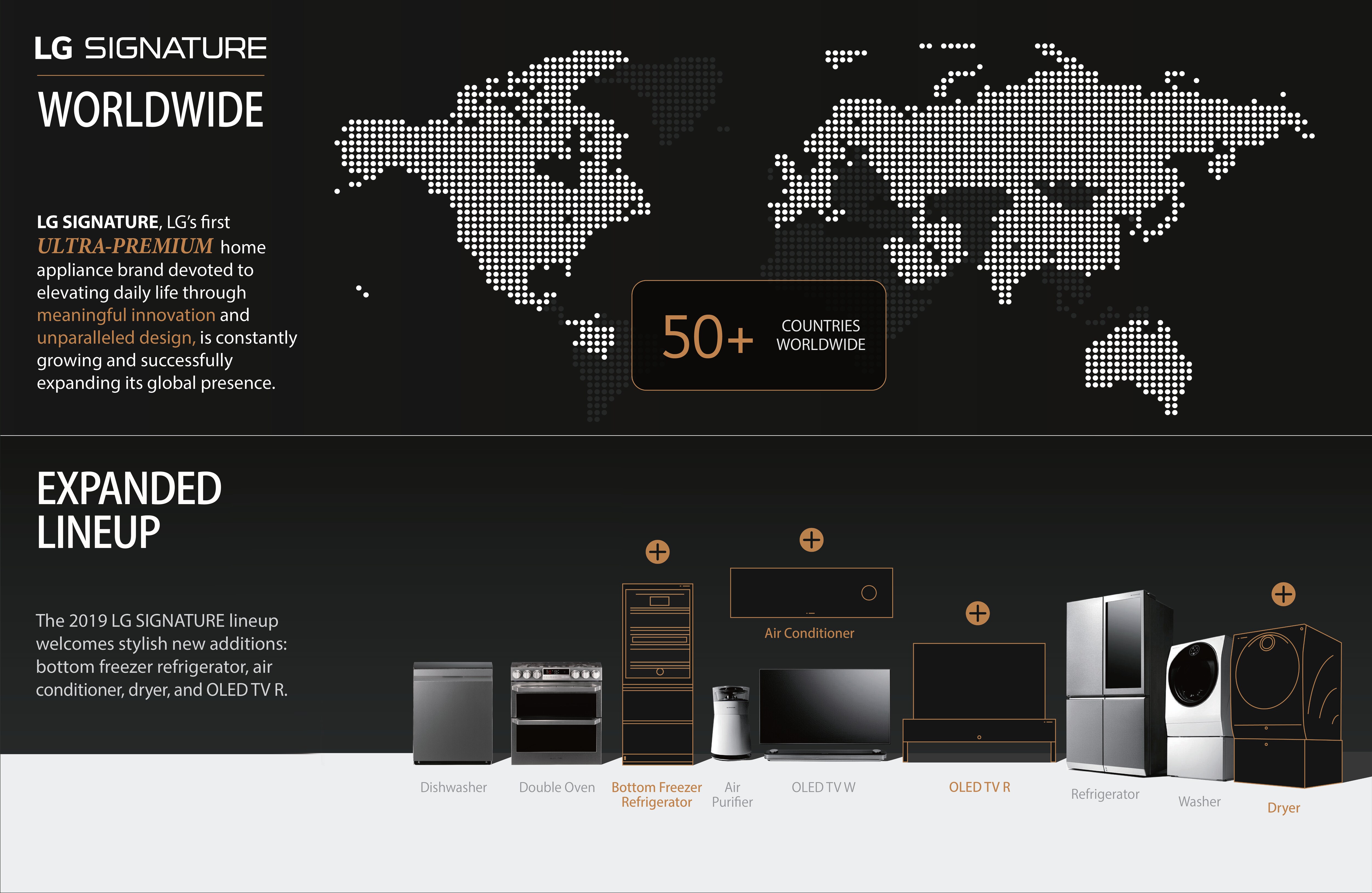 DUBAI, August 6, 2019 – LG SIGNATURE, the first ultra-premium brand from LG Electronics (LG) is expanding its product lineup to meet growing consumer demand.
First launching in South Korea in 2016, LG SIGNATURE is now available in over 50 countries worldwide, including the UAE and Saudi Arabia.
A unique proposition for homeowners keen to invest in luxury goods, LG SIGNATURE appliances fuse together quality build, elegant design and LG's advanced technology for ultimate convenience and enjoyment.
As part of its efforts to help more consumers live efficiently with smart and premium home appliances, LG SIGNATURE is adding new additions to its portfolio this year.
The expanded global lineup of appliances will include the LG SIGNATURE OLED TV R – the world's first rollable TV, a bottom freezer refrigerator, air conditioner and dryer.
The current lineup of LG SIGNATURE appliances available locally includes:
LG SIGNATURE InstaView Door-in-Door Refrigerator
With its sleek, mirrored glass panel, two quick knocks enable users to see inside their refrigerator without opening it – minimizing cold air.
Benefitting from LG's Inverter Linear Compressor, the InstaView refrigerator provides precise temperature control, whilst FRESHShield Cooling uses cold air to form a thermal barrier and lock in food freshness.
LG SIGNATURE TWINWash
The TWINWash features a classic monochrome design, with a black door crafted of tempered glass and a scratch-resistant enamel coating.
A first-of-its-kind experience, the TWINWash provides intuitive and efficient washing, with its additional pedestal type washer for homeowners to complete two loads of laundry at the same time. Its Centum System minimizes vibration and reduces noise level for added durability and appropriate care, whilst LG's advanced Inverter Heat Pump Drying provides delicate fabrics with the care they deserve at lower temperatures.
LG SIGNATURE Air Purifier
Featuring Rain View Window – a unique system which shows water droplets forming inside the unit's display, the LG SIGNATURE air purifier visualizes purification in action.
With its powerful water engine, the air purifier can eject up to 18 liters of water in an hour, cleansing the air to create a comfortable home environment. Its Smart Indicator and Smart Lighting empower users with the ability to monitor indoor air pollution with ease. A distinct 4 color coding system indicates the air quality and changes in real-time to update homeowners on the progress being made.
LG SIGNATURE OLED TV W
The OLED TV W provides infinite contrast, with its wallpaper thin OLED display – blending seamlessly into the modern home of today.
Benefitting from self-lighting pixels and LG's advanced Alpha 9 Gen 2 intelligent processor, the TV delivers rich color and contrast for an unrivalled viewing experience. Premium audio capabilities are achieved with the use of up-firing speakers, enhancing sound diffusion for smoother high and low-pitch audio, complimented by Dolby Atmos surround sound for a cinematic quality experience at home.
# # #
About LG SIGNATURE
LG SIGNATURE is LG Electronics' ultra-premium brand. By uniting the best of LG technology and design under a single brand, LG SIGNATURE offers consumers a collection that boasts subtle elegance and top-notch performance. The range of LG SIGNATURE products includes InstaView Door-in-Door™ refrigerator, TWINWash™ washing machine, air purifier and award-winning "wallpaper" OLED TV W. All LG SIGNATURE products have one thing in common: uncompromising quality and a focus on the essentials. LG SIGNATURE products have won a number of industry awards for technological innovation and sophisticated design, including 2017 CES Best of Innovation Award, iF Gold Award 2016, Red Dot Design Award 2016 and Engadget Best of CES Award 2019 for LG SIGNATURE OLED TV R. For more information on LG SIGNATURE, please visit www.LGSIGNATURE.com
Media Contact
LG-One Gulf
Aaron Budwal
Account Executive
Email: aaron.budwal@lg-one.com