LG Best 3 Washing Machine for 2023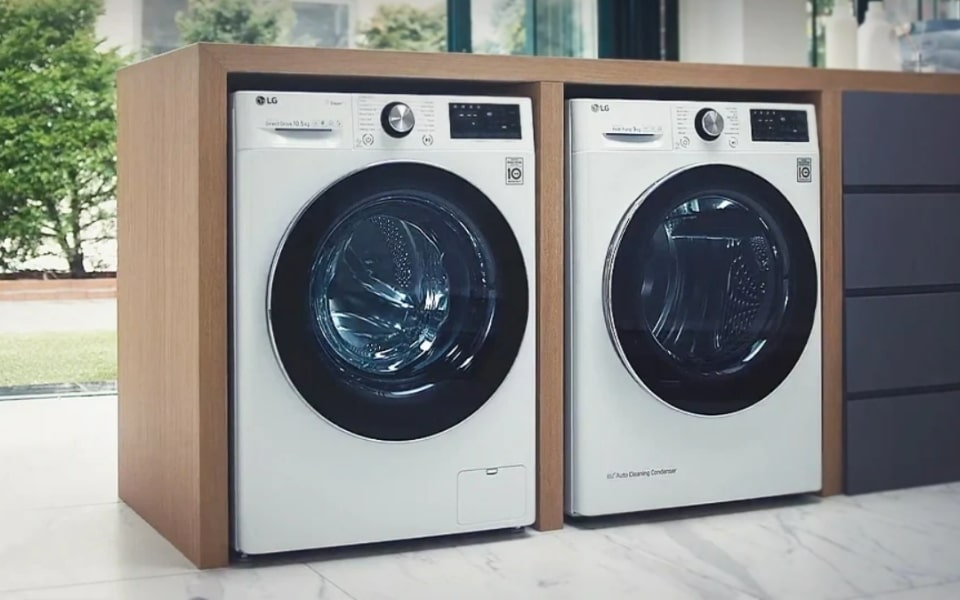 Whether you are moving into a new house with your family, getting your own place for the first time, or maybe you just need to renew your home appliances, there is no escaping getting a washing machine that is easy to use and effective.
LG ensures to deliver not only what you're looking for and expecting but also offers you the best and most innovative washing machines for your home, so it takes the load of washing your clothes off your back and makes chores easy.
You don't need to worry about the quality of your washing machine anymore with LG's top washing machines, as there are many of them to choose from; here are the top 3 LG washing machines for 2023 so you know what washing machine is the one for your needs:
This best front load washing machine in 2023 is one of the washers from the VIVACE lineup, which features large capacity, Steam™, and AIDD™. The premium look and durability with tempered glass are a bonus!
This model is the first 11kg washing machine in the UAE market with a 550mm depth. Not only that, this washing machine highlights:
Direct Drive
Thanks to the LG's Direct Drive technology, you can have a bigger capacity in a standard-sized washer. The motor is directly attached to the transmission without the belt, which allows for a slim design.
Steam™ Technology
This technology activates Allergy Care to defeat invisible allergens, Steam Refresh to reduce wrinkles and odour, and Steam Softener to soften your clothes.
AI DD™
LG's unique AI Direct Drive™ technology detects the weight and softness of the fabric you're washing, optimising the best washing patterns to clean your clothes and not damage them.
Hygienic
Did you know that tubs of washing machines can provide a favourable environment for the growth of bacteria and mould? LG VIVACE washing machines' stainless steel lifer is 99% anti-bacterial, so your clothes are safe with LG.
Add Item
The Add Item feature allows you to open the washing machine door and add those items you forgot to include in your load.
This best washing machine with dryer is another impressive one from LG that is designed especially for your needs, so your daily life becomes easier and much less hectic. This LG Washer / Dryer does not only have AI DD™ Technology, but it is a washing machine and a dryer all in one!
Some of its features are the following:
6 Motion Direct Drive Technology
After choosing a washing program, this technology moves the washing drum in one of six multiple motions, such as stepping, scrubbing, tumbling and swinging, to fully clean and wash your clothes with no aftermath damage.
ThinQ™ helps you to control your home appliances remotely with a mobile phone. With Amazon Alexa and Google Assistant compatibility, you can also control the washer with your voice control. With ThinQ™, you can set the time you want the cycle to end to save time.
Washer and Dryer in One
This washing machine from LG is everything you need in one place; the non-stop wash-to-dry cycle will help you save space in your home and make more room for your family.
Less Noise
The two high-efficiency Inverter Direct Drive motors elevate the washing machine's performance but not the noise; they lessen the noise and the machine's vibration with extra shock absorbers.
EcoHybrid Technology
This technology ensures the eco-friendliness of the washing machine. Select the Eco Dry Mode, which uses no water, but air dries instead, or the Normal Dry Mode, which shortens the drying time, saving you time, water, and energy costs.
This best top-load washing machine from LG is loaded with surprising features dedicated to achieving the convenience, comfort and clothes-washing quality you've always dreamt of. So what are those features? What makes this washer-dryer combo machine from LG one of the best washing machines?
Smart Inverter Control
This technology saves energy usage by 36% compared to the conventional LG washing machines; even with the power cord plugged in while power is off, only a little electricity will run through the washer.
Smart Motion
Enjoy the best combination of three motions; agitating for powerful washing, rotating for tangle-free washing, and swinging for delicate wash.
TurboDrum
The rotating drum and pulsator remove the toughest dirt, so you won't have to check your laundry anxiously for any remains after washing.
Auto Pre-Wash
With the pre-wash option, you won't have to hand wash anything, especially those stubborn stains, as they'll be washed away with the 8-minute auto pre-wash option.
Side Waterfall
The side waterfall mixes the detergent with water in the best way possible and minimises detergent residue that can cause skin irritation and allergy.
Smart Inverter Motor
This type of motor minimises the noise and vibration of the washing machine and gives you a warranty for up to 10 years.
Whatever you need, you can find it with the best washing machine brand - LG, as it provides you with many innovative and efficient washing machines that exceed your expectations.
More To Read


Best tips on how to clean your washing machine. Whether you have a top or front-loading machine we've covered the most effective cleaning products and methods.
Learn more

After washing your clothes, a clothing dryer is there to dry them within a few hours. Removing moisture with heated air, your clothes come out of the dryer ready to be worn. With new technology, new features are added, and a boost in performance with low energy usage for dryers has made a better impact on the environment. However, choosing one is overwhelming because there are so many things to take into consideration. That's why we created a guide to help you choose the best clothes dryer.
Learn more