InstaView Door-in-Door™
Knock Twice and Easy Access to Your Favorites

The evolution of Door-in-Door™ continues with InstaView Door-in-Door™. Now, simply knock twice on the glass to illuminate the contents inside without cold-air-loss. Easily find and access to your favorites with LG's InstaView Door-in-Door™.

InstaView Door-in-Door™
With two quick knocks on the sleek mirrored glass panel, see inside the quick & easy access compartment for your favourite snacks and beverages without opening the door, reducing cold air loss to help keep food fresher longer.
Hygiene FRESH+™
Keep Foods Fresher for Longer
Hygiene Fresh+™ automatically cleans and purifies its internal air, ensuring that the air inside is kept fresh and hygienic. Its five-stage filtering system helps keep food fresher for longer.

5-Step Layered Filtering

The 5-step air filter removes bacteria up to 99.999% as well as bad odor in the refrigerator*.
* Tested by Intertek, ISO 27447 Test Protocol.

Inverter Linear Compressor
32% Energy Saving and 20-year Durability

LG's Inverter Linear Compressor has revolutionized the core of the refrigerator, providing up to 32% in energy savings, top-rate 20-year durability and optimal temperature control to keep foods fresher longer.

Soft Start & Soft Stop
Optimal Low Noise Performance
The Inverter Linear Compressor operates at sound levels as low as 40dB eliminating unnecessary noise for smooth operation that you'll barely notice.
Why Inverter Linear Compressor?
The Inverter Linear Compressor has fewer friction points because it doesn't have joints, and starts and stops smoothly when the compressor operates, so the noise is lower than Inverter Compressor.
Smart Storage System
Ultimate Convenience to Your Kitchen
Smart Storage System makes it easy to group certain types of food together for the ultimate in kitchen organisation.

Slim SpacePlus™ Ice System

Our innovative ice maker system is built in the fridge door to give you wide open shelf space whilst still allowing for storage on the door.
Folding Shelf

You can adjust your shelf by folding it when you store tall and bulky bottles, pots, or dishes.

Extra Space
Additional space for daily use such as sliced ham, cheese and butter.

Smart Way to Control Your Fridge
With LG Smart ThinQ™, you can control and diagnose your refrigerator with your smart phone even when you are not at home.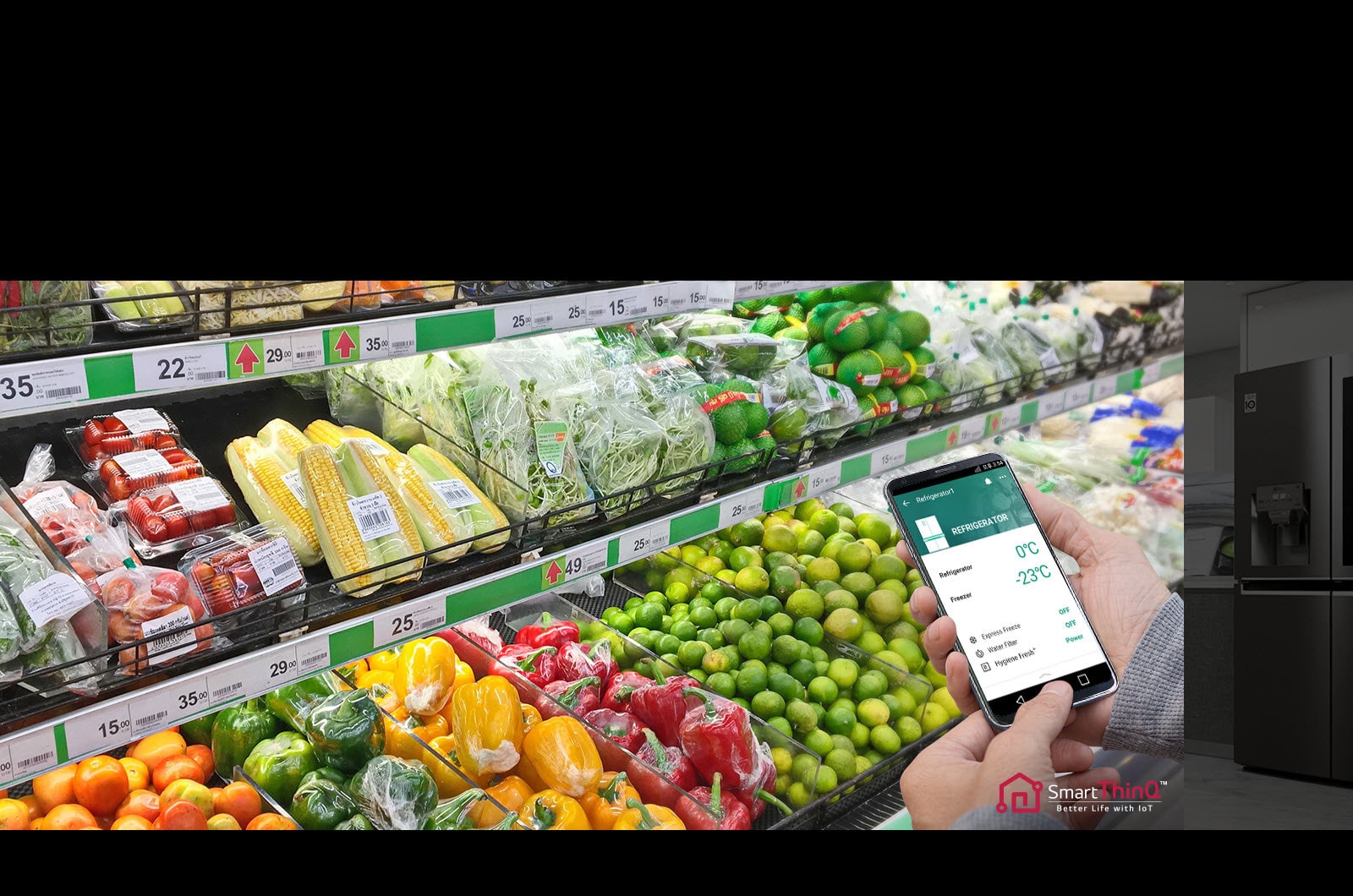 Smart Way to Control Your Fridge
With LG Smart ThinQ™, you can control and diagnose your refrigerator with your smart phone even when you are not at home.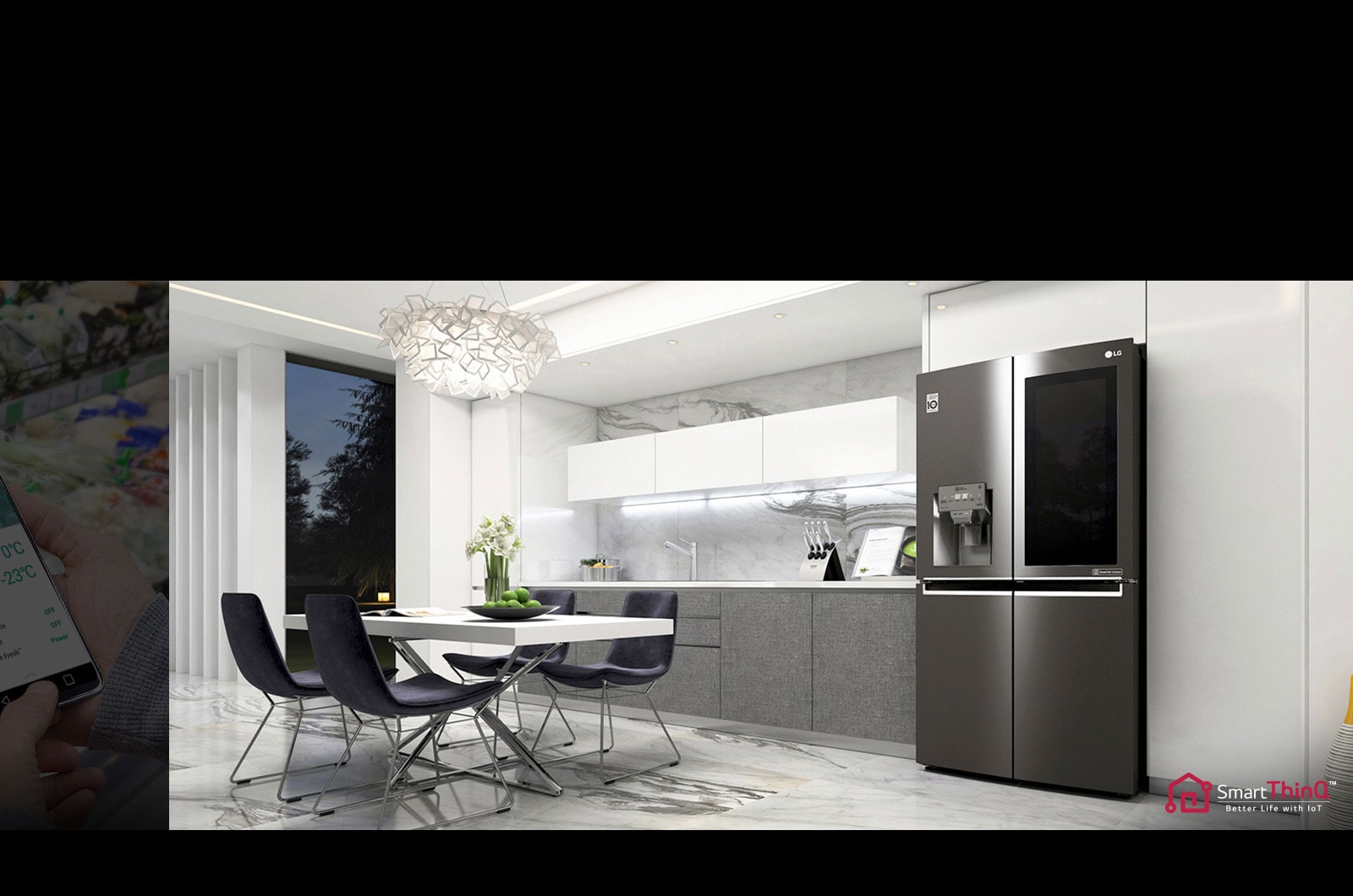 Square Pocket Handle & Dispenser Display
Sleek and Premium Design
No matter how much technology is implied, it cannot be appreciated if it doesn't look good in where refrigerators should be always located in the kitchen. Therefore, LG puts as much effort in design developments, even for such details as handle and display as it does in technological developments.

Fresh Water Simply Tastes Better
The 200 gallon capacity replacement water filter removes chlorine taste and odor, reducing lead, mercury, asbestos, benzene. The NSF certified filter* should be replaced every 6 months for optimal performance.
*NSF (National Science Foundation) tested and certified under standards 42, 53, 401.
Dimensions & Weight
QUESTIONS? LET US HELP
Simply choose a support option from the icons below:
Chat Service

Email Us

Telephone

Call an LG Support Representative at

Afghanistan :5454

Armenia :060 700 333

Azerbaijan :(+99412) 404 7354

Bahrain :8000 1919

Georgia :032 2000 333

Kuwait :2225 5290

Oman :800 75545

Pakistan :0800 15454

Qatar :800 0054

UAE :800 54

Yemen :800 54 54