The Most Comfortable 3D Viewing Experience
Comfortable 3D Glasses
CINEMA 3D glasses are light, battery-free,neat and economical, allowing for greater viewing comfort and convenience.
Flicker-free
Unlike conventional 3D, LG CINEMA 3D is certified flicker-free. It's easier on the eyes, while providing clear and crisp 3D pictures with no blur.
2D to 3D Conversion
LG's upgraded conversion technology is the most advanced one yet, with superior depth effect and smoothness.
3D Effect Mode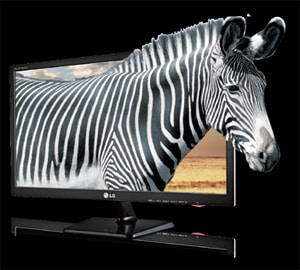 3D Effect Mode sharpens the borders of images allowing users to have a clearer and deeper 3D experience.
Dual Play
LG Monitors with Dual Play function transmit two separate 2D images that can be seen through two different sets of polarized glasses.
Enjoy Your 2D and 3D Content with Upgraded Picture Quality
SUPER+ Resolution
The SUPER+ Resolution technology helps to detect rough edges and blurring in contents when enlarged, offering improved quality with a better high resolution.
Exceptional Picture Quality
Lifelike Color
As LG IPS Monitor features consistency and less changes in color temperature,
it offers a color impression identical to that of the original image.
Comfortable Screen With Wide Viewing Angle
LG IPS Monitor allows you to enjoy lifelike picture quality without any color shift whether you are standing or lying down.
Comfortable Screen With Smooth Color Change
The LG IPS Monitor always provides clear images with smooth color changes. It allows you to enjoy any content, such as action movies, web surfing and RPG games for a long time in comfort.
Design, features and specifications subject to change without notice. Screen images simulated and/or dramatized. Some features in videos may not be available on all models. Please refer to the TECHNICAL SPECIFICATIONS tab for a complete list of features by model.