KEY FEATURES
Wide Viewing Angle

Full HD 1080p

USB Quick View (Divx. Supported)

USB Quick View (Divx. Supported)

Picture-in-Picture

Infinite Surround Sound

Flicker Free 3D

Dual Play

3D

2D to 3D Converting

2 HDMI

Life Like Color

IPS

Full HD TV
The most Realistic Full HD Pict ure Quality
LG Full HD TV provides various enjoyment such as broadcasting,
DVDs, games and photos.Your viewing pleasure is further enhanced
with Full HD picture quality.
Full HD
FULL HD resolution brings you magnificent picture quality
through outstanding color accuracy, visual contrast and
sharpness.
PIP
PIP indicates the way of displaying multi-screen at the same
time. View and enjoy TV in a sub-screen while using your PC.
USB Quick View
The function enables the instant playback of video clips inside
USB memory devices by simply connecting the USB to the TV.
2 HDMI
LG Full HD TV supports two HDMI connectors for convenient
connection with various HD players.
Infinite Surround
LG HD sound through an advanced surround sound system.
More powerful and deep dimensional sound makes a more
realistic experience possible.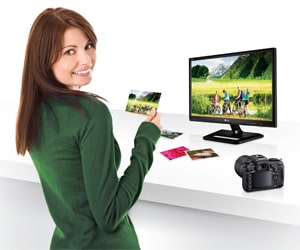 The most lifelike Color expression
LG IPS is the answer for those who desire a lifelike viewing
experience. With exceptional picture quality, you will be
free from any constraints on your eyes and posture.
Lifelike Color
As LG IPS features consistency and less changes in color
temperature, it offers a color impression identical to that of
the original image.
Wide Viewing Angle
LG IPS allows you to enjoy lifelike picture quality without
any color shift whether you are standing or lying down.
Smooth Color Change
LG IPS always provides clear images with smooth color
changes. It allows you to enjoy any content, such as
action movies, web surfing and RPG games for a long
time in comfort.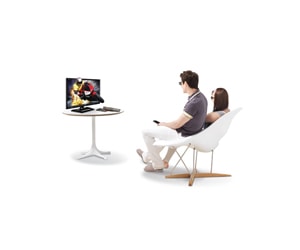 Comfortable 3D Viewing experience
LG CINEMA 3D provides comfortable viewing experience
with light 3D glasses. Enjoy more immersive 3D games
and movies!
Comfortable 3D Glasses
CINEMA 3D glasses are light, battery-free, neat and
economical, allowing for greater viewing comfort and
convenience.
Flicker Free 3d
LG CINEMA 3D's certified flicker free technology eliminates
flickering shutters from glasses allowing you to freely
indulge in 3D.
2D to 3D Converting
LG's upgraded conversion technology is the most
advanced one with superior depth effect and smoothness.
3D Effect Mode
3D Effect Mode sharpens the borders of images allowing
users to feel clearer and deeper in 3D.
Dual Play
An added benefit evolved from 3D technology, Dual Play
enables both you and your friend to play video games
together in full screen.
Wall Mount
75mm x 75mm
SUPER Energy Saving
LG's SUPER Energy Saving technology enables the product to lower power consumption without any image loss.
Design, features and specifications subject to change without notice. Screen images simulated and/or dramatized. Some features in videos may not be available on all models. Please refer to the TECHNICAL SPECIFICATIONS tab for a complete list of features by model.