sRGB>99%
Unlike general monitors that are deficient in blue and green colors, ColorPrime Monitor has 99% coverage of the RGB and more than 99% coverage of the sRGB, the standard color spectrum of perfect color reproduction. ColorPrime Monitor is the best solution for professional photography, graphic design, or anywhere highly accurate color fidelity is needed.
Disclaimer : Converting color mode between RGB and sRGB is available on the 'Color Mode' menu
10-bit Color Processing
The 10-bit color display is 64 times richer than an 8-bit color display, re-creating colors softly and naturally without color banding.
Hardware Calibration
Hardware Calibration is the solution that directly adjusts the monitor's color settings to deliver the most accurate colors, rather than adjusting its graphic board to deliver predictable colors.
Disclaimer : Hardware Calibration support may differ depending on user's environment. Check 'Details' button on the 21:9 UltraWide Mini-page
Color Calibrated
Experts have conducted color calibration tests on the factory floor, and provide assurances to the customer about the accurate color representation.
True Color Pro
True Color Pro is LG's exclusive software for conducting hardware calibration. True Color Pro makes accurately adjusting your monitor's color settings simple.
Disclaimer : True Color Pro runs on Windows XP/7/8, and is not available with HDMI connection between EA83 and PC.
External Calibrator
External Calibrator is LG's exclusive calibrator for color calibration. With LG External Calibrator, the color of monitors can be more accurately calibrated. External Calibrator is sold separately.
Disclaimer : External Calibrator not included.
WQHD
WQHD (Wide Quad High Definition) technology offers resolutions four times higher than a conventional HD. Even when viewed up close, experience vivid, crisp, nearly tangible images!
Disclaimer : WQHD (2060*1440) Resolution may not work depending on contents, device, interface or graphic card.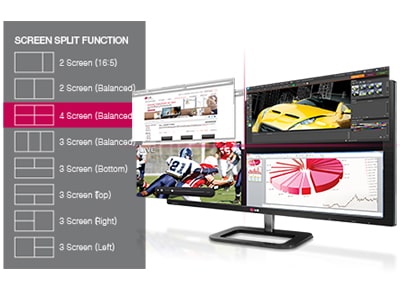 4-Screen Split
LG Premium IPS Monitor's wide screen allows up to 4 windows to be shown in 8 different screen ratios without feeling cluttered. Multitask more efficiently and comfortably with just one click.
Disclaimer : Screen Split software runs on Windows Vista/7/8 and is not available with DisplayPort connection. Check 'Details' button on the 21:9 UltraWide Mini-page
Dual Link-up
For quick business meetings, the Dual Link-up feature allows two portable devices, such as a computer, camera, phone or Blu-ray player to be connected to the monitor and used on a single screen simultaneously.
Disclaimer : To use Dual Link-up, one device must be connected to the Display Port. Check 'Details' button on the 21:9 UltraWide Mini-page
Lifelike Color
As LG IPS Monitor features consistency and less changes in color temperature, it offers a color impression identical to that of the original image.
Wide Viewing Angle
LG IPS Monitor allows you to enjoy lifelike picture quality without any color shift whether you are standing or lying down.
Smooth Color Change
The LG IPS Monitor always provides clear images with smooth color changes. It allows you to enjoy any content, such as action movies, web surfing and RPG games for a long time in comfort.
Design, features and specifications subject to change without notice. Screen images simulated and/or dramatized. Some features in videos may not be available on all models. Please refer to the TECHNICAL SPECIFICATIONS tab for a complete list of features by model.