14,000 BTU Portable Air Conditioner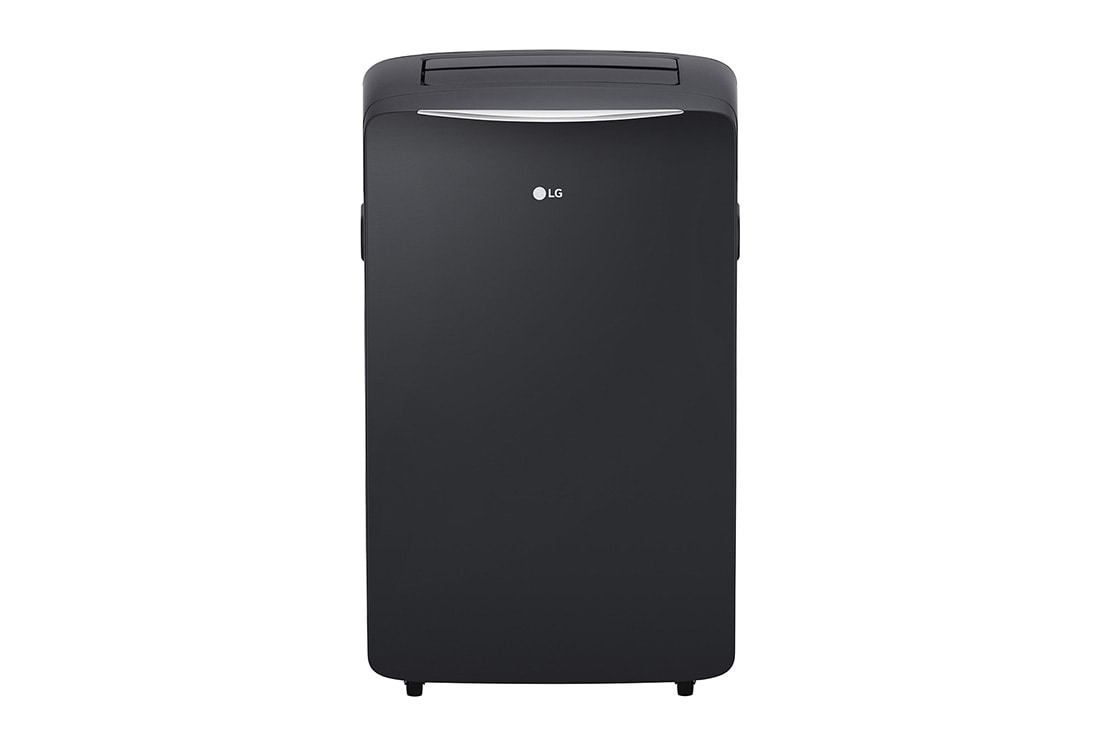 Key Features
14,000 BTU Cooling
LCD Remote Included
Oscillating Air Vent
Cools up to 500 sq. ft.
14,000 BTU Portable Air Conditioner
PERFORMANCE

| | |
| --- | --- |
| BTU Performance | 14,000 |
| Dehumid. (Pts/Hr) | 3.1 |
| Dry Air Flow (CFM) | 278 |
| dBA Level (Front) | 54 |
| Est. Cooling Area (Sq. Ft.) | 500 |
| Refrigerant | R410A |
FEATURES

| | |
| --- | --- |
| Display Panel | LED |
| Thermostat Control | Yes |
| Remote Control | LCD Remote Controller |
| Control Button Type | Standard |
| Auto Swing | Yes |
| Auto Restart | Yes |
| Auto Door Open/Close System | Yes |
| Timer | 24 Hr. On/Off |
| Fan Speed: Cooling | 2 |
| Fan Only Speed | 2 |
| Compressor | Rotary |
| Indoor / Outdoor Fan Type | Blower |
| Type Air Discharge | Inclined and Top |
| Water Full Indicator | Yes |
| Outdoor Exhaust | Yes |
MATERIALS/FINISHES

| | |
| --- | --- |
| Available Colors | Graphite Gray |
| Easy-Roll Casters | Yes |
| Air Filter | Washable |
| Window Installation Kit | Yes |
ELECTRICAL RATINGS

| | |
| --- | --- |
| Voltage / 60 Hz | 115 |
| Watts | 1,370 |
| Rated Amps | 12.0 |
DIMENSIONS

| | |
| --- | --- |
| Product (WxHxD) | 17.44" x 29.53" x 14.76" |
| Shipping (WxHxD) | 19.69" x 35.04" x 16.65" |
| Net Weight (lbs.) | 75.0 lbs. |
| Shipping Weight (lbs.) | 86.0 lbs. |
WARRANTY

| | |
| --- | --- |
| Limited Warranty | 1 Year Parts and Labor |
| UPC | 048231382175 |
What People Are Saying
Rated

4

out of

5
by
delta_sue
from
Sturdy, dependable, works very well
My bedroom/office is the farthest away from the home's air conditioning unit and has always had trouble cooling. I decided on a portable a/c because I didn't care for the aesthetic of a window rattler. Positives: 1) It went to work very quickly and did a surprising job of dealing with the humidity that I hadn't even noticed before. 2) It's a good looking machine. 3) The caster wheels provide for easy movement on laminate floors (although I don't have cause to move it). Second thoughts: 1) It takes up quite a bit of floor space in my small-ish room. 2) The fan never stops running unless it is powered off completely. Some call it white noise but I'd say it's stronger than that because it does occasionally prevent hearing TV or computer sound. 3) Because the unit must exhaust through a nearby window, I found myself limited to one feasible location in the room. The process wound up involving quite a bit of duct tape to seal around the exhaust setup because I can't create enough tension on the window to hold it in place on its own. Many of the reviews that influenced my decision to buy this product sum it up pretty well. Be sure to provide exhaust, keep duct tape handy, and be prepared to give up about 6 square feet of space between the exhaust hose and the machine itself.
Date published: 2017-10-04
Rated

5

out of

5
by
Cool Hmmer
from
Energy Saver
Very pleased with unit. Wish I could afford 2 more. It's everything I hoped it would be. Very quiet and energy efficient and design is easy on the eye.
Date published: 2017-10-03
Rated

4

out of

5
by
Filmhooligan
from
Great AC in a simple package
Bought this unit based on the square footage for the price. The unit does a great job of providing consistent, cool air. The interface is simple to use, and the form factor can fit into a room well. Definitely recommend for a living room or dining room.
Date published: 2017-10-01
Rated

1

out of

5
by
Jackie44
from
Final AC works well, but not impressed with LG
I am on my third ac unit. It started rattling within a month of purchase. No technicians to fix it. It was a mess.Returned to the store I purchased from and the 2nd came damaged. Third one is fine. It was hot in my house both times I had to return it. Not impressed with LG as a company-but ac works wonderfully!
Date published: 2017-09-24
Rated

5

out of

5
by
sandycot
from
portable air conditioner
FABULOUS! The one part of my house that would never get cool no matter how low I set the thermostat, thus raising my power bill--is now the most comfortable area (great room, dining room & kitchen) in the entire house! Best purchase I've made in a long time. Power bill has gone down!
Date published: 2017-09-23
Rated

3

out of

5
by
Tka1977
from
Basic for the price.
Does Not Cool As Good As I Thought It Would. During the Texas heat of the day it can't cool the advertised space. It is very quiet, easy to install and takes little space. If it's under 90 it cools our small room great.
Date published: 2017-09-23
Rated

5

out of

5
by
The Ref
from
Does The Job!
Bought this unit when hot and humid weather forecast was announced. It did the job and kept the house pleasant in the area I used it in.
Date published: 2017-09-23
Rated

1

out of

5
by
David Brian
from
Not what I expected.
Not a pleasant experience. Does NOT cool well, and to answer the usual question, "No, I'm not trying to cool a space that's too-large." Simply not worth the money. I will be going back to a new window unit next year and based on this product, it WILL NOT be an LG brand. Lasty, it's loud, heavy, and prohibitively-expensive to operate.
Date published: 2017-09-22
ASK & ANSWER
Ask your questions. Share your answers.
Please first review the detailed product information and help guides in the Product Support section for this product prior to posting a question.
The air is not cold like last year. Any suggestions on a quick fix? Thanks. 
We regret the trouble you have experienced with this portable air conditioner. Check to confirm that the exhaust vent on the cabinet is unobstructed, and that the exhaust duct is clear. It is also recommended to compare the size of the room compared to the power of the machine. If this does not resolve the matter, please contact our Customer Interactive Center at 800-243-0000.
Date published: 2017-08-14
Bought LG portable 14,000 BTUs model #LP1417GSR 1,370 W, came without water discharge hoses, does this evaporate? Where does the water go?
We appreciate you interest in this portable air conditioner. This product has a self evaporative system. The condensing water will be recycled to cool the condenser. This can not only improve cooling efficiency, but also save energy for you. The unit does have a tank that collects water and will display an E5 error code when full. Drainage information can be found in the owner's manual on page 20.
Date published: 2017-08-14
Does the fan run constantly even when not cooling ?
What is diameter of vent hose
Date published: 2017-08-10
What is the part number for the hose
The part number for the hose is COV33315501. Parts and accessories can be obtained through our parts distributor, Encompass Parts. Their contact number, for placing orders and pricing information, is 866-779-7906. You can also use their website, at https://www.encompassparts.com/.
Date published: 2017-07-17
Does this model have auto evaporation or do we have to manually empty the water?
It has auto evaporation. My boss bough it for our little office and we never emptied anything and it never leaked.
Date published: 2017-08-04
Just let me know that should we use that portable like The other one i mean daily routine used
Our offices, in the United States, do not have product information for Pakistan. In order to obtain such information, it is recommended to check our subsidiary's website, at http://www.lg.com/ae/support/contact-customer-support.
Date published: 2017-04-17
What size it the flexible hose, is it 5" OR 5.9" ?