STARTING AT $1,599.99*
BLACK FRIDAY EVENT
Give yourself the gift you've been waiting for, at a price that won't last. Limited Time Offer.

LG OLED TV for the Serious Watcher
It's easy to see Tish is a Serious Watcher when the kids from Stranger Things show up at her door. See how she reacted.
LG OLED. Now Mobile.
The all-new LG V30 makes it easy to enjoy the Best. TV. Ever.
wherever you watch, whenever you want.
Perfect Black. Intense Color.
Every scary shadow. Every dark dimension. Every Detail Matters when you're a Serious Watcher.
2017 CE Week
*Annual TV Shootout™ Winner
For the fourth consecutive year, LG OLED 4K Ultra HD TV has earned this impressive award.
Pixels turn off for Perfect Black
8.3 million individually illuminating pixels can power off fully to create an infinite contrast, so color can stand out.
Must-see Glass Design
Look closely at what we call Picture-on-Glass, and see how slim is redefined. Wall-mounted or on a tabletop, each nuance of the design masterfully complements the innovative technology.
Enjoy more HDR content

Through the Dolby Access App, experience HDR content with Dolby Vision and Dolby Atmos on LG OLED TVs, and turn your TV into an entertainment powerhouse.
Simplicity. Perfection.
Bring home the ultimate expression of cinema-quality experience that was awarded Best of the Best at CES 2017.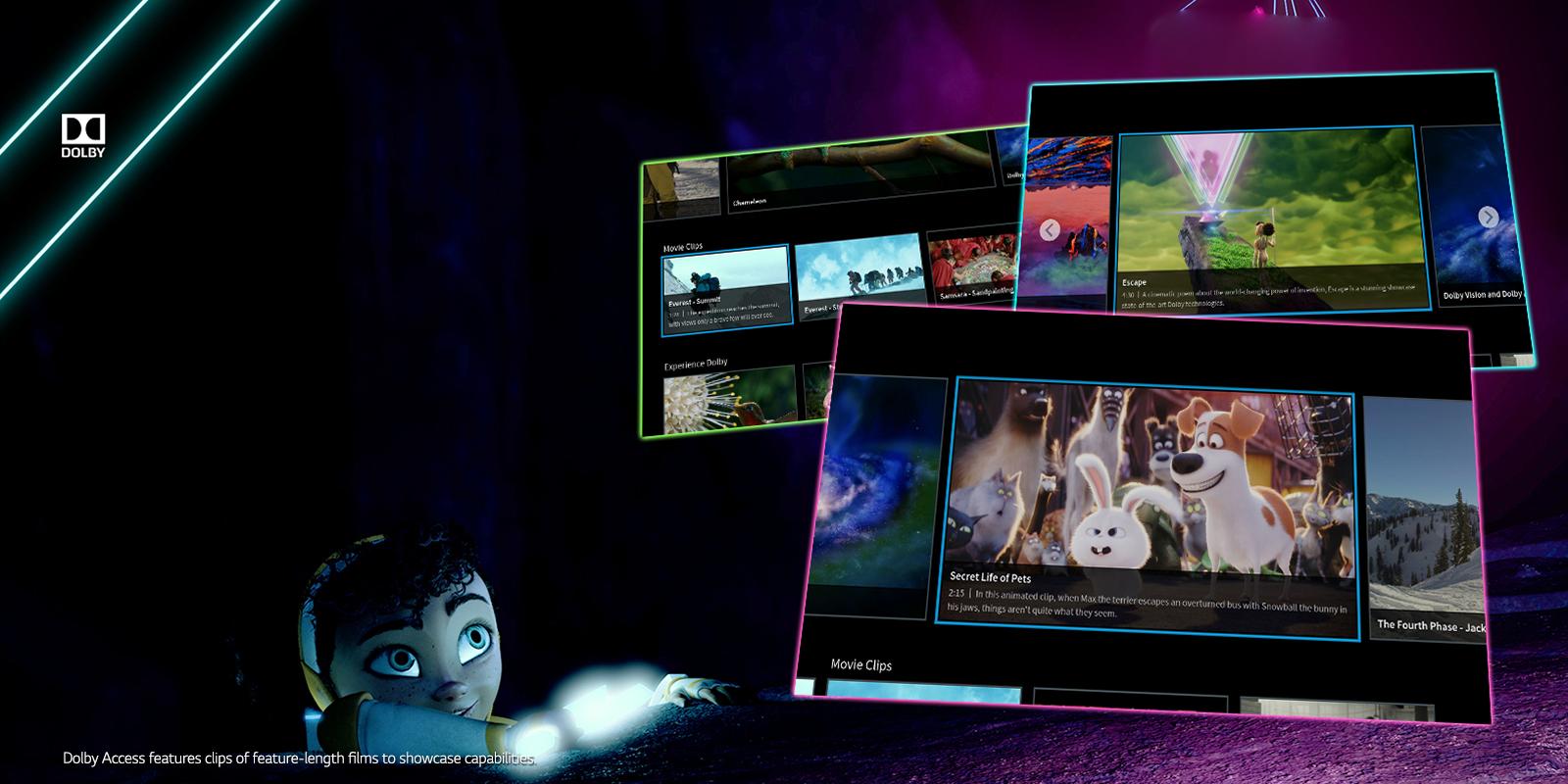 Dolby Access App
Experience Dolby Vision and Dolby Atmos on LG OLED TVs to turn your TV into an entertainment powerhouse.
LG TVs are rated by Consumer Reports
Find out how they stand out against competitors.

*Consumer Reports does not endorse products or services.

Selecting a checkbox will update the products displayed on screen.
Refine Your Search
10
Total Results
OLED TVs
From intense color and stunning contrast, to an innovative wallpaper OLED that lets you 'peel and stick' the display to your wall with a magnetic mat—discover LG's OLED 4K TVs & flat OLED TVs and view television like never before.
WHAT CUSTOMERS ARE SAYING
Average Rating for OLED TVs
LG OLED is the best!

I was shopping far larger living room TV and wanted 4K. When I saw the LG OLED - I was simply amazed - the picture was stunning! I was replacing a 1080p plasma and the OLED was absolutely the best available. The image quality is amazing - 4K blurays with HDR look incredible. Netflix in 4K with Dolby Vision is amazing. LG made the right choice when they included both of the competing HDR technologies available at the time in their OLED televisions. And, it does a very good job with regular

...

read more

daily TV as well - broadcast & satellite also look very good. This simply is the best television that I have ever owned!

Sweepstakes entry received for review.

Wonderful Entertainment!

The OLED65B6P is much more that just a TV. It is an entire entertainment system! With Amazon, You Tube, Hulu, Netflix, and more, I can stream just about anything worth watching. I can play music, surf the web, look at the viewing guide, schedule programming, and many, many other things. The sound built into the TV itself is very good, but with the LG sound bar, it makes for an exciting movie theater experience! The picture quality is absolutely second to none. I have never seen such depth of

...

read more

color in a television. What a pleasure it is to watch! Thanks LG for building such a wonderful system!

Sweepstakes entry received for review.

Great all around package!!

When I first saw the price of an OLED tv I was in sticker shock for a while, but after learning all of the TV's capabilities it truly started to look like a smart buy (or what I call future proof). I play games and watch 4K movies and am amazed at just how awesome everything looks. Contrast between blacks and whites are unreal (because each pixle is its own light source). Gaming lag is unoticable to me. I did a lot of research and this TV kept coming out on top. You will it be disappointed....

Sweepstakes entry received for review.
Best Picture Quality!

Best picture quality I have ever seen on a television. I can clearly see the difference between this TV and several other 4k Non OLED Tvs and I can never go back after this. The only downside is that there is a heavy input lag for certain HDR modes but can be avoided by using the HDR game mode and be totally fine. 3D is awesome too and the curve is so subtle that it looks like a flat panel. Will recommend this to anyone who wants to get an oled panel.

Sweepstakes entry received for review.

My best purchase yet

I bought it for Christmas 2016 after researching many different brands/tvs. 9 months later I couldn't be happier with my purchase. The pic is great. OLED by far was the way to go. Getting the 3D with the curved was screen was just an added bonus over the flat version. I have really no complaints about this tv. I wish I had another for my bedroom.

Sweepstakes entry received for review.

Amazing! Hypnotic!!

I have been using my LG 4K OLED TV for a few months. Picture is sharp, bright and pitch black where expected. HDTV upscaling looks great. Standard TV is what it is. You can only do so much to improve a low res picture. Played 3D 1080P DVDs and 4K home videos on it with no problems. I chose because it also supports both HDR standards. Really like watching Netflix 4K, Amazon Prime Video and YouTube using the TV apps. Also has Fandango Video app. Menus are easy to use and understand. A bit

...

read more

pricey but prices will come down... eventually.

Sweepstakes entry received for review.
Best overall picture

This TV provides brilliant colors with vivid detail. The 4k upscaler improve regular HD content to the point that it is sometimes hard to tell if it's just HD or 4k. The smart portion of the TV works without a hitch. If you're into 3D, this TV has good performance in that arena. Some content looks like real 3D in the upscale mode. (football)

Sweepstakes entry received for review.

Fabulous TV

We bought this just prior to the Christmas Holiday. It boost an incredible picture and is a fun interactive TV. I think that the sounder, that is included is a great addition. The remote is traditional but can also be used as a pointer, a huge plus! The only negative is if the remote that came with the TV is damaged, in our case, puppies, it can only be replaced with an older model remote that does not work as well.

Sweepstakes entry received for review.

BEST TV EVER....SERIOUSLY!

I specifically sought out this model because it still had 3D going for it. I was really disappointed to see LG drop the 3D on its 2017 models because they have absolutely nailed the formula for near perfect 3D. I have never seen a TV display the level of color, clarity, and brightness without any significant ghosting all in the same package. It really is a sight to behold. 4K imagery is also expectedly top notch. The black levels are nothing short of incredible. This statement applies to

...

read more

all content - not just 4k, but with HDR engaged, the difference is that much more noticeable. LG really put out a top-tier TV here and I'm so thankful that I could find one of the 77" units. I actually upgraded from the same year's E6 model once I learned that I could acquire one. Finally, and I don't say this lightly, I haven't found a single thing wrong with the TV. For me, it IS the perfect TV. Sure, it would have been nice to see an 85" model, but this looks wonderful in my home theater as it is. Well done, LG!

Sweepstakes entry received for review.
Best TV Yet !

I bought this without seeing it,based on my last TV being an LG plasma which I still love . I went from 50 to 65 inch and love it ! The quality of the picture is like watching a whole new format ! The contrast that this OLED produces changes the whole ballgame ! These OLED TV are the future !

Sweepstakes entry received for review.

LGOled 55E6P 2016 model

Had this 55E6P 2016 model over a month now and i just love it. The picture is great and the 3D is out of this world.Love the HDR feature as it is so clear.Just hope it lasts for many years as thisTV experience as for now has been a wonderful experience......................................

Sweepstakes entry received for review.

Met and Exceeded My Requirements

My daughter and I are recording the life of our new grandson using two 3D HDTV cameras. I wanted passive 3D to avoid the battery life and viewing fatigue problems associated with active switching glasses. This UHDTV OLED TV provided full 3D vertical resolution and amazing color rendition. Future proofing will be ensured by firmware upgrades to support my video streaming needs.

Sweepstakes entry received for review.
LG Product Service and Support
Get your questions answered about product setup, use and care, repair and maintenance issues. We can help.
Telephone
Call an LG Support Representative.
(800) 243-0000 Consumer (7am-midnight CST)
(888) 865-3026 Commercial (8am-6pm CST)